Best Beach Hotels in Poipu, Kauai
Take a look at the best beach hotels in Poipu.
See All Poipu Hotels
1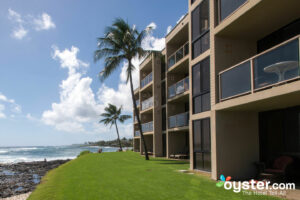 A four-story building that could not be any closer to the ocean if it tried, Kuhio Shores is a condominium complex in a quiet area of Poipu on Kauai's south shore. Kuhio Shores' 72 one- and two-bedroom condos are independently owned, meaning they vary in decor and amenities. Kuhio Shores' small size, dedicated owners, and legions of repeat guests create a warm sense of community throughout the property, where it feels as though everyone knows everyone. Don't expect a pool, spa, restaurant, or on-site workout facility here; the draws are the proximity to the surf and the laid back-vibe. You won't find a condo unit closer to the water on Kauai, but the Aston at Poipu Kai has multiple pools and larger rooms for comparable rates.
2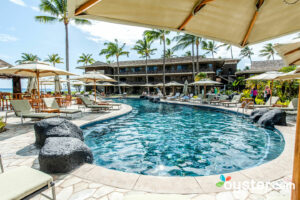 This 121-room luxury hotel just might be the perfect place for a reclusive film star to hide from adoring fans. For those who like their vacation experience plush and focused on their needs, the Koa Kea is an excellent alternative to the area's larger resort chains. Rooms have a subtle, beachy style and luxe features include fine Egyptian linens, Italian marble bathrooms, and espresso machines. Additionally, the resort has a high-end fitness center with individual cable-TV monitors. With just one pool and restaurant, it may lack some features of the nearby Hyatt mega-resort -- but the beach here is better, the price tag slightly lower, and the service more attentive and pampering.
3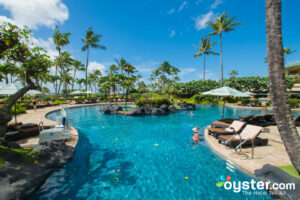 One of the best luxury resorts on Kauai, the 602-room Grand Hyatt Kauai draws guests with spacious, Hawaiian-inspired rooms, three incredible pools, a behemoth saltwater lagoon, 10 dining options, including a host of high-end restaurants, a renowned spa, a twice-weekly luau, and immaculately kept tropical grounds. Its large range of features allows it to have broad appeal, and a non-stop cycle of families, honeymooners, business travelers, and wedding parties filter through the property week after week. Travelers looking for an equally luxurious property without all the fanfare should check out nearby Koa Kea Resort, which is smaller, cheaper, and offers half of the amenities of the Hyatt.
4
Located next to the Kiahuna Plantation and Koa Kea, this 238-room Poipu resort offers huge two-bedroom villas with kitchens, three great pools, and a 24-hour fitness center, but there's no full restaurant and you can find more luxurious units on Kauai for a similar price.
5
A 333-unit, south shore condo fronting Poipu Beach, with limited service and varying decor, though plenty of open space, the Outrigger Kiahuna Plantation offers an experience similar to the Castle Kiahuna, with which it shares the Kiahuna Plantation; both have access to the pool, golf, and tennis across the street, but there's slightly better service here.
6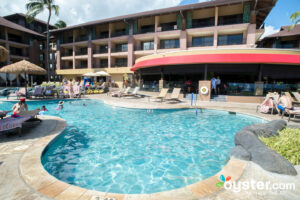 One of several resorts on Kauai's Poipu Beach, the Sheraton Kauai offers 394 basic rooms (all with private balconies) and solid, if not spectacular, amenities -- a fitness center, three eateries, a spa, two small pools that aren't quite as nice as those at pricier resorts -- all at attractive rates. And the hotel sits on a long stretch of gorgeous, calm oceanfront. A popular pick on Poipu Beach, the Sheraton often has an amusement-park atmosphere; for visitors looking for peace and quiet, the Kauai Beach Resort may be a better fit.
7
A 115-unit south shore condo fronting Poipu Beach with limited service and varying decor, though plenty of open space, the Castle Kiahuna offers a similar experience to Outrigger Kiahuna, which is part of the same Kaihuna Plantation; both have access to the pool, golf, and tennis across the street, but service here doesn't quite match that at the Outrigger.