Best Kid-Friendly Hotels on Oahu
A child-friendly resort in Oahu is usually one of two things: A large, amenity-packed mega-resort with family activities and dining options galore, or a do-it-yourself, kitchen-equipped condo for longer (albeit no-frills) stays. We found standouts of both types.
See All Oahu Hotels
1
At this gorgeous property in the Ko Olina resort complex, service is excellent, the food is delicious, and the kids always come first. The pool area is gorgeous, boasting a lazy river, two waterslides, and a manmade reef, and the coved-in lagoon offers calm waters. It should come as no surprise that Disney delivers when it comes to family fun. Classic movie characters wander the grounds, posing for photos with kids of all ages, decked out in aloha shirts for that extra island flair. Dance parties at the pool happen daily. Keiki (kids) menus are available at every restaurant, be it sit-down or quick-serve. The spa offers treatments for everyone in the family (even toddlers!), or the whole family can enjoy a treatment together in the 'Ohana suite. Rooms are also incredibly family-friendly, with spacious layouts and mini-fridges in every room.
2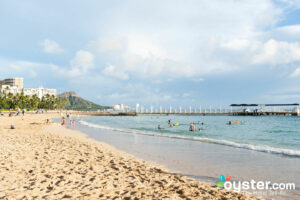 The largest resort in Hawaii, the amenities-packed Hilton Hawaiian Village has more to offer families than any other property on Oahu. The crowds are big. But if you're willing to make a pre-breakfast detour to stake out chairs by one the resort's many impressive pools -- one is Waikiki's largest; another has four waterslides -- your kids will be thoroughly entertained. Among the premier attractions are the dozens of species of animals on the grounds, including parrots, penguins, and turtles; the calm, coral reef-protected waters at the beach; and the Friday night fireworks. And what'll you love? A chance for some kid-free relaxation, thanks to Camp Penguin, which plans field trips to the aquarium or zoo and activities like Hawaiian crafts and sandcastle building, for kids ages five to 12. (And the cost is low compared to the prices at neighboring resorts.)
3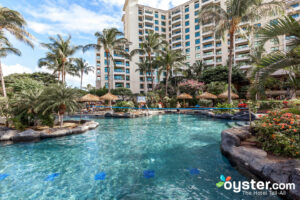 Many families could happily spend their entire vacation on the grounds of this activity-packed resort. The three sprawling, winding pools have waterfalls, a slide, and a basketball hoop. The lagoon beach ocean is calm enough for family snorkeling. Parents can grab some guilt-free time off by enrolling the kids in the hotel's twice-weekly, four-hour "Passport to Fun" sessions. And the hotel runs activities like fish feeding and yarn lei-making every day of the week.
4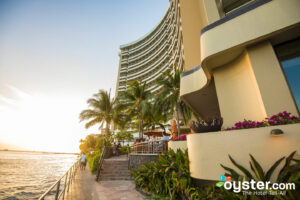 The Sheraton's Helumoa Playground pool, opened in 2009, is arguably the best -- and kid-friendliest -- pool in Waikiki. A waterslide, sprinkler-like fountains, and tropical landscaping put it on par with some of more elaborate pools at Caribbean resorts. Budget-conscious families will appreciate that kids under 17 stay for free, while parents who want to work some kid-free relaxation into their trip can make use of the Sheraton's superb kids' camp, where certified teachers lead kids on trips to the zoo or aquarium and in activities like lei-making and bodyboarding. One warning: Expect crowds; the 1,636-room Sheraton is the second-largest resort in the area.
5
The condo-style units in this hotel, which opened in December 2008, are a great choice for families who want to spread out and make themselves at home. The luxurious condo suites have full kitchens with high-end appliances, Bosch washers and dryers, and flat-screen TVs with over 500 digital channels. And guests have access to the oodles of kid-friendly amenities at the adjoining Hilton Hawaiian Village.
6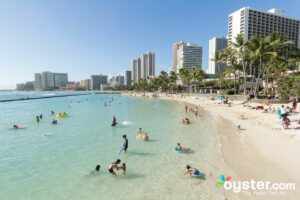 The Marriott is both less expensive and less chaotic than comparable family-friendly mega-resorts such as the Hyatt Regency and Hilton Hawaiian Village. It may not have the Hilton's laundry list of kid-friendly amenities, but families won't be sacrificing too much: The two ocean-view pools should keep the kids plenty entertained, and the family-friendly Kuhio section of Waikiki Beach is right across the street.
7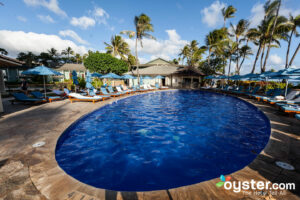 It's pretty hard to find a kid-friendly activitiy to top the Kahala's Dolphin Quest program, which (for a substantial fee) let's your family interact with the resort's resident dolphins. Even the free sideshow, the hotel's marine life pond, will capture young imaginations with its sea turles, stingrays, and colorful tropical fish. The kids' club is a reasonable $65 a day.
8
This mega-resort's signature is Aloha Fridays, where performers showcase skills such as fire-eating and hula dancing. The hotel provides free culture lessons and the kids' camp, for five- to 12-year-olds, is $89 a day and offers lunch and activities such as crab hunting and boogie boarding.
9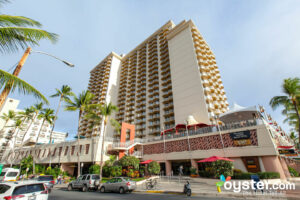 The Aston Waikiki Beach isn't big on amenities, but the room rates are low, the beach is across the street, and the Honolulu Zoo is a block away. The free poolside breakfast buffet, a step above continental, solidifies its position as one of the island's top budget choices for families. (Hot items, however, come at a small additional fee.)
10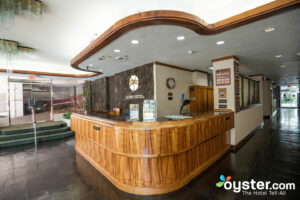 Families flock to the Ilima Hotel, a standout budget option for do-it-your-selfers with a full kitchen, 24-hour laundry room, free parking, and enormous, clean condo-style units. Pretty bare bones in terms of features -- the pool is tiny -- but with the money you'll save, you might just be able to afford a longer trip.