Best Value Hotels in Lake Buena Vista, Orlando
Take a look at the best value hotels in Lake Buena Vista.
See All Lake Buena Vista Hotels
1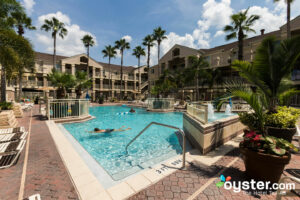 The 150-room, three-pearl Staybridge Suites Lake Buena Vista is a top-notch, mid-range hotel in a very convenient location. It's not luxurious by any measure, but it delivers good overall value with clean and spacious apartment-style units with full kitchens and flat-screen TVs with DVD players. The free hot breakfast and free shuttle add value; however there's no on-site restaurant (only a breakfast room) or bar, and some guests find the lack of elevators inconvenient. Rates are attractive, but there's a lot of competition in the area, including the Holiday Inn Orlando-Disney Springs Area, which offers a good alternative with similar rates plus a restaurant/bar and elevators.
2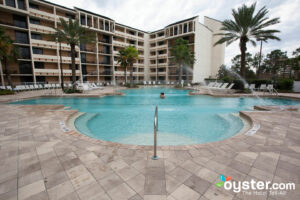 This mid-range chain hotel attracts budget-minded families with its location near Downtown Disney, free shuttle to all of the Disney parks, and kid-friendly amenities that include a large outdoor pool. Numerous meeting rooms and a solid value also draw business travelers. However, traffic noise in rear-facing rooms and a fee for parking are small annoyances that make considering other options worthwhile.
3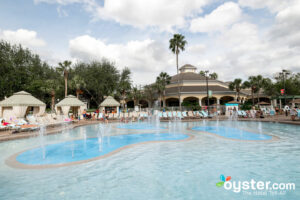 The three-and-a-half-pearl Sheraton Vistana Resort Villas- Lake Buena Vista feels more like a small town than a hotel. With 1,682 apartment-style units, seven pools, three restaurants, a mini-market, and tons of on-site amenities, the property provides a fair share of fun on-site, plus it's within a 15-minute drive of local theme parks. Contemporary, homey villas have full kitchens, living rooms, and free Wi-Fi, but not all have elevator access or outdoor spaces. The Sheraton offers great value for families, but it may not be the best place for couples or business travelers, who may prefer the nearby Orlando World Center Marriott, though it tends to be pricier.
4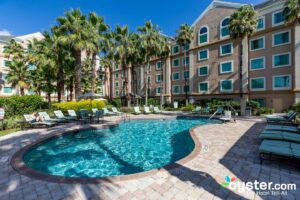 The Hawthorn Suites Lake Buena Vista, a Wyndham hotel, bills itself as an all-suite hotel, but there is the executive guest room option for shorter stays. The hotel suits families, with a heated pool, game room, free hot breakfast, and full kitchens in suites. The Hawthorn offers free shuttles to the major parks, including nearby Disney, and gears everything toward fueling up before and resting up after a long day of rides, Epcot, Universal, and Seaworld.
5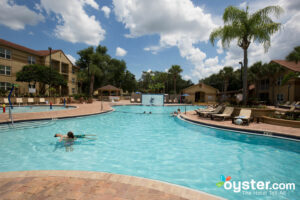 This three-pearl, 275-room condo-style resort provides free shuttle services to and from the Disney theme parks, SeaWorld, and Universal. Additionally, the resort has family-focused amenities including four pools, two hot tubs, multiple sports courts, mini-golf, resort-wide events and activities, and an arcade. The condos include full-size kitchens, screened-in furnished porches, small bathrooms, and pullout couches for extra sleeping space. Guests shouldn't expect regular housekeeping or any on-site dining, though restaurants are about 10-minute walk away, as are grocery stores. The adjacent Grande Villas Resort is a comparable option that has a deli and convenience store on-site.
6
The mid-range Radisson Hotel Orlando is a reasonably priced tourist hotel that's popular with families visiting nearby theme parks. Its guest services desk sells tickets to the top attractions and the hotel offers free shuttle service to Disney and other parks. A spacious outdoor pool and free parking up the value quotient, as does free Wi-Fi. Its full-service restaurant serves breakfast and dinner but not lunch (most guests are at the parks during the day). Its 196 generic rooms are family-friendly with mini-fridges, microwaves, and coffeemakers. Family Suites sleep up to six. Rates are competitive, but there are many other choices, such as the Best Western Lake Buena Vista Resort Hotel, which has comparable rates and more dining options.
7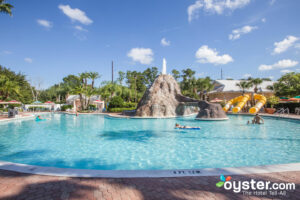 A 10-minute drive from Walt Disney World, this mid-sized, decor at this three-pearl resort is a bit old-fashioned, but it can be a great value compared to nearby hotels such as Staybridge Suites next door. Multiple room configurations make Cypress Pointe ideal for families and big groups, and layouts range from Studios with whirlpool tubs to Two- and Three-Bedroom Condos with full kitchens and living rooms. Kid-friendly amenities include an erupting volcano feature in the pool, a huge game room, and a playground. However, most buildings lack elevators and housekeeping is only provided once per week. This is a time-share community as well, and guests have been subjected to hard sells and pitches in the past.
8
The 120-room Legacy Vacation Resorts-Lake Buena Vista is an upper-middle-range all-suite property located off the I-4 Highway with a calm atmosphere and lovely gardens. Contemporary suites have kitchenettes or full kitchens as well as multiple flat-screen TVs and free Wi-Fi, plus separate living rooms and whirlpool tubs in some units. Guests should note, however, that housekeeping comes only once a week and there have been complaints about noise due to thin walls. The outdoor pool and hot tub are a highlight for families, while the garden provides lots of well-landscaped green space dotted with flowers and palm trees. Other conveniences include a business center, playground, and a tennis court, but there's no on-site restaurant or fitness center. There are many similar properties in the area, including Quality Suites Lake Buena Vista and Fairfield Inn & Suites Orlando Lake Buena Vista, so travelers should compare rates.
9
This mid-range property offers a solid value for families in town to visit Disney parks and area attractions such as Universal Studios and Sea World. Rooms here are a step above some similar properties; decor may be nothing special, but they are spacious and up-to-date with extras like flat-screen TVs, free Wi-Fi, mini-fridges, and microwaves (that are oddly nestled beside the bathroom sinks). However, amenities may be a tad sparse compared to competitors as there's no on-site fitness center and the hotel does not provide a free shuttle to local attractions. Nonetheless, families appreciate features such as a pool with a splash zone, a game room, and laundry facilities.
10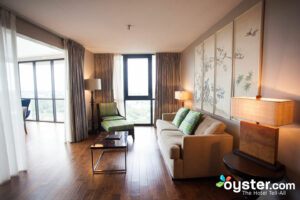 This Best Western is like many mid-range properties in the Disney area; it offers affordable rates and a location within easy reach of Disney attractions. Although the hotel is technically within walking distance of Disney theme and water parks, it offers a free shuttle that runs every half hour and other freebies like Wi-Fi and parking pack on the value. However, while rooms are clean and modern, decor is bland and some rooms feel small by Orlando standards.
11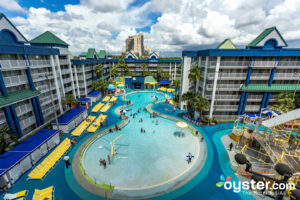 The massive upper-middle-range Holiday Inn Resort Orlando Suites - Waterpark is one of Orlando's best options for families outside of a theme park. Its 777 stylish suites, all with kitchens or kitchenettes, are spacious and well designed to sleep families. Even better, there's a huge range of kid-pleasing features including two water parks, an enormous arcade, and a "4D Experience" theater, making this resort an attraction onto itself. While the resort provides plenty of entertainment on-site, it also offers shuttles to Disney, Universal, and SeaWorld, though -- unlike Disney's Pop Century Resort -- it doesn't provide any park perks.
12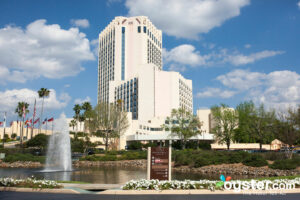 With 1,014 rooms and a long list of activities -- tennis, basketball, volleyball, playground, and more -- the all-inclusive Buena Vista Palace Hotel and Spa is a massive resort. Adjacent to all of the most popular Orlando theme attractions, it is in walking distance of Downtown Disney. The resort has a relaxing side with three pools, a grotto, hot tub, and pool bar. Rooms are big and bright with a mix of chic and more basic furniture, along with flat-screen TVs and nice balconies. Some guests have complained about thin walls and a daily resort fee.