Most Romantic Hotels in Nob Hill, San Francisco
Take a look at the most romantic hotels in Nob Hill.
See All Nob Hill Hotels
1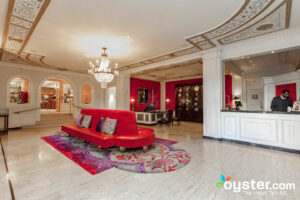 Atop Nob Hill, the upscale 134-room Scarlet Huntington has a classic pedigree with a new look. One of San Francisco's old-school favorites, this property was purchased by a Singapore group that updated it in 2014 with a sexy, ritzy aesthetic heavy on lush red velvet, silk, and leather. Some of the spacious guest rooms have a new modern look, while many maintain their Old-World charm. The Nob Hill Spa is one of the most popular in the city, and the clubby Big 4 restaurant retains its classic atmosphere. Nob Hill has great city views, and the hotel is walking distance to Union Square, Chinatown, and Fisherman's Wharf. Be aware, though, that any walk includes very steep hills. For true old–San Francisco elegance at the same price point, consider the nearby Fairmont San Francisco.
2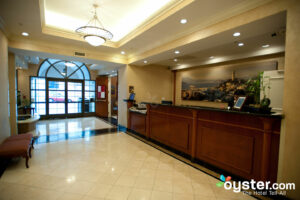 This 104-room hotel between Union Square and Nob Hill boasts LEED certification but not much else. It's eco-friendly -- and proud of it -- but that's about as special as the hotel gets. Rooms are comfortable and clean, and amenities are nondescript. It's a fine but somewhat boring choice with affordable rates in a central location.
3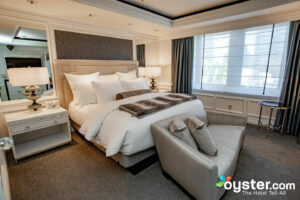 Everything you'd expect from a Ritz -- formal, doting service; cultivated decor; tasteful, tasty dining; a luxury spa -- all in the ritziest of San Francisco neighborhoods. But while luxury competitors offer free limo rides, 24-hour butlers, or panoramic views, the Ritz lacks a wow factor. It's largely a matter of taste, of course, but we prefer the St. Regis and Mandarin Oriental.
4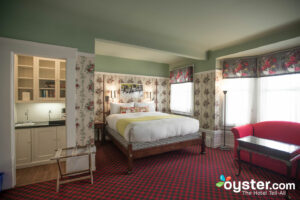 The 26-room, mid-range White Swan Inn in San Francisco's Nob Hill district offers a cozy and intimate atmosphere, with rooms featuring fireplaces and ample sitting areas. The bed-and-breakfast features a classic-inn-meets-mod-London vibe, with abundance of floral walls coupled with cheeky artwork and lattice-patterned arm chairs designed by Christian Lacroix. The result is a jumble of patterns and textures that can feel fussy and cluttered to some, but overall gives off a quaint and charming vibe. The inn, an easy walk to Chinatown and Union Square, may be old-looking, but it doesn't feel dated thanks to a renovation in early 2015. It may be worth comparing rates with the inn's nearby competitors, like the Nob Hill Hotel, which is also English-inspired but has a slightly higher price point, and the Petite Auberge, White Swan Inn's sister property right next door, which has similar features at similar price points.
5
The 26-room Petite Auberge is a moderately priced, three-pearl French country hotel in lower Nob Hill, with antique touches, a comfy fireplace parlor, a homey breakfast room, concierge services, and access to a nearby fitness center. Traditional, cozy rooms have flat-screen TVs and some have fireplaces. The hotel's only suite offers a terrace, a mini-fridge, and a whirlpool tub. However, the insulation in rooms doesn't keep out noises. The rooms at the Cornell Hotel de France are quieter.
6
The Mayflower Hotel dates back to 1929 and offers clean, budget-friendly accommodations in an historic building with some modern updates and artsy murals. Some travelers find the property tired-looking, while others consider it charming. It's a good value for basic rooms and a free breakfast in a convenient downtown location.
7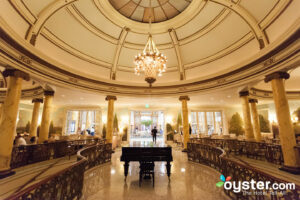 The Fairmont combines the history, cachet, and decor of a turn-of-the-20th-century grand old dame with the amenities, technology, and corporate-dominated clientele of a large chain property. What separates it from its luxury competitors are its beautiful, well-appointed rooms, many with stunning views, and its location atop Nob Hill.
8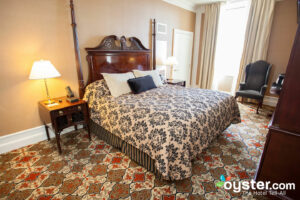 One of the city's grandest dames, the Mark Hopkins sits regally on top of Nob Hill with dazzling views and the famous 19th-floor Top of the Mark bar. Though its elegant style and grand past earn cachet, the rooms are less impressive (though usually less expensive) than its Nob Hill neighbors.
9
A historic property renovated in 2008, the Renaissance Stanford Court has several of the less endearing quirks of an older building but few of its vestigial charms. Still, it's a relative bargain for the posh Nob Hill address.
10
The 26-floor, 496-room Holiday Inn is a mid-range tourist hotel on Van Ness Avenue in downtown San Francisco. While not very close to attractions such as Yerba Buena Gardens, MOMA, the Ferry Building, and the Golden Gate Bridge, the hotel is right on the California Street cable car line, and rates are lower than at hotels in the more touristy areas. Fisherman's Wharf is about a 20-minute cable car ride north. As the tallest building in the neighborhood, the hotel offers views of the city skyline and bay from many of its rooms. Renovated in 2015, the Holiday Inn has up-to-date rooms with free Wi-Fi, and a wide array of amenities, including an outdoor heated swimming pool open year-round.
11
Located in a largely residential neighborhood in the Nob Hill District, the four-story, 52-room value Nob Hill Hotel offers a free breakfast and free evening wine and cheese reception. Other perks include a 24-hour fitness center and business center, and an Italian restaurant. Housed in a 1906 building with Victorian-style interiors, the hotel is not luxurious but appeals to those in search of historic character at reasonable rates. The immediate neighborhood isn't that enticing, but the hotel is within walking distance of Union Square and Chinatown, and is two blocks from the cable car for a 20-minute trip to Fisherman's Wharf.