Most Romantic Hotels in Sicily
Between charming terraces overflowing with flowers, sandy beaches, and medieval architecture, the Italian region of Sicily exudes a romantic atmosphere. If you're looking to take an amorous vacation with your significant other to Sicily, there are several properties geared toward the traveling couple. We visited the popular area to check out the hotels and see which had features geared toward couples — comfy beds, upscale spas, and few kids splashing in the pools. Check out the most romantic hotels in Sicily and start planning your getaway!
See All Sicily Hotels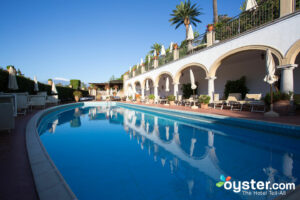 This luxury hotel is in a renovated Dominican monastery and offers stunning views of Mount Etna and Taormina Bay. The hotel is surrounded by colorful flowering gardens and manicured courtyards. One interesting feature is the chapel still intact from the hotel's days as a monastery. There are an outdoor pool, a spa, and three restaurants -- one with two Michelin stars.102 rooms range from Classic accommodations, which overlook the cloister and the town, to several categories of suites with private outdoor hot tubs and terraces and multiple bathrooms. All are decorated with lush fabrics, beautiful lantern-style lighting, and carved wood furniture.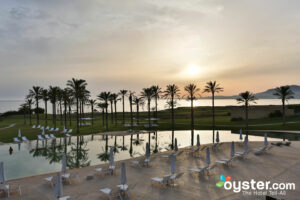 Part of a luxury chain with properties across Europe, the Verdura Resort is a large, self-contained resort on the southwest coast of Sicily. The all-suite property is completely self-contained and offers private access to a lovely, calm beach, two 18-hole golf courses, four restaurants and bars, a full-service spa, and huge indoor and outdoor pools. Contemporary suites are spacious and stocked with creature comforts. However, the resort is about 20-minutes by car from the town of Sciacca, so guests without cars may feel isolated.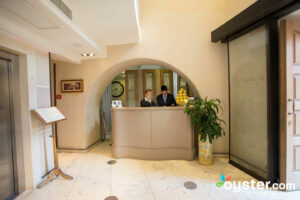 The 10-room Hotel el Jebel is a luxurious oasis set within the Historic Center of Taormina. The boutique hotel is located up a flight of stone steps off a tiny side street, this Catalan-style building has amazing views of the Ionian Sea and picturesque town, which can be seen from the beautiful rooftop terrace and the all-glass exterior elevator. The guest rooms are all individually decorated in an elegant, eclectic style that provides a refined yet comfortable atmosphere. The hotel includes a spa, two restaurants, and an intimate bar. Prices are high, especially since there isn't a swimming pool or gym, but free Wi-Fi and breakfast are a nice touch.
The B&B Villa Sogno Charme e Relax Selinunte is a quiet upper-middle-range bed and breakfast catering towards couples. Rooms have a maximum capacity of two people, and children under the age of 14 are not allowed. The grounds and public spaces are beautifully decorated with an emphasis on Mediterranean plants and neoclassical design. A gourmet breakfast gets rave reviews for tasty details such as the organic homemade jam and strong coffee. There's an outdoor swimming pool and rooftop terrace with lovely views of the surrounding landscape. The location is secluded, so a car is required for visiting the coast and nearby Greek ruins of Selinunte Archaeological Park.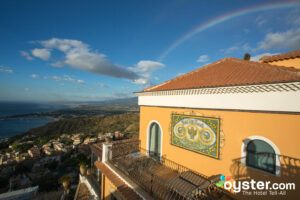 This beautiful boutique hotel was converted from a traditional Sicilain villa, and was renovated in 2012. Villa Ducale is situated in a fantastic location, overlooking the town of Taormina and close to many of its popular attractions. With sophisticated and elegant decor, the three-and-a-half pearl hotel provides a memorable getaway while maintaining a homey atmosphere. The gorgeous dining terrace provides stunning views of the bay, which can also be seen from the balconies of many of the 17 guest rooms. Rooms are clean and lovely, though some are cramped and the furniture and decor may look a little dated to some. There is also a beautiful sundeck with a whirlpool, where guests can relax while taking in the Mediterranean air.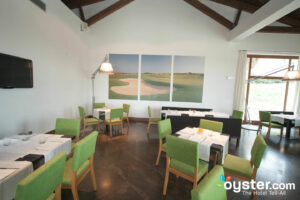 The 202-room Donnafugata Golf Resort and Spa is a large, chic resort with two 18-hole golf courses, a massive outdoor pool and pool bar, and a posh spa. In close proximity to beaches and area attractions, this property has a peaceful feel, complete with three charming restaurants and a wine bar showcasing Sicilian wines. The stylish rooms are spacious and inviting with gorgeous bathrooms and scenic patios. While service can be slow and the location isn't right on the beach, this is an excellent pick for a relaxing retreat.
If you don't mind driving, the Poggio is a comfortable getaway outside of Ragusa that blends the beauty of Sicilian farmland and the elegance of a 19th-century manor. The property has been dolled up with modern flair and resort conveniences, including an outdoor pool, a spa, a bar, and restaurants. It's ideal for weddings or corporate events, as there is both a meeting room and a large amphitheater. All in all, it's a great value compared to places closer to town.
The 24-room Marina Holiday Resort & Spa is a small boutique hotel in the port town of Balestrate, about a 30-minute drive from Palermo Airport. A petite, quiet facility with a whimsical style, the Marina Holiday attracts mostly couples and adult travelers. Balestrate itself is not incredibly active, but it does have a few restaurants and shops to explore. The Classic Double rooms at the Marina Holiday are plain, yet moderately sized. Bathrooms are generally poorly lit but clean. For more space or greater style, guests can upgrade to Comfort or Superior units.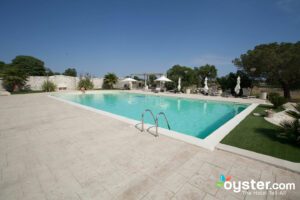 Artemisia is housed in a small converted farmhouse in the rural outskirts of the UNESCO World Heritage town of Ragusa. More affordable than places closer to town, the upper-middle-range property has a beautiful, clean pool and immaculate, comfortable, spacious rooms with personal touches such as fresh fruit and flowers. An apartment-style room has a kitchen and two floors with lots of space. Fresh, free breakfast and coffee and tea are provided daily, but the nearest restaurant is a five-minute drive away.
For travelers who really want to get away from the action and stay in the natural, arid landscape of southern Sicily, the Relais Parco Cavalonga is a great choice. Surrounded by olive and carob trees, the hotel has two lovely outdoor pools, a sunny, peaceful patio, and a delicious breakfast buffet. Because dinner is not served on a nightly basis, only those staying in apartments with kitchens can avoid the 20-minute drive to the nearest restaurant. Rooms are airy and contemporary, if a bit bare.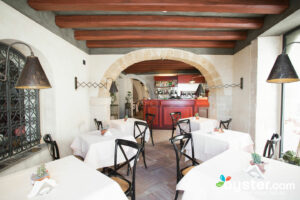 Full of the charm its name promises, the Algila Ortigia Charme Hotel is a welcoming boutique hotel on an historic seafront square in the heart of Syracuse's Citta Vecchia, on the tiny island of Ortigia. The intimate, 30-room hotel, a combination of two restored historic buildings, blends ancient atmosphere with a low-key vibe. While rooms and suites are not cheap, an excellent buffet breakfast with hot made-to-order dishes comes free, as do soft drinks from the minibars and bicycle rentals. Parking in the immediate area can be tricky, but there's a large parking lot up the road, and the hotel's location puts it within walking distance of the city's many archeological and other tourist sights.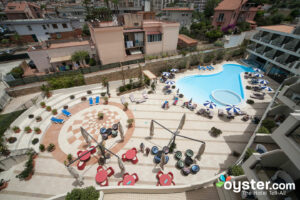 This funky, modern seaside hotel stands out amongst its traditional Mediterranean-style competitors with clean rooms and interesting decor. Though rooms aren't particularly upscale, they are large and feature balconies. Families may enjoy the large pool and location across the street from the beach, but the Sea Palace mostly attracts couples with its on-site spa, elegant restaurants, and waterside bars.