Ten years ago, when I went to Paris for the first time, I did many things: I caught a small cold; made out in front of the Centre Pompidou; was overwhelmed with emotions in the Musee d'Orsay; felt lonely looking at the packs of cigarette-smoking friends in the warm night cafes; and made friends with a pit bull in a gay bar. What I did not do was enjoy the breakfast.
There were plenty of reasons for this. Admittedly, I might have been hungover, and a croissant, coffee, and glass of juice simply do not a remedy make. There's also the fact that, as an American, I was used to breakfasts -- big breakfasts -- with a variety of sweet and savory items all competing for space on my morning table. Over time -- and several trips abroad later -- I've come to realize what many intrepid travelers already know: One of travel's simplest joys is experiencing breakfast customs around the world. Read on for just a small sample of some of the most iconic breakfasts to be had in 10 of the world's best cities.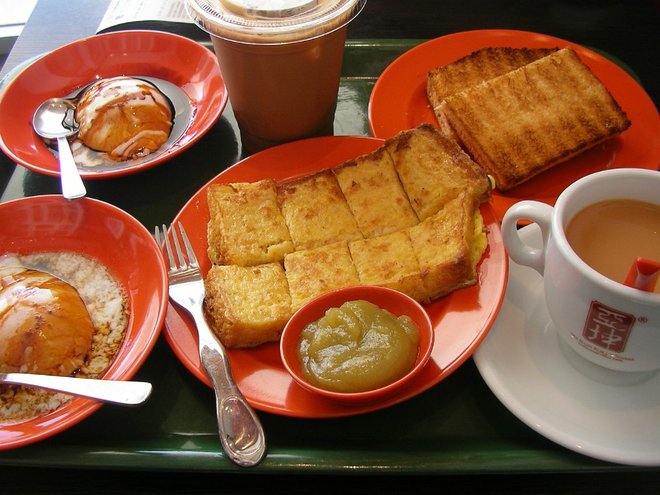 There are few things that
come cheap in this most-expensive of metropolises, but breakfast is one of
them. It's a simple affair that will be familiar to most Westerners: eggs and
toast — but there's a local twist. To start your day off like an actual
Singaporean, those eggs need to be soft boiled and that toast
better be slathered with kaya jam, a type of thick coconut custard. Add a dash of soy
sauce to the eggs and pair everything with some kopi — thick black coffee — and the day is sure to be off to a good start.
Chains across the city crank out this breakfast staple, including Killiney
Kopitiam and Ya Kun Kaya Toast, but it's worth checking out traditional joints
like Tong Ah Eating House as well.
Hotel Pick: For an even
mix of all things quaint and urban, The Daulat Hotel — in Singapore's
vibrant Little India — is one of our favorites. It's steps from plenty of
action and we love high-end amenities like in-room Nespresso machines paired
with tons of artsy boutique style.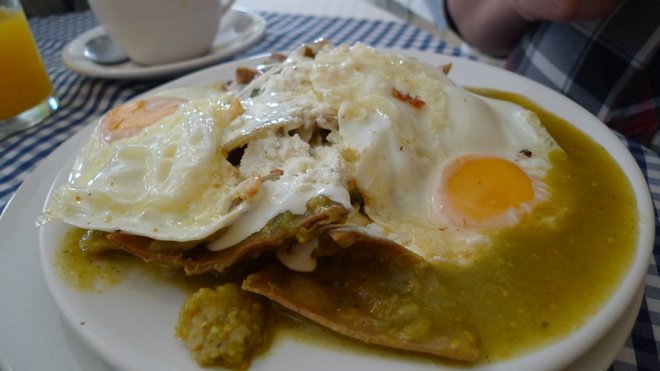 Like many breakfasts,
this dish may have its origins in simple home economics. The question of what to do
with stale items has led to ingenious inventions like
French toast. In Mexico, this question may have led to chilaquiles. This ingenious
concoction has helped many a late riser ease a little more gently into the day and is known as a killer of la cruda (the hangover).
Think of chilaquiles like breakfast nachos. Stale tortilla chips
are sauteed with salsa verde and a bit of crema fresca, and topped with poached
or fried eggs, queso fresco, and assorted additions like onions, avocado, meats, and
radishes. The result is a salty, savory, chewy, slightly crispy dish that's one
of the country's most recognizable. They're available far and wide in Mexico City, from take-away windows like La Ventanita in trendy Roma Norte,
low-budget dives like Cafe El Popular in the city center, or more upmarket cafes
like Eno in high-end Polanco.
Hotel Pick: Room Mate Valentina blends minimalist furniture with maximalist color schemes in a trendy,
youthful package. We admit, the bold design choices won't be everyone's cup of
tea — and the on-trend factor isn't built to last — but for now it's a stylish
choice, and its Zona Rosa location is hard to beat. For something more timeless, but way more expensive, splash out at the luxe Las Alcobas Mexico DF.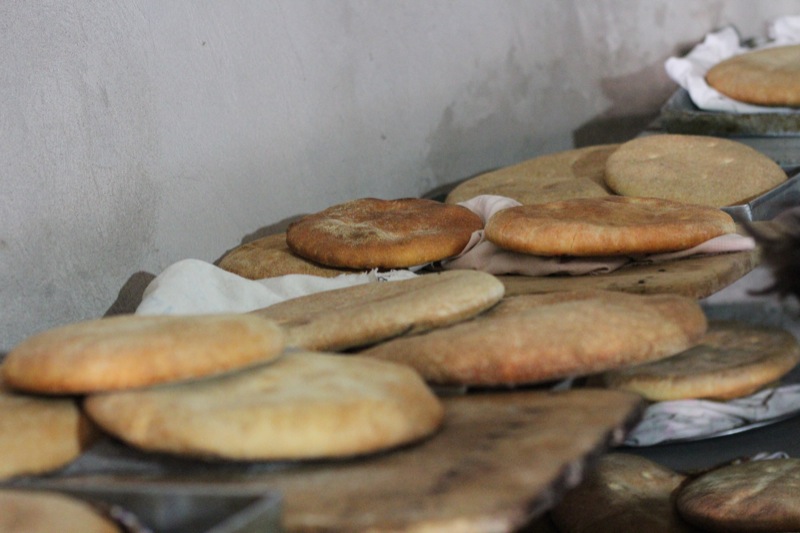 Breakfast comes in many forms in Morocco.
One can start their way like the French, with a toasted baguette, juice, and
coffee, thanks to the country's colonial past. But one can also do as the Moroccans
do and enjoy breakfast twice. That's right: Many residents of Marrakech eat two
breakfasts. The day starts with mint tea and hacha — an English muffin-like cross between a
flatbread and a pancake — served with various jams and dips like amlou, which is made
from argan oil, toasted almonds, and honey. This is followed up a few hours
later by more tea or coffee and dishes such as bissara, a dried fava bean soup
that's a favorite during colder months. Bissara is best found in the narrow
alleyways and ancient squares of the city's medina.
Hotel Pick: While there's
plenty to like about the city's swanky newer neighborhoods, for a truly
atmospheric experience, stay in the medina. Riad Ambre et Epices is housed in a
traditional Moroccan riad — a home with a courtyard — and its elegant interiors
blend gorgeous traditional woodwork with sharp urban-chic details.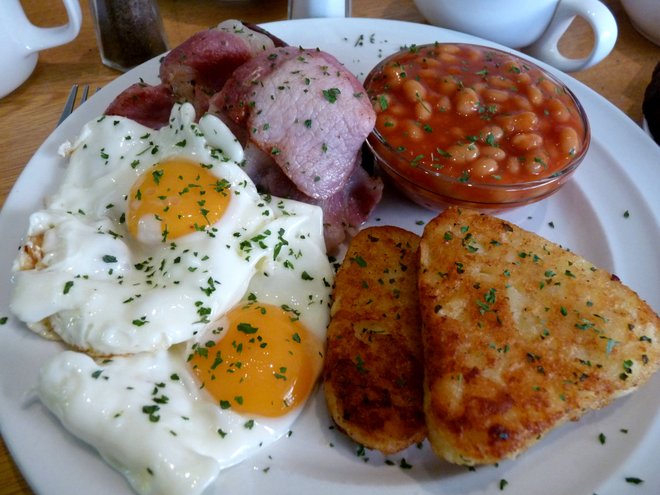 In cold and damp Dublin, the full Irish breakfast is the perfect way to combat the chill (or the effects of perhaps one too many Jamesons). This filling spread consists of (at least) fried eggs, bacon and sausage, fried tomatoes, fried mushrooms, toast, and baked beans. Some restaurants add blood sausages and liver to the mix. With trendy neighborhoods cropping up all over, there's a lot to explore in this sometimes scoffed-at city. The area north of the Liffey River just east of Four Courts has a particularly funky mix of bars, cafes, and shops. For a traditional Irish breakfast, though, it's best to eschew those bespoke, organic, artisanal establishments for the pubs and greasy spoon joints. Gerry's, a block off of St. Stephen's Green, is about as humble as it gets and its staying power is in no small part attributable to its renowned Irish breakfast.
Hotel Pick: Why not embrace some of Dublin's literary history while staying in town. Rates are a bit cheaper north of the Liffey River, and the humble North Star Hotel – Premier Club Suites has modern rooms plus additions like a nice fitness center and a bar near the city's tram line and a train station. It was also mentioned in James Joyce's "Ulysses."
5. Vada Pav in Mumbai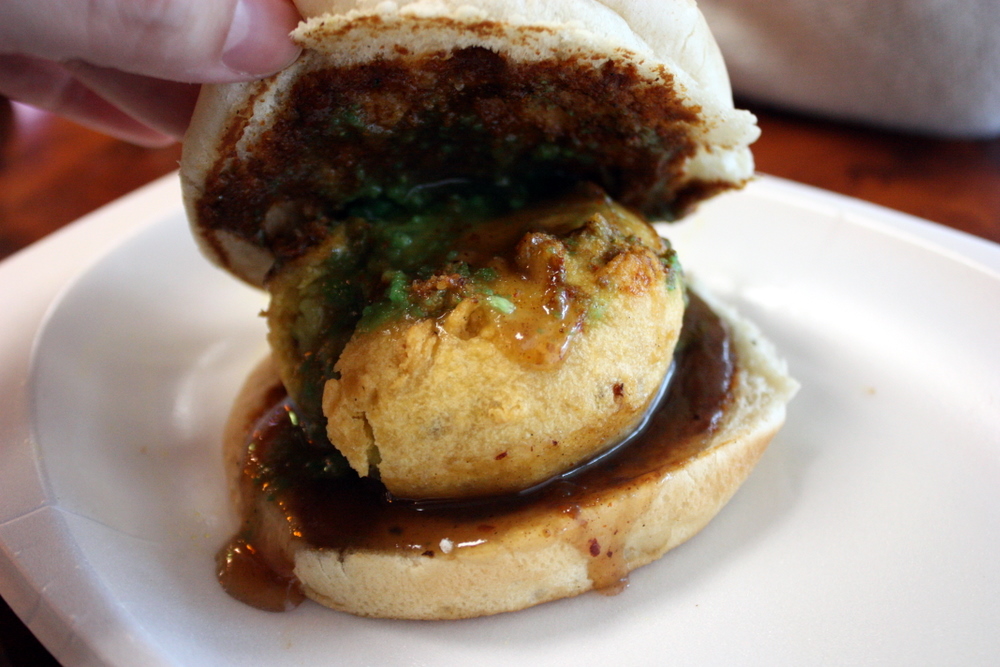 Landing in India is not for the faint of heart, and frantically busy, wildly cosmopolitan, utterly traditional, and ever-changing Mumbai is one of the more jarring and wonderful ways to get used to the country. Of course, one of the biggest debates among Indian travelers is whether or not one should eat the street food. The answer is a resounding yes — with a few precautions. Getting sick while traveling around India is almost par for the course, but so long as those street eats are hot and deep fried, the risk of food-borne illnesses is relatively low. Luckily, Mumbaikers have perfected the fast and hot breakfast in a tiny carbohydrate-laden package known as wada pav. This deep-fried potato fritter is sandwiched inside of a soft flour roll and slathered with various chutneys or sweet and spicy sauces. Pair it with a cup of milky sweet chai and a dish of sambar — a type of gravy — for the full effect. It's available at various hawker stands and dhabas throughout Mumbai, though Ashok Vada Pav has made itself legendary by sticking around for nearly four decades.
Breakfast is a fast thing
in Madrid. Options include pan con tomate — a toasted baguette that's been
rubbed with crushed tomatoes, a bit of garlic, salt, and olive oil — or pastries like napoletanas, which Americans know as pan au chocolate or chocolate croissants. There are cafes and
pastelerias in every neighborhood offering these dishes, taken with coffee and
a bit of juice. While some might be left needing a little more food,
thankfully it all comes quite cheaply by European standards and a second round won't put much of a dent in your wallet.
Hotel Pick: There's a
number of hip boutique hotels to choose from in Madrid, but Hotel One Shot 23
is a gem. Decor is artsy and quirky in the extreme — though it manages to still be tasteful — and
the location in Barrio de las Letras is hard to beat. The Reina Sofia, the
Prado, and Puerta del Sol are all within a 10- to 15-minute walk from here.
The Aussies like to give
things funny names — for proof, simply ask any Australian you know what "budgie
smuggler" means… So it should be no surprise that they refer to the day's first meal as "brekkie."
Brekkie in Sydney will look familiar to most North Americans, as it
includes staples like eggs and potatoes. However, one thing Aussies — and Aussies alone — enjoy is
Vegemite. This brown spread isn't for everyone — it's bitter, salty, and leaves
the tongue feeling dry. Still, locals love the stuff and spread it on
various toasts with a bit of butter. Wisdom says that the key is to spread it thinly, otherwise the yeast
paste overwhelms all of one's tastebuds; even so, it's still only for the most acquired of tastes.
Hotel Pick: The Darlinghurst neighborhood blends
everything there is to like about Sydney: it's cosmopolitan; packed with shops,
cafes, and leafy side streets; and has a bustling urban-living vibe (about
the only con is that it lacks a beach). The Kirketon Hotel Sydney is a sleek
little property right in the middle of the action, with its own popular bar
on-site.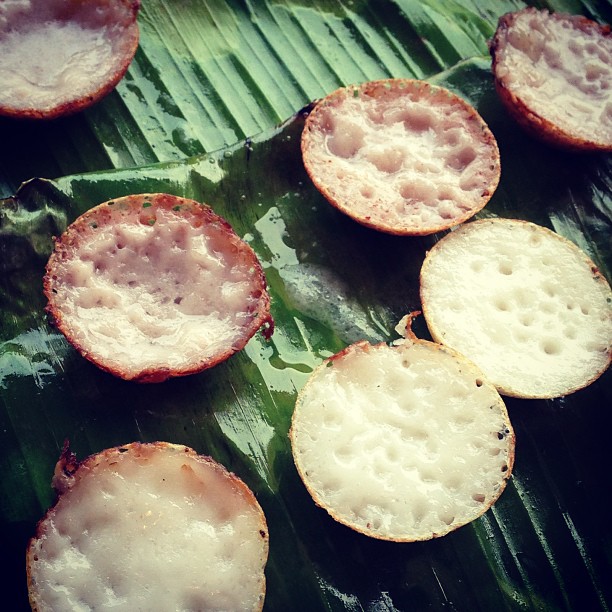 Like with all Thai meals, there's an almost limitless amount of options to choose from at a typical Bangkok breakfast. Everything from skewered meats to stir-fries to soups make up the morning dish in Thailand's chaotic capital. For a quick street-eat, the slightly chewy kanom krok is like a cross between a pancake and pudding, made with rice flour and coconut cream. Pair it with the country's thick, sugar-sweet coffee for a truly jolting start to the day. For a savory start, seek out jok, a type of Thai congee, or rice porridge. This is Thai comfort food at its finest, and the loose rice meal is served with pork, egg, ginger, and scallions. It can be found in almost every market in the city.
Hotel Pick: Where one stays in Bangkok can have major implications for what one sees, as road travel between neighborhoods can be maddening in the city's traffic. For proximity to nightlife and street life, plus shopping, amazing eats, and public transportation, pick Silom of Lower Sukhumvit. Ariyasomvilla is only a 10-minute walk to the Nana area of Sukhumvit, but feels light years away, with its charming and tranquil traditional interiors next to the Saen Saeb Canal.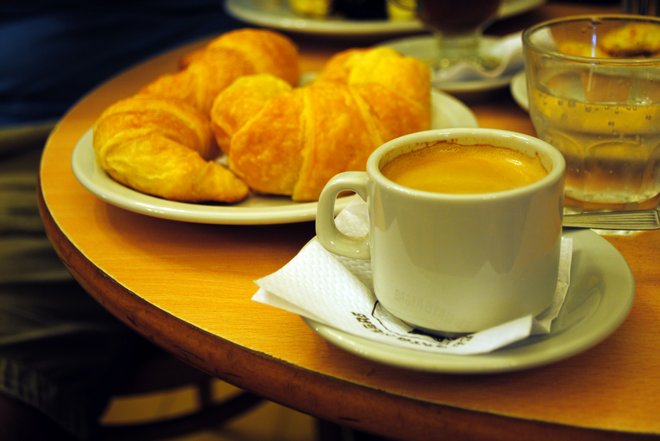 Maybe it's this city's
unabashedly European roots, but breakfast is a light affair in sprawling Buenos
Aires. To be sure, those looking for organic rolled oats with chia seeds and
goji berries will find them — the trendy Palermo barrios are packed with
hyper-twee restaurants. However, to start the day the old-school way, it's time
to carb load. Medialunas are a city staple — picture smaller, slightly
denser croissants that come in sweetened and unsweetened forms. For the full breakfast experience, these are
paired with tostadas, jam, butter, juice, and a cafe cortado. Breakfasts like this are available in nearly every classic cafe in the city, but the best will be in San Telmo or Recoleta, two of the city's oldest barrios. For a more modern take, Pride Cafe is a favorite
in historic San Telmo. It's wildly popular with the city's LGBT community,
though all are welcome.
Hotel Pick: Recoleta is one of the city's
poshest neighborhoods. It also happens to be central to most sights and
historic neighborhoods — the cafes in this part of town were a favorite of
Jorge Luis Borges, the famous Argentine author. CasaSur Art Hotel is a
reasonably priced luxury boutique property with handsome rooms and extras like a
spa and small fitness room. For an eco-friendly and stylish alternative, check
out the breezy style at CasaCalma Wellness Hotel in the Centro neighborhood.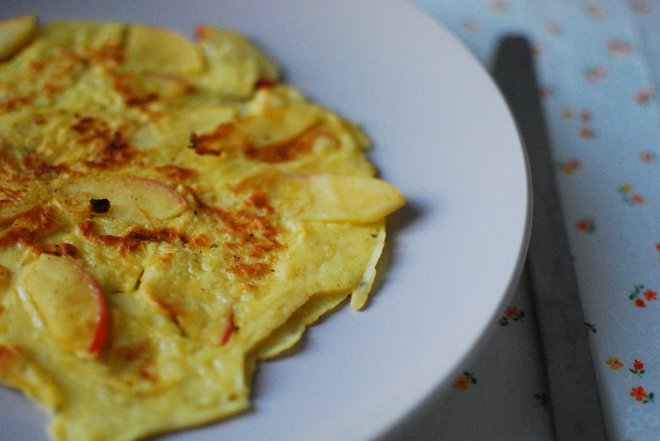 Known as pannenkoeken,
the Dutch pancake can be eaten at nearly any meal — and why not spend at least
one whole day doing just that?! But for those looking to be a little more
sensible and a little less indulgent, it's at least worth kicking off one day
the right way by eating a Dutch pancake. These days, pancakes in Amsterdam come
in all manner of sweet and savory varieties. The Dutch version is much thinner
than its Americans cousin, and the crepe-like dish can be topped with
almost anything, though the classic apple, cinnamon, and sugar variety is hard
to beat. For some of the city's best — and most diverse — check out Pancakes! Amsterdam,
whose name (and crowds) tell you everything you need to know about
what's going on inside.
Hotel Pick: For a
kitchen-sink approach to interior design that somehow works, book a room at The
Toren, in the city's Canal Ring. This historic hotel was once
a safe house during WWII. Today, the funky, over-the-top decor still manages to
feel polished and pitch-perfect, and the city-center location makes long, leisurely
strolls easy and convenient.
Related Links:
All products are independently selected by our writers and editors. If you buy something through our links, Oyster may earn an affiliate commission.