For some, that first cold snap is greeted with a rousing cheer, "Hooray for sweater weather!" But for the rest of us, the sinking temperatures echo our sinking spirits as we picture chipping away at frozen windshields and bracing ourselves against chilling winds. Our strategy to make it through the colder months? Find a warm, cozy hideout to hunker down, preferably one with room service. These 10 hotels -- with their fireplaces, fire pits, and other toasty features -- provide the perfect hibernation spots that will thaw out our feet and our hearts.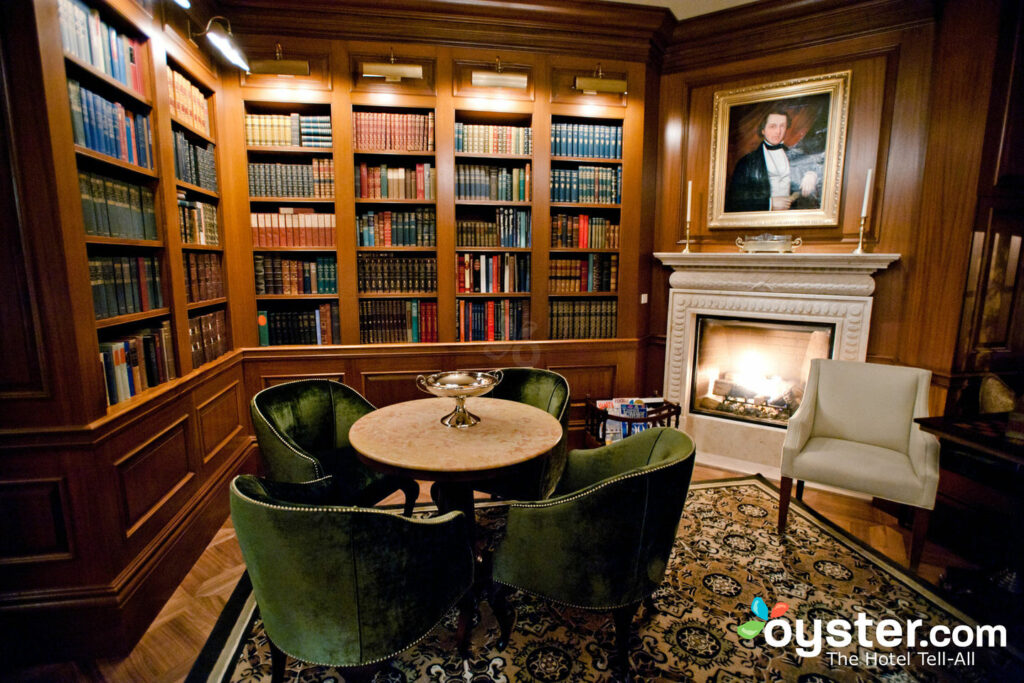 The Jefferson has the very picture of a classic, cozy den: a substantial mantle, regal club chairs, and a crackling fire — all that's missing is the loyal dog at your feet. But that's what you'd expect from a hotel named after our third president and based in our nation's capital. Plus, considering D.C.'s wet and chilly climate in winter, we're betting tourist and business travelers alike appreciate the old-fashioned warmup.
The Maritime's lobby is pure whimsy, from the globe-shaped chandeliers to the model ships to the brass anchors strewn about — it's a hotel made for a Wes Anderson film. But unlike some other high-design hotels, this lobby is still exceedingly cozy, as is evident from the working ceramic fireplace hidden in the back. Pulling up a navy armchair to its warmth feels like you've settled into the ultimate admiral's quarters. And it's perfectly positioned close to the bar, so orders for a hot toddy can be carried out by the crew, er, staff.
Even Palm Springs — a place covered in palm trees and swimming pools — can get chilly, especially at night. But the swinging Parker, with designs by Jonathan Adler, wasn't about to throw an old Yule log in a brick fireplace and call it a day. Instead, the hotel made a snazzy, mod fireplace with a lounge that's, in the words of Austin Powers, "shagadelic." Swing-chairs, faux fur, and an excessive use of orange add to the warmth.
San Francisco's creeping fog means the city can sink into a chilly haze any time of year. As the famous quote (often attributed to Mark Twain) goes, "The coldest winter I ever spent was summer in San Francisco." So savvy visitors know finding a place to snuggle up and peel off a few layers is crucial. And the Fairmont's apartment-style units in Ghirardelli Square aim to please with gaslit fireplaces in each one. Guests who want to stay social can also head to the roof deck, where two outdoor gas fireplaces await along with waterfront views.
This property's appeal can be summed up in three words: private fire pits. Sure, there's the 18-hole golf course, sweeping bay views, and marble bathrooms. But for travelers looking to hunker down in chilly weather, nothing beats a bonfire of one's own. And many rooms here come equipped with a pair of Adirondack chairs and a fire pit. It's like having an in-room fireplace with a view.
What could be more romantic than pairing a good bottle of wine with a crackling fire? The Calistoga Ranch understands this. Its Wine Country resort is overloaded with luxurious extras — whirlpool tubs, outdoor showers, loaner Mercedes-Benzes — but perhaps the most luxurious features are the working fireplaces found in bedrooms, lounges, and even on the outdoor decks. We suggest hitting the property's private wine cave to select a bottle before settling in for the night.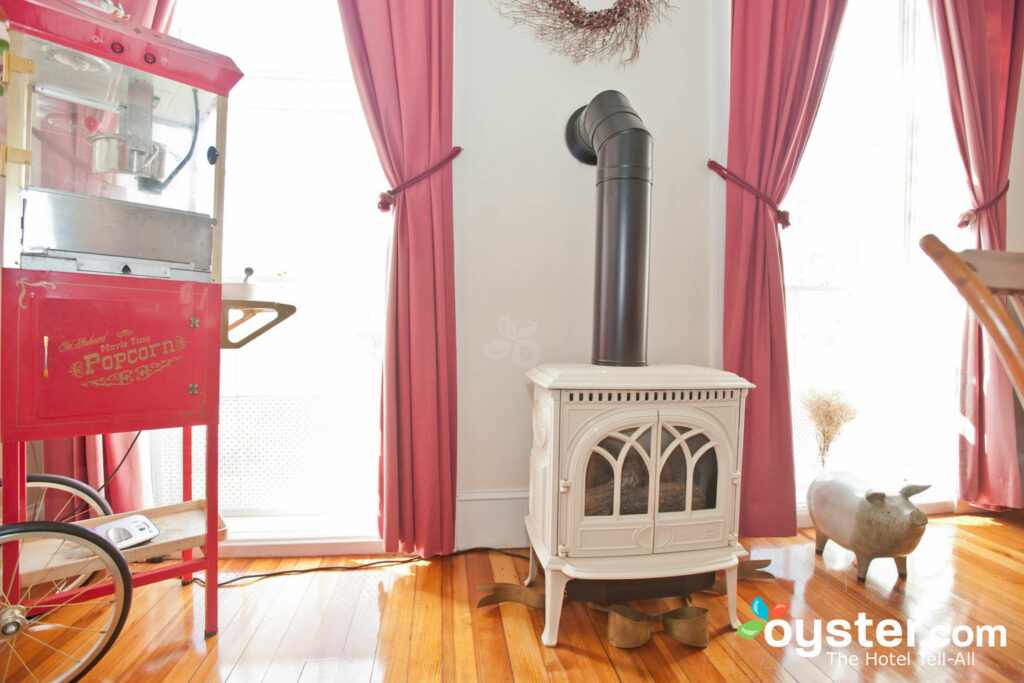 Period charm runs throughout the Christopher Dodge House, an old-fashioned inn complete with press-tin ceilings, four-poster beds, and a working wood-burning stove in the lobby. And this comfort is extended to rooms, most of which have gas fireplaces and stoves. Considering the house's origins, dating back to the mid-1800s, these beautiful hearths weren't considered ornamental but rather an essential way to keep out the Providence cold. And today they offer that extra buffer of warmth during any frosty night.
Take the temperature in New York City and subtract 10 to 15 degrees — that's how cold it gets in the Catskills, a mountainous area about 130 miles north of the urban bustle. But despite the nip in the air, travelers come from the city and beyond to sample the simple life. And this property, a former motel, is low on frills but high on homey appeal, including an outdoor fire pit and movies projected alfresco. It's the ideal spot to relax after a long hike — beer in hand, naturally.
Sometimes it seems like New England has a lockdown on the "cozy winter hideaway" thing. But the truth is, desert destinations have the same struggles with chill, and their solutions are just as charming. The Southwestern La Posada offers travelers this alternative: Snuggle up in your own casita by a kiva-style fireplace, or head to the outdoor fire where you can snack on s'mores with fellow guests. Either way, you'll be as snug as a bug in a kilim rug.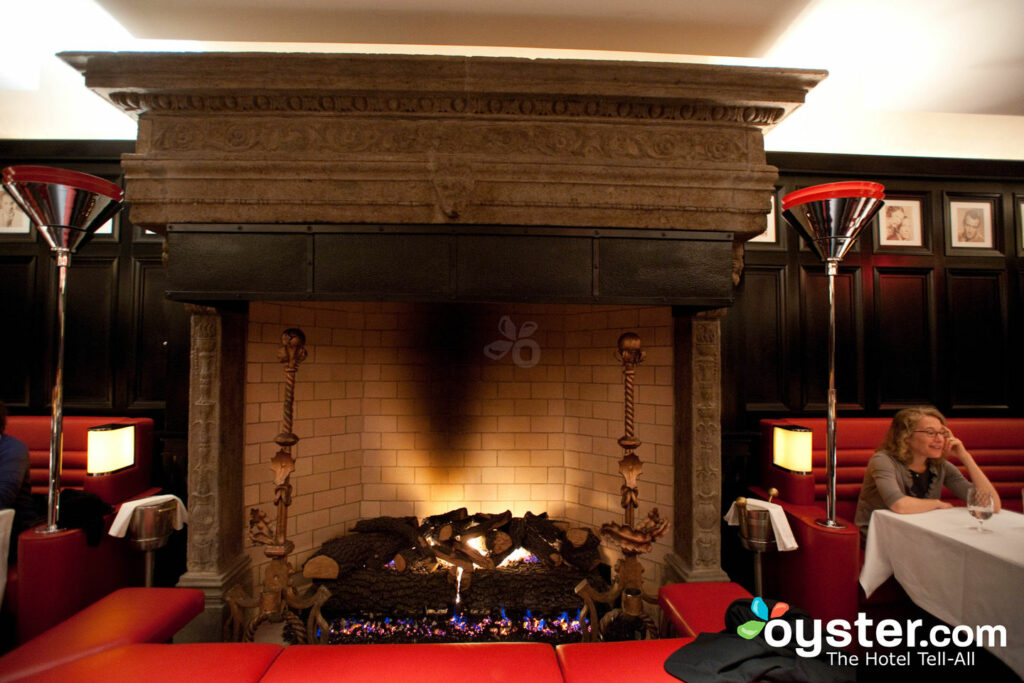 For those that are fireplace-obsessed, The Chatwal will be your snuggly Shangri-la. Its Lamb's Club restaurant reverses the usual formula — instead of having a dining room with a fireplace, this is a fireplace with a dining room. The inflated floor-to-ceiling hearth gives the space an "Alice and Wonderland" effect. From the massive mantle down to the flickering embers, it anchors down the entire room and red banquet seating radiates out from there.
You Might Also Like:
All products are independently selected by our writers and editors. If you buy something through our links, Oyster may earn an affiliate commission.