We all love camping...at least in theory we all love camping. In practice, some people take pleasure in the exhaustive prep work, set up, and break down more than others. For nature lovers who like to get their hands dirty, but also don't mind a little white-glove service, these luxury camping retreats are ideal getaways. Each one is designed to let us glory in the wild and sleep under the stars -- without having to finagle tent poles, scout for kindling, shimmy down a sleeping bag, or totter toward an outhouse in the dark.
For those with travel dollars to burn, Four Seasons Tented Camp Golden Triangle is a one-of-a-kind adventure — and about as exclusive as it gets. Deep in the jungle of the famed Golden Triangle and accessible only by boat, this luxury all-inclusive sits right on the border of Thailand, Laos, and Myanmar. Its 15 luxury tents all include huge antique-style bathtubs, outdoor rainfall showers, unlimited minibars, free bottles of Champagne, and enormous balconies that overlook the Ruak River and the jungle. Tents have safes and free Wi-Fi, but no TVs, which helps to maintain the sense of a proper jungle retreat. Rates here may be prohibitively high, but they include elephant rides, jungle treks, river boat trips, and all meals — plus access to one of the world's most memorable and romantic escapes.
At this 40-acre camp near Arches National Park and Canyonlands National Park, accommodations range from simple safari tents with shared bathrooms to tent suites with private bathrooms, king beds, wood-burning stoves, leather couches, and outdoor teepees. All around are views of the otherworldly Utah landscape: shrub-dotted plains stretching towards deep ravines, towering mesas, and snow-capped mountain peaks. Daytime outings include Hummer and hot air balloon tours, wrangler-led horseback rides, and stand-up paddleboarding in the Colorado River. Come nighttime, it's all about winding down under the stars. In addition to Moab, Under Canvas has camps in Zion, Utah; Glacier and Yellowstone in Montana; and the Grand Canyon.
Northern Botswana's diverse wildlife has made it a travel hot spot for wealthy thrill-seekers, and the region hosts a number of luxurious safari lodges, including the ultra-remote andBeyond Xaranna Okavango Delta Camp. It's located on an island in the namesake delta — the largest inland delta in the world — on a private 672,000-acre wildlife preserve. The rates are all-inclusive, covering excellent meals and unforgettable guided excursions (game drives, bush walks, river cruises). The lodge's safari "tents" are fully enclosed and thoroughly upscale, with huge soaking tubs, four-poster beds, and private pools.
Twenty miles north of Santa Barbara, situated on 300 acres of canyon wilderness, El Capitan Canyon offers a camping, or "glamping," experience with enough modern conveniences to satisfy travelers who would rather just semi-rough it. Guests stay in cabins, tents, or yurts; only cabins have en-suite bathrooms. All accommodations have electricity and wooden floors. El Capitan Canyon provides the fun and adventure of camping but with many of the comforts of a hotel.
Pretty beaches, beautiful trails, whale-watching tours, and wild state parks make the San Juan Islands off of Washington state one of the best destinations in the region for the outdoorsy tourist. Lakedale Resort sits on 82 peaceful, slightly inland acres, and offers a range of accommodations for an unplugged getaway, from an airstream trailer to no-frills Canvas Cabins sporting charming rustic decor and comfy beds. In 2016, the hotel debuted six Canvas Cottages — private tented spaces available seasonally, all with electricity, full bathrooms, and fireplaces, as well free breakfast and turndown service. Overall, the property is best suited for visitors looking for an upscale camping experience, although poor cell phone reception may be a nuisance for some.
6. The Resort at Paws Up, Montana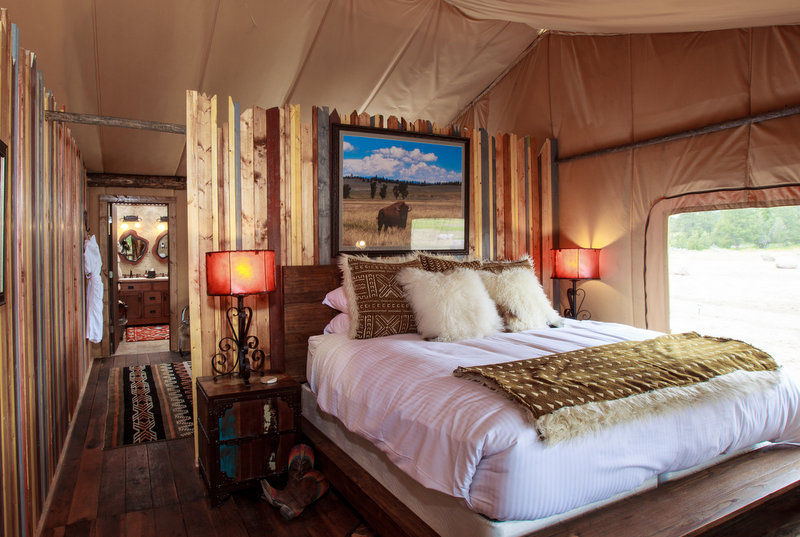 The Resort at Paws Up encompasses 37,000 acres in the Montana wilderness, with nary a paved road to be found. But guests here are far from roughing it: secluded luxury tent suites come with private master bedrooms, hot tubs, heated slate bathroom floors, and big terraces with Adirondack chairs — not to mention, a chef, a butler, and a daily housekeeper. A bell staff shuttles visitors around the vast property, where activities include trail riding, fly-fishing, whitewater rafting, mountain biking, cliff rappelling, and even cattle driving. Travelers who really want to go all out for their great outdoors adventure should book Paws Up's super-swanky Cliffside Camp, which offers breathtaking panoramas of Elk Creek and Blackfoot River.
7. Elements Luxury Tented Camp, Ontario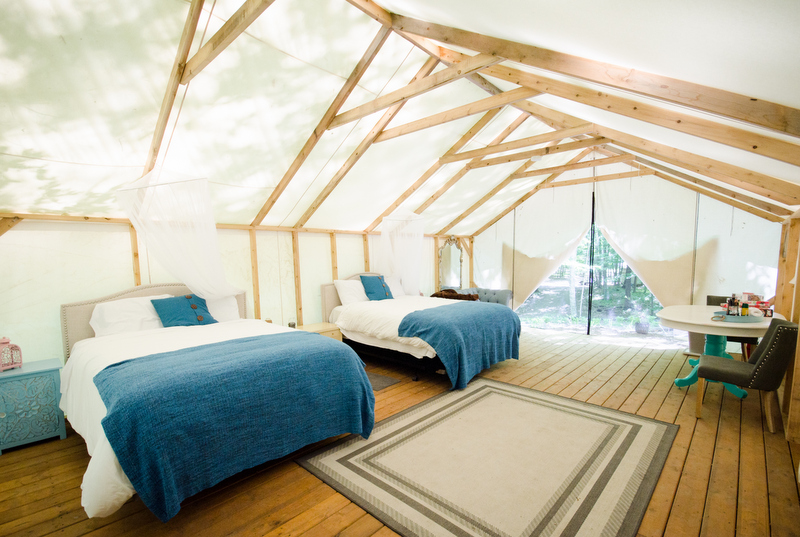 Located on nearly 90 acres of forested wilderness an hour north of Ottawa, this all-inclusive campsite offers homey, well-appointed prospector tents and rustic tiny homes. Tent sites are spaced out by at least half an acre, giving a true sense of seclusion. Each furnished unit features a safe, a two-way radio, a private cold-water shower (showers with hot water are available in a common area), bathrobes, and eco-friendly bath products. But the best part? Outside each tent is a fire pit, with firewood that is replenished every evening by a "wilderness butler," who will also teach camping newbies how to build a campfire, deliver meals, and clean up. During daylight hours, guests can take yoga classes, go on guided nature walks, paddle around Storyland Lake, or simply stare up at the canopied trees (maybe with wine in hand?) and listen to the birdsong.
8. Chaco Canyon, New Mexico
Hotel Chaco is a new luxury boutique hotel in downtown Albuquerque, but it organizes overnight camping trips to Chaco Culture National Historical Park, more than three hours to the northwest. Located in the remote Four Corners region of the New Mexico desert, the national park is home to the country's greatest collection of ancient pueblos, including a vast, complex structure used by Chacoans for ceremonial, commercial, and civic purposes around 850 A.D. to 1250 A.D. (Up until the 1800s, these structures, now a UNESCO World Heritage site, were the largest buildings in North America.) The two-day excursion involves exploring the ancient site (including visiting one room where more than 100 jars were discovered; it's believed these ceramic vessels were used to drink chocolate made from Mexican cacao trees), trekking to sandstone cliffs, and backcountry hiking. After a campfire dinner, campers will meet up with the National Park Service (and their giant telescope) to peer at the night sky. The hotel orchestrates the trips around the solstices, and will also create custom trips.
9. Treehouse Lodge, Peru
Treehouse Lodge — set on an Amazon tributary, the Yarapa River — is not for the faint of heart or the vertigo-prone. Ten incredible thatch-roof tree houses are scattered throughout the rainforest, and are accessed via steel cable bridges, elevated wooden walkways, and stairs spiraling around trees. (Treehouse Six sits nearly 70 feet in the air.) All units have private cold-water showers, plus unreal jungle views. All-inclusive packages include personal guides and all meals, as well as daily excursions like piranha fishing and bird watching, and jungle canopy walks and sunrise or sunset boat rides on the Amazon.
10. 1000 Nights Camp, Oman
https://www.instagram.com/p/BB7nagizBVf
Settled between sand dunes in Oman's Wahiba Sands region, this Bedouin-style camp is a dream for desert lovers. Some of its tents are very basic and no-frills, while others have a single outlet and electric lamp, plus open-air showers. Tents in the highest category are air-conditioned and come with private outdoor space and bathrooms, as well as TVs, coffee- and tea-making facilities, and free sodas and water. By day, campers can ride camels and horses, four-wheel drive and sand-board on the dunes, or trek through the desert with a guide.
Located on Water Island — a quick ferry ride away from St. Thomas — the Virgin Islands Campground provides an elevated camping experience in a natural and lush setting. There are six tented, screened cottages with queen-size beds as well as an indoor suite with a private living room, kitchen, and bedroom with a king bed. There are shared toilets, shower, and cooking facilities for the cottages. It's worth noting that this campground is set on hilly grounds. That said, guests will do a lot of climbing (all of the toilet, shower, and cooking facilities are situated at the top of a hill), but the property is not particularly large or spread out. It's not for everybody, but the property, and Water Island, is a special place for those who enjoy laid-back, quiet nature.
12. Patagonia Camp, Chile
Tucked into a native tree forest in Torres del Paine National Park are 18 luxe yurts, each one with heat, eco-chic furnishings, a private bathroom with hot water, and a central skylight for gaping up at the stars. Horizontal views are arguably more impressive than the vertical ones: all yurts have private balconies looking out over Toro Lake and the soaring Cordillera Paine mountains in the distance. Expeditions include kayaking past icebergs in Grey Lake and horseback riding along Rio Serrano.
13. El Cosmico, Texas
Live your grooviest life at this artsy West Texas community, where lodging options are rehabbed vintage trailers, furnished yurts, spacious Sioux-style tepees, and simple canvas tents with beds. Bathrooms and an outdoor kitchen are shared, plus there are bike rentals, a boutique, and a wooded area strung with hammocks. The 21-acre ranch outside of Marfa regularly hosts workshops (cooking, crafts, songwriting) and live indie shows at night.
14. Whitepod Eco-Luxury Hotel, Switzerland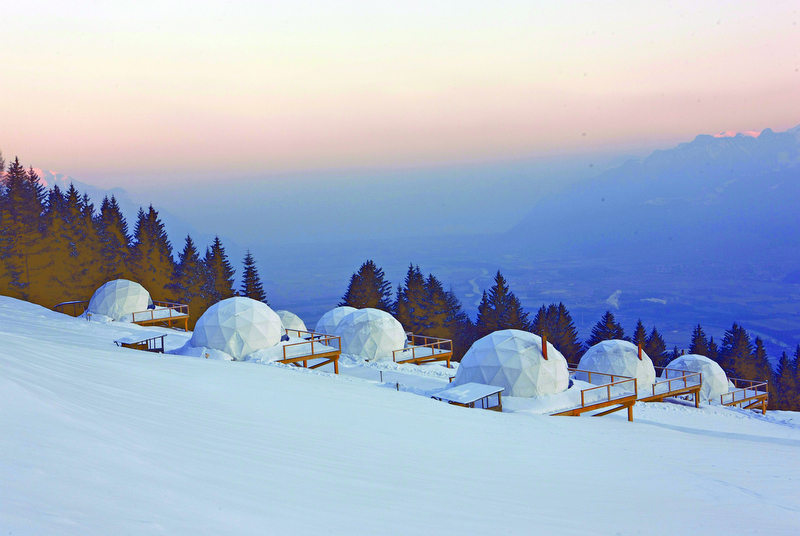 In the foothills of the Swiss Alps lies this secluded resort, where lodging consists of 15 geodesic domes, each one equipped with a private bathroom with a shower. Large terraces make good use of the resort's 4,100-foot elevation, providing staggering views of the village of Les Cerniers and Dents-du-Midi mountains. Every pod has its own pellet stove with a door window to keep things cozy. During the day, guests can go mountain biking, dog sledding, paragliding, or skiing on the resort's private slopes. (Sauna and spa time are always on the docket, too.)
You'll Also Like:
All products are independently selected by our writers and editors. If you buy something through our links, Oyster may earn an affiliate commission.