Yes, there are many, many Caribbean resorts for those who love their in-room liquor dispensers, swim-up bars, and swim-out pool access. But for travelers looking for Caribbean accommodations on the opposite end of the spectrum -- pretty, private bungalows with gobs of local charm -- these quaint resorts are quiet oases with mellow, non-mega-resort atmospheres.
Situated on a bluff overlooking the sea, Cocobay Resort is a stylish and intimate all-inclusive with sweeping Caribbean views. Its collection of 57 cottages are arranged like a village and painted in the classic Caribbean hues of pink or pastel blue. The picturesque and private cottages are decorated in a classic colonial style, with vaulted ceilings, unfinished wood beams, and a slightly rustic, stripped-down feel. The furnishings are deliberately basic and the walls bare, so as not to take away from the view outside; the picture windows and French doors face out to the turquoise sea. And the ambience remains upscale and romantic, thanks in part to details such as billowy mosquito nets draped over beds and hammocks on the private decks (some decks have plunge pools or outdoor claw-foot tubs).
For travelers who prefer the smell of a charcoal grill amid the trees over sunscreen and salt air, this wooded mountaintop retreat is a perfect fit and a unique pick. Most of the nine summer-cabin-style bungalows were built to resemble the homes of the island's early Creole settlers, emphasizing an unplugged experience surrounded by nature. Rooms lack many 21st-century conveniences, like AC, TV, and safes, but there are outdoors showers, hammocks, swinging chairs, and kettle grills everywhere, along with fully stocked kitchenettes and large patios or terraces with dining tables. In all, Au Jardin des Colibris stands out for its unusual surroundings (for a Caribbean island), handsome Creole Huts, and staff's enthusiasm for Guadeloupe's history and culture.
Natura Cabana is a simple, quiet hideaway on the D.R.'s northern coast. It abuts a gorgeous, crowd-free beach (one of the best in the region), where its two beachside restaurants serve delicious and wholesome food. Tucked back into the palm-shaded property are 11 charmingly rustic and eco-friendly bungalows. The spacious stone-and-wood rooms (which range from studios to three-bedroom unit) have large porches, amazing stone bathrooms, and names and decor themes like Africa, India, and Mexicali. All are eco-sensitive, meaning there are powerful ceiling fans in lieu of AC, energy-efficient lightbulbs, and hot water that must be manually activated and shut off. Rooms also lack TVs and phones, but they do have mini-fridges and free Wi-Fi.
Opened in the '70s as a hippie hangout, this modest-size property has since grown into one of Negril's top-rated resorts. Tensing Pen still adheres to its original ethos of simple, back-to-nature living. Its 17 cottages (divided into 22 rooms), restaurant, bar, pool, yoga studio, and spa are all hut are built into the rugged, naturally beautiful cliffs of the West End. Each cottage is unique, but all contain simple furnishings and comfortable beds. Mini-fridges are provided, but not phones or TVs. Here, it's all about quiet simplicity.
Cat Island, a district of the Bahamas 130 miles southeast of Nassau, is known for its gorgeous, secluded beaches. Much of the island is not developed, so it's not uncommon to come across miles of white sand with no one or nothing around — no boats, docks, or jet skis. Shannas Cove Resort sits on a hill on the island's east coast; its position affords it spectacular views of the ocean below. Its five freestanding bungalows, each named after a tropical animal or marine creature, are sprinkled across the resort's hillside. Inside the bungalows, the crisp white walls and pitched wooden ceilings are accented by colorful tiled floors. Rooms are nothing fancy, but they're spacious and have private furnished porches with dazzling ocean views.
Ylang Ylang Beach Resort sits on a wonderfully unique and rugged spot on Costa Rica's Pacific coast. The property straddles a scenic white-sand beach and lush rainforest nature preserve, where monkeys and exotic birds are common (so carry a camera at all times). The 22 rooms all have empty mini-fridges and private bathrooms with hot-water showers and rates include breakfast and a la carte dinner for two people. Beach Front and Garden Bungalows are standalone units best suited for romantics, with one Queen-sized bed and neat — almost retro — pointed windows and a rounded layout in each. (The Colibri Bungalow can sleep up to four people.) Pro tip: Ylang Ylang is not an easy reservation to secure, so it's best to book well in advance.
As one of St. Lucia's most established properties, East Winds has an old-fashioned vibe that's part of its charm. It's a place where guests, mostly couples and honeymooners, come to relax and be left alone. Most of East Winds' 30 rooms are duplex cottages painted a soft lime-green with bright white gingerbread trim and scattered about the property's gardens. The rooms are finished in traditional Caribbean colonial style with dark mahogany or white-washed furniture, red terra-cotta tile floors, shuttered windows, and vaulted ceilings with ceiling fans. East Winds adds colorful nuances such as throw pillows emblazoned with butterflies, vases arranged with ginger and bird-of-paradise, and framed prints of local birds and flowers.
Hotel Diamante K is a charming boutique resort with rustic style right on the stunning beach of Tulum (not technically part of the Caribbean, but on Mexico's Caribbean coastline). Its 29 cabins were ecologically constructed with natural materials; their combination of thatched ceilings, stucco or stacked-rock walls, and glazed concrete and stone floors with pebble inlays create a look that's beachy, but polished. The bright colors and fabrics contribute to the breezy aesthetic, while varnished driftwood shelving and tables look sharp next to wicker pendant lighting. Decor varies from one category to the next, and rooms like the Deluxe Suite that we visited look like they're out of an interior design magazine.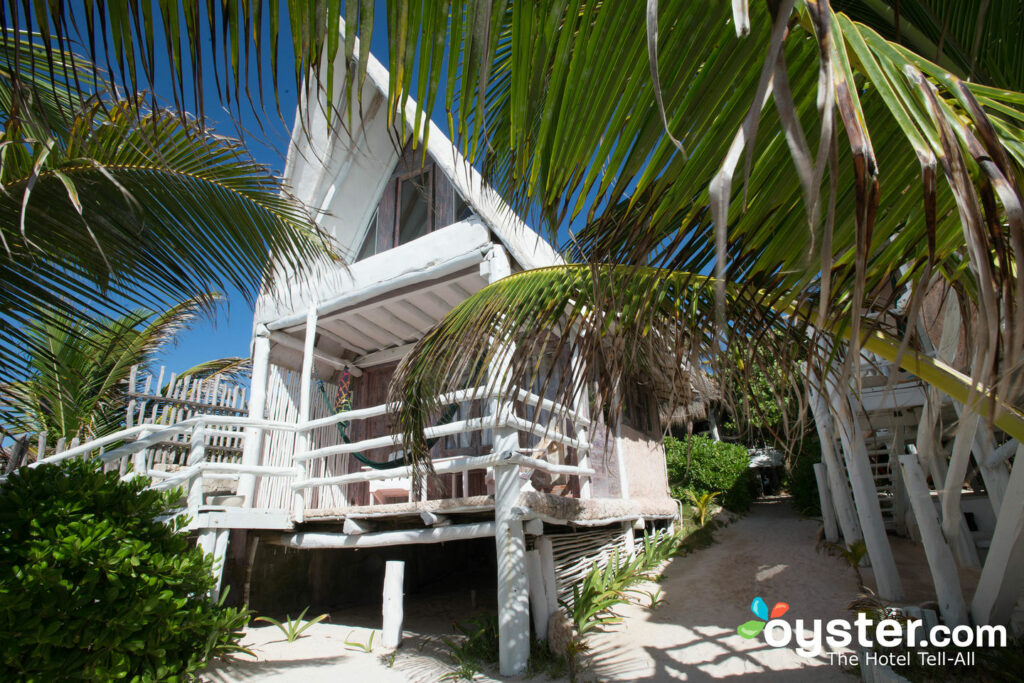 Like Diamante K, Posada Lamar is a quiet beachfront resort in Tulum, one with a laid-back, rustic vibe and eco-friendly practices. It's even smaller than Diamante K, with just eight freestanding cabins (as opposed to Diamante's 29 rooms). Just a few feet from the beach, these one- and two-level rooms are built from recycled materials, including bamboo, gnarled wood, and palm fronds. Local folk art (rugs, tapestries, and carvings) add distinctiveness to the spare accommodations. Large windows let in significant amounts of natural light, and many of the units have unobstructed ocean views. All cabins have private, furnished porches with chairs and hammocks.
Named after Christopher Columbus's famed fleet, Cape Santa Maria Beach Resort runs parallel to a supremely gorgeous beach on Long Island, a sleepy, rugged Out Island. More than half of the resort's 40 rooms are one and two-bedroom budget bungalows, each one with a spacious screened-in porch featuring an ocean view. Inside, bungalows are painted pastel colors (sky blue, buttercup yellow) and feature coffee-making facilities, safes, mini-fridges, and jugs of drinking water. Bungalows are simple affairs — they lack TVs and Wi-Fi — but most guests don't miss those amenities when they have private verandas and gorgeous ocean views.
A far cry from the crowded chaos at most Caribbean all-inclusives, Sunset at the Palms is a relaxing Bali-style getaway with eco-friendly bungalows and flower-strewn grounds. Most of the 86 rooms at the Palms are set within a series of stilted bungalows (referred to as "treehouses") across the lush property. The large dwellings feature platform beds, ceiling fans and ACs, modern bathrooms with resort-made toiletries, and free Wi-Fi. Every room at the resort comes with a wonderful balcony and daybed — perfect for reading or dozing off.
Built atop the beautiful coral reef cliffs of Negril's West End, Citronella's six traditional Jamaican cottages guarantee guests some of the island's most stunning surroundings and dramatic views — while still being in the heart of the action. Although these traditional cottages lack AC, the heavy-duty fans and built-in wall slats do a remarkable job at keeping everything cool. Besides, it's what's outside the cottages that's most impressive: each unit has a private outdoor veranda (or two), beautiful and private cliffside sea access, and a personal swimming cove.
You'll Also Like:
All products are independently selected by our writers and editors. If you buy something through our links, Oyster may earn an affiliate commission.