Some Mexican resorts feel completely divorced from their surroundings. But these 15 rustic-chic eco-resorts are totally in tune with their environments, and are dedicated to preserving them with practices such as alternative energy (like solar panels and wind generators), noninvasive beach cleaning, and water treatment systems that prevent environmental contamination. Many were even built with local materials gathered from the beach and forest near their construction sites. An earth-friendly ethos not only means a reduced ecological footprint, but also a one-with-nature, off-the-grid atmosphere (hello, tech-addled smartphone fiends in need of a digital detox). Here, checking in means checking out completely, so get ready to set up your OOO — and mean it.
See All Mexico Hotels
1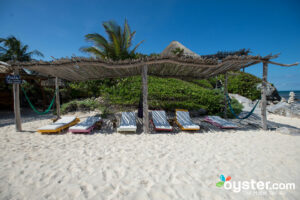 Electricity and Wi-Fi are in short supply at the adult-only Azulik Hotel & Maya Spa, a Tulum beach boutique hotel that provides a rustic, off-the-grid experience. Azulik's 39 rooms -- situated between a rocky shoreline and the lush forest -- are constructed from natural materials found on the beach and surrounding forest. Thatch-roofed, palapa-style huts are elevated on stilts, offering views of the ocean or dense jungle in lieu of TVs. Porch rails are made from gnarly, carved wood; palm fronds provide shade over porches and common areas; and a winding, elevated bridge slashes through the jungle. Generators provide what little electricity there is. Sockets are available for charging mobile devices, but nighttime lighting depends on candles. The coastline is mostly rocky, and while lounge chairs and hammocks line the clothing-optional beach, sand space is limited.
2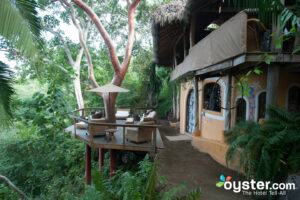 From its construction to its use of local, organic ingredients in the restaurant, Haramara -- arguably one of Mexico's most special hotels -- displays great respect for the surrounding ecosystem. The luxurious yoga retreat, which sits on 12 seaside acres of wild vegetation just outside Sayulita, was built with local wood and traditional construction techniques (no heavy machinery) that cause less damage to the environment. Each room is housed in a private standalone thatched hut with no window panes or screens separating it from the jungle, and only gauze curtains and mosquito nets to avoid bugs and critters (the resort asks guests to bring organic toiletries as another way of keeping environment disruption to a minimum). There is no electricity anywhere besides the restaurant and the yoga studio (meaning that rooms lack air-conditioning or fans). Guests who want to read in bed at night should bring book lights. Grounds are dark at night, so bringing a flashlight or headlamp is also recommended. Haramara is geared towards those in need of some detoxification and relaxation, with yoga and meditation classes, a secluded beach, an open-air spa, unpaved trails, limited cell phone service, and lack of phones or Wi-Fi. The menu at the vegetarian and seafood restaurant changes daily based on what is available at the market that day.
3 It's quite a feat to be Mexico's only LEED-Platinum-certified building and it's not something Casa de las Olas takes lightly. This budget beach boutique hotel in Tulum doesn't just have zero footprint, but a negative footprint. Meaning? It leaves the area in a better state ecologically than before it existed. Things Iike self-sourced water, gravity-driven showers (which cause slightly low pressure on the upper floors), a wastewater filtration system, on-site compost and recycling bins, biodegradable toiletries and cleaning products, and 100 percent solar power help Casa de las Olas do just that (a generator is used on cloudy days). The owner is also extra-conscientious about the source of everything -- from the furniture to the food -- to ensure contributions to the local community and economy are in place. Most of the five rooms have kitchenettes or kitchens and furnished outdoor spaces, and all have ocean views. Free breakfast is served at a communal picnic table and lunches can be requested in advance, but guests have to venture farther into Tulum's Hotel Zone for dinner, drinks, or any other attractions (the hotel is located at the end of a quiet and private road just before Sian Ka'an).
4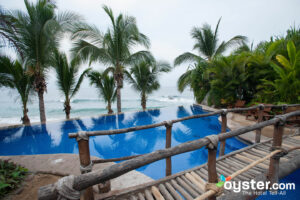 This secluded, romantic retreat is tucked away in a beachfront spot in the jungle outside Sayulita. Its 25 beautiful rooms are housed in standalone huts built using natural local materials and offering ocean or jungle views, terraces, and rustic-chic decor. All rooms are open, meaning they don't have window panes or screens, but canopied beds have gauze mosquito nets that help keep bugs at bay. Open bathrooms feature Baño de Maria toiletries, made from olive oil and lavender, and some feature bidets, which decrease paper usage. The idea is to deliver an unplugged, in-touch-with-nature vacation, so no rooms have TVs and only a few have Wi-Fi service. The grounds are kept mostly wild (huge palm and banana trees cover large areas of the property) and are dark at night, so the hotel provides flashlights to move around. The small, beautiful pool has an infinity edge overlooking the beach and natural (chlorine-free) saline water. Private and group yoga classes are available, and the front desk can arrange horseback riding trips and activities outside the resort. Paddle boards and snorkeling equipment are free to use.
5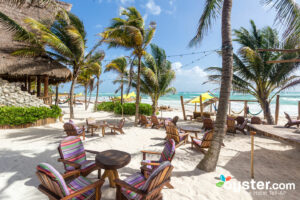 This beachfront property in Tulum blends handcrafted artwork and bohemian decor with rustic architecture that used 100 percent locally sourced materials (wood, thatch, stone). Buildings were constructed around the natural landscape and vegetation as much as possible, giving the property a hidden-away-in-the-jungle vibe. The 26 rooms have outdoor space and most have great ocean views. Rustic furniture (some of the four-poster bed posts are driftwood) and bamboo accents add to the eco-lodge feel, and mosquito netting over the bed is both attractive and useful, especially for guests who want to keep their windows open at night to let in the ocean breeze. While air-conditioning is provided in all but the Bali Huts, the hotel has limitations on its use, and it is mostly only available at night. Bathrooms feature natural toiletries made in Merida, and wastewater is treated via the hotel's own filtration system (Ahau also has a catchment system for rainwater). Plastic bottles and bags are discouraged, so each room has its own fresh water container that's refilled daily. Glass beer and soda bottles are brought back to their products to be refilled (and rogue plastic bottles brought by guests are recycled). There are daily yoga classes, bike rentals, and windsurfing classes, plus pets can roam freely. The hotel composts the organic waste from its two restaurants (one of which is organic and raw).
6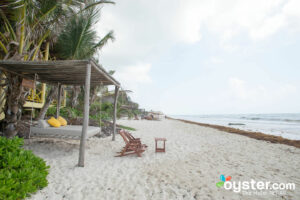 Most of the boutique properties along the Tulum coast operate off the grid to some extent, and the family-owned, relatively budget-friendly Nueva Vida de Ramiro is no exception. Solar panels and a wind generator provide electricity 24 hours a day, and a wastewater treatment system hinders polluting the ecosystem. Air-conditioning is available at night in five of the 33 rooms; most rooms only have fans, but all have Wi-Fi and at least one electrical outlet. Oceanfront Suites have large, sunny terraces with patio furniture, hammocks, and fabulous views of the beach. These porches also have red lights -- a color undetected by turtles who come to the beach to lay their eggs. Nueva Vida de Ramiro operates an on-site turtle conservation project that locates, monitors, and sometimes transplants sea turtle nests in the area. There are two fenced-in monitoring areas on the property, where at-risk nests are set and observed; sometimes the turtles are helped through to release -- a special event that guests are welcome to participate in.
7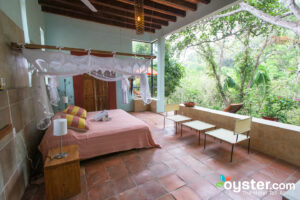 This adult-only boutique resort is nestled in a hillside high atop the bay of Yelapa, a secluded beach village surrounded by jungle on the coast of Jalisco. This part of the country is largely uninhabited and is not accessible by road: the only ways to get around are by boat, on foot, or on the back of a donkey, when needed. This hotel's eight unique, gazebo-style rooms (or houses, as they're called) have fully open walls that capitalize on the sweeping jungle views in every direction. All off the TV- and AC-free rooms offer electricity, Wi-Fi, plush beds, mosquito nets, and rustic wood furniture. Sheets are changed every other day, and water is sourced from a nearby mountain spring. While facilities are minimal and not exactly upscale, this chic jungle experience -- which includes an outdoor restaurant and spa and a multi-level infinity pool -- is popular among couples looking to get away from it all. The hotel is open from November to June.
8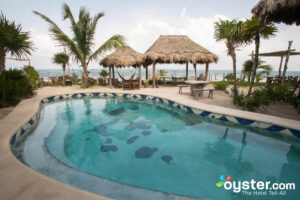 Designed to resemble an ancient Maya town -- complete with a rugged perimeter wall, stone buildings, thatched-roof palapas, and a central fire pit -- the beachside, solar-powered Suenos Tulum feels more remote in time and space than it actually is. The 13 rooms have vibrant and colorful hand-painted tiles, organic toiletries, bottled spring water, indoor hammocks, and, except for Master Suites, mosquito nets around comfortable beds. Rooms have solar-generated electricity and air-conditioning at night (note that electricity is turned off during the day, rendering the outlets and overhead fans inoperable). Only the Temple Suite has electrical outlets, and there is a charging station in the lobby. Though casual and low-key, this boutique property has resort features like a palapa restaurant, an open-air bar, a pool, and yoga classes, as well as free Wi-Fi and free continental breakfasts.
9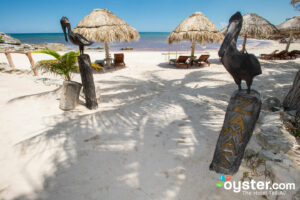 With its focus on sustainable energy, low-density accommodations, and local arts and culture, Zamas' goal is to stay true to the culture of Tulum. The owners live on site and work hard to do eco-tourism right -- even cleaning the beach in the most natural, noninvasive way possible (they pile the seaweed and allow it to bake in the sun, despite the rotten smell). The largely unplugged resort is made up of large, airy palapas powered by generators, including an open-air restaurant serving American and Mexican cuisine and 18 simple, thatched-roof rooms with balconies that have hammocks and sunset views. There are no televisions, ACs, or phones in the rooms, and Wi-Fi reception is limited to common areas.
10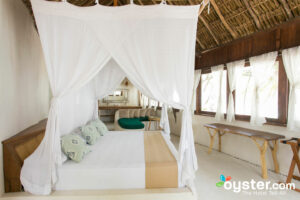 This boutique hotel is located right on Tulum's stunning white-sand shore. The 29-cabin property was founded and is owned by the Mexican actor Roberto Palazuelos, whose secondary passion is ecology. One look around the hotel, and that drive is clear: the hotel has a distinctly rustic, earth-friendly look, thanks to all of its buildings having been constructed with wood from surrounding forests. The environment feels like an upmarket campground, with hammocks strung up and lounge chairs strategically placed to take in palm-tree shade and ocean breezes. The cabins' combination of thatched ceilings, stucco or stacked-rock walls, glazed concrete and stone floors with pebble inlays, bright fabrics, and varnished driftwood furniture create a look that's beachy, but polished. There's no air-conditioning or TV in the rooms (and only the Deluxe Suite has Wi-Fi), but all have ceiling fans and mosquito netting. They also have 24-hour electricity, though lights won't come on until the evening.
11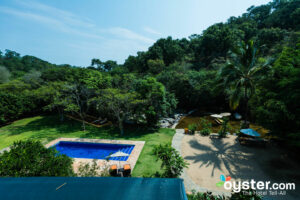 Villa Azalea is an upscale boutique resort and organic farm on 10 acres of lush countryside just outside of Puerto Vallarta. This tiny bed-and-breakfast offers just seven chic and modern rooms and suites in a relaxed, stylish atmosphere with extra special details. A babbling river runs through the property, and guests can dine at a picnic table that's placed directly in the clear, cool water. There are big green fields leading up to the forest and large, netted-in greenhouse areas that house much of the vegetable and herb gardens, which are filled with lettuce, tomatoes, chives, lemongrass, chicory, mint, basil, and dozens of other exotic herbs. In the outdoor gardens, crops include jackfruit, mangos, papayas, avocados, durian, guava, lemons, and limes. A grove of agave plants is used by the hotel to make its own organic tequila, and hens lay fresh eggs in the outdoor chicken coop. The property is isolated however, and it's a 15-minute drive to the nearest beach or a 35-minute drive to town, so a car is recommended.
12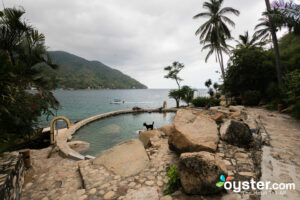 The 28-room Hotel Lagunita feels like a deserted island retreat. It's located in a cove in the tiny, enchanting village of Yelapa, a western Mexico beach destination where the dense jungle meets the sea. Yelapa is so secluded that it is only accessible by boat. Lagunita offers a lovely rock pool, a nice restaurant right in the sand, and a peaceful yoga studio with daily classes during the high season. But finicky travelers should be forewarned: The cabins are extremely rustic (no AC or TVs and few power outlets), amenities are basic, and the experience is more like camping out than like staying at a traditional mid-range hotel. But for those looking for an off-the-beaten-path experience in nature, this may be the ticket.
13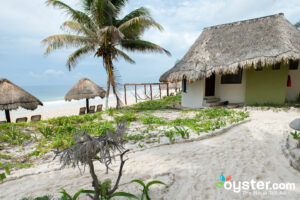 Maya Tulum was carved from the jungle, quite literally, with building materials like palm fronds, stone, bamboo, and wood. Paths of sand, illuminated by mushroom-shaped lights, meander between palm trees and white, freestanding thatched-roof huts with views of the beach and jungle. There are no TVs, alarm clocks, phones, or air-conditioning in any rooms at Maya Tulum, though all have generator-powered electricity. Free Wi-Fi is available at reception and in the restaurant, which specializes in vegetarian food. Yoga classes are held in one of two yoga halls (classes aren't included in rates) and a garden labyrinth, made of sand and stone, is set up for walking meditation practices. Maya Tulum is an excellent choice for those seeking a budget-friendly, unplugged vacation, away from modern distractions.
14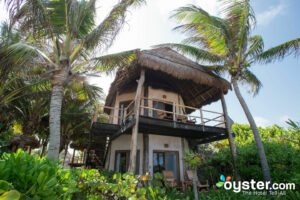 This small, service-oriented beachfront boutique hotel has a quiet spot on the southern end of the Tulum's Hotel Zone. Encantada is strongly focused on preserving and sharing local culture: Its restaurant serves authentic regional dishes (menu features vegan, vegetarian, and gluten-free options); its bar pours local craft brews and liquors and hosts local music nights; and the property uses regional artisanal goods throughout. The eight rooms have 24-hour electricity (no TVs), water jugs with drinking water (refilled daily or on request), and bathrooms with blue-mosaic walk-in showers, natural light, and organic honey-based toiletries in biodegradable pouches. Roomy private terraces overlook the garden or the beach. All rooms are cleaned with eco-friendly agents, and they also get a UV treatment that helps eradicate any traces of bacteria, mold, or fungus. Air-conditioning is available in four of the rooms, and free Wi-Fi is available in all rooms and on the beach.
15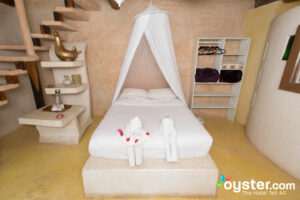 A quiet resort with a rustic beach vibe, Tulum's Posada Lamar is made up of eight freestanding palapa-style cabins, many of which have unobstructed ocean views. The one- and two-level structures, which sit a few steps from the beach, were built from recycled materials, including wood, bamboo, and palm fronds. They're open-air and exposed to the elements, and their wear and tear reflects this. Limited electricity comes from solar panels and wind generators, and lights don't go on until evening hours (and are then kept low so as not to interrupt the breeding cycle of the blue crab, sea birds, iguanas, and sea turtles that lay their eggs in the sand). Hot water and free Wi-Fi are consistently available and bikes can be rented for free. There's no on-site restaurant, but free breakfasts are delivered to guests' porches each morning.