On paper, Costa Rica sounds nothing short of magical. It's a destination framed by white-sand beaches and covered in volcanic mountain ranges and primary-growth rainforests. Luckily, Costa Rica's reality checks out completely with its description. The scenery is largely untouched and the pace is leisurely. Travelers come here to see the incredible animal and plant life (monkeys swinging through the trees is a common sight), but also to surf, hike, ride horses, and zip-line through the canopy.
Outdoorsy adventures and outdoorsy relaxation go hand-in-hand here, and soaking in one of the country's many volcanic hot springs may be the best way to experience the Costa Rican passion for "pura vida." Take a look at some of the best hot spring hotels in the country, from spa resorts under the watchful gaze of Arenal volcano to adventure lodges high in the mountains and deep in the wilderness.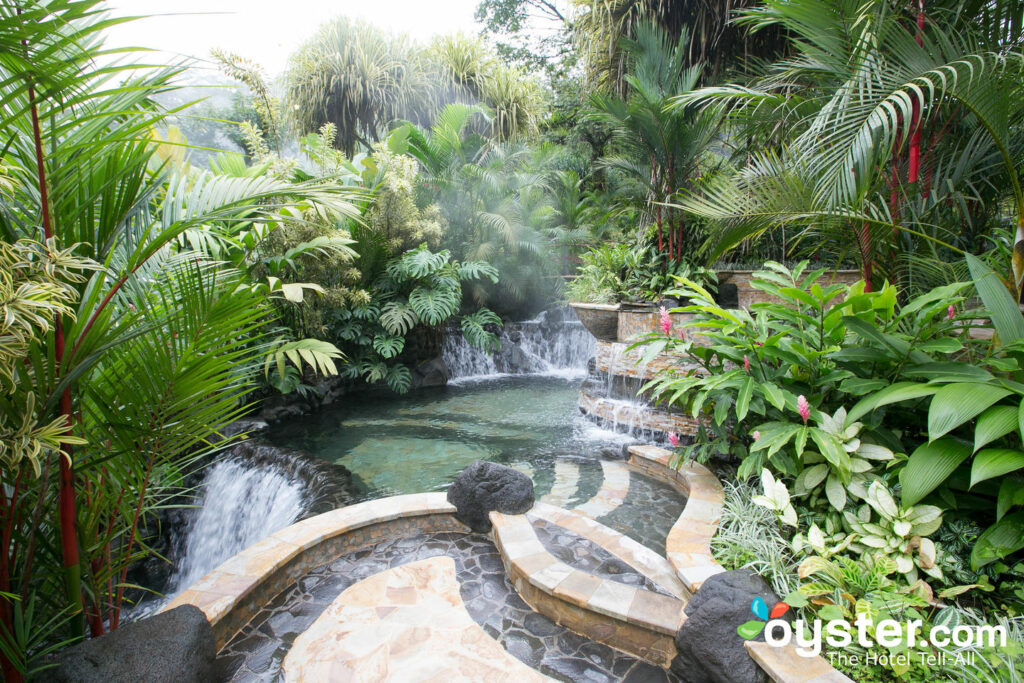 We can't have this conversation without starting with Tabacon, and not just because it is Costa Rica's leading hot springs destination, with 18 natural pools. The Tabacon story begins in the early '90s, when it opened as a day facility with just a handful of pools. Over the decades, it has grown into the hot springs superstar it is today — and it completely revolutionized tourism in the Arenal region along the way. Now, the area is peppered with hot spring hotels (many of them fabulous and on this list), but it was Tabacon that pioneered the idea of Arenal hot springs as a gold mine for attracting travelers from around the world. Some Tabacon resort guests dislike the touristy nature of the experience (non-guests can purchase day passes), but most find it a small sacrifice given that staying at the hotel includes access to the most extensive thermal circuit around.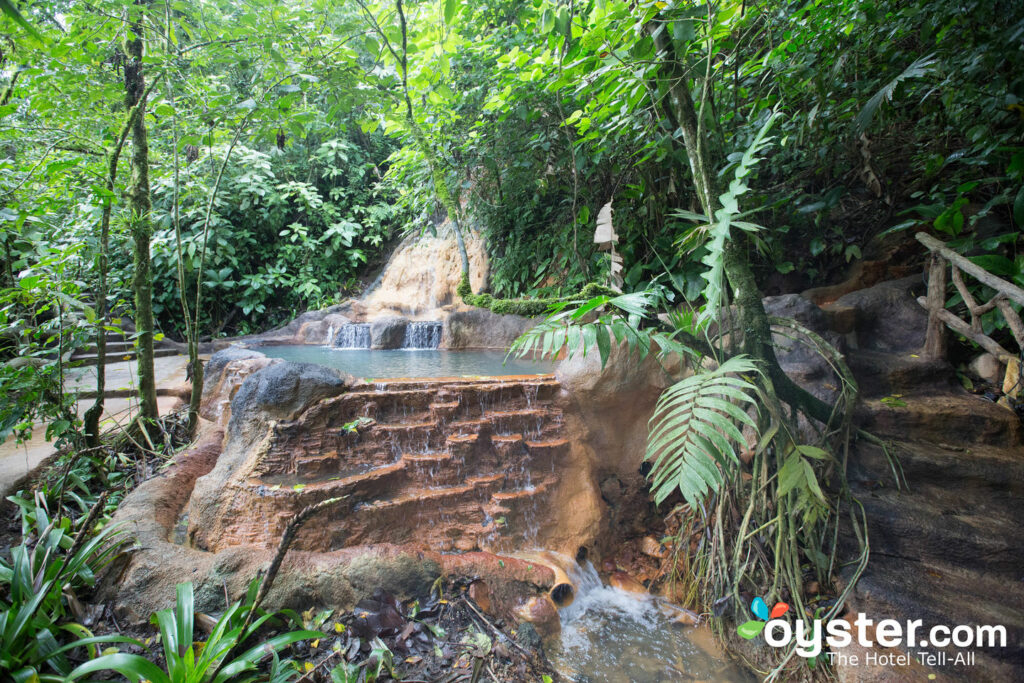 This is the spot for adventure-loving, well-heeled families. The Springs Resort and Spa's outdoor center offers all sorts of activities, from river rafting and inner-tubing to rock climbing and horseback riding, but it's the 28 hot spring pools, some surrounded by rainforest, that are the crown jewel (and namesake) of the property. These pools range from 83 to 103 degrees Fahrenheit, but be aware that their iron-rich waters can give swimwear an orange tint. Bonus: The Springs won the for .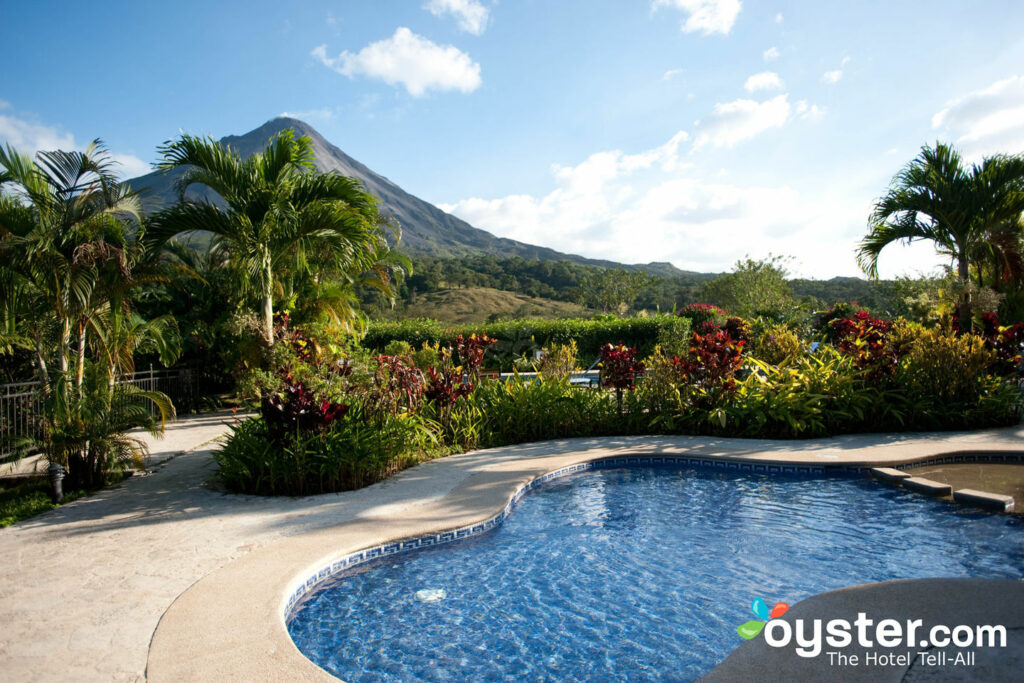 Hot springs are the stars at Tabacon and The Springs, but Arenal Kioro Suites & Spa has a second major draw: breathtaking views of nearby Arenal volcano, courtesy of the hotel's proximity and its laser-precision construction ensuring that that each room is aligned with the volcano. (The hotel abuts Arenal Volcano National Park, so you're not going to find a closer place to spend the night.) But back to the hot springs: there are seven of them, all connected by waterfalls, encircled by rocks and a manicured jungle landscape, and filled with natural thermal waters.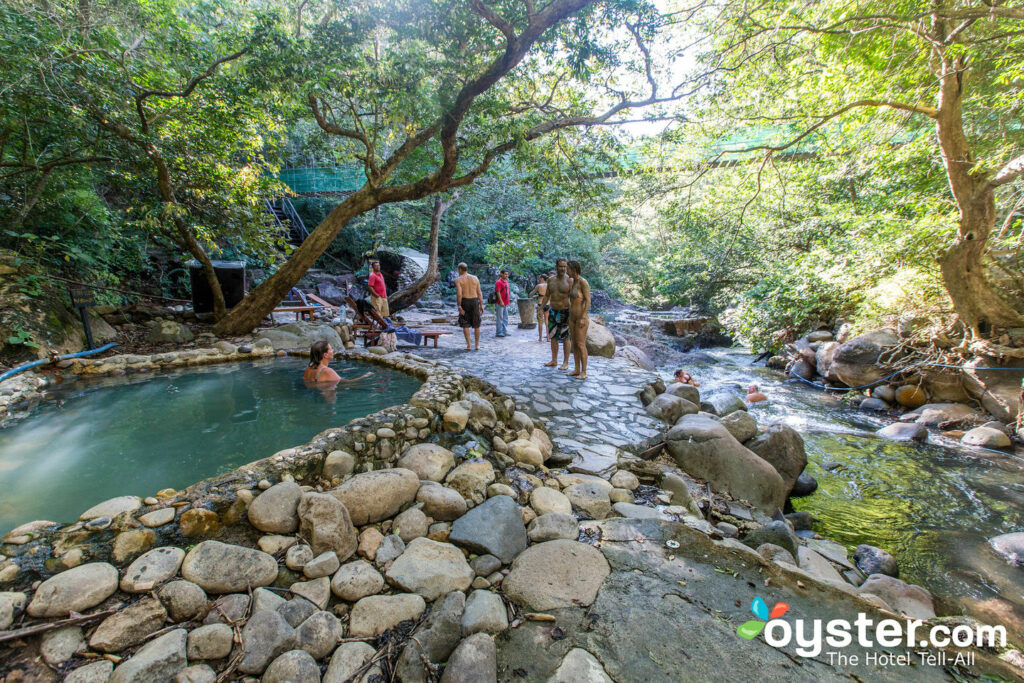 The 3,400-acre Hacienda Guachipelin is a historic cattle ranch with gorgeous views of the Rincon de la Vieja and Santa Maria volcanoes, the Guanacaste plains, and the Pacific coastline. The ranch is located on the outskirts of Rincon de la Vieja National Park; inside the park, Hacienda Guachipelin operates Rio Negro Hot Springs, a collection of 10 man-made hot spring pools of varying temperatures. Surrounded by scenic dry forest, the pools flank a river and are connected by hanging bridges that stretch through the forest canopy. Pots of warm volcanic mud are available as a free natural spa treatment. Guests get free admission, and the hotel provides regular shuttle service to the site.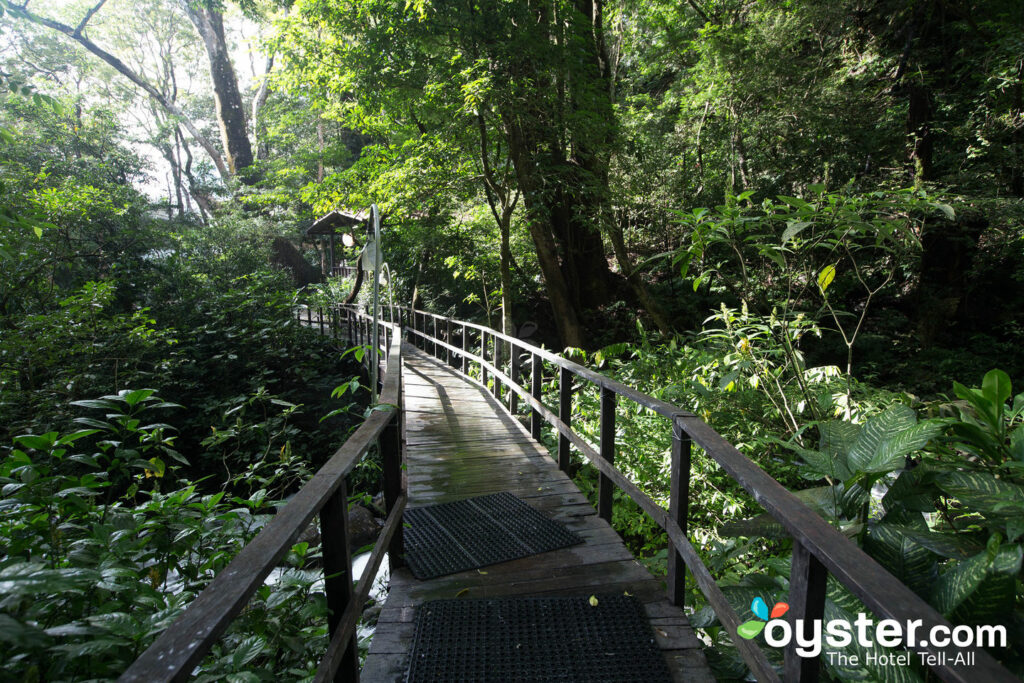 Set on a former working farm, Buena Vista Lodge&Adventure is a rustic retreat on the western slope of Rincon de la Vieja volcano. The 2,000-acre property's hot springs are located a bumpy tractor ride away (or about a 30-minute walk) from the lodge's main building, deep in a primary forest. The five private pools are surrounded by thick greenery and canopy views. There is a volcanic mud bath area, as well as an enclosed natural sauna and a small bar with drinks and snacks.
Like Arenal Kioro, the contemporary Royal Corin Thermal Water Spa & Resort offers stunning views from the rooms (every room), as well as its bar and beautifully designed pool complex, which consists of three main pools (two warm, one cool) and four hot tubs, all fed by natural spring waters.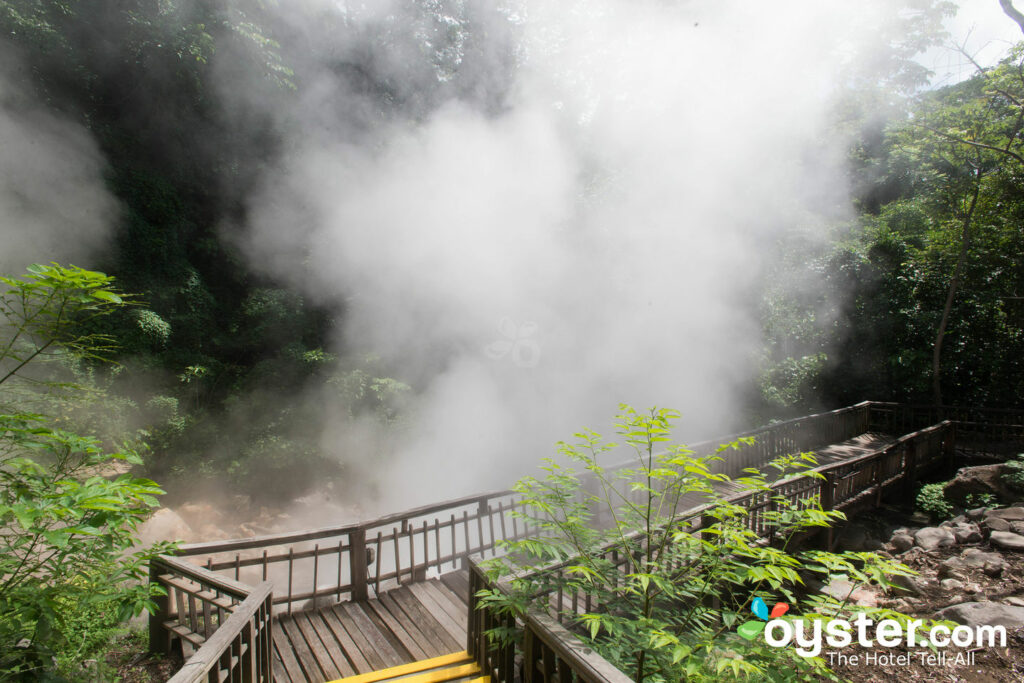 Getting to Hotel Borinquen Mountain Resort requires a seemingly death-defying trek through mountain roads that are either slick with mud or dry and rocky, depending on the season. But on arrival, you'll find yourself in a blissfully quiet retreat in the middle of pure wilderness. Any place this secluded should provide plenty to do, and Hotel Borinquen delivers: activities here range from hiking the base of the volcano to zip-lining through the tree tops.
Borinquen's on-site hot springs and thermal pools are the perfect remedy for all that adventuring. Guests are encouraged to cover their bodies in volcanic mud and then soak in each of the thermal pools (ranging from icy to steamy to super-hot), a process thought to rejuvenate the skin, joints, and muscles. There is also a natural sauna, where steam rises from the hot springs into a man-made hut. The only drawback is that sometimes the hot springs can produce a sulfuric smell.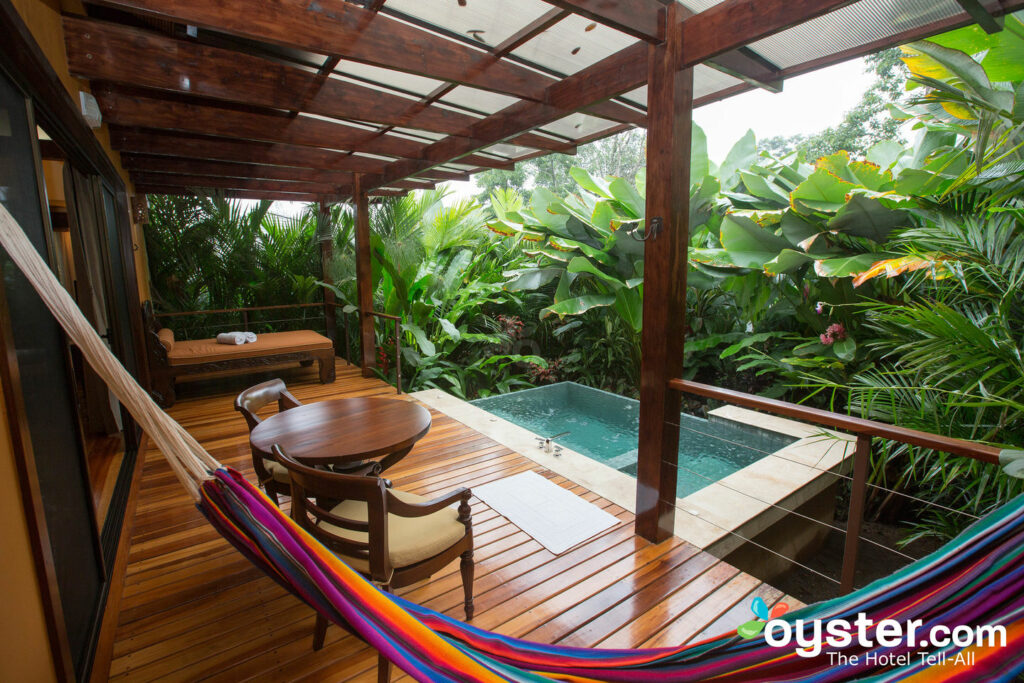 Nayara Springs stands out on this list for two reasons. One, it is the most luxurious and exclusive hotel here. The adults-only boutique resort is a haven for splurging honeymooners and celebrities looking for romance, privacy, and pampering. The second differentiating factor is that Nayara Springs doesn't have a set of communal hot springs on the property. Instead, each of its rustic-luxe bungalows feature private hot spring pools on their back decks. Most guests prefer their private in-villa hot springs pool, but there is also a chic infinity-edge pool overlooking the rainforest for all guests.
Intrepid travelers are drawn to Blue River Resort & Hot Springs for its adrenaline-pumping offerings — zip-lining, tubing, whitewater rafting, horseback riding through the Blue River, and swimming in waterfalls and natural pools. Of course, blissed-out, dog-tired adventurers delight in Blue River's on-site hot springs and thermal pools, which vary in temperature, from hot to hotter to just shy of boiling. The mineral-rich waters have an opaque green tint and can occasionally smell like sulfur, but they do wonders for weary muscles and joints. There are two freshwater pools next to the natural ones, and the entire area is enclosed by dense jungle.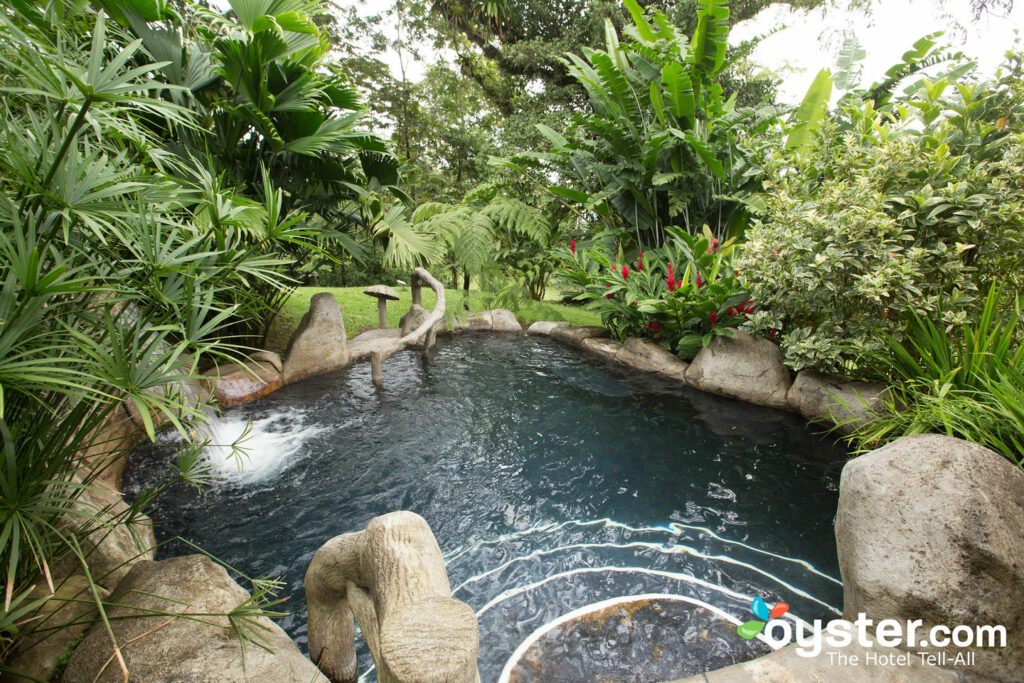 A collection of charming bungalows linked by a network of tree-shaded paths, Hotel El Silencio del Campo is a mellow summer-camp-like property five minutes from La Fortuna. Its variously sized hot springs are bona fide hot, unlike many area hot spring hotels (for example, the dozen-plus hot springs at the nearby Arenal Paraiso Hotel Resort & Spa are generally more warm than hot). Also, most hotel bars in Arenal close up at 10 p.m. sharp, but the Silencio's pool bar bucks the trend and gladly serves till midnight if there are customers.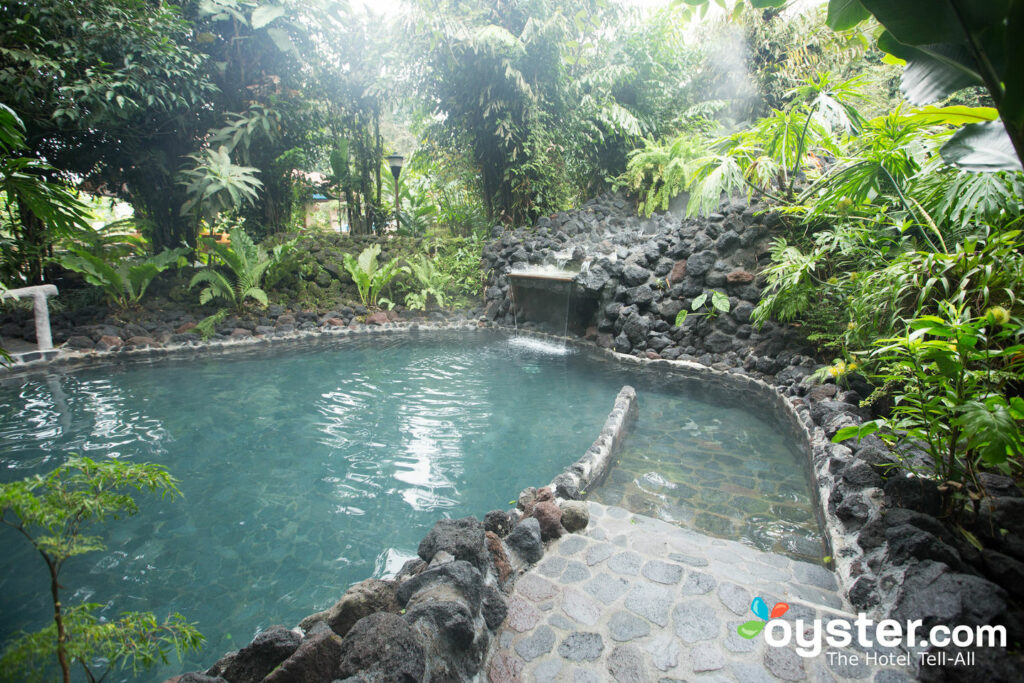 Instead of the ensconced-in-nature feel of other hot spring hotels, Montana de Fuego Hotel & Spa seems more like a suburban neighborhood that keeps the rainforest at arm's length. But its closeness to Arenal volcano means it has terrific views (you can see the volcano looming above from just about everywhere on the property) and plenty of geothermal activity. The hotel's hot springs feel sufficiently tucked into the jungle, with volcanic rocks and lush foliage all around. The hot springs area has a vent for volcanic mud, which is thought to have profound healing effects for the skin. Some travelers may prefer the the slightly pricier Hotel El Silencio del Campo, which has more local character and extra-hot hot springs (some guests feel the ones here aren't warm enough).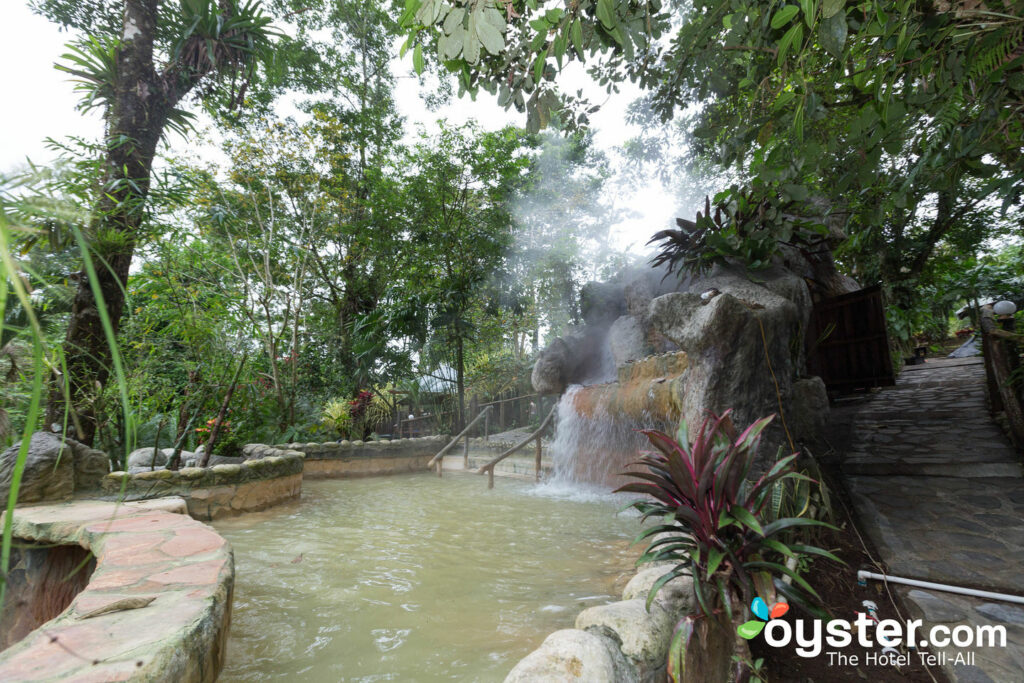 Hotel Kokoro Arenal is a simple, back-to-nature property where guests encounter (harmless) fauna, practice yoga, and disconnect from the modern world (Wi-Fi isn't available in the rooms, only in certain spots on the property). About half of Kokoro's 15-acre grounds is preserved as a forested area with trails. Three on-site hot springs have warm waters so rich in minerals that they take on an earthy green color. Heads up, though: the hot springs are only only open from late afternoon until late evening.
NOW WATCH: 4 Costa Rican Hotels With Views of Arenal Volcano
https://www.youtube.com/watch?v=VGDK0bal3X8
You'll Also Like:
All products are independently selected by our writers and editors. If you buy something through our links, Oyster may earn an affiliate commission.