Seasoned travelers like to say, "It's the journey, not the destination." Sure, it might not feel that way when your flight is canceled, your luggage is lost, and you're calling an airport Cinnabon "dinner." (Although we kind of love the idea of the latter...) But when the plane lifts off, and the city below shrinks to a twinkling miniature, that's when the feeling of exhilarating freedom hits cruising altitude. That same feeling can be found whether you're pealing down a freeway or click-clacking down the rails. So is it any wonder that travelers seek out the romance of being en route, even after they've checked in?
Well, as we've learned, you can stay just about anywhere (in anything) you want to these days, and various modes of transportation are not to be excluded. From planes to trains to automobiles (and more!), these eight hotels allow you to extend the journey. It's all of the romance of the open road, and none of the motion sickness.
1. Boats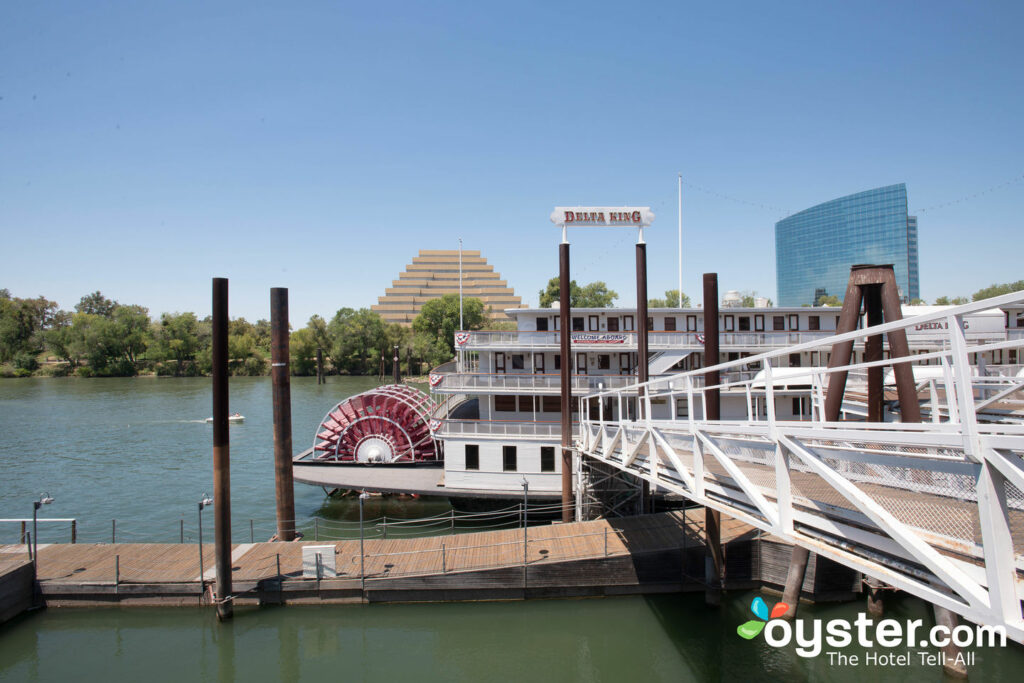 Dubbed "boatels," these accommodations are rooms housed in boats — but don't get them confused with cruises. Unlike massive cruise ships with sardine-sized rooms and thousands of guests, boatels often have (slightly) more spacious digs and remain docked so guests have the freedom to leave the ship and explore the destination whenever they'd like; no tiny motorboat required. The Delta King (pictured) is an old river boat turned hotel with a giant, red, rotating paddlewheel. It's moored in the Sacramento River, in the center of Old Town, and provides excellent access to a number of historic sights. If you're Europe-bound, Amsterdam is also home to a boatel.
As an alternative, New York City visitors can also get a dose of nautical style by staying in the Maritime Hotel. Although not a seafaring vessel, the hotel features rooms with portal windows, wood-paneled walls, and collections of National Geographics. Best of all, for both these options, there's no pesky seasickness to interrupt your oceanliner fantasies.
2. Car
Vacations are a time to indulge your inner kid: eat massive ice
cream sundaes, do cartwheels on the beach, and sleep in a racecar bed. Yes,
really. The V8 Hotel in Stuttgart took the dream of every eight-year-old
gearhead and made it accessible to adults. And they don't stop at racecars:
Rooms have beds made from converted VW Bugs, Cadillacs, and even Mercedes Benz.
Checkered flags, car wash rollers, or vintage gas pumps complete the look. Best
of all, secluded in your room, you're free to make all the "Vroom vroom!"
noises you want.
3. Double-Decker Bus
As English as teatime and cricket, the red double-decker bus
is an icon of London life, and it represents a jolly good way to get around. But
this bus at Blackberry Wood has literally been put out to pasture. It's been
parked in a campground and converted into an adorable duplex with a little
kitchenette and an upstairs sleeping and lounge area. And just in case you
haven't reached your anglophile max, there's a British red phone box steps
away.
Check out another one of London's most bizarre stays >>
4. Airstream Trailer
Blame "Mad Men" for making everything mid-century in vogue
again. But why fight it, when it's so chipper and cheerful? That's certainly
the case with Airstream trailers, those silver bullets that are so positively
retro, they bring to mind Sputnik, TV trays, and yellow polka-dot bikinis. At
the Jersey Shore StarLux, rooms have dashes of kitschy '60s touches, but
everything clearly orbits around the authentic Airstream connected to the hotel
by a set of AstroTurf stairs. If you're
less beachy and more woodsy, you can also stay in an Airstream at the Lakedale
Resort at Three Lakes in Washington's San Juan Islands.
5. Train Cars
Train travel was in full swing when
the '40s hit song "Chattanooga Choo
Choo" crooned "Shovel all the coal in, gotta keep it rolling!" Today, that
train is no longer burning coal, but Chattanooga Choo Choo Hotel is still a place of deep
history as it calls what was once the major southern hub for train travel home, and the majestic station
and its train cars have become a pilgrimage for all rail buffs. A trolley ride and a meal in the Silver Diner
are just precursors to the main event — sleeping in a restored Victorian train
car complete with curved ceilings and vintage wallpaper. Rooms still have
Wi-Fi, though, in case you want to do an in-room screening of "Strangers on a Train" or
"Snowpiercer."
More top hotel options in Chattanooga >>
6. Train Stations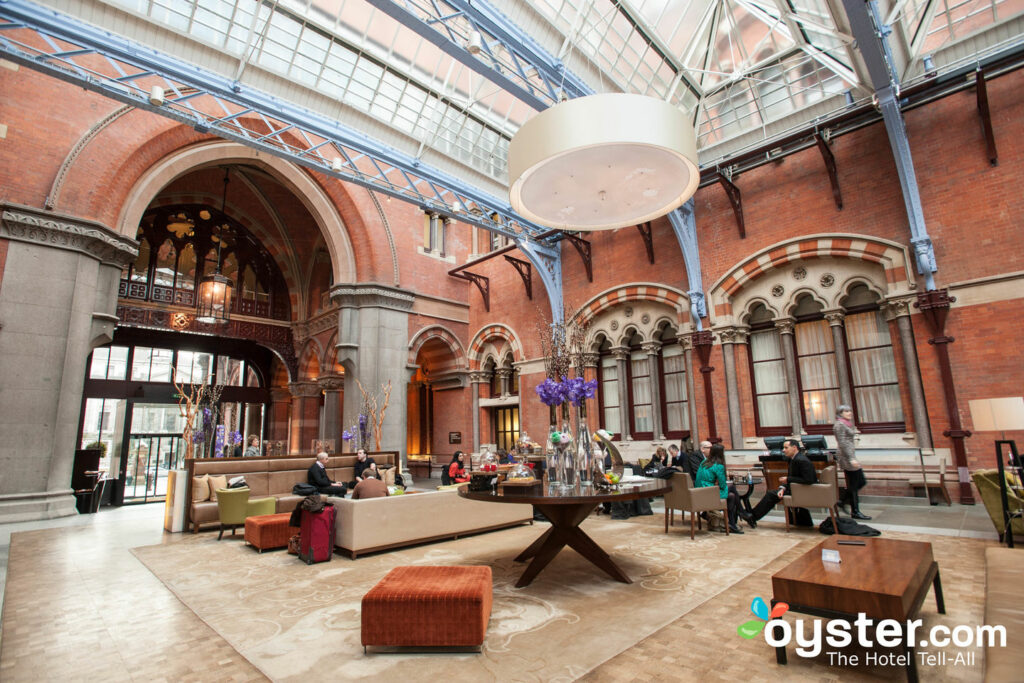 Paris may be the obvious
answer to the question of what's the most romantic place on earth, but here's another thought: train stations from bygone eras. Consider
the regal architecture, the flutter of the departures board, the swirling steam
engine smoke, and of course that cinematic kiss through the window as a train
pulls from the platform. Who wouldn't want a dose of that on their next
vacation? St. Pancras Renaissance London Hotel and Nashville's Union Station
Hotel aren't overtly themed with railway paraphernalia, but their soaring
atriums, arched ceilings, and monumental stairs leave little doubt of their
past pedigree.
7. Plane
The instinct to fasten your seatbelt and return tray-tables
to an upright position is hard to ignore, but the Fuselage Suite at Hotel Costa
Verde only looks like its mid-flight, thanks to its hilltop location. In
reality, this old Boeing 727 has been converted into private accommodations
including double beds, a kitchen, a bathroom, a porch, and a cockpit. That cockpit is original to the plane and reminds you that despite the homey
wood-paneling, this aircraft has seen some altitude — even if its wings are now grounded.
8. Helicopter
Blackberry Wood has the ultra-British,
cuter-than-the-Queen's-corgis double-decker bus accommodations. But if that's a
little too precious for your taste, consider the hotel's converted helicopter. Like
those of the bus, the original interiors have been gutted to make way for a kitchenette and
sleeping nook. But unlike the bus, here you can pretend to hang off the side while
quoting your favorite action movies. (Arnold Schwarzenegger impressions
welcome.)
Related Link: The 10 Best Spots for Tea Time in London
All products are independently selected by our writers and editors. If you buy something through our links, Oyster may earn an affiliate commission.