The results are in! TripAdvisor has released the 2015 Travelers' Choice list for top landmarks in the world. To motivate you to make your way through them, we've gone through the top 10 and paired them each up with our favorite hotel picks where you can find the best views, closest proximity -- or just have a memorable landmark holiday.
Take a look and then let us know if you were surprised by any of them...or if you think any important ones are missing!
10. Golden Gate Bridge, United States of America
San Francisco's iconic Golden Gate Bridge has been featured in multiple films, and is practically the poster child for the Bay Area. The bright red suspension bridge was built in the early 1930s and even has a lookalike copycat, the 25 de Abril Bridge, in Portugal. There's plenty of debate on where to grab the best views and snaps, though we're of the mind that its a bridge best-experienced via biking — or just plain walking across.
Converted from an 1908 fruit canning factory and reopened in 2003 with 252 nautical-themed rooms and suites, the Argonaut is one of Fisherman's Wharf's trendiest options. Spacious rooms, which were renovated in 2012, have more character than those at the nearby chain hotels, and hotel special features include dont-mind-if-we-dos like free nightly wine receptions. Plus, it puts you within walking distance of some departure ports for boat tours of — you guessed it — the Golden Gate Bridge, along with other awesome attractions like the Fisherman's Wharf itself, trolley cars, and ferries to good ole Alcatraz.
9. Christ the Redeemer, Brazil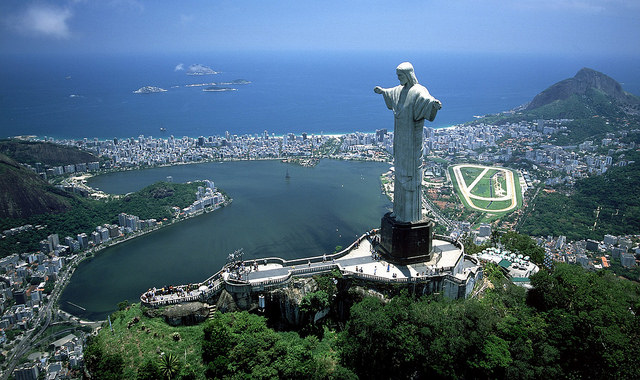 Posted high on the green slope of Rio de Janeiro's Corcovado Mountain, the massive statue of Christ the Redeemer stands over 125 feet tall, has a welcoming outstretched arm-span of nearly 100 feet, and weighs a whopping 1,399,935 pounds! Building the overseeing religious statue took nine years, with its most recent renovations being done in 1990. This is a can't-miss landmark (literally) and is best viewed from practically anywhere in Rio, especially when it is beautifully lit in the dark of night; it's well-worth the trek up Corcovado Mountain.
Where to Stay: Porto Bay Rio Internacional Hotel
The Porto Bay Rio Internacional Hotel is located across the street from the popular Copacabana beach. This clean, 117-room hotel is a good mid-range option with simple, sleek decor including blonde wood floors, small modern bathrooms, and a nearly all-white color palette. All rooms have stocked minibars and electric kettles, and some have balconies overlooking the ocean. The small rooftop pool, poolside bar, and fitness center all have great views where you can even see Christ the Redeemer himself, and on the beach, attendants provide guests with towels, chairs, and umbrellas. There are also tasty on-site restaurants (one with a free breakfast buffet), and 24-hour room service is available. However, there is a pesky fee for Wi-Fi and the spa only offers limited services.
8. Alcatraz, United States of America
Another score for
San Francisco
! More of a dark legend, "The Rock" a.k.a. Alcatraz Island is a favorite amongst visitors to the Bay Area. While it's now easy to catch a ferry to and from the island for tours, back when the prison was operational it was notorious for its impossibility of escape — that is, until 1962 when two brothers successfully busted themselves out and floated away to oblivion on a makeshift raft. The prison closed down a year later and has since been home to dark stories, films, TV shows, and daily tours.
Where to Stay: Suites at Fisherman's Wharf
Geared towards longer stays, the Suites at Fisherman's Wharf are ideal for self-sufficient travelers. Rooms have full kitchens, and while a bit worn around the edges, receive positive reviews from guests, in particular those traveling as groups. The location is central and convenient, in close proximity to Ghiradelli Square, Nob Hill, and Lombard Street (cable cars and buses are nearby too). There is a big roof deck with sweeping views of the city and Bay, along with Alcatraz, and many dining and shopping options surround the hotel. However, the central location can be noisy and the parking lot is on the small side.
7. Milano Duomo, Italy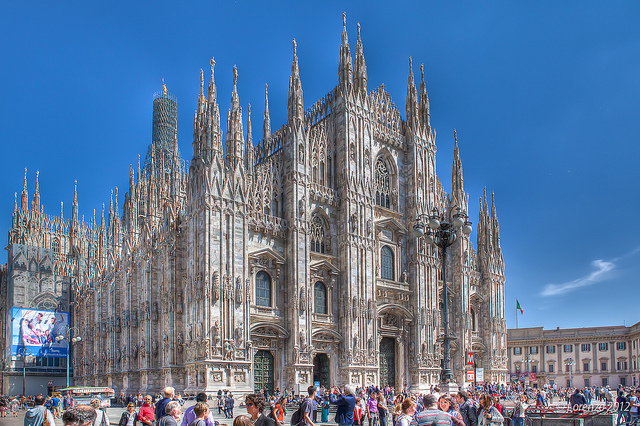 Milan
's popular
duomo
stands tall, wide, and white. It's the largest cathedral in Italy — and the fifth largest in the world! The gigantic Northern Gothic cathedral took 582 years to complete and is a stunning sight to behold. Outside, the cathedral boasts intricate details like spires, statues, buttresses, and a golden Madonna statue; inside, there are ornate marble floors, colorful paintings, and gorgeous stained glass.
The NH President's 274 rooms are all soundproofed, which is a good thing considering the hotel's location in Milan's bustling city center. Within walking distance to many points of interests, and less than 200 feet from the Duomo, the hotel is ideal for Duomophiles. Because of the large commercial area surrounding the hotel, it's also popular among business travelers, who account for nearly half of the check-ins. Contemporary rooms have upscale decor and modern amenities, and some have lovely Duomo views. The hotel has an on-site restaurant and bar that provides 24-hour room service, but if you are looking for a fitness center, you're better off at the Starhotels Rosa Grand.
6. St. Peter's Basilica, Italy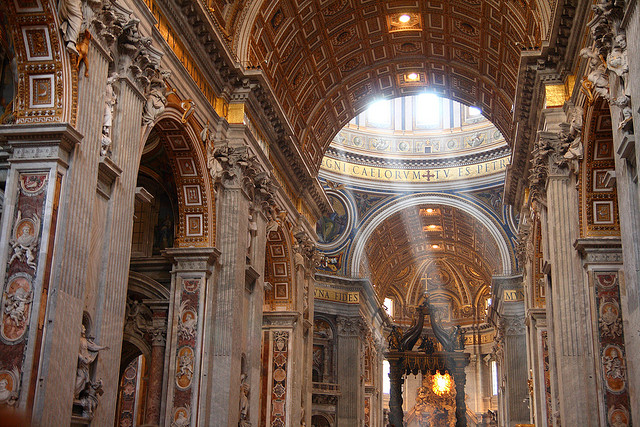 Part church, part art relic, St. Peter's Basilica is what you get when some of the art and design world's greats, like Michelangelo, Bramante, Bernini, co-create one of the world's largest churches. As one of the foremost and most beautiful examples of Renaissance architecture, St. Peter's Basilica is not only a sight for sore eyes (or any eyes for that matter), but it is also revered for its significance within the history of the Catholic church as a place of pilgrimage, burial, and worship, and as a shrine. While there are myriad artistic details, statues, and furnishings throughout the building, the most iconic are both the large domed top, recognizable across Rome's landscape, and Michelangelo's marble Pieta.
Where to Stay: Al Colonnato di San Pietro Bed and Breakfast
If you are itching to see St. Peter's Basilica, it's pretty hard to beat a spot to sleep that's only steps from the steps of the Basilica. Tiny as it is — little more than a three-bedroom flat with no dining area or common lounge — Al Colonnato is a tremendous value. Located on the second floor of a late-19th-century building, it's just one block to St. Peter's and overlooks the Aurelian Walls. The owners are warm and welcoming, and see to their guests' every need. Breakfast, which includes delicious cappuccinos, fresh fruit, and granola, is served in the rooms. The property is best-suited to solo travelers and couples, as there are no amenities for children or services for business travelers.
5. La Sagrada Familia, Spain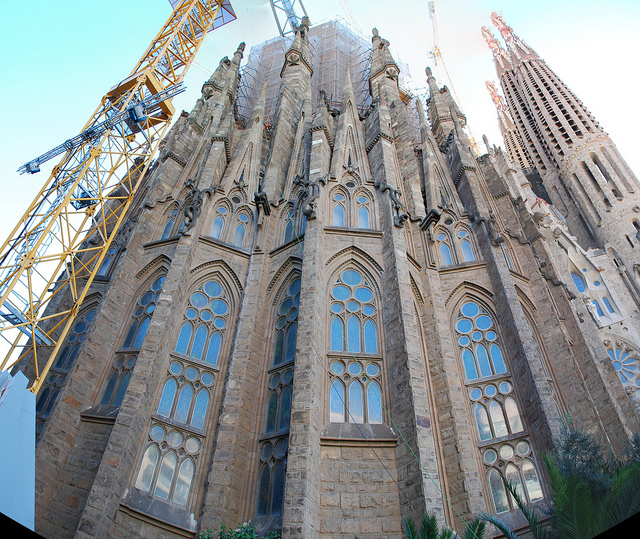 Like many of the landmarks on this list whose creation spanned decades and centuries, Barcelona's famous La Sagrada Familia — a gothic-meets-Art-Nouveau church designed by renowned artist-architect Antoni Gaudi — took many long years of construction. In fact, this spiny spire-filled church has forever been a work-in-progress since ground broke in 1882. Rare is a visit to this gem where you can see the fantastically intricate facade without its accompanying scaffolding. But that doesn't stop it from being the city's most-visited site — or making the top ten of this list! For an unforgettable view, ride the elevator to the top of a tower or just admire some of the detailed stained-glass inside the main room.
Where to Stay: Ayre Hotel Rosellon
Tourists for whom Sagrada Familia is at the top of the sightseeing list will be thrilled with the location of Ayre Hotel Rosellon. It's a few blocks from Gaudi's famous work and there are views of the attraction from the hotel's rooftop terrace as well as some guest rooms. There's also a metro station and bus stop within walking distance of the hotel, making for easy access via public transport to central Barcelona. Ayre Hotel Rosellon's 105 rooms are housed in a circa 2009 building and its chic, contemporary interior spaces mesh well with its modern facade. The hotel has a popular rooftop terrace with a plunge pool and great views. There's also a restaurant and free Wi-Fi. But fitness buffs beware: The hotel has no fitness center.
4. Sheikh Zayed Grand Mosque Center, United Arab Emirates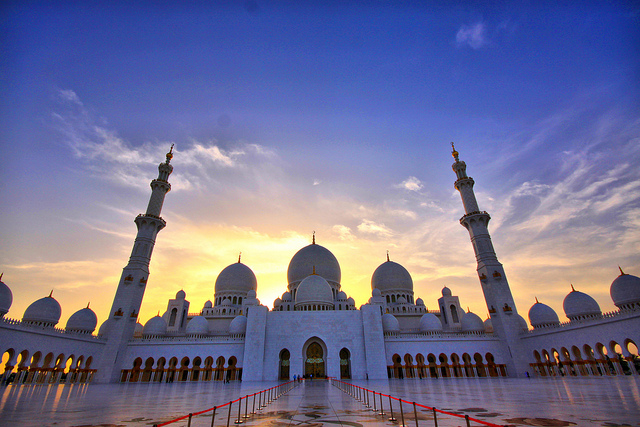 An active space of worship for residents of the United Arab Emirates, the massive Sheikh Zayed Grand Mosque Center was built to represent an idea of world unification. Finished in 2007 and spanning nearly 30 acres, this massive white marble structure (constructed with marble imported from 28 different countries) is one of the youngest landmarks on the list. Inside are some of Europe's most valuable chandeliers and enough space for over 40,000 worshippers at a time. Fabulous views can be had across the water, where you can really soak in panoramics of the entire complex.
Where to Stay: The Shangri-La Qaryat Al Beri
Many of Abu Dhabi's five-star hotels are futuristic and cold, but the 213-room luxury Shangri-La embraces the area's history, with Arabian-style arches, exquisite mosaics, traditional wood carvings, tropical plants and palms, and stunning views of the Sheikh Zayed Grand Mosque across the water. We love the modern day Shangri-La feel, and half mile of private beach for guests. Plus, each room here has a private balcony or terrace, with views of the canal, and a stylish bathroom with a divinely deep soaking tub.
3. Taj Mahal, India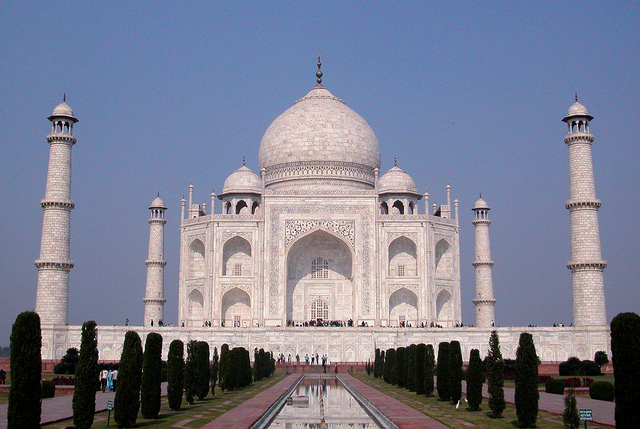 Not just #3 on the list, the Taj Mahal is also listed as one of the New Seven Wonders of the World. It is perhaps India's most recognizable — and romantic — landmark. Built in the mid 1600s as a final resting place for his favorite of three wives, the mausoleum was commissioned by the Mughal emperor Shah Jahan and cost the equivalent of over 800 million U.S. dollars in today's currency. Along the bank of the Yamuna River, the smooth, white, marble-bricked structure is a symbol of outstanding artistry, heartbreaking loss, and eternal love.
2. Machu Picchu, Peru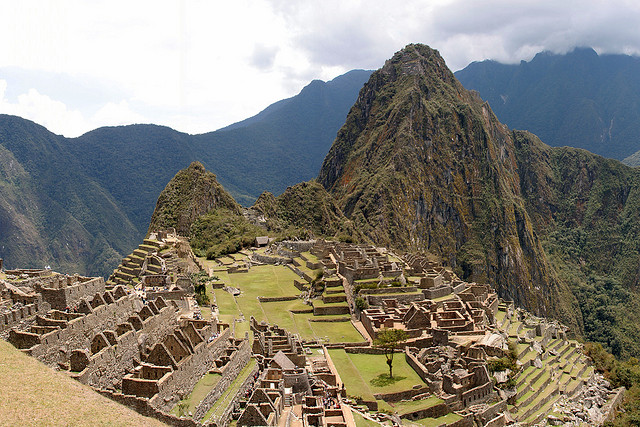 There's been some debate and chatter over the years regarding the continued accessibility of Peru's Machu Picchu. Located high above sea-level, this ancient Incan city still captivates and draws visitors over 600 years after its mysterious construction. In fact, so many visitors are drawn to the lost city, that some worry about the effects of the resulting (and ever-increasing) wear and tear. Like many of the other sites on this top 10 list, Machu Picchu is a UNESCO World Heritage Site — and one of the New Seven Wonders of the World. Since there's always a looming threat of limited or lost visitation rights, we recommend hiking over there as soon as possible.
Where to Stay: Country Club Lima Hotel
Fortunately, there are no hotels around the slice of archeological history that is Machu Picchu. However, we like the contrast created by staying in one of Lima's most luxurious and best-equipped resorts before (or after) hitting up the long hike to the ancient ruins of Machu Picchu. The Country Club Lima Hotel blends classic elegance with modern comfort. This 83-room property feels upscale with classic decor, wood accents, and up-to-date amenities such as iPod docks and flat-screen TVs. Palatial bathrooms are gorgeous and many feature separate soaking tubs. Features here include a small but intimate outdoor pool, small fitness room, and guest privileges at the 18-hole Lima Country Club. There is also an excellent restaurant, Perroquet Restaurant, and the English Bar serves some of the best cocktails in Lima. This sophisticated property was remodeled in 2008 and includes over 300 pieces of original art, but there is a pesky fee for Wi-Fi.
1. Angkor Wat, Cambodia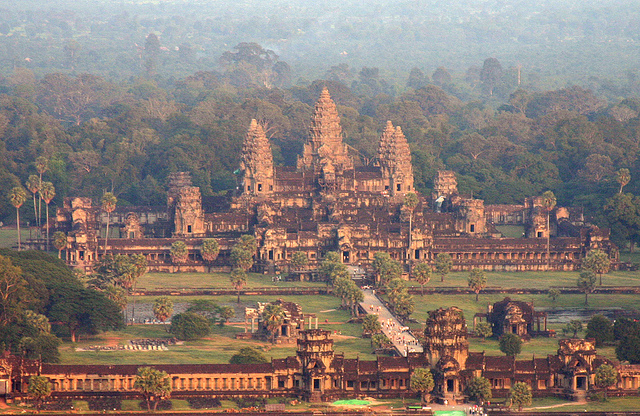 Following trend with most of the other landmarks on the list,#1 is also a renowned religious site. In fact, it's the largest surviving religious monument in the world. Cambodia's Angkor Wat is a true sight to behold, especially during sunrise or sunset when the sky lights up in rich oranges, purples, and reds reflecting against the idyyllic 650-foot wide moat. Built in the 12th century, this ancient Asian temple started out Hindu but was later converted to a Buddhist temple. While there are other ruins within the Angkor Wat complex — most famously Ta Prohm in Tomb Raider — Angkor Wat is the main draw. It also flies high as the only landmark on an official country flag.
Where to Stay: Siddharta Boutique Hotel
The Siddharta Boutique Hotel is a small resort with just 28 rooms, located outside of the Siem Reap downtown on the road to Angkor Wat. There are mostly Deluxe Rooms here, with a couple of Honeymoon and Family suites. All rooms have flat-screen TVs, safes, and minibars, and come with free breakfast and Wi-Fi. The Siddharta has a swimming pool in a sunny courtyard, small spa, and rooftop restaurant and lounge. An added bonus is that rooms include a free tuk tuk driver throughout one's stay — perfect for exploring the temples. It's on a small dirt road with no traffic, so it is very quiet and peaceful, making it a great choice for those looking to be close to the temples. However, the hotel has few facilities around it, and guests must depend on the free tuk tuk taxis to get to restaurants and bars in town.
All products are independently selected by our writers and editors. If you buy something through our links, Oyster may earn an affiliate commission.