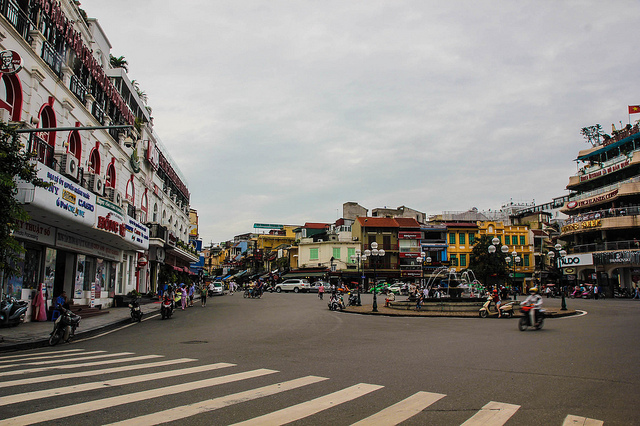 People go to Vietnam for a few reasons—the culture, the beaches, and the food among them. But there's also a certain something else to it. Maybe it's the lush landscape of the country that, not too long ago, was torn apart by war. Or maybe it's the open-armed hospitality of people who, again not long ago, had their lives torn apart by the tragedy.
After two months of traveling through southeast Asia with a friend, I went for two weeks on my own to discover the country from south to north. For those who are better about sticking to a plan than I am, my coastal route starred Ho Chi Minh City, Huế, Hoi An, and Hanoi -- four vastly different cities that, together, begin to scratch the surface of this complex country.
Days 1-2: Ho Chi Minh City
The first surprise, as I fell off the bus from Phnom Penh into the bustling Ho Chi Minh City, were the motorcycles. I had heard of their immensity, but it didn't prepare me for the thrill that came with the first time I crossed the road in the city, wading out into the unrelenting tsunami of motorbikes that crashes through its streets. During my first two days in HCMC, on my own for the first time after weeks of traveling with a friend, I walked and ate and ate and walked — the city is known for its food culture, and for good reason. The area around the central market, Ben Thanh, had a concentration of stalls, most of which were wonderful. Typically, the side streets — where the prices are cheaper and crowds are quieter — offer the best options for food.
Days 3-5: HCMC and Da Nang
I left the city for a weekend retreat at the Sivananda Yoga Center, which was two bus rides and a motorcycle lift (from a kind elderly man) away. Yoga practice was twice a day for two hours at a time, which left me in a pleasant state of contented exhaustion, though I grew more limber each session. The second night was a sort of holy day, so we stayed up late, chanting until past midnight. I felt myself drift into a gentle trance as I repeated the intonations over and over, hitting the tambourine in time with the beat. Though others continued until dawn, I left early with a German girl I met and we collapsed, exhausted, into our beds. After weeks on the road, so to speak, simply pausing and being still for a moment was a relief.
Back in the city, I headed to the Independence, or Reunification, Palace. It's a fascinating piece of mid-century architecture. Stark and cold, but surrounded by palm trees gardens, it's where the Vietnam War (known as the American War there) ended on April 30, 1975, when a North Vietnamese tank broke through the gates. While the entire palace is an eerie trip through history, the most intriguing wanderings were underneath, where the war rooms are still intact with telephones and desks.
I stayed longer than I should have, entranced by this city that laughed in the face of order and grids, but eventually flew to Da Nang on an evening flight booked just hours before for around $40. I intended to use this city, where the French first launched their invasion of the country, as a base for excursions to Hoi An and Huế.
Days 6-9: Hoi An
I stayed the night in Da Nang, then jumped on a public bus that took me to Hoi An in just under an hour. As we pulled in to the outskirts of the city, it seemed as if the streets were bursting at the seams with tailor shops. Some estimates say that Hoi An has more than 600 tailors, who make up a vast part of the local economy. Inside the walls of this UNESCO heritage site, I was stunned by its beauty. The old town draws from Cham, Chinese, and Vietnamese influences, and the preservation efforts are definitely apparent. It's not a place to go for local life — the town, as one might well imagine, caters to tourists — but it's quite a special place all the same.
I walked around to a few different shops, talking to the shop owners and learning who made the clothes and under what conditions they were being made. One shop owner took me by motorcycle to her family home, where women were sewing in the living room and looked up curtly at the interruption.
Should you decide to have clothing made to measure, it's a good idea to bring pictures of what you want. I brought images from minimalist Alexander Wang and Marc Jacobs shows, and spent hours debating fabrics and linings. A coat will likely run around $60 to $80, depending on the quality of material used as well as the quality of the shop. While I decided not to put all of my eggs in one basket, the best of the three tailors I went to by far was Aobaba, located in a building framed by dark wood. I walked through what I wanted with the tailor, then went upstairs with her to select a dusty purple wool and ivory silk lining. Here, my curvy hips and relatively small waist (smaller after two months of walking and, well, frequent stomach complaints) elicited chatter and good-natured ribbing from the shop owners.
For two and a half days, I had two fittings per day as I outfitted myself in dresses, blouses, trousers, and a new coat (a quantity that eventually caused my backpack to burst). In between, I drank gin and tonics in cafes that spilled out onto the sidewalks, taking in the bustle of the narrow streets, and I cycled out of the old city's walls to an empty white-sand beach — a ride that took me past rice paddies and farmers. I ate the best banh mi I had in the country, which I bought from a cart on a street corner just inside the historic center. Simultaneously crunchy and pillowy, the sandwich was a welcome departure from weeks of rice and noodles. One night, I went out for a nightcap along the water and was swept up by a group of touring Australians; another, I went out for a boozy dinner with a Glaswegian-Irish couple that I had run into at a tailor shop and with whom I'd struck up an ephemeral, but deep, holiday friendship. Colored lanterns swayed in the warm night breeze on the walks back to my lodging. I gave in: Sacrificing the scenic overnight train to Hanoi, I postponed my departure one more time.
Day 10-11: Huế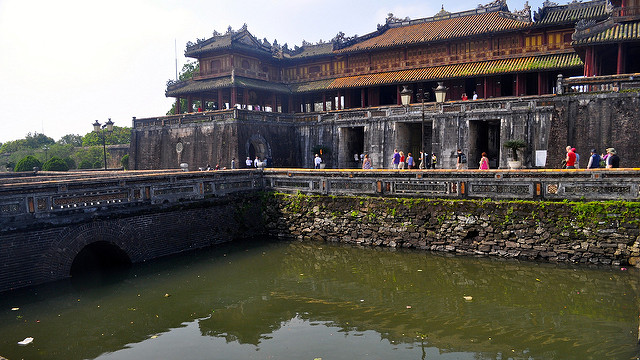 I rushed back on the first bus back to Da Nang (now with a knock-off Samsonite in tow). It dropped me off on a curb alongside a busy road, and for one of the very first times since being in Asia, it took the better part of a half-hour to flag a cab. Finally, one rushed me to the train station — until it stalled in traffic. I jumped out two blocks away and ran to the station, going through the complicated process of buying a train ticket back to Huế in gestures and finally jumping onto the train as it was beginning to pull away (a rather cinematic moment).
Any regrets I had about missing the overnight train soon disappeared. There are quicker ways between the two cities, but this four-hour rail journey between Da Nang and Huế is known as one of the most magnificent in the world. As the train curved around the sides of hills backgrounded by fog-capped mountains, with the East Sea on one side and lush greenery on the other, the beauty of the scenery burned into my memory.
Huế was the capital of Vietnam from 1802 until 1945, when the emperor abdicated and a communist government was established in Hanoi. For foodies, the food here epitomizes central Vietnamese cuisine, and lots of houses lead double lives as restaurants and stores. I was there for the Imperial City, a once forbidden city on the north bank of the Perfume River. There wasn't a lot left of it, but it's gradually being restored. My schedule didn't allow a trip 40 or so miles north, where the DMZ is, but it did allow for renting a bicycle and navigating the narrow streets surrounding the walled city as well as exploring the town on foot.
Day 12-15: Hanoi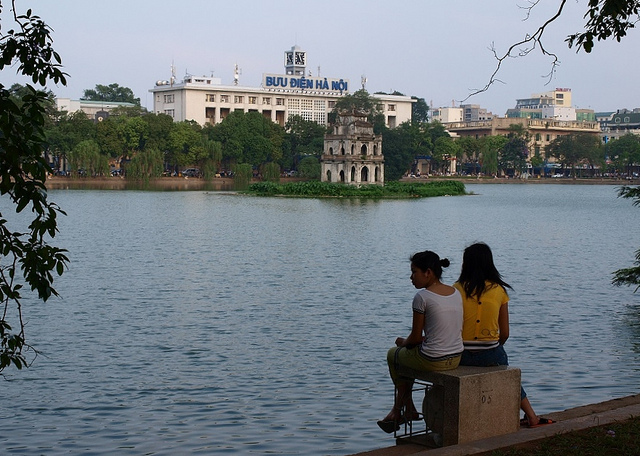 I took an overnight bus to Hanoi, where I arrived at my hotel slightly broken in spirit from the trip and sodden from a surprise downpour. Waiting for me behind the reception desk was my camera, which I had managed to leave behind in my HCMC capsule hotel. I'd asked a friend following behind to mail it to me (I booked the room at the hotel so it would have a destination to arrive at). The manager smiled as she handed the package to me and generously gave me a hot breakfast and towel.
If I hadn't dallied so long in HCMC and Hoi An, I would have made the trip from Hanoi to Ha Long Bay — a must if you're slightly less impetuous that I was. As it was, I felt I had barely enough time in Hanoi. The city was similar to Saigon in many ways — the packs of motorcycles, most obviously — but I felt more able to immerse myself in this city, likely because I had been in the country for almost two weeks now. Here in Hanoi, my wandering was more assured and interactions with street food more adventurous. In the evenings, I sat on child-size stools and drank bia hoi, a fresh beer that cost less than 25 cents a glass, with travelers I met at my hotel. We talked and drank until midnight, when the bars closed, swapping stories and talking about what was ahead on our journeys.
During daylight, I saw the city on foot, getting lost and strolling around Hoan Kiem Lake — an easy walk from the Old Quarter. I visited the Vietnamese Women's Museum, an unusual enough destination that I spent more than two hours there, learning about some of the country's more legendary females as well as getting a glimpse into traditions surrounding Vietnamese women. Perhaps it's because the North has always been the communist seat of the country, but that influence is felt more strongly here — which, if you're of the open-minded sort, makes the city all that more intriguing. The city's Fine Arts Museum, for example, shows only party-approved art (and need I mention the Ho Chi Minh Museum?).
By the time I got a grasp on all the cultural events available, it was time to catch an evening flight to Kuala Lumpur. On my return trip (because there will be one), I'd also like to go inland more and venture into the smaller towns and beautiful hills I saw from the train window. But that's the maddening, elusive joy of travel: the knowledge that no matter how much you see, it will never be quite everything.
Related Links: