Most Romantic Hotels in Sanur, Denpasar
Take a look at the most romantic hotels in Sanur.
See All Sanur Hotels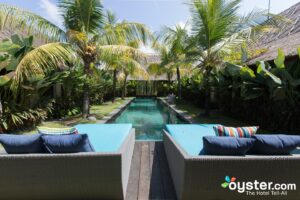 Karmagali Boutique Suites is a charming upscale hotel owned and operated by a French couple who offer personalized service. Free perks like the gourmet breakfast, afternoon tea, and ginger water with cookies by the lap pool are just some of the thoughtful extras. Rooms consist of five super stylish one-bedroom suites and a single two-bedroom teak joglo house. Decor features thatched roofs, artistic interiors with marble accents, and intricate carvings and local artwork on display. There is no restaurant but room service is available. Bicycles to borrow and Wi-Fi are free. It's located a 10-minute walk from downtown Sanur and a 15-minute walk from Sindhu Beach. Note that a two-night minimum booking is required and only guests ages 12 and up are permitted. Another option in the area (without any restrictions) worth considering is the Sudamala Suites & Villas.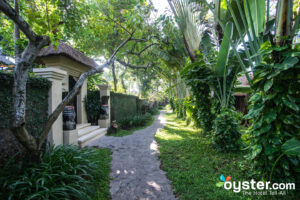 There aren't too many high-end villa options in Sanur, though Kayamunis makes a convincing argument for sacrificing beach proximity for upscale digs. With only 11 villas on the grounds, this is an intimate, quiet escape that works for romantic couples and families alike. All villas come with private pools, outdoor living areas, separate bedrooms with private bathrooms, and butlers that are shared with other units. Keep in mind that some villas are more modern than others. The garden- and tree-clad grounds hold a lovely restaurant that serves authentic Indonesian fare, as well as a tranquil spa. A free on-call shuttle runs to Sanur and the beach club, which is a blessing because Kayamunis isn't within walking distance of either. For something closer to the buzz, opt for Mahagiri Villas instead.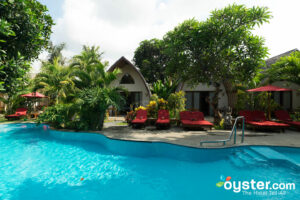 The four-pearl Klumpu Bali Resort is one of Sanur's most charming boutique properties. Down a quiet lane off of Sanur's main tourist strip, the hotel's eight lumbung-style villas are tucked into lovely gardens. Interiors include elegant Balinese decor and each unit features perks like turndown service, free and fast Wi-Fi, air-conditioning, and spacious patios. A free afternoon tea service is a delight, as are the free 15-minute welcome massages in the spa cabana. The hotel also has a small restaurant (serving a generous, free breakfast) and a fleet of free bikes, plus a lovely garden pool. There aren't many options like it in town, but travelers wanting to spend a little less while gaining beach proximity could check out Respati Beach Hotel instead, though it lacks the Balinese atmosphere here.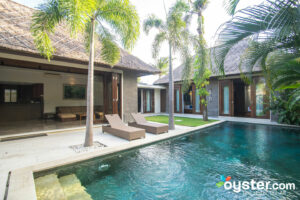 This upscale all-villa property is a privacy-seekers dream, and the 17 modern villas are the star of the show here. All are surrounded by high walls, and include massive outdoor spaces with terraces and private pools. Flat-screen TVs, air-conditioning, and free Wi-Fi come standard, and configurations range from one to three bedrooms, making this a family-friendly option. As of 2017, a new, more tranquil spa has been opened, and there's a basic fitness center. Dining is excellent at the hotel's terrace restaurant, and the grounds are some of the most atmospheric in Sanur. The hotel runs a free shuttle to its beach club, and bikes are free to borrow. Alternatively, the Kayamunis Sanur Private Villa & Spa is a slight step up style-wise, though it's location is far less convenient.
Opened in 1967, the three-and-a-half-pearl Tandjung Sari is one of Bali's first boutique hotels, but its 28 traditional bungalows are pleasantly modern. Each bungalow has polished wood interiors, traditional Balinese decor, and its own private garden, plus modern amenities like air-conditioning and minibars. Special touches like a mosquito canopy and complimentary cotton nightshirts and sarongs add a nice bit of character. The hotel is on the beach, and has a small pool that overlooks the sand, plus a restaurant serving international and Balinese cuisine. There's also a modern fitness room and a gift shop. For a cheaper alternative with beach access, the Sudamala Suites & Villas additionally offers a full-service spa and far more modern rooms at the southern end of Sanur.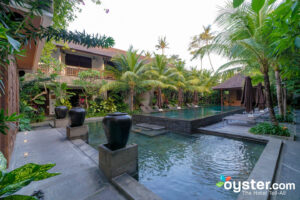 An intimate boutique property with style to spare, Kejora Suites is one of Sanur's most attractive four-pearl hotels. The 26 rooms are spacious and quiet, and each comes with its own Wi-Fi router, excellent pillow-top beds, gorgeous bathrooms, and private terraces. There's a stunning courtyard pool that's ringed by sun-seeking guests all day long, and dining takes place at The Glass Door, one of Sanur's most popular restaurants. It's less than a five-minute walk to the hotel's private beach, and facilities like a spa and full-service beach club are available at Segara Village, the sister property that's a 10-minute walk away. Travelers wanting their resort amenities on site might prefer that property, though it's slightly less chic.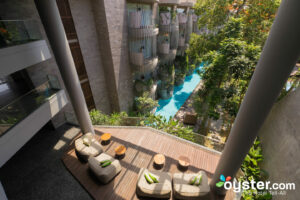 The Maya Sanur Resort & Spa is a 103-room boutique hotel that's one of the most chic options in town. From its environmentally friendly ethos to its eye-catching art and contemporary style, this luxury hotel is refined but light-hearted. Rooms are tricked out with everything from free Wi-Fi and luxe soaking tubs to private infinity pools and espresso machines in the suites. There are three dining options, including an excellent Japanese restaurant, and the gorgeous spa makes unwinding a delight. Happy hours at Tree Bar, overlooking the beach, are a popular go-to spot for travelers from across Sanur, and there are multiple pools. If you prefer a more traditional take on luxury, it's worth considering the Fairmont Sanur down the coast instead, though rates there will be higher.
With its serene grounds, chic dining, beautiful pools, and pampering wellness amenities, this Fairmont impresses, and then impresses again. Even so, the 120 villas and suites are the true stars of the show. They're massive and tricked out with contemporary Balinese decor, plus soundsystems, flat-screen TVs, huge balconies, and spa-worthy bathrooms. Luxe bath products and soaking tubs only sweeten the deal. The breakfast buffet is exceptional, with local and international fare in abundance, and the hotel's spa is a tranquil escape in an already relaxed resort. Photographers can be hired to capture romantic moments, and everything from subdued local music to a rentable Rolls Royce add to the luxe package. There's not much that matches this Fairmont in Sanur, but travelers who prefer contemporary style might consider the Maya Sanur instead.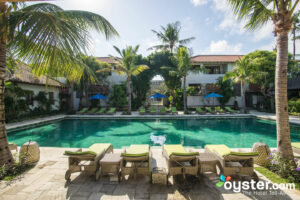 The four-pearl Sudamala Suites & Villas is located in the quiet resort town of Sanur, a five-minute walk from the beach. All 34 rooms are decked in beautiful Indonesian woods and traditional designs, and feature minibars, air-conditioning, and flat-screen TVs, as well as private furnished terraces. Spacious bathrooms are equipped with rainfall showers, many of which open to the outdoors. Some rooms also have pool access. A trendy art gallery, steak-and-pasta restaurant, and a full-service spa are key features, and Wi-Fi and parking are both free. The hotel also has set-ups on the beach for guests. For a proper beachfront alternative, Griya Santrian has similar amenities at comparable prices on the northern end of Sanur.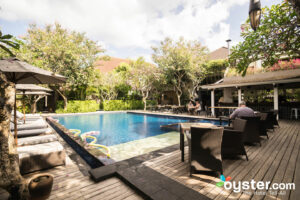 Located in the center of Sanur, within a five-minute walk of restaurants and the beach, the 19-room Kamuela Sanur is upscale and serene. Large, stylish suites have free Wi-Fi, LCD TVs, and outdoor hot tubs, while villas feature between one and three rooms, private plunge pools, and outdoor living areas with kitchenettes. Some furniture, though, is showing wear and tear. The pool is a pleasant spot, complete with about a dozen loungers and waiter service, and there is free shuttle service to the beach, where the hotel has a few chairs and umbrellas that guests can use free of charge. The restaurant is popular with guests and non-guests alike, and serves tasty international cuisine in a charming greenhouse with sidewalk seating. The hotel's peaceful atmosphere is great for couples, but families may prefer the more lively Sanur Paradise Plaza Suites.
Hotel Puri Tempo Doeloe is a boutique upper-middle-range hotel located along a bustling highway, a 10-minute drive (or 20-minute walk) from downtown Sanur and Sanur Beach. The setting is picturesque and tranquil, with sprawling tropical grounds dotted with rustic wooden Javanese cottages, an outdoor swimming pool and pool bar, and semi open-air common areas in which to relax. The 20 guest rooms feature an elegant whitewashed colonial look and are furnished with antiques and artwork from throughout the Indonesian archipelago. Room options include modern suites, cute wooden cottages, and spacious two- and three-bedroom pool villas. Other facilities include an all-day restaurant serving Indonesian and French cuisine, a spa, and an art gallery. As a beachfront alternative, the Tandjung Sari is stunning, but rates are higher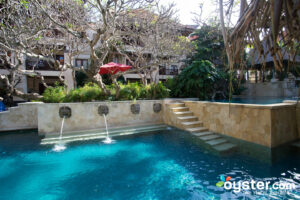 With 199 rooms and a prime beachfront setting, Puri Santrian feels like a city unto itself within southern Sanur. This three-and-a-half-pearl option is perpetually bustling, and combines modern style with traditional details. Unfortunately, sometimes that doesn't add up. Rooms range from tired and worn to fresh and contemporary, though all include flat-screen TVs, air-conditioning, and balconies or terraces. Wi-Fi is free, but requires repeated logging in. There are four pools, all of which are busy with guests throughout the day, and the beach here is one of the nicer in this part of town. Dining gets solid points, and tables overlooking the sea are prime real estate around sunset. As an alternative, travelers with bigger budgets who want a more thoroughly polished hotel should consider the Maya Sanur.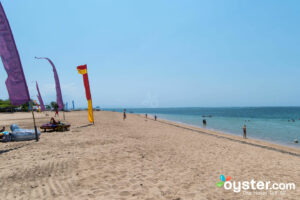 This four pearl resort is located on one of Bali's most beautiful white sand beaches, and unlike bigger, newer resorts, the Mercure follows the Balinese tradition of two-story bungalows and cottages scattered around five manicured acres of tropical coastline. The grounds are also home to a tennis court and two large swimming pools, as well as a spa and several restaurants and bars. The rooms – all two-story cottages – could use a few upgrades in upholstery and furnishings but are otherwise cozy and peaceful; all have a private balcony or terrace, as well. The Mercure offers a relaxing escape for business travelers, couples, families, and anyone wanting to soak up the quiet Bali beach life.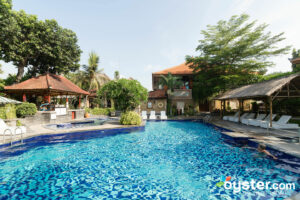 Much like its sister hotel, the Inna Grand Beach Bali, this budget property has seen better days. It still draws a steady stream of guests due to its prime beachfront location, but interiors are mostly worn, tired, and dated. The 61 rooms range from standard hotel rooms to Junior Suites, some of which have living rooms, though it's worth noting that the four rooms overhauled in 2015 are far nicer. Otherwise, aside from air-conditioning, free Wi-Fi, and flat-screen TVs, don't expect much in the rooms. The lovely pool has a shallow area for kids and a bar, and there's a restaurant and bar right on Sanur's beachside promenade. If you're willing to lose direct beach access, the rooms at Oasis Lagoon Sanur have a lot more style and rates that are about the same.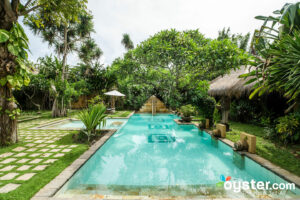 The three-pearl Kamaya Resort and Villas is a gorgeous, intimate boutique packed with authentic Balinese charm. It features 14 rooms and villas housed in stand-alone thatched cottages tucked amid lush gardens, many with private pools, and others providing outdoor bathrooms with sunken tubs. All have air-conditioning and minibars, but maintenance is lacking in most, and Wi-Fi is generally spotty. Designed like an ancient Balinese bath, the pool is lovely and peaceful, as is the spa. The restaurant serves a small but tasty breakfast, as well as Asian cuisine for lunch and dinner. The hotel offers free shuttle service on request to Sanur and the beach, but its location away from the city center may not be ideal for those looking to explore the area on foot. Travelers on a tighter budget may want to compare rates at Puri Mesari.