Best Family Spring Break Hotels in the Dominican Republic
For many families, Spring Break means it's time to pack up and get out of town together. After staying at hundreds of properties across many destinations, our undercover reporters have chosen the best hotels for family vacations. Families love the Dominican Republic for its beautiful beaches, affordable all-inclusive resorts, and six international airports. Below is our list of the most kid-friendly hotels in the Dominican Republic.
See All Dominican Republic Hotels
1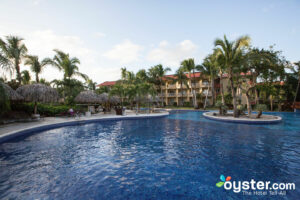 In addition to one of the most expansive pools in the D.R., Dreams offers extensive child- and teen-oriented amenities. The Explorers' club offers a full schedule of activities for young children, such as nature tours and "Looking for Shells and Snails" from 9 a.m. until 6:30 p.m. The kids club has large indoor and outdoor play areas and also offers childcare. For teens, the resort staff hosts organized sporting events, and there's even a "teen disco" at night. There's also an active lifeguard on duty on the beach.
2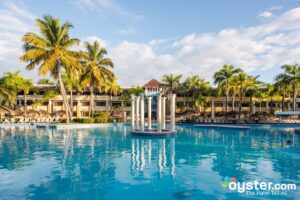 From swimming to sand castles, pageants to pool tables, this resort has tons of activities for kids. The "Mini-Club" (a daily kids club) has a playground, miniature pool tables, and loads of games. The entertainment staff also organizes activities throughout the day for children. But for most kids, the massive pool with ample shallow sections and a separate pool for children is the main attraction.
3
The Majestic has a kids club with a mini-castle and a waterslide. There's also a game area with billiards and foosball. Popular evening activities include highlights such as magic shows. But as at any Dominican resort, the beautiful, long-spanning pool is what kids will love most.
4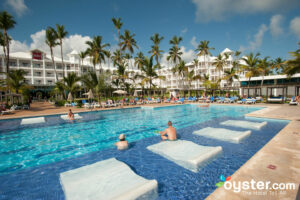 Aside from the typical kids club, the activities staff at the Riu also hosts a range of activities during the day, from archery to aqua-aerobics (as popular with the kids as with the adults). The beach is big and the water is calm, so parents don't need to worry about their kids being swept out to sea. Plus, there are ample water sports and toys available. The shallow pool also features a fun spraying fountain.
5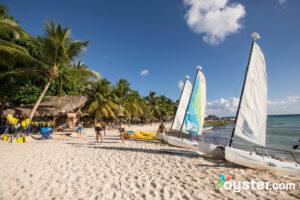 At the active kids club (for kids ages 4-11), staffers dress as Tinkerbell and lead teetering tots to the kiddie pool. The junior club (for kids ages 12-16) hosts a number of more age-appropriate activities, like football (soccer), Ping-Pong, tennis, or flying on the resort's much-loved trapeze. The resort also features a nightly "mini-disco."
6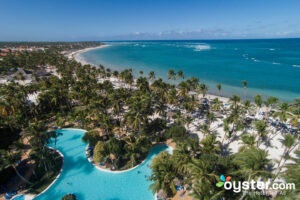 The Melia Caribe features a Flintstones-themed kids club with boulders and dinosaurs aplenty as well as an elaborate Flintstones pool, complete with colorful play structures, waterslides, and animal-print lounge chairs. But the main highlight of this resort is its massive, 450-square-foot family suite, which comes with two pull-out sofa beds that have "themed children's bedding" in addition to a big bed for parents.
7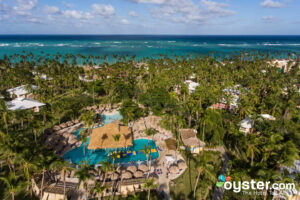 The Grand Palladium is popular among everyone from young honeymooners to retirees, but families are particularly drawn to its incredible pools and excellent beach. The resort features 51 "family suites," which are junior suites connected to deluxe rooms (accommodating about six in all). Pay-Per-View kids movies are available in all rooms, and there are parental-control options for the TVs, plus Nintendo 64 games ($10.75 per hour). There are also four separate kids clubs: the baby club (ages 1-3), mini-club (ages 3-5), maxi-club (ages 6-11), and juniors club (ages 12-18). This means that tweens will never get stuck at an ice-cream party with 5-year-olds. The black-and-white juniors club features a huge array of video games.
8
Disney-themed cocktails and children's menus put the focus on the kids. Sizable junior suites give families enough room with either a single king-size bed or two queens, along with a separate living area with an additional sofa bed for kids. Mini-Club Principito has three rooms painted with Disney characters and a backyard playhouse. Plus, there's a separate nap-time space with brand-new cribs and kid-size beds. High chairs are available everywhere, and all three a la carte restaurants offer a separate kids menu with spaghetti, fish sticks, burgers, and French fries -- a rare treat in the D.R.