Best Value Hotels in Bloomsbury, London
Take a look at the best value hotels in Bloomsbury.
See All Bloomsbury Hotels
1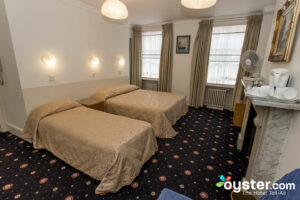 The Jesmond Hotel is a 15-room, lower-middle-range bed-and-breakfast in Central London that stands out for two reasons -- it's family owned and operated (since 1979), and it's a really good price for the prime location. Situated in a Georgian townhouse in the Bloomsbury area, the Jesmond is a five-minute walk from the British Museum and the nearest tube station. With the great price comes simplicity -- rooms are basic with little in the way of decor (though the building maintains some beautiful period features), and six of the fifteen rooms have shared bathrooms. Still, guests find the hotel clean and comfortable. It also has a beautiful backyard garden, a rarity for a central London hotel, and serves a full English breakfast. Rooms have no air-conditioning, and guests say between street noise and thin walls, it's a good idea to bring earplugs. The nearby Generator Hostel London offers even cheaper rooms, but they're much less private.
2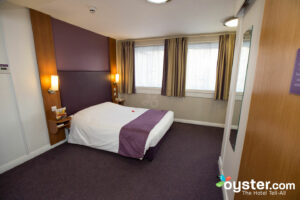 The Premier Inn London Euston is conveniently located for business and leisure travelers; guests are a four-minute walk from Euston station and one stop on the Victoria line from Kings Cross St Pancras tube station, making the entire city accessible via public transportation. 265 predictable guest rooms in this two-and-a-half pearl chain hotel are dated but clean and include free Wi-Fi, coffee- and tea- making facilities, and Freeview channels on flat-screen TVs. Limited hotel parking is available for a daily fee. The hotel's Thyme bar and restaurant offers happy hour in the evening and kids under 16 eat breakfast for free. Overall, the Premier Inn is an affordable and convenient pick, but guests looking for nicer rooms should compare rates at nearby Studios2Let Serviced Apartments, which offers full apartments.
3
This property has everything one might expect from a central London Hostel. Fun and friendly vibe -- check. Walking distance to center -- check. Cheap dorm-based accommodation -- check. Great self-catering facilities are a standout and the bar/café is a real social hub. Some of the bunk bed style rooms have en suite bathrooms. Poor Wi-Fi is a let down, however, and communal bathrooms can get busy in the morning. Rates are cheap for the location, and similar to the funkier Generator Hostel a little further out.
4
The mid-range Bedford Hotel has a great location in the heart of Bloomsbury, a three-minute walk from the British Museum, and two minutes from Russell Square tube station, where the Piccadilly line can transport visitors around town. Downstairs, the hotel is crisp and contemporary, with a smart lobby and a charming restaurant that serves a la carte meals all day. The 184 rooms are sizable for this part of town, and neatly decorated, but many look out over a noisy main road. In-room amenities include kettles, flat-screen TVs, and desks. The hotel has its own car park -- a rarity for central London -- but there's a fee for parking. Travelers looking for a measure of classic Bloomsbury charm might want to check out The Academy nearby.
5
Pickwick Hall is a two-pearl hostel for tourists and students looking for cheap accommodation in the Bloomsbury area. Guests are a six-minute walk to Holborn station with direct Piccadilly line connections to Heathrow Airport. Accommodations include a limited number of private rooms with en-suite bathrooms, but most are dorm-style rooms with shared bathrooms. Decor is a bit hodgepodge, but that's not unusual at this budget price. Extras include a shared lounge area with satellite TV, free continental breakfast, a full communal kitchen, and a washer and dryer for guest use. For a more contemporary hostel, consider the comparable YHA London Central.
6
The 100-room upper-middle-range Ambassadors Bloomsbury is located in the historic literary heart of London. Beyond the convenient location near tube stations, this hotel also offers comfortable rooms with crisp white linens and flat-screen TVs. Bathrooms are sleek and modern -- guests can choose between wet rooms or larger bathrooms with tubs. Number Twelve is the popular on-site bar and restaurant, serving three delicious meals a day along with traditional afternoon tea. This hotel offers good value for the location, especially with free Wi-Fi and a small fitness center.
7
There are 40 guest rooms at this value property set off London's Euston Road. It's a central and convenient location for visitors to the city as many bars, restaurants, and transport links are within a short walk. The guest rooms are basic but fresh and bright, with flat-screen TVs, but some rooms share a bathroom and are tiny. There are few facilities on-site, but Wi-Fi is free throughout the property, a good breakfast is included, and guests can use the private gardens and tennis courts opposite the hotel. It's worth comparing with the nearby Premier Inn London Euston which is a similar price and has a restaurant and bar on-site.
8
The Generator Hostel represents a new type of high-end hostelling with a real emphasis on creating a fun, chilled-out atmosphere conducive to interaction between guests. It's a good choice for both young solo travelers and groups, offering dorms for up to 12 people and private rooms, though some are cramped. The cafe, bar, and cinema room are all great spaces to relax, and the hostel's event program is a nice touch. While it's not perfect, or the cheapest hostel in the capital, there are few with as good a central London location that promise such a snazzy vibe.
9
The St. Giles London is a mid-range hotel that manages to squeeze a hefty 670 rooms into an impressive example of Brutalist architecture, or a towering concrete eyesore, depending on one's taste. Smack dab in the middle of central London and within walking distance of numerous attractions, its location is the main draw. Rooms are mostly small and basic, though generally clean, and some have great views. Rates are low for the location, though little is included -- even Wi-Fi comes with a fee. For a hotel with a little more charm and equally budget-friendly rates, travelers might want to check out Pickwick Hall, though it's a little farther out.
10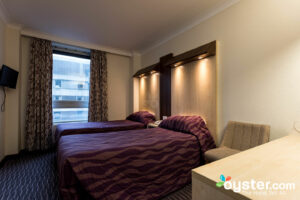 The Royal National hotel is a mid-range property in the Bloomsbury area of Camden. It has a convenient setting nestled between trendy Clerkenwell and affluent Fitzrovia, with Covent Garden to the south and King's Cross station to the north. Housed in a hulking building with a gray-brown exterior, as of 2018, most of the simple rooms are a bit dated and plain, but sufficient for short city stays. Amenities include TVs, coffee- and tea-making facilities, and desks, but no air-conditioning. However, City Sleeper rooms are modern and fresh, and worth the upgrade. Amenities include Blooms Pizza Cafe, though dining gets mixed reviews. Rates are good, though, especially for the central London location. For a more stylish stay, consider Mercure London Bloomsbury instead, though be prepared to pay more.