Best Kid-Friendly Hotels in Midtown West
Between Times Square, the Empire State Building, and Radio City Music Hall, family-friendly activities abound in New York City. If you're looking to be near these sites, Midtown West is in the heart of the action. But before you book your kid-friendly hotel, there are a few things to keep in mind — size of the guest rooms, on-site amenities, and ambiance. We visited the top hotels in Midtown West to see which were best for traveling families, to help you find the perfect stay. Check out our expert picks for the best kid-friendly hotels in Midtown West and start planning your family vacation!
See All Midtown West Hotels
1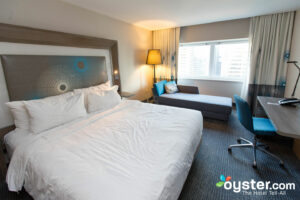 This Times Square outlet of a French hotel chain offers stylish rooms, some with great views. The prime location is a major asset: It's just blocks north of Times Square, and within easy walking distance of theaters, Rockefeller Center, and Central Park. Rooms have contemporary decor in white and grey with a few bright pops of color, and modern technologies. There is no charge for cribs, and the rooms are spacious enough to handle them. Connecting rooms are available but only for Times Square View Rooms. Older children will likely appreciate the video games section of the lobby.
2
The 94-room, upscale Pearl Hotel has a convenient location just off of Times Square and is surprisingly quiet for the area. Modern rooms have super comfy Sterns & Fosters mattresses and big fluffy pillows, Keurig machines with top-end coffees and teas, and large rainfall showerheads. And although there's an American grill restaurant and bar attached to the hotel, the property also offers a free continental breakfast buffet (although the space can get cramped), hosted wine and cheese hour, and 24-hour tea, coffee, and snacks.
3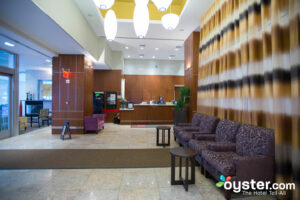 Those looking for a clean mid-range chain hotel right around the corner from the Empire State building can't do much better than this Hilton Garden Inn. Rates are affordable (for New York, at least) and the location is extremely convenient for seeing the sights -- the flagship Macy's store, Madison Square Garden, and multiple subway lines are also within easy walking distance. Just note that rooms ending in "02" are the smallest, so steer clear if you want a bit more space. Some of the city-view rooms have great views of the Empire State building, and all rooms have the microwaves and mini-fridges that are standard for the chain (and particularly helpful for saving money on food in pricey New York City).
4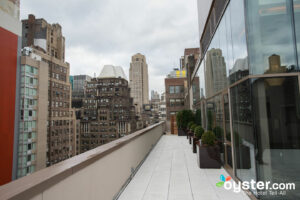 Opened in 2014, the 293-room Homewood Suites by Hilton is the brand's first entry into New York City, offering modern suite-like accommodations for budget-minded travelers. Built on the former site of a parking lot, the 22-story hotel offers a glimmer of modernity on a somewhat gloomy and busy block that's within walking distance of Times Square and Madison Square Garden. Free perks include daily breakfast, a 24-hour lobby coffee station, and dinner on weeknights, and the lobby, rooftop terrace, and rooms with kitchenettes and sofa beds create a homey feel.
5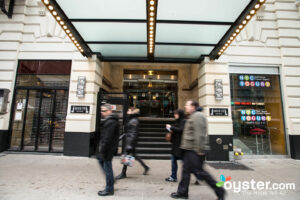 This 112-room affordable property is a block from Radio City Music Hall and close to Times Square. The studio, one- and two-bedroom apartments have been around for more than a few years, just like the people who run the place like clockwork; it attracts repeat guests for a reason. The spacious upper-middle-range units feel homey and most contain modern kitchenetteswith coffeemakers and microwaves. There's free Wi-Fi throughout, and a comfortable lobby for checking e-mail and reading one of the free newspapers. For those who don't mind sacrificing traditional hotel features (there is no restaurant, bar, or fitness center), it's one of the best options for the price in this tourist-centric location.
6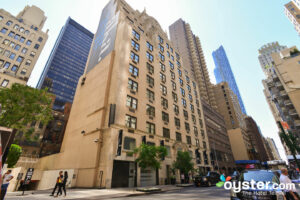 The AKA Central Park combines the comforts of home with amenities of a hotel, and exclusively offers stays of one week or more. Though lacking views of the park, guests are within a block of the entrance, as well as 5th Avenue stores such as Bergdorf's and Tiffany's. Studios, one- and two-bedroom units -- 134 in total -- have more space than a typical hotel room; all but the studios have full kitchens. The AKA brand has made a mark in four other cities, and the first-floor fireplace lounge here lives up to the brand's reputation for sleek decor, even if the rooms fall a little short. Other features include large fitness and business centers, and guests get backdoor access to an adjacent European-style cafe.
7
Styled like an old British social club, the quaint, 118-room Blakely boutique offers free continental breakfasts, a quality fitness center, a great Midtown West location near Central Park, and big rooms with microwaves, Frette robes and free Wi-Fi. Overall, a solid hotel. The Blakely's large standard rooms -- guest rooms start at 310 square feet, which is big for NYC, but about average for any other city in the U.S. -- come with a convenient kitchenette with a microwave and extra sink, free Wi-Fi, a 32-inch LG flat-screen TV with free HBO and a DVD player.
8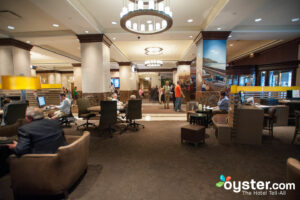 Rooms here are a bit bigger than average (particularly for Midtown West) at 250 square feet, and plenty of rooms with double beds are available (it helps to call and request these in advance). Cribs are free, and rollaways are available for a rather steep fee. There are several affordable, kid-friendly food options within blocks of the hotel, from Dunkin' Donuts to the famed Carnegie Deli. In addition, guests of the Sheraton share access to the swimming pool across the street at the Sheraton Manhattan -- a major rarity in New York. Of course, the hotel is also within walking distance of Central Park, Broadway shows, Rockefeller Center, and much more.
9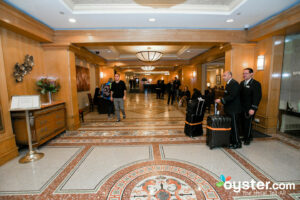 This gorgeous historic building often gets overlooked in the hustle and bustle of Herald Square, but with modern rooms, several dining options, and an interesting history (it's the birthplace of the Professional Golfers Association), the Radisson is a solid mid-range option. The location may not be particularly attractive, but it is certainly convenient; the hotel sits right above eight subway lines, and is within walking distance of numerous sights. An affordable, and extensive, breakfast buffet offers a plethora of hot and cold items such as pancakes, French toast, eggs, bacon, cereal, pastries, and fruit, and Cafe Martiniqueserves a la carte options.
10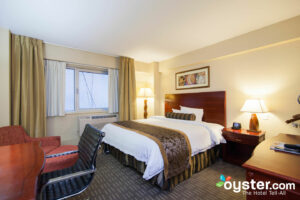 Free Wi-Fi, free breakfast, a 24-hour business center (free printing and faxing), and a quality (also free) on-site fitness centermakes the Wingate a great choice, just a 10-minute walk from Times Square and the Empire State Building. Its advantage: All 92 guest rooms are often priced less than smaller rooms at competing hotels.