Best All-Inclusive Resorts in Puerto Rico
With over 270 miles of sandy shores, Puerto Rico is a dream destination for many looking to get away and enjoy some time under the sun. Turn that dream into a reality by visiting any one of the best resorts in Puerto Rico. In this list of all-inclusive resorts in Puerto Rico, you'll find stays that are perfect for families or young travelers looking to make lasting memories.
See All Puerto Rico Hotels
1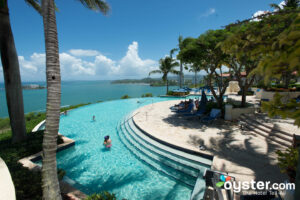 Located in Fajardo, Puerto Rico, Las Casitas Village is one of the best all-inclusive resorts on the island. With extensive grounds, featuring spectacular fountains, lush green foliage, and many coconut trees, a luxurious tropical getaway awaits you at Las Casitas Village. 
The 234 rooms in Las Casitas have light, airy color schemes and large balconies that let you enjoy the stunning views Las Casitas has to offer. The rooms available are supplied with Wi-Fi, mini-fridges, coffee makers, microwaves, and more to make your stay more convenient. Remodeled villas also have up-to-date kitchenettes, which provide an alternative to on-site restaurants, a living room, and a dining area. 
This all-inclusive Puerto Rico hotel also offers plenty of amenities, including outdoor and poolside dining locations and bars, a golf course, a game room, and even babysitting services, so you can take a break from the kids. 
Las Casitas Village is just a short distance from the Coqui Water Park. At Coqui Water Park, you can spend your day lounging on the lazy river pool, testing out some of the water slides, and enjoying other attractions. The water park also has a large infinity-edge pool that overlooks the Caribbean Sea.
If you're looking to explore nature, Las Casitas is 12 miles away from El Yunque Rainforest. This national rainforest is brimming with tall trees and vibrant plants, and there are many trails that allow you to see it all. You can also bathe beneath naturally forming waterfalls.
Aside from the nearby water park and on-site dining and bars, Las Casitas Village is great if you're looking for a secluded all-inclusive resort in Puerto Rico. While some Puerto Rico resorts are closer to the busier areas, Las Casitas Village gives you a taste of quiet comfort that will make your Puerto Rico vacation one to remember. The best part is that you're not too far from stores and restaurants.
2 The Copamarina Beach Resort and Spa is located on Puerto Rico's remote southwestern coast and is a world away from the crowded high-rise hotels of San Juan. Enjoy your stay at one of the 104 rooms available that are designed with separate common areas and kitchenettes or full-sized kitchens. Plus, relish the picturesque views from furnished balconies or patios. 
The 104 rooms available are furnished with tropical furniture and are full of convenient comforts, including free wi-fi, complimentary toiletries, minifridges, coffeemakers, and flat-screen TVs. Outside of your room, you'll find several resort amenities that'll make your stay at Copamarina a blast for you and your family. From poolside amenities, which includes beach beds and hammocks, to the Sundries Shop that has an extensive selection of bathing suits, clothing, and accessories. You can also relax and unwind at the Ni Spa or enjoy a beach and sunset cruise.
Beach and sunset cruises can take you to explore several unique locations, including Cayo Aurora, many of the beautiful coasts that Puerto Rico has to offer, and Bioluminescent Bay. You can also take advantage of their half or full-day trips to participate in sport fishing. 
Copamarina Beach Resort and Spa is located near several natural attractions, such as Gilligan's Island, the Guanica Dry Forest, and the Parguera Bioluminescent Bay. If you prefer not to venture away from the resort, you can participate in water sports like kayaking, snorkeling, and diving or simply enjoy the peace and quiet on their private beaches. And if you're looking for the best Puerto Rico resorts to take your kids to, Copamarina has a playground, volleyball court, and more for the little ones to enjoy.
There are a wide range of all-inclusive food and drink options available, from exquisite meal plans for the whole family to romantic wine and dinner packages designed for couples. This allows you to treat yourself to world-class eateries like Restaurante Alexandra, which boasts an extensive selection of exquisite wines. 
Copamarina Beach Resort & Spa also offers several great getaway specials to make your vacation a breeze and more affordable. You can sign up for the romance package if you want to have a romantic getaway with a loved one or you can try the Rise & Shine Breakfast Package to enjoy a top-notch meal before exploring the many beaches Puerto Rico has to offer. You can even get 25% off your original rate when you book early, thanks to the early bird special.
If you want to explore a different side of Puerto Rico, the Copamarina Beach Resort & Spa offers you a one-of-a-kind experience of the Island.