Best Luxury Hotels in Seville, Andalucia
Take a look at the best luxury hotels in Seville.
See All Seville Hotels
1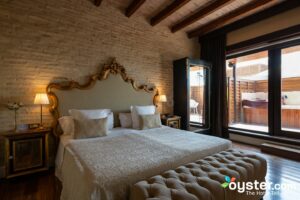 The three-story, 33-room Hotel Casa 1800 was originally a mansion built in 1864. The owners have taken care in its conversion to retain the original historic character. Nonetheless, Casa 1800 still has the modern conveniences and cutting edge technology today's travelers expect in a boutique property, with a prime location in the city center near a world-famous cathedral.
2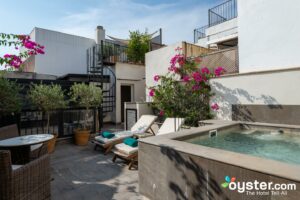 The 12-room luxury boutique Corral del Rey is located in two houses several yards apart. The buildings were built as a casa palacio in the 17th century, and have been carefully restored to preserve their architectural history but updated and refurbished to meet the demands of the modern traveler. Located in the center of Seville's historic district, along a winding cobblestone street, the Corral del Rey is packed with romantic atmosphere.
3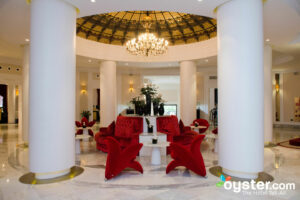 The luxurious, 189-room Gran Meliá Colón is a Seville landmark, steeped in history and tradition but also emphasizing modernity and quality. Meliá Colón embraces the culture of Seville's painters and bullfighters in its architecture and decor. For example, elegant rooms have doors painted to look like framed masterpieces by some of Seville's famous artists. The hotel feels like an integral part of the cultural fabric of the city, and the three excellent restaurants are popular meeting spots for both tourists and locals.
4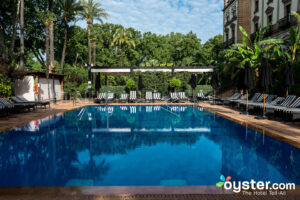 This luxury hotel dates back to the late 1920s and features impressive palatial architecture, decadent interiors, and beautiful gardens. Its location is also prime, situated near the Royal Alcázar and within a five- to 10-minute walk of Seville's top attractions. Features include a lovely outdoor pool with a poolside bar, two beautiful restaurants (including one in and overlooking an attractive courtyard), an atmospheric bar with chic Art Deco decor, a gourmet foodie shop, and a fitness room. Though some of the 151 guest rooms are small and lack tea/coffee facilities, they feature stylish contemporary decor, attractive bathrooms with arabesque tiling, and some balconies. Though nowhere near as opulent, the five-pearl Hotel Palacio de Villapanes is a more intimate alternative with a rooftop plunge pool, small spa, and tapas restaurant.
5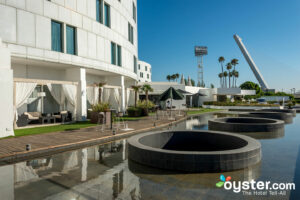 Barcelo Sevilla Renacimiento is a modern upscale hotel with plenty of features, including an outdoor pool and kids' pool, 25 meeting rooms, kid-friendly activities, a gym, and multiple dining options -- though no spa. Its 295 guest rooms are spacious and contemporary, equipped with flat-screen TVs, minibars, kettles, and iPod docks. A notable downside is the location, however, as it's not within walking distance of the main attractions. For something in the city center, travelers might want to check out the Gran Melia Colon, a five-pearl property with a spa -- but no pool and pricier rates.
6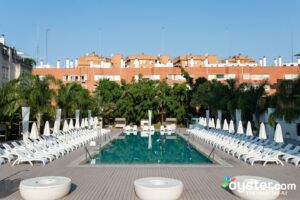 One of four Seville locations of an urban hotel chain, Meliá Lebreros is a bit outside of the historic center and has one of the larger outdoor pools in the city. Parts of the older building, including higher-level rooms, have been renovated, but some areas could still use updating. Nonetheless, the Meliá is more affordable than other comparable properties, and also offers special family rooms with kid-friendly decor. The amenities, aside from the pool, include a gym open 24 hours daily, restaurants, bars, a nightclub that pays homage to New York's Studio 54, and several meeting rooms.
7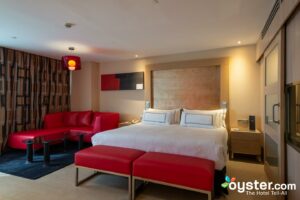 The 365-room Melia Sevilla is an upscale chain hotel catering to business travelers outside the city center of Seville. Located in a quiet part of the city across from the Plaza España, this modern, fresh property has many conveniences including a spa, hair salon, fitness center, seasonal outdoor pool, and indoor pool. Even more conveniences are available to VIP guests staying on The Level, an exclusive floor with its own reception and private lounge. There is a huge breakfast buffet (for a fee), a lounge, and a restaurant. Rooms are stylish with stocked minibars and sleek bathrooms, but there is a fee for parking. A more affordable option with less amenities is the Monte Carmelo Hotel.
8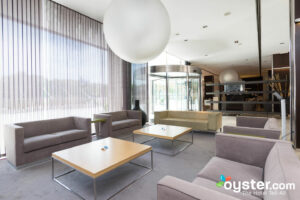 This chain hotel's location allows for an easy walk to Seville's historic center, and it's conveniently away from the hustle and bustle due to its location near the Guadalquivir River. While the area immediately surrounding the hotel can feel a bit deserted, NH Plaza de Armas offers a great value for a comfortable property with modern rooms and facilities, including a rooftop pool. Double Standard and Superior Rooms, along with Junior Suites, are bright and sophisticated, though some of the furniture is a little scuffed. Business travelers have the advantage here, with brightly-lit meeting rooms and a well-equipped business center.
9
The four-pearl Ribera de Triana Hotel is located in the Triana district right on the Guadalquivir River. Major attractions and public transportation are within walking distance. Rooms are updated, but modest, and some have terraces and/or views of the river and city. Upgraded rooms have perks like jetted tubs and coffeemakers. Although the fitness center is small, it offers a good size hot tub, steam bath, and massages, and the hotel is pet-friendly (only small dogs and they incur a daily fee). One of the major highlights is the seasonal rooftop pool and bar area with exceptional views and lots of seating. Free Wi-Fi is available and there is on-site parking, but for a daily fee.
10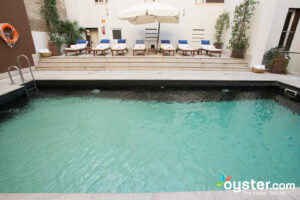 The Hotel Fontecruz Sevilla is an upscale, inviting hotel with a modern style and vintage touches. Centrally located in Santa Cruz and the historic district, the hotel is within easy walking distance of shops, cafes, attractions, and bars. The sleek, stylish rooms are large with rainfall showerheads, robes, and minibars, in addition to modern black tile throughout. Some rooms have balconies and separate walk-in showers and soaking tubs. However, some guests may find rooms and common areas to be poorly lit and there is street noise in some. Free Wi-Fi is available, but parking is off-site and costs a daily fee. Bicycle rental and spa services -- such as massages and facials -- are on-site, and there is a marvelous rooftop terrace and restaurant.
11
This small, hip boutique is ideally located right next door to the Seville Cathedral, in the heart of the historic center. With stylish, modern rooms featuring upscale amenities; a rooftop terrace complete with a hopping bar and a pool with striking views; and a relaxing spa offering a wide array of treatments, EME Catedral Hotel sets the bar for Seville cool. Just note that some guests complain of dim room lighting, and of noise coming from the rooftop bar.