Best Kid-Friendly Hotels in Orchard, Singapore
Take a look at the best kid-friendly hotels in Orchard.
See All Singapore Hotels
One of the top luxury hotels in the Orchard Road shopping area, the 255-room Four Seasons Hotel Singapore is a stately five-pearl property popular with both business travelers and families on shopping trips. It has a walkway connecting to the Hilton Singapore, a convenient perk that makes for easy access to Orchard Road, without the hassle (and noise) of being right on it. Elegant rooms are particularly large and have huge marble bathrooms with soaking tubs and separate walk-in showers. There are two outdoor pools -- including a lap pool and a separate family pool -- complete with lots of lounge chairs and great skyline views. The property also has four tennis courts, a spa, and a wide variety of meeting spaces. There are two on-site restaurants -- serving wood-fired steaks and Cantonese cuisine -- plus an attractive bar with an outdoor terrace. Rooms at the nearby St. Regis deliver a little more wow factor, but the Four Seasons arguably gets a slight edge when it comes to service.
This 393-room Marriott is an upscale business hotel with top-notch amenities: A fitness center, a spa, five dining options, and a gorgeous pool. The location on Orchard Road, an iconic street lined by shops, is another upside. Rooms are modern and high-design: Dark wood accents and shades of blue, grey, and gold in the carpeting and furniture give them a sophisticated look. Tech features include flat-screen TVs inset in the walls, as well as iPod docks, but there's a fee for Wi-Fi. This hotel is a solid, luxurious option for travelers of all types -- families, couples, business travelers -- but the inland location means there are no water views.
Situated between the bucolic Botanic Gardens and Orchard Road's shopping bonanza, the Regent Singapore provides a luxurious atmosphere in a discreet location. The trade-off is that it's not as close to either destination as some of its competitors, but this luxury hotel has its own attractions including a full spa, several popular restaurants, and an expansive Sunday cocktail brunch. The 440 rooms have elegant Asian accents and well-stocked minibars, though the traditional decor may strike some as too old-fashioned. Overall, the Regent Singapore is not quite as posh as the nearby Four Seasons, St. Regis, or Shangri-La -- but prices tend to reflect that.
The upscale Goodwood Park Hotel is a 233-room heritage hotel located just off Orchard Road, close to shopping, restaurants, nightlife, and public transportation. Rooms are modern with flat-screen TVs, minibars, and private balconies with either garden or pool views. Some rooms have Old World touches in the furnishings. The main swimming pool provides a panoramic view of the hotel, while the Mayfair Swimming Pool is a bit more secluded, surrounded by beautiful trees. There are seven different dining facilities available, ranging from casual coffee lounges to fine-dining restaurants, though breakfast costs extra. Additional features include a fitness center, spa with hair salon, and business center. The nearby Orchard Hotel Singapore is a similar option, and offers a kids' concierge and more contemporary rooms.
While most of the hotels in the popular Orchard shopping area are upscale, the Grand Hyatt Singapore stands out with its excellent restaurants with open show kitchens. Rooms are large and contemporary, and even the Standard Rooms have convenient separate work areas. Amenities include an outdoor pool, a spa, and a great fitness center. Getting to tourist attractions is easy as there are several public transportation options nearby, but travelers who aren't on a shopping trip or attending a meeting here, might consider a different part of the city altogether, depending on their interests. Those who do want to be in the Orchard Road area, however, might want to compare rates with the Singapore Marriott Hotel or Four Seasons nearby.
The 126-suite Pan Pacific Serviced Suites Orchard Singapore is a luxury property with long-stay guests in mind that's right in the middle of Orchard Road shopping, dining, and entertainment. There's even a metro a one-minute walk from the hotel's front door. Rooms are stylish and spacious, and come with full kitchens and high-end touches like Bose soundsystems. A free breakfast buffet is included in the room rate and the hotel has a steak house and bar as well. The outdoor pool is a plus, as is the whirlpool tub (though the hotel calls this a spa). Pan Pacific Serviced Suites has another location on Beach Road for travelers looking to be closer to the Central Business District.
This upscale 308-room hotel is situated in the heart of Singapore's famed Orchard Road shopping belt, close to bars, restaurants, and multiple public transport routes. It has a modern and trendy vibe throughout, particularly at the well-reviewed restaurant and bar. Rooms are similarly stylish, plus they come with minibars, flat-screen TVs, and free use of a smartphone. However, some rooms have small bathrooms and views blocked by the herringbone-patterned windows. Though the hotel lacks a spa, it has a black-tiled pool and a small gym. Overall, it's a solid option for business and leisure travelers, but the nearby Regent has a full spa and several on-site dining options for only slightly higher rates.
The upscale Mandarin Orchard Singapore is a massive 1,077-room hotel with a prime location next to the large Mandarin Gallery shopping mall. Spacious rooms are equipped with flat-screen TVs, minibars, and free Wi-Fi, while Suites also have living rooms, however, furnishings range from dated and uninspiring to sleek and contemporary. Three on-site restaurants include a buffet eatery and fine-dining Szechwan spot, plus there's a cafe and sleek bar with outdoor seating. Other facilities include a medium-sized pool and fitness center, but there's no spa. Club Room guests have access to a top-floor lounge with stunning views of the city. For a true luxury property, consider the St. Regis, which has more opulent rooms, a spa, and wider variety of restaurants.
The 656-room Orchard Hotel Singapore is an upscale property next to the infamous Orchard Towers and near Orchard Road's major shopping areas. Rooms are all modern and elegant, and include Signature Club rooms that have a chic, almost boutique vibe, with a blend of contemporary and traditional Asian design. The main on-site restaurant is highly regarded for its Cantonese cuisine, and there are two more restaurants and two bars on-site. The expansive events space is popular for business gatherings, weddings, and social events. A nearby alternative is the Pan Pacific Orchard, which has a spa and free Wi-Fi throughout.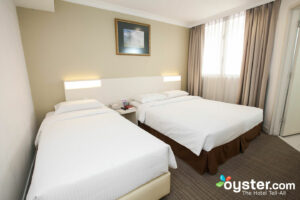 The two-and-a-half-pearl YMCA is a good mid-range hotel in the heart of the city. It's next to the National Museum and Fort Canning Park, and within walking distance of Orchard Road and Clarke Quay. Features include a rooftop pool, gym, and restaurant serving all three meals. The 111 rooms are basic, but have decent amenities including mini-fridges and kettles. They also come in a variety of configurations that are great for larger groups and families. As a YMCA, there are several Christian quotes around, which may not suit all guests, but rates are hard to beat for the location. Travelers willing to shell out a bit more could take a look at Far East Hospitality's nearby Elizabeth Hotel, where rooms are more homey.