Most Romantic Hotels in Positano, Amalfi Coast
Take a look at the most romantic hotels in Positano.
See All Positano Hotels
1
This family-run bed-and-breakfast is one of Positano's most charming properties. Housed in a 19th-century private residence restored with great attention to detail, Villa Mary has four beautiful rooms with wooden floors, elegant classic decor, high vaulted ceilings, and lovely patios offering panoramic views of Positano. There are no amenities on-site, but the property offers great services -- such as a private boat for day trips and valet parking -- and nice freebies, including Wi-Fi and in-room breakfast. The bed-and-breakfast is located on a steep slope with lots of steps a short walk from central Positano, but there is a bus stop a two-minute walk away.
2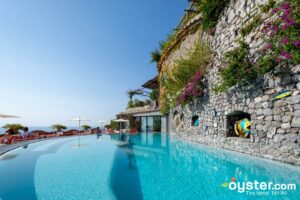 A member of the Relais & Chateaux luxury fellowship and possibly the most expensive hotel in Positano, Il San Pietro has enormous rooms with spacious terraces overlooking the sea, an elevator with access to a private cove beach, an on-site luxury spa, and a Michelin-starred restaurant. The downside is that it is not within easy walking distance to town, but a free shuttle can take you there 24/7.
3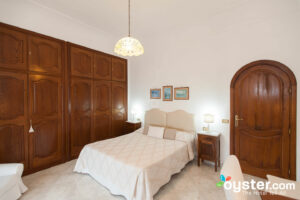 This tiny family-run bed-and-breakfast is nestled amid gardens, citrus groves, and vineyards high in the mountains above Positano, and a short walk from quaint Montepertuso and the Path of the Gods. Mamma Rosa only has two rooms, both with breathtaking sea views, simple yet elegant decor, flat-screen TVs, free Wi-Fi, and private bathrooms in the hallway. There are 220 steps to climb from the road to the property, but most guests find that the views, the warm hosts, and the delicious homemade breakfast make it worth the effort.
4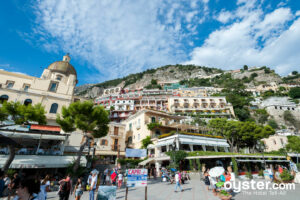 The Hotel Buca di Bacco is a historic, upscale property situated right along Positano's most popular beach and close to shops and restaurants. The property features classically elegant decor and Mediterranean accents that can occasionally feel dated, but are nonetheless tasteful and well-maintained. Its 47 guest rooms are individually decorated and come with flat-screen TVs and minibars, and many rooms offer exceptional sea views (some from private terraces or balconies). There's a popular on-site restaurant with beachfront alfresco dining, as well as a small bar and an outdoor terrace. But there's no pool, so travelers seeking a hotel with that feature might want to check out the nearby Covo Dei Saraceni.
5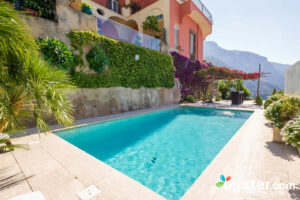 This stunning hotel offers guests breathtaking views and personal service in luxurious surroundings. With only seven guest rooms and lots of cozy common areas -- indoors and out -- the hotel has a quiet, exclusive feel. Guests are pampered with delicious made-to-order meals for breakfast and dinner, though none are free. There's also a small, open-air spa with hot tubs, a massage area, and a fitness room. Elegant, individually decorated rooms have minibars, iPhones, and Nespresso machines, plus options like a giant whirlpool tub, private hammam, or kitchen. The nature of Positano makes steep climbs unavoidable, but the panoramas are a spectacular payoff. For comparison, Hotel Palazzo Murat sits at the base of the cliffs, making the town more accessible, but it lacks the stunning atmosphere of Villa Magia.
6
Unlike most hotels in the cliffside town of Positano that require a steep walk to reach the beach and town center, the 17th-century Palazzo Murat is located smack in the town center's pedestrian zone. The property is immaculate and equipped with a highly acclaimed-restaurant and its own citrus and botanical garden; rooms have antique furnishings (that can nonetheless seem a tad bland) and modern amenities, but bathrooms are small. With a pristine pool and some nice freebies, Palazzo is ideal for travelers who want to stay in historic lodgings in the heart of the action, but it lacks the gorgeous ocean views of nearby cliffside hotels.
7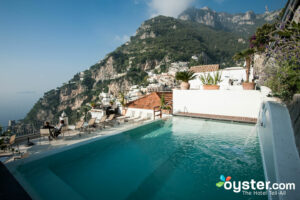 The 18-room Albergo Punta Regina is an upscale, family-run hotel in Positano with breathtaking views of the sea and surrounding mountains from its guest room balconies, rooftop terrace, and infinity-edge swimming pool. The property is well-maintained: A renovation of the reception area was completed in 2015, and the Standard Rooms are scheduled for refurbishment in 2017. Interiors are charming and classically styled -- though some might find the antique-style furnishings a bit dated -- and rooms offer modern amenities like flat-screen TVs and free Wi-Fi, plus some have indoor or outdoor hot tubs. There is no restaurant on-site, but the town center is just a five-minute walk away, while the beach can be reached in 10 minutes. Travelers might also want to check out the nearby Hotel Marincanto, which offers more amenities including a restaurant, gym, Turkish bath, and massage services.
8
The 25-room Eden Roc is a family-run boutique with classic decor located a short walk from the beach and central Positano attractions, including lovely Santa Maria Assunta church and the harbor. This upper-middle-range hotel has a rooftop pool with panoramic sea views, a cute bar offering a short food menu and wine tastings for a fee, and a tiny fitness center with a handful of cardio machines. There is also a small spa complete with a treatment room, but use of the steam room is an extra charge. All rooms are spacious and light, with balconies or terraces offering expansive sea views, and modern amenities such as free Wi-Fi, flat-screen TVs, and jetted tubs. Decor is classic throughout, but some may find the style a little dated.
9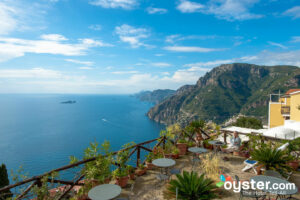 Casa Cuccaro B&B is a small family-run property in Nocelle, a quiet hamlet on the terraced hillside offering sweeping views over Positano. This value property is a bit difficult to reach and potential guests should be comfortable climbing steep inclines on narrow staircases and ancient streets. These same attributes makes it popular with hikers, and dozens of trails throughout the Lattari Mountains start right here. Its five simple rooms have en-suite bathrooms and balconies with sea views that are rivaled only by the views from the lovely rooftop terrace. It's worth comparing with the nearby B&B Mamma Rosa Positano, which lacks the en-suite bathrooms, but offers homemade breakfast and dinner.
10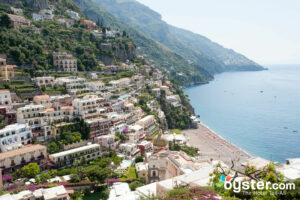 Centrally located in Positano, the 52-room Hotel Poseidon offers breathtaking views of the coast and of the bay in a chic, cozy boutique environment. Quaint, basic rooms vary in size and style, but all have patios and terraces with panoramic views. The on-site spa offers massages and has a Turkish bath built right into the cliff rock. Just be prepared to do a lot of walking—exploring Positano requires a lot of going up and down steps.
11 Although the Miramare could use a little updating, its location — within a 10-minute walk to the beach and the center of Positano — is hard to beat. The Mediterranean décor is warm and welcoming, and rooms have amazing views of the Gulf of Salerno. Given its location on a cliff, guests should expect to do a lot of walking up and down stairs, but this is the norm in the area. Although there's no pool and the property lacks the newness and luxury of hotels such as the Villa Fiorentino or Il San Pietro up the road, the Miramare's convenient central location make it a great value.
12
Villa Rosa is a 12-room mid-range boutique hotel with a stunning cliff-face location at the top of Positano village. Its convenient location is an eight-minute walk from the Positano Beach and a 15-minute walk into the center of the village. The rooms are spacious and elegant, and come with mini-fridges, free Wi-Fi, and large furnished private terraces. Breakfast is included in room rates and served to guests on their private balconies. There's not much else in the way of features, besides a communal TV lounge, though the hotel can assist with laundry and parking at a nearby parking lot (both for a fee). As an alternative, travelers can also consider Casa Albertina which offers similar features and views; plus a rooftop solarium.
13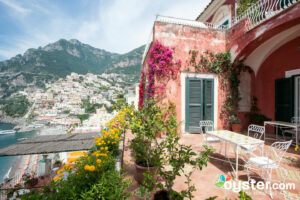 With beautiful sea views, the cliffside Hotel Marincanto scores plenty of points for ambiance. Rooms and suites have king beds and balconies, many with sea-facing views. Suites also have whirlpool hot tubs, but overall room decor is bland. On-site features include a restaurant serving an expansive (and free) buffet breakfast, as well as a small infinity pool with ocean views. There's a beach area as well, but it's only accessible via a long flight of stairs and it's technically not private.
14
One of the priciest hotels in Positano, this luxury boutique is also perhaps the most beautiful and it lives up to its upscale reputation with pristine grounds, thoughtful free extras (like snacks and boat trips), and a renowned restaurant. Rooms feature antique furniture and modern appliances, but some are small and/or noisy. That said, it's an excellent choice for those who can afford it and seek a central location, gorgeous spa, and spectacular views from all around.
15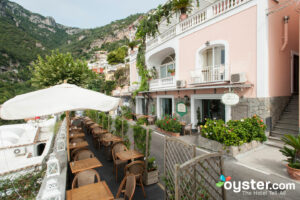 The 12-room Hotel Villa Gabrisa is a small, upper-middle-range, family-run hotel with a scenic cliffside location in Positano. Rooms are decorated in a romantic style and all have furnished balconies or terraces with spectacular sea views. The views can also be enjoyed from the shady outdoor terrace of the on-site restaurant, open from April to October. A buffet breakfast is included in the room rate, and there's free Wi-Fi throughout the property. One nice extra feature is the on-site wine shop. Travelers looking for a hotel with a swimming pool could consider Hotel Poseidon, which also has an on-site spa and a Turkish bath built right into the cliff rock.