Spring has sprung! Though some areas around the world seem to be stuck in winter (cough, New York), fresh flowers and farmers' markets are on the rise. After being cooped inside for months, the best way to enjoy the weather is to head outdoors with family and friends. A picnic with good food and better company in a green-filled park is a great spring activity for all ages. Here are 10 of the best parks for toting a picnic basket and spreading a blanket this season.
Champ de Mars, Paris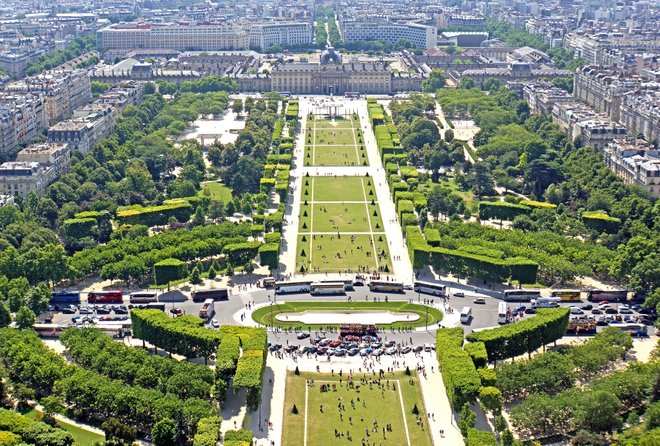 Take a trip to Paris and you'll likely make a stop at the Champ de Mars. The huge greenspace is located in the 7th arrondissement next to the famed Eiffel Tower. It's a hotspot for locals and tourists alike, and the perfect place to enjoy baguettes, cheese, and a bottle of wine with friends.
Where to Stay: Hotel du Cadran
A short walk from the park, Hotel du Cadran is a mid-range property with small but modern rooms. There's a striking breakfast room in a vaulted cellar with exposed-brick walls, and a chocolate bar serves coffee and macarons on the ground floor.
Zilker Park, Austin
Home to Austin City Limits music festival, the beloved Barton Springs pool, and an annual kite festival, Zilker Park spans over 350 acres. Austinites head to the park for soccer games, the botanical garden, or to let their furry friends run loose. For Texas sun and entertaining people-watching, this is a prime spot.
Where to Stay: Hotel San Jose
Located in the hip South Congress area, this 40-room boutique has a chic design, small outdoor pool, and an outdoor lounge area serving drinks and snacks. In addition to movies and music (the hotel offers both CDs and pre-filled iPods), Polaroid cameras, bikes, and even a typewriter are available on loan.
Tiergarten, Berlin
Located in the center of Berlin, Tiergarten is a public park that's about 520 acres, making it the second largest urban garden in Germany. Though it began as a hunting area for the king in the 16th century, it now serves as a recreational area for frisbee throwers, joggers, and more.
Where to Stay: Scandic Berlin Potsdamer Platz
About a 20-minute walk from the park, the Scandic Berlin Potsdamer Platz is an upscale, 564-room property. Rooms are modern and thoughtfully designed and there's a buffet restaurant and funky bar area with an à la carte menu.
Alamo Square, San Francisco
Whether you saw it firsthand or in the opening credits for Full House, Alamo Square is a grassy residential park in San Francisco. The picturesque spot looks out to the "Painted Ladies," a row of Victorian houses that are popular for photographs, and the city skyline is within view.
Where to Stay: Hotel Drisco
A six-minute drive from the park is the upscale Hotel Drisco. The spacious rooms have elegant decor and Sound+Sleep devices to help guests get a good night's rest. Gourmet freebies include continental breakfast and evening wine receptions, and there's free weekday morning car service to various neighborhood sights.
Parque del Retiro, Madrid
The city's main park, Parque del Retiro is rated #2 for things to do in Madrid on TripAdvisor. Once owned by the Spanish monarchy, the public land houses an artificial lake where visitors can rent rowboats, a rose garden, monuments, two museums, and lush greenery. After a day exploring, the park offers a welcome retreat for a picnic and siesta.
Where to Stay: Hotel Claridge
The upper-middle-range Hotel Claridge is within walking distance of the park. Standard Rooms are perfectly pleasant, but for an upgrade, the Suites are significantly better. The hotel serves a buffet breakfast in the basement and its ground floor restaurant serves an a la carte menu of dishes based on a Spanish market.
Central Park, New York City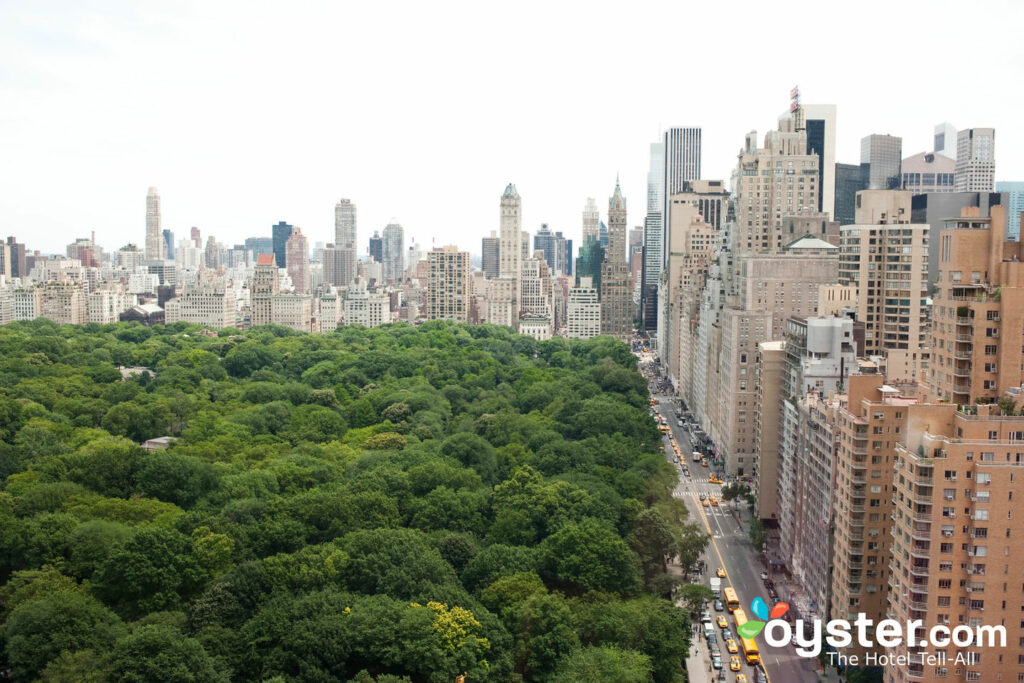 The 50-block-long Central Park is a green refuge from the towering buildings and tourist-filled streets of Manhattan. New Yorkers flock to the park for its running paths, lake and reservoir, outdoor amphitheater, and ample lawns. In a city where space is limited, Central Park has ample room to move around or spread a blanket for a picnic.
Where to Stay: The Empire Hotel
The Upper West Side Empire Hotel is an upscale property packing serious value. Sure, Standard Rooms are small, but there's a rooftop pool and bar, and fitness center, and Ed's Chowder House, complete with a raw bar, serves up delicious seafood for lunch and dinner.
Villa Borghese, Rome
Located near the famed Spanish Steps, Villa Borghese is a large public park/garden in Rome. Aside from ample greenery and lush gardens, the park contains the Borghese Gallery and Museum, a replica of Shakespeare's Globe Theatre, and many statues.
Where to Stay: NH Collection Roma Vittorio Veneto
Just off the park is the mid-range NH Collection Roma Vittorio Veneto. Being a chain hotel, it lacks some Italian character, but rooms are bright and modern and some have balconies. An ample breakfast buffet is available and the restaurant and bar are spacious.
Hyde Park, London
There's a reason Hyde Park is the most popular park in London — it has the well-known Speakers' Corner, Kensington Gardens, both a Holocaust memorial and one to Princess Diana, and more. After a picnic of tea and crumpets, park visitors can rent pedal boats, swim in the Serpentine Lake, and even ride horses.
Where to Stay: The Rembrandt
For a centrally located hotel, The Rembrandt is a solid pick in South Kensington, just a short walk to numerous museums and sights. The stylish hotel has modern rooms with colorful decor, a free English breakfast, and a full bar, lounge, and restaurant.
Kowloon Park, Hong Kong
Kowloon Park is located in the Tsim Sha Tsui area of Hong Kong. Once travelers have had their fill of sight-seeing and shopping, Kowloon Park is a lovely oasis with a flamingo-occupied lake, an aviary holding over 100 different species of wild birds, an indoor sports and swimming facility, and numerous places to sit.
Where to Stay: The Mira Hong Kong
Just a block from the park, The Mira Hong Kong is a luxury hotel with ample amenities. There's a large indoor pool, excellent spa, numerous dining and drinking options, and sleek, modern rooms.
Grant Park, Chicago
Home to the popular Lollapalooza music festival, Grant Park is located in the Loop area of Chicago, next to Lake Michigan. The large public park is home to Millennium Park, Buckingham Fountain, lush gardens, and renowned museums. There's ample to do and see for both children and adults here.
Where to Stay: The Blackstone, a Renaissance Hotel
Just across the street, The Blackstone is an upscale property with modern rooms, some of which have views of the park and Lake Michigan. Dating back to 1910, the hotel has hosted royals, presidents, and movie stars; today, its on-site tapas restaurant draws both locals and hotel guests.
All products are independently selected by our writers and editors. If you buy something through our links, Oyster may earn an affiliate commission.