If you're one of the many shoppers out there struggling with gift buying this holiday season, don't fret. Whether you're a road warrior with no time to shop or just looking for a 'lil inspiration, we've found a surprising source for great gift ideas: hotels. From gourmet goodies to decadent bath products to home decor, hotels have plenty of items that can make the perfect present -- so swipe something on your next hotel stay (and pay up, of course!) or simply swipe the suggestion!
1. Signature Pantry Goodies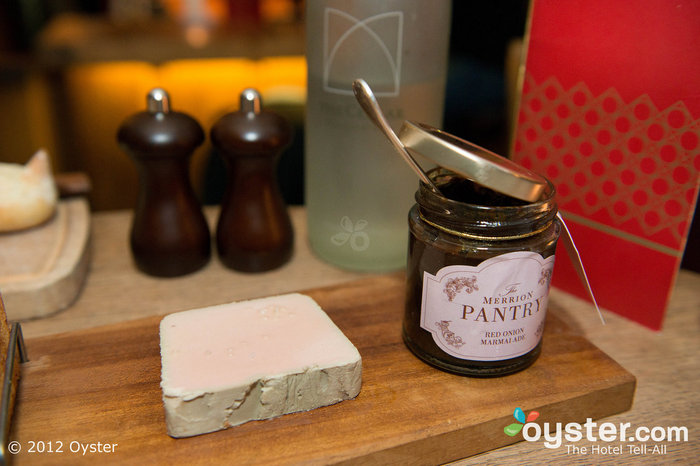 Little-known fact about hotels: Some of the really, really nice ones have their own signature gourmet goodies. At The Merrion, for example, the hotel chef sells kitchen creations such as red onion marmalade (4 euros, or about $5) and hotel-brand chocolate bars crafted under the guidance of chocolatiers in France, both for sale in the in-room minibars. In addition, entire holiday hampers of treats can be purchased. One of our favorites? The Merrion Hamper, with items such as cranberry sauce, brandy butter, mulled wine and grape chutney, macaroons, mince pies, chocolate truffles, Christmas pudding, and lemon oil, all for 55 euro (about $72). At The Shelbourne Dublin, more tasty seasonal signature treats are for sale, such as various relishes (4.95 euros, about $6.50), preserves (4.95 euros, about $6.50), and even Christmas pudding (10 euros, about $13).
Oyster's Picks for Where to Swipe 'Em:The Merrion Hotel in Dublin, The Shelbourne Dublin, A Renaissance Hotel
2. Rubber Duckies
Need to pick up a small something for a friend or relative's tot? A rubber ducky is a nice gesture to show you didn't forget about the little one. Best of all, hotels typically sell them for quite cheap — and sometimes they're even free for hotel guests which is a gift for us, too!
Oyster's Picks for Where to Swipe 'Em:Hotel 1000 in Seattle, The Colonnade Hotel in Boston, Acqualina Resort & Spa in Miami
3. Accent Pillows
Let's face it — hotel decor is often way nicer than the look we've got going in our own homes. But picking up one of those super-cute accent pillows you spotted in the hotel lobby can help change that, and they make nice gifts, too — particularly when there's a special significance to them, like the Architecturally Sound Pillows from the Hotel Palomar Philadelphia ($65 each), featuring images of Revolutionary Era men and women.
Oyster's Pick for Where To Swipe 'Em:The Kimpton Style online store
4. Stylin' Blankets
Sometimes, when the hotel has a really nice bed throw or blanket, it's hard not to get attached. After all, it's just so much cooler than the blankets you have at home, and you think your wife/husband/daughter/son would really love it, too. Luckily, plenty of hotels have online stores, so if you're still dreaming about that blankie when your trip is over, you can order up a little memento to keep you or your family warm on those chilly winter nights. We particularly like the Faux Beaver Bed Throw from the Hotel Marlowe ($360) and the Ace Hotel Pendelton Elk Blanket from the Ace Hotel – Portland ($360).
Oyster's Pick for Where to Swipe 'Em:The Kimpton Style online store, Ace Hotel Shop
5. Fluffy Bathrobes
A lot of hotels will let you take that super decadent bathrobe in the room home with you (or pick up an identical, unused one) — provided you pay, of course. It's a cozy winter gift — and one that you'll have personally tested, so you'll know just how fab it is. Westin's Heavenly Robes, made of plush velour, are a convenient — and comfy — choice.
Oyster's Pick for Where to Swipe 'Em:Westin Home Collection
6. Luxury Bedding
There's a reason many travelers have the best sleeps of their lives while on vacation. Sure, the lack of stress may play a role, but the uber-luxurious bedding doesn't hurt, either. Not everyone bothers to buy high thread count, fine weave sheets or incredibly fluffy down duvets for their homes, so splurge on some luxe bedding for the insomniac in your life; an incredible night's sleep is a gift that keeps on giving. The Fili D'Oro duvets ($373) and sheets ($135 flat, $135 fitted) from the Montage Beverly Hills are particularly divine; the luxury brand uses traditional northern Italian weaving techniques as well as materials such as fine Egyptian cotton linen and Flanders flax.
Oyster's Pick for Where to Swipe 'Em:Montage Beverly Hills; And be sure to check out more hotels with lavish linens.
7. Local Gourmet Treats
Gourmet goodies are always appreciated — and make nice stocking stuffers — but picking up some treats with a local twist is even more special. Luckily, plenty of hotels carry minibar items with local provenance — such as the Thompson Beverly Hills, which has items from Joan's on Third, and the W South Beach, which offers Dylan's Candy (one of the store locations is in Miami).
Oyster's Pick for Where to Swipe 'Em:Thompson Beverly Hills, W South Beach
8. Stuffed Animals
You know that cute little stuffed animal you occasionally see propped up on the bed or chair in your hotel room? Most of the time, you can buy it. Buying presents for little kids can be tricky, and the hotel stuffed animal offers an easy out. Not only is it cute, it's thoughtful — it's a memento from your recent trip! It's not a last-minute purchase that you remembered only when you happened to see a stuffed animal on the bed. No, not at all. (Don't worry, you're secret's safe with us — after all, we've been there too.) Portola Hotel & Spa at Monterey Bay has stuffed animals relating to Monterey Bay Aquarium (previously a stuffed shark, now a cute sea otter for $19.99).
Oyster's Pick for Where to Swipe It:Portola Hotel & Spa at Monterey Bay
9. Specialty Spa Goods
The hotel spa is a fantastic spot to pick up fancy moisturizers, body scrubs, and more. Sometimes, there are specialty products relating to the hotel spa's particular focus; the phenomenal Anara Spa at the Grand Hyatt Kauai, for example, has custom Coco Mango products which allow guests to relive the tropics when they head home. Signature items include the Coco Mango Classic Bath & Shower Gel ($18) and the Coco Mango Body Lotion Classic Formula ($20). The Jefferson Hotel in Washington D.C. sells wine therapy products inspired by Thomas Jefferson's love of wine, such as the face cream ($118), face serum ($138), and eye serum ($88) by Le Vin, a brand that leverages the antioxidant power of grape seed extract and reservatrol.
Oyster's Pick for Where to Swipe 'Em:Grand Hyatt Kauai Resort & Spa, The Jefferson in Washington D.C., and any of the Oyster award-winning hotel spas
10. High-End Bath Products
Quality shampoo and conditioner can be found for sale at many hotels — such as the Viceroy Santa Monica and Maison 140, both of which sell super-luxe Neil George toiletries that are cutom-made for the Viceroy brand. Neil George is a posh L.A. salon with many celebrity clients so gifting his products is tres chic.
Oyster's Pick for Where to Swipe 'Em:Viceroy Santa Monica, Maison 140; Also make sure to check out our piece on the top hotel toiletry brands.
11. Chocolate Goodness
Almost everyone has someone on their Christmas list who LOVES chocolate. And plenty of hotels offer delicious ways to satisfy their craving — such as the Hotel du Cadran in Paris, which has a Chocolate Bar right on-site, and Aria Las Vegas, which is home to an outpost of Jean Philippe Patisserie.
Oyster's Pick for Where to Swipe 'Em:Hotel du Cadran – Paris, Aria Las Vegas
RELATED LINKS:
All products are independently selected by our writers and editors. If you buy something through our links, Oyster may earn an affiliate commission.