All-inclusive resorts have just as many super fans as major haters.
While we've had some disappointing experiences at huge megaresorts with mediocre food and watered-down drinks, we've also stayed in luxurious properties with phenomenal food, top-shelf alcohol, and even spa treatments included in the rate.
So if you're wondering whether an all-inclusive hotel should be in your future, you've come to the right place. We asked all-inclusive and travel experts the what, when, where, and whys of all-inclusives so you can learn everything you need to know about all-inclusive resorts before booking your next getaway.
What's Included at an All-Inclusive Resort?
Though it varies from hotel to hotel, typically rates at all-inclusive resorts include the room, all meals and snacks, alcoholic and nonalcoholic beverages (beer, wine, spirits, coffee, juice, soda, and water), and non-motorized water sports if it's along the beach. Access to resort features such as the gym, pool, and sports facilities is also typically free, except when there are premium-level upgrades that often have their own pool, lounge, and section of the beach. Former Editor-in-Chief of FamilyVacationCritic.com, Lissa Poirot warns, "Although the term is 'all-inclusive,' not everything is included — such as golf and the spa — which can sometimes catch guests off-guard."
Certainly the most surprising is when hotels don't include premium liquor, Wi-Fi, or a la carte restaurants in the rates. For instance, though we love the all-inclusive Villa Buena Onda in Costa Rica, you'll be forking over your credit card if you want to have a beer or glass of wine at dinner (unless you specifically book the all-inclusive package with alcohol included. So basically, do your homework beforehand and study the list of rate inclusions. If it's unclear, reach out the hotel to confirm if there are any extra charges for specific restaurants, beverages, and activities. Though be aware that rounds of golf and spa treatments are almost always additional fees.
You Might Like: Nine All-Inclusive Resorts Truly Worthy of the Name
Should You Tip at All-Inclusive Resorts?
Tipping at all-inclusive resorts is generally expected, unless staying at one of the properties that expressly prohibits tips. In the latter camp, both Couples and Sandals resorts have a strict no-tipping policy, with exceptions made for personal butlers and spa services. For travelers who don't want to have to worry about tipping staff, consider a stay at one of the many stellar Couples and Sandals all-inclusive resorts. Otherwise, expect to tip between $1-10 to bartenders, waiters, room attendants, etc. While it's not always expected, most past guests of all-inclusive resorts have found the staff very much appreciate the gesture and they're often rewarded with extra attention.
If you're wondering how much and how often to tip hotel staff, check out our guidelines for tipping like a pro.
When Does It Makes Sense to Go the All-Inclusive Route?
So when are all-inclusives worth it?
If planning which restaurants to go to or how much money to budget for food and drinks is causing stress, you may want to go with an all-inclusive package. Families budgeting for more than two people may particularly enjoy the ease of all-inclusive resorts. "It makes it easy to stay on a budget — especially when traveling with kids because so much is included, you don't have to worry about saying 'no' to their requests," said Poirot. And since a kids' club, non-motorized water sports, and poolside activities are typically included, the kids will be plenty occupied.
If you're looking to simply relax a a resort and aren't looking to do much in terms of exploring or dining outside of the hotel, booking an all-inclusive getaway will almost undoubtedly save you some money and cut significantly down on research and organizing time.
To get a feel for the numbers, read our breakdown of What a Week-Long All-Inclusive Vacation Costs in Top Destinations
Where are the Best All-Inclusives Located?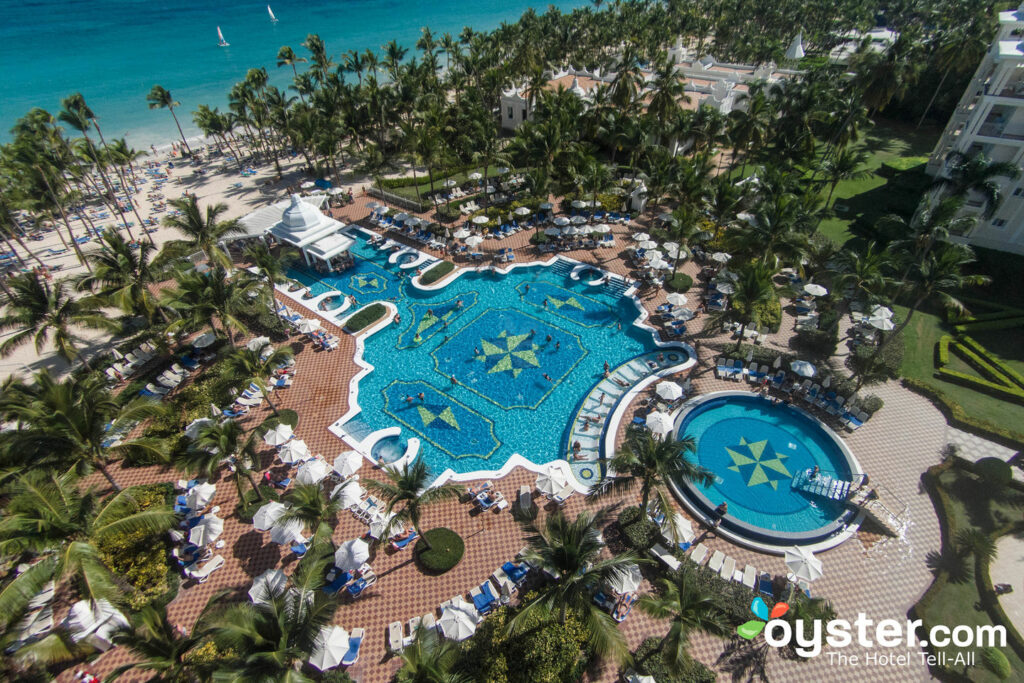 Sure, you'll find a few all-inclusive hotels in the United States, even Hawaii, as well as Phuket and Bali, but most are located in Mexico and the Caribbean. Generally, the best all-inclusive resorts are in places where you're perfectly content getting some R&R by the pools and beach, or perhaps the surrounding area is a little sketchy and you'd rather stay at a guarded property. All-inclusive resorts in the Caribbean and Mexico are often set on sprawling grounds, providing ample space for guests to move around and experience everything they desire — poolside lounging, evening entertainment, and relaxing massages — without leaving the property gates.
"In my opinion, the best all-inclusive resorts are located in Mexico, Jamaica, and the Dominican Republic. The labor costs in these countries allow the guest to get the most bang for their buck. Plus, the beaches can't be beat," said Kristina D'Amico, Senior Analyst at HVS, a global hospitality and hotel development consulting firm.
Check out our picks for the best all-inclusive resorts in Punta Cana, Cancun, and Jamaica.
The Takeaway:
Obvious downsides of booking an all-inclusive hotel are that there may be hidden fees and an impersonal atmosphere at the resort (a pro for some), and you might miss out on sampling the local cuisine if you're stuck eating every meal on-site. Additionally, all-inclusive resorts typically only provide a small look into the local culture, though some have tours and experiences available to explore the destination. For instance, rates for Couples Sans Souci in Ocho Rios, Jamaica include tours of the famous Dunn's River Falls.
Particularly for vacationing families, the stress of planning and budgeting virtually disappears with a resort that includes everything from the meals to daytime activities. As Leora Halpern Lanz, a full-time lecturer at Boston University's School of Hospitality Administration, said, "Not having to take out your wallet is such a relief; you won't have to worry every
single time you eat a meal, which adds up." For her, the added sense of comfort that she's already paid for her trip is well worth any possible drawbacks.
The takeaway? Do your research beforehand to check out the atmosphere (party-centric, family-friendly, or relaxed luxury) and features/amenities included in the rates in order find the best hotel for your style.
Some of Our Favorite All-Inclusive Resorts:
With fewer than 200 suites, this family-friendly section of Paradisus Palma Real all-inclusive offers a serene, luxurious environment. The property offers sprawling grounds, meandering pathways, and upscale amenities such as a top-notch spa, yoga, and a seemingly never-ending pool area; couples will find that the well-behaved little ones here are hardly ever a bother.
The luxurious, 260-room Le Blanc Spa is the best (and priciest) adult-only all-inclusive in town. It stands out for its gorgeous white-sand beach in the heart of the Hotel Zone, decadent spa (guests get free access to the hydrotherapy area), stunning pools (two with swim-up bars), and especially its pampering service, from the butlers who will unpack your clothes to the pool attendants who will provide cool towels for your eyes. It has a hip, gorgeous aesthetic throughout the entire pristine white property, and the modern, bright rooms have two-person whirlpool tubs; most have either ocean or lagoon views.
With its upscale boutique vibe, and dramatic cliffside setting, The Caves is considered one of Jamaica's most romantic escapes. The 12 unique, private cottages and suites at this upscale all-inclusive property unfold along lush garden paths and dramatic seaside cliffs carved with steep stairways down to the water and into incredible grottos.
The 658-suite Majestic Colonial Punta Cana manages to be a stellar all-inclusive option for both couples and families. Set along beautiful Bavaro Beach, the resort offers a 1,300-foot lazy river-style pool, numerous well-regarded restaurants and bars serving premium liquor, tons of daytime and evening activities, and rooms with jetted tubs and outdoor spaces.
What do you think of all-inclusive resorts? Let us know in the comments!
Related Links:
All products are independently selected by our writers and editors. If you buy something through our links, Oyster may earn an affiliate commission.