While some may consider stripping down in front of complete strangers uncomfortable, others find it to be a thrilling experience. Whatever feeling it evokes, there's no denying it: Nude vacations are on the rise -- and we don't just mean at nude beaches. Nakations are becoming such a trend that new concepts, like naturist restaurants (The Bunyadi in London, for example) and topless cruises, are cropping up. Perhaps it's the idea of getting back to nature, the lack of pretense and judgement (it's hard to tell a CEO from a bartender when they're both naked), or the feeling of freedom and adventure that appeals to travelers. Sure, the thought of being naked in public might cause a little anxiety, but it's actually known to increase body positivity and self-esteem. Plus, the exhibitionist angle often works as an aphrodisiac for couples. Another bonus? It'll keep your suitcase light. If you've ever been curious or don't know where to start, check out our bucket list of nude travel experiences.
1. Sunbathe on a Nude or Topless Beach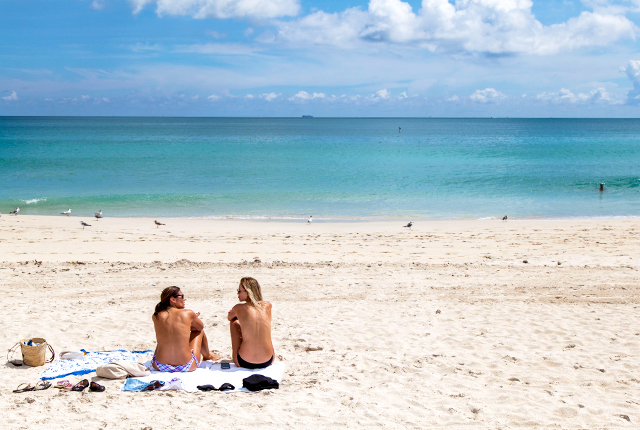 Whether you want to avoid awkward tan lines or free yourself in the company of like-minded naturists, a nude beach is a great place to strip down. Those who aren't ready to rock a full birthday suit can head to a topless beach, instead. Probably the most well-known and widely accepted form of public nudity, swimsuit-free beaches have been popular and often the standard in Europe for decades. But you don't have to hop across the pond — the U.S. is also home to a handful of clothing-optional beaches when the mood strikes. Just remember one thing: You may not be wearing a bathing suit, but you should still lather on the sunscreen.
2. Skinny-Dip Day or Night
Stripping down and jumping in a body of water — whether it's an ocean, river, or lake — is an exhilarating, must-try experience. We recommend getting wet after dark on a quiet night, when the moon reflects off the glassy black surface of the water. It can be a bit scary depending where you are (especially since you are so exposed), but it's also extra relaxing and magical. For those who have always wanted to give nude night-swimming a try, mark your calendars — the official International Skinny Dip Day falls on the second Saturday of July.
3. Spend the Afternoon in a Korean Jjimjilbang
https://www.instagram.com/p/BS5bS6mlVrC
Jjimjilbangs, Korean bathhouse-like spaces, are extremely popular with older generations who often spend entire days or overnight visits soaking in different pools of varying temperatures, getting scrubbed down, publicly bathing, and even watching TV and dining. Similar to Russian bathhouses and Japanese onsens, jjimjilbangsare separated into male and female sections and will almost always require patrons to bare it all. It can be a daunting experience, especially for foreigners, but if you can get over any shyness, you'll have one of the most relaxing days of your life. Feeling extra adventurous? Indulge in a body scrub. Though it's a bit unceremonious and often administered in view of other patrons, this treatment is a slightly painful, but very thorough, exfoliating experience that will leave you feeling as soft as a newborn baby.
4. Visit a Clothing-Optional Resort
Staying at a clothing-optional resort takes a lot of guts, as you'll constantly find yourself running into fellow naked guests. For the full naturist experience, we recommend choosing a completely nude-optional resort over just a topless-optional resort. Many of these resorts do have separate clothing-optional and fully nude sides — a great feature for any anxious first-timers (and those who realize the experience isn't quite for them). If you want to kick it up a notch, sexually adventurous resorts like Hedonism II in Jamaica are big bucket-list spots for swingers.
Designed for adventurous couples who want to add a bit of spice to their vacation, the all-inclusive Hedonism II is a popular upper-middle-range nudist resort tucked into a quiet, secluded section of Negril's Seven Mile Beach in Jamaica. With a wide variety of activities and entertainment, this adults-only resort encourages guests to explore their wild side and indulge themselves. There are both a "prude" and a "nude" section of the resort to accommodate different comfort levels, and property highlights include the nude beach, theme parties, and a variety of pools and whirlpools on both sides.
5. Reconnect With Nature in a Traditional Japanese Onsen
Traditional Japanese onsens are typically located outside and surrounded by nature, though more modern versions, like Osaka's famous multi-level Spa World, are all indoors and usually have more of a hydrotherapy spa vibe. Plus, nudity is optional. However, one main reason to visit a traditional onsen is to reconnect with nature. Often located at traditional Japanese inns called ryokans, onsens are filled with natural hot water from sulfuric springs and require bathers to soak naked. For nature lovers, it's hard to beat a wintertime soak in the warm, mineral-rich waters. (It's worth noting that many onsens ban entry to bathers sporting tattoos, which are traditionally seen as taboo in Japanese culture.)
6. Find Your Zen in a Candlelit Nude Yoga Class
You may not have to travel far for this one, as nude yoga is gaining popularity across the country. However, we'd like to suggest an extra element for your practice. Candlelit nude yoga is a surprisingly zen-inducing alternative to regular vinyasa flow. The absence of clothing frees up the body and allows it to move in a more fluid motion, though it might be best to space out your mats a bit farther than usual for all those downward dogs.
7. Cruise the High Seas Sans Bathing Suits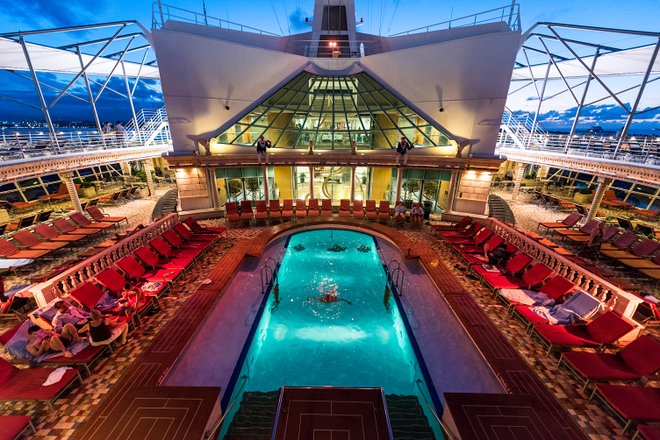 Yes, nude cruises are a thing. But before you freak out about running into a group of naked passengers on a regular cruise, know that these sailings are chartered cruises — albeit on regular cruises lines. Onboard activities include body painting and costume parties. And unlike the restaurant in London, clothes are required for dinner. Just like the resorts, there are also hedonistic cruises for swinging couples or curious singles, so it's good to know which type of nude cruise you're booking before you set sail sans swimsuit.
For those just in case types of situations, it's likely best to bring a quick cover-up option to your nude experiences. This button up cover from Summersalt is perfect for your next trip.
You'll Also Like:
All products are independently selected by our writers and editors. If you buy something through our links, Oyster may earn an affiliate commission.