Ah, running. It keeps you fit, strengthens your heart, and can even make you happier. Even better, it requires no equipment or special facilities. But while you can technically run almost anywhere in the U.S., not every city has the characteristics to make for a good outdoor jog. There are several factors to consider, including temperature, trails, a local running community, and even views. So, for those fitness enthusiasts who love to hear the sound of their feet pounding against the pavement, we rounded up the top eight running cities in the U.S. Race you to the end.
Portland, Oregon
https://www.instagram.com/p/BKvz-RbA9Lv
There are many reasons Portland makes the list for the country's top running cities. Not only are the Adidas and Nike headquarters located in Portland and a suburb of the city, respectively, but it also boasts more than 220 miles of trails as well as the Oregon Road Runners Club, the fourth largest running group in America. Check out the two-and-a-half-mile Waterfront Loop for scenic views of the Willamette River or enjoy the greenery on the 11.2-mile Leif Erikson Drive trail in Forest Park.
Our Hotel Pick:
San Francisco, California
https://www.instagram.com/p/BFmKKdzPe7F
With 16 running clubs and 246 races in 2016 alone, San Francisco is a runner's paradise. Year-round temperatures that hover around a balmy 57 degrees make breaking a sweat bearable in this hilly city. You can clock in about seven miles at Golden Gate Park or about three miles from Crissy Field to Hopper's Hands along the San Francisco Bay. And the fact that the city roughly measures seven-by-seven miles also means that runners can take in many of the top attractions during a brisk jog.
Our Hotel Pick:
Washington D.C.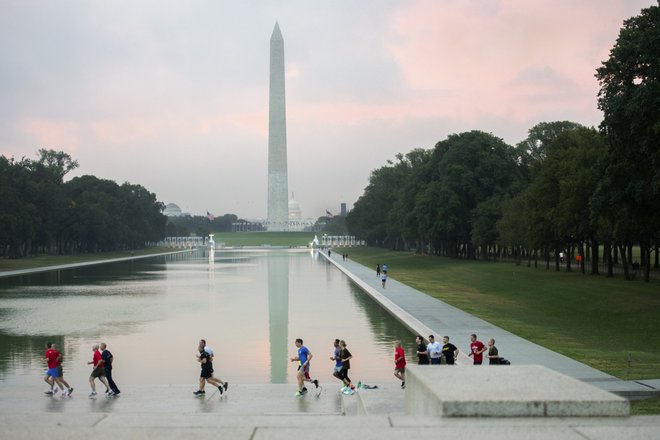 With many trails intersecting and connecting in Washington, D.C., it's hard to tell where one ends and another begins. This makes it easy for runners to try new paths and routes. But that's not the only reason the nation's capital ranks as a top running city. Folks get to dart past famous landmarks like the Washington Monument, the Reflecting Pool, and the Lincoln Memorial before looping back. Don't miss the 10-mile Cherry Blossom race in the spring — the flowers in bloom make for picturesque surroundings.
Our Hotel Pick:
Boston, Massachusetts
https://www.instagram.com/p/BKdKiThgXb1
With the oldest annual foot race in the world — the Boston Marathon — it should be no surprise that Boston makes the list for best running cities. Head to the downtown Freedom Trail, which takes you past historic sites like Paul Revere's house and the Bunker Hill Monument. The Charles River Esplanade, which serves up great water views, is another great choice, as is the Emerald Necklace, which stretches over seven miles through nine different parks. And although Boston is known to have frigid winters with ice and snow, the city is well-prepared and keeps the trails clear for runners year-round.
Our Hotel Pick:
Flagstaff, Arizona
https://www.instagram.com/p/BGVyJFlIoWd
Ditch the rain and cold for Flagstaff, Arizona, which boasts more than 50 miles of trails and 266 sunny days. Tackle trails within the city or those that lead outside into the world's largest ponderosa pine forest. There are also plenty of running groups and elite clubs in this city, including Northern Arizona Trail Runners Association, Northern Arizona Elite, and Team Run Flagstaff, which has over 400 runners of different ages. Since the 1996 Olympics, more than 10,000 world-class sports personnel have trained in Flagstaff and many were runners. Plenty of professional runners have even made Flagstaff, which sits 7,000 feet above sea level, their home to train year-round.
Our Hotel Pick:
Seattle, Washington
https://www.instagram.com/p/BHxcNrChZ1r
Seattle might be known as a rainy city, but it actually falls below the country's average (37 inches), with 36 inches of rain per year. And while it does pour about 149 days a year, the precipitation isn't usually too heavy. A large network of interconnecting trails and beautiful scenery also make this city a top choice for running. Green Lake Park offers superb lake views, while the Washington Park Arboretum features miles of trails that wind through lush trees and plants. For something a little longer, try the 27-mile Burke-Gilman Trail. Plus, professional runners like Nick Symmonds of Brooks Beasts Track Club (Seattle's elite running club) and Doris Brown Heritage, an Olympian and international cross-country champion, have made this city their home.
Our Hotel Pick:
Albuquerque, New Mexico
https://www.instagram.com/p/BI4D2x9gfds
Unlike some major cities, which come with high smog levels and dense populations, Albuquerque, New Mexico offers clean mountain air, 278 days of sunshine every year, and beautiful nature trails. With an annual high of 68 degrees and low of 45 degrees plus only about 59 days of rain, runners can easily train year-round without a freezing winter or sweltering summer. The calm weather and high altitude has also drawn some of the world's best long-distance runners, including Alan Webb, to train. Head up the Sandia Mountains on the seven-and-a-half-mile La Luz Trail for great city views or run along the Rio Grande River on the 16-mile paved Paseo del Bosque Trail.
Our Hotel Pick:
Chicago, Illinois
https://www.instagram.com/p/BKzKUGiBWty
Chicago's Lakefront Path, which offers 18 miles of uninterrupted running plus stunning views of Lake Michigan and the downtown area, is one reason this city is a top running destination. CARA (Chicago Area Runners Association) also hosts Facebook promotions and Twitter hashtags (#chiLFT and #runCHI) that provide information about weather conditions, closures, or training programs for the running community. And don't forget that BibRave, a website that allows runners to leave Yelp-like reviews of races around the world, originated in the Windy City.
Our Hotel Pick:
Related Stories:
All products are independently selected by our writers and editors. If you buy something through our links, Oyster may earn an affiliate commission.