It's a new year and we're excited (and ready) to look ahead; we know that 2016 will be filled with travels and adventures galore, just like 2015. But fresh starts benefit from reflection, and so in this first week of the new year, we're taking some time to look back, relive amazing trips, and pat ourselves on the back for the many things we accomplished.
And it's always nice to have someone to brag to, right?! That's why we came up with this year-in-review by the numbers: from photos added to the site to the number of rice paddies we visited (21, since you asked), here's the breakdown of all we've done in 2015. It's impressive enough on its own, but when you compare it to what we did in 2014, it's pretty spectacular. And fear not; we have big plans for 2016, so we can keep bringing you more awesome hotel reviews and photos, and tons of great content to satisfy your wanderlust.
Photos We Took: 5,100,000
Our hundreds of Oyster hotel investigators shot over a collective five million photos last year, all of which you can check out on the site. We're known for our honest photography, so the true beauty of some of the places we've been, like the Four Seasons Resort Seychelles (shown above), is pretty amazing.
Click through our slideshow of 2015's most beautiful travel photos to get an idea >>
New Countries We Visited: 22
We have visited thousands of destinations around the world, and yet the world is vast — so we are continuously finding ourselves in places we've never been before. In 2015, we visited 22 new countries — which means there are 22 new countries to choose from on the site. Thanks to our extensive travels last year, Oyster.com visitors can now check out hotels in Curacao, Russia, Fiji, Poland, and many other spots around the globe.
Tree House Hotels We Visited: 8
Travel is all about adventure; and we think staying in a tree house hotel is a great way to kick one off. From a mansion-like pick in Devon, to a rustic Thai getaway, we got to feel like a kid again by visiting eight tree house hotels last year.
Take a look at some of our favorite tree house hotels >>
New Hotels We Visited: 10,391
That's over 28 hotels a day, folks. And that's just hotels that are new to the site. We are also constantly revisiting properties to update our reviews on renovations, additions, closings, and changes.
Parisian Icons We Revisited: 1
Hotel Plaza Athenee closed for a major renovation back in 2014, so we revisited the iconic property last year to see the hotel in all its shiny new (but still classic Parisian chic) splendor.
Hot Springs Hotels We Visited: 10
We visited 10 amazing hot springs hotels in 2015 — but that doesn't mean we just did a quick trip to Desert Hot Springs (although that was one of our stops). We also flew to Japan to check out Chojukan, a historic ryokan with an antique indoor hot springs bath house, and visited Tabacon Grand Spa Thermal Resort in Costa Rica, among others.
Hello Kitty Hotels We Visited: 1
While in Japan, we made sure to touch down in Tokyo to take a look at the over-the-top Hello Kitty rooms at Keio Plaza Hotel Tokyo.
Yoga Retreats We Visited: 3
Travel is wonderful, but it can be exhausting and wearing on the body (especially when you're globe-trotting 365 days of the year). It can also be restorative, though, if you plan the right kind of vacation. In 2015, we found our Zen at three awesome, authentic yoga retreats in Costa Rica: Horizon Ocean View Hotel and Yoga Center, Costa Rica Yoga Spa, and Pranamar Villas and Yoga Retreat.
Panoramas We Shot: 58,963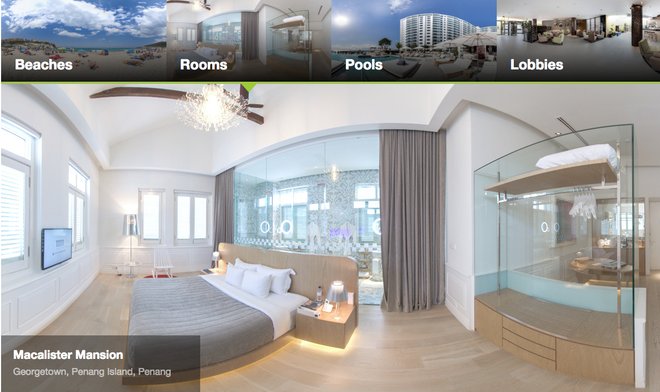 At Oyster, we want to give you the full picture of a hotel so there are no surprises when you arrive. After all, as we say, you can't return a bad vacation. That's why we took nearly 60,000 360-degree panoramas of properties around the world. Take a look at some of our favorites here and here.
Hostels We Visited: 65
Oyster.com is committed to helping all kinds of travelers, and that includes the full spectrum from budget to luxury. So last year, we strapped on our backpacks and visited 65 hostels around the world. Some are true bare-bones hostels, and others feel pretty luxe (for hostels, that is). An example of the latter includes Generator Paris (pictured), which opened in 2015.
Trips We Took to Cuba: 2
At the beginning of 2015, the White House announced the long-awaited easing of sanctions between the U.S. and Cuba. Of course, not just any U.S. citizen can get into the country these days, but it is getting easier — and our Oyster hotel investigators made two trips there this year, journalist visa in hand.
Click through thousands of photos of 25 hotels we visited in Cuba >>
See if you're guilty of believing these 15 lies about Cuba >>
Read up on our 13 tips for everything you need to know before you go >>
European Mansion Hotels We Visited: 8
Sure, the U.S. is home to some stunning mansion-turned-hotels, but the cities and countryside of Europe are practically riddled with them. Last year, we were wowed by eight stunning, authentic mansion hotels in Europe — from Berlin's stunning Schlosshotel to Sherbrooke Castle, a 19th-century manor located on parklike grounds outside of downtown Glasgow.
Take a look at a dozen postcard-perfect European mansions >>
Ski Chalets We Visited: 13
We bundled up in hats, mittens, scarves, and jackets, and visited 13 beautiful ski chalets last year. With cozy, rustic rooms and a location nestled in the French Alps, Auberge du Manoir is one of our favorites.
Take a peek at the most charming ski chalets in the world >>
Rice Paddy Hotels We Visited: 21
Thanks to our adventures in Thailand and Indonesia, we visited 21 rice paddy hotels in 2015 — a number we were not expecting! But many hotels in the former's Chiang Mai Province and the latter's Bali are situated on rice paddies, with lovely views. The Four Seasons Resort Chiang Mai is a lovely luxury pick; if you're heading to Bali on a budget, Biyukukung (pictured) is a quiet value property featuring rooms with balconies or patios overlooking the rice paddies.
Related Links:
All products are independently selected by our writers and editors. If you buy something through our links, Oyster may earn an affiliate commission.