This year has already witnessed one of the most active hurricane seasons in the Caribbean. Category 5 storms Irma and Maria barrelled through the region, with winds gusting over 200 miles per hour, leaving a trail of destruction in their wake. Popular travel destinations, including Tortola, St. Maarten, Dominica, and Puerto Rico, faced toppled trees, ripped-off roofs, and the loss of electricity and running water. A lot of travelers are understandably wary of visiting the region following the tragic natural disasters, but it's important to note that many of the impacted islands are already in rebuilding mode, while others were left completely untouched. Many of these destinations depend on tourism to sustain their economies, and are eager for visitors. Here is a list of Caribbean destinations you can (and should) still visit, as well as an update on how the rest of the Caribbean islands are faring.
The Dominican Republic depends on the massive number of tourists that visit each year — particularly those who come to swim, relax, and paddleboard in Punta Cana. The resort town, which sits on the easternmost tip of the Dominican Republic, was closest to the eye of Hurricane Maria as it passed north. While it did cause some damage in the Bavaro beach resorts on the east coast, the president of the hotel association said the storm did not damage the county's tourism infrastructure.
Although the French territory of Guadeloupe didn't suffer any infrastructural damage, there were two deaths. The island is welcoming visitors again, and cruise ships will be stopping at Pointe-au-Pitre. The airport is operational, and air traffic has resumed. According to Daniel Arnoux, CEO of the Des Hotels and Des Iles Group, Guadeloupe hotels are now "up-and-running and suffered only minor damage." Sandra Venite, USA Director for the Guadeloupe Islands Tourist Board, said, "Our expertise in hurricane measures, hurricane proof infrastructure, and more importantly, the solidarity of the People of Guadeloupe make a strong difference."
Heavy winds damaged homes and businesses in the capital of Basseterre as well as the clubs and resorts of Frigate Bay, but St. Kitts is open for tourism. The islands' beaches, as well as historical Brimstone Hill Fortress National Park, were spared the worst of the wrath. "We are deeply appreciative that again we have been spared the third hurricane in succession," . Robert L. Bradshaw International Airport in St. Kitts is open, as is the Vance W. Amory International Airport in Nevis. A New York Times report also states that most hotels are in good shape. Those that sustained damage or were closed have reopened.
Jamaica, one of the top tourist attractions in the Caribbean, will be in business this season as usual. It escaped both the wrath of Irma and Maria. So whether you want to enjoy an all-inclusive resort in Montego Bay, hit the dance clubs in Kingston, or relax in the laid-back town of Negril, you'll have plenty of options.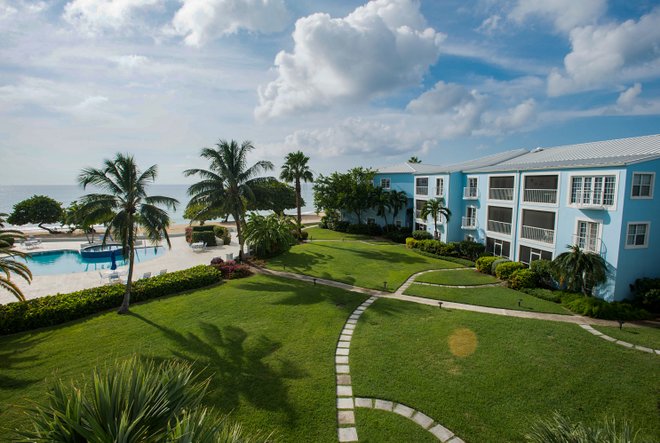 This British Overseas Territory has occasionally found itself in the path of hurricanes — Hurricane Ivan decimated its infrastructure and led to major rebuilding efforts. However, three Cayman Islands, including Grand Cayman, saw no impact whatsoever from Irma and Maria, according to The New York Times. This season, you can paddleboard at the gorgeous Seven Mile Beach, sign up for a sunset cruise, or strap on some scuba gear and dive the many sunken wrecks off the coast.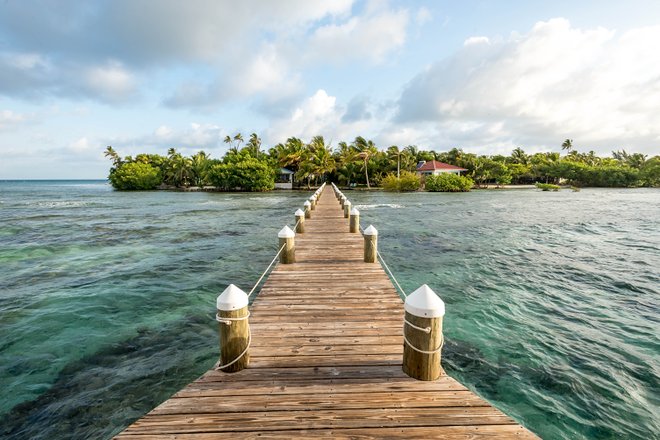 Belize, which shares a border with Guatemala and Mexico, is considered culturally Caribbean, and though hurricanes have occasionally crossed its path in the past, it managed to stay out of the crosshairs this season. This season, your adventure might include rainforest hikes in southern Belize, or snorkeling and sailing around Ambergris Caye.
Collectively known as the ABC islands, these three Dutch-controlled territories fall outside of the Caribbean's hurricane belt, and thus, had little to no damage. Divers and windsurfers can check out the stunning reefs of Bonaire and Curacao, or head to Aruba for the miles and miles of beautiful beaches.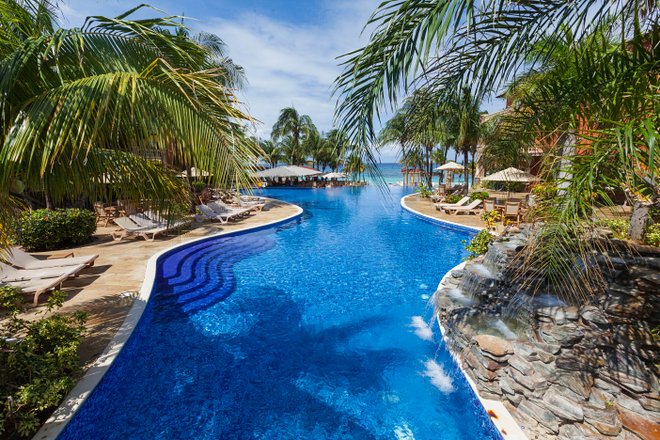 Part of Honduras, but culturally distinct, Roatan is the largest of the Bay Islands. Located about 40 miles off the northern coast of Honduras, the island was unscathed by the storms. The destination is an under-the-radar treasure to most, but well-known to scuba divers and cruise ship passengers. The popular dive wrecks of Aguila and Odyssey are still welcoming visitors.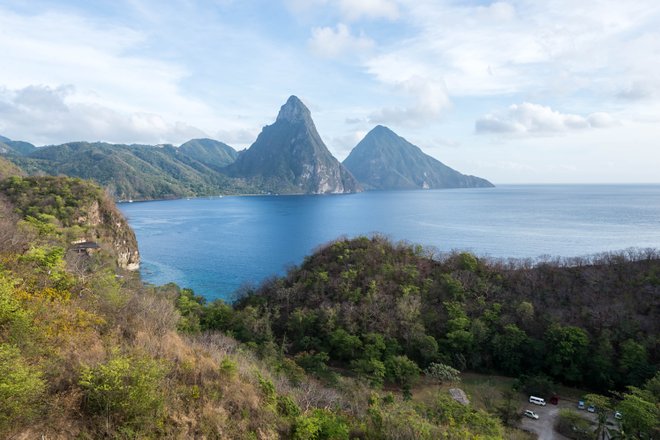 Fortunately, St. Lucia, a destination known for its pristine beaches and mountainous terrain, was not physically impacted by either of the hurricanes this year. According to a New York Times report, the island's Prime Minister, Allen Chastanet, said, "Our hotels and businesses are all open and ready to welcome visitors."
Just off the coast of Venezuela, Trinidad and Tobago is a small country at the end of the Caribbean chain of islands. Tourism isn't a major industry here, but plenty of visitors still head to Trinidad and Tobago (particularly the latter) for its bird-watching, diving, and relatively unspoiled nature. Plus, the fact that it wasn't physically impacted by Irma or Maria gives you yet another reason to plan a visit.
Located on the southeast end of the Caribbean region, Barbados sits just outside of the main hurricane belt, so it is often spared. Plus, the rocky coasts and reefs surrounding the island provide somewhat of a barrier. In fact, Barbados has not been hit by a hurricane since Hurricane Janet in 1955, which caused severe damage. It was not impacted by either Irma or Maria this year. In other words, the white and pink sand beaches and breathtaking coral reefs await.
Grenada's climate is certainly tropical, with hot and humid rainy seasons and cool trade winds during the dry season. And its location on the southern edge of the hurricane belt means that it was able to dodge Irma and Maria this year. Along with dozens of beautiful beaches, the destination also offers a mountainous landscape with hiking trails.
The French island of Martinique, located to the south of Dominica, was largely unharmed by the storms. According to The New York Times, two people reported minor injuries, two localities lost water, and between 25,000 and 33,000 households lost power. However, though it suffered power outages, it avoided major damage. The airport is open and businesses are operating.
St. Vincent and the Grenadines
St. Vincent and the Grenadines is a Caribbean nation, with St. Lucia to the north of its main island of Saint Vincent and Barbados to its east. It's located at the edge of the hurricane belt, meaning it has a lower risk of being hit hard by a hurricane. The destination escaped the wrath of both Irma and Maria.
Saba and Sint Eustatius
Saba and Sint Eustatius, two special municipalities of the Netherlands, are often visited by ferry from nearby Sint Maarten. Visitors come to these Caribbean islands to witness the legendary Mount Scenery volcano and to enjoy the marine parks rich in undersea wildlife. Although they were brushed by hurricanes, they saw no fatalities or major damage. Commissioner of Tourism Bruce Zagers stated, "Saba suffered minimal damage, and overall, we are extremely grateful that our situation is not worse."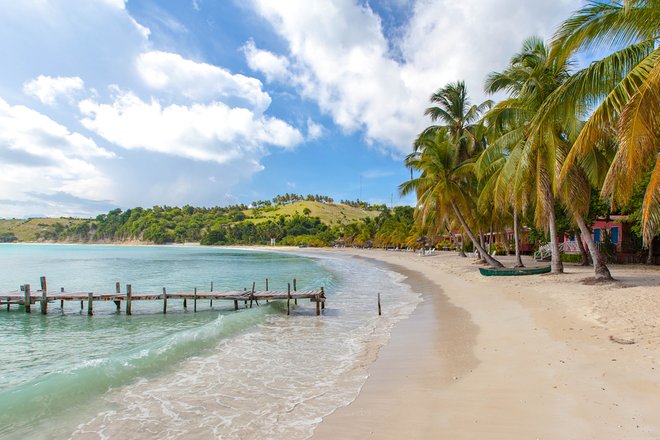 Haiti has been hit by hurricanes and earthquakes many times throughout its history, but most of it was largely spared this year. Some of Haiti's northern regions, including Caracol, Ferrier, Ouanaminthe and Malfety, were impacted by the hurricanes (many houses were flooded). However, the pristine island of Ile-a-Vache, located off the coast of the country's southwest peninsula, is still open and remains popular with sailors and divers. It's also home to several large resorts that will send boats to the mainland to pick visitors up.
Destinations Still In Recovery
Bahamas: Hurricanes Irma and Maria both had a particularly devastating impact on several southern islands in the Bahamas, including Crooked Island, Inagua, and Mayaguana. Ragged Island and Acklins Island faced more severe damage. However, hotels, marinas, and attractions are operating normally in Nassau, on Paradise Island and Grand Bahama Island, and across the Out Islands. "All airports, seaports, hotels and marinas on these islands are open and welcoming visitors," according to a press release from the Ministry of Tourism.
St. Barts: Several areas in St. Barts saw heavy flooding and roofless houses. Luxury property Eden Rock was forced to delay its opening from October to December, and other high-end properties say they will not be open for the beginning of high season in November. Hotel Christopher St. Barth and Hotel Le Toiny are currently closed with no reopening date set, and Le Guanahani is closed but hopes to reopen by summer 2018. The airport is open and hotels and attractions are scrambling to rebuild. Restaurants and bars are gradually reopening their doors, according to the Caribbean Journal.
Anguilla: The island couldn't escape the storms, and faced widespread damage. Barry Sternlicht, the CEO of Starwood Capital Group, said the Four Seasons Resort and Residences Anguilla "was ripped apart and it looks like a nuclear bomb went off. Over $20 million in damage," reports Forbes. The resort will not reopen before the end of 2017. Other resorts, including Frangipani Beach Resort, did experience damage, but plan to be open by December. It's worth nothing that phone and internet service has been restored on most of the island, roads and beaches have been cleared, and many local restaurants have reopened.
Turks and Caicos Islands: Turks and Caicos was battered by both Irma and Maria, and saw severe structural damages, especially on the the islands of South Caicos, Grand Turk, and Salt Cay. In the lesser-hit North Caicos, Middle Caicos, and Providenciales, "recovery and clean-up efforts are progressing rapidly," reports visittci.com. On Providenciales, many hotels and resorts are slowly reopening. Water and power have been restored in Providenciales, North and Middle Caicos, and South Caicos. All roads on these islands have also been cleared. Providenciales International Airport and Grand Turk International Airport are back to full operation and all flights in and out have resumed.
Antigua and Barbuda: Although both of these islands lay in the path of Irma, Antigua has declared itself "open for business" this season, according to Tourism Minister Asot Michael. "The island's hotels suffered only minimal damage and have already commenced clean-up operations." Meanwhile, the neighboring island of Barbuda, located in the eye of the storm, was completely evacuated to Antigua during Hurricane Irma. Prime Minister Gaston Browne called Barbuda "uninhabitable," reporting that roughly 95 percent of the buildings on the island suffered damage.
U.S. Virgin Islands: The U.S. Virgin Islands received a one-two punch. The island of St. Croix, while spared from Irma, was hit hard by Maria. Many hotels on St. John will be closed until December or 2018. On St. Croix, the Henry E. Rohlsen Airport has resumed service, and some hotels have reopened, while others are closed until further notice. On St. Thomas, Cyril E. King Airport has resumed limited commercial service to and from the U.S., but many hotels sustained damage and will be closed until further notice.
Cuba: Flooding occurred in Havana, and many parts of the island are still without power and running water, but the main airport is open. "The storm hit some of our principal tourist destinations but the damage will be repaired before the high season," President Raul Castro wrote in a public message, The New York Times reports. It's also worth noting that the U.S. State Department issued a travel warning since Irma hit Cuba.
St. Martin/St. Maarten: The iconic Princess Juliana International Airport, which is one of the primary jumping-off points for other parts of the Caribbean, including Anguilla, St. Lucia, and St. Kitts, was badly damaged. However, the airport announced that it will reopen for commercial flights in late October. Many hotels reported significant damage and will remain closed at least until 2018.
Puerto Rico: Following Maria, Puerto Rico was left without power, and supplies were unable to reach isolated communities due to destroyed infrastructure. The U.S. territory is in the middle of a humanitarian crisis; about 80 percent of the island is without electricity and about a third of Puerto Ricans lack access to drinkable water. Limited commercial flights are operating out of Luis Munoz Marin Airport, but keep in mind that passengers must reconfirm their reservations with their airlines directly. Most hotels are closed until further notice. If you plan on visiting the island this season, don't expect anything close to normalcy. According to the U.S. Travel Association, Puerto Rico could see a 50 percent drop in tourism, CBS News reports.
Dominica: This tiny island was Maria's first victim. The aftermath left the destination with severe flooding, roofless buildings, knocked-down trees, and even death. Approximately 90 percent of structures were destroyed, according to government officials. Restoration efforts for some services have begun, and many roads have been cleared. LIAT Airlines and Seaborne have resumed commercial flights to Dominica and are operating at a limited capacity. Many hotels remain closed for now. Tourist sites and natural attractions are also closed for repair. Overall, 35 percent of reefs at dive sites were damaged, and currently, all nine dive operators are closed for business.
British Virgin Islands: The British Virgin Islands, which rely heavily on tourism, were hit hard by Irma. Many homes were left without roofs and most hotels suffered significant damage, too. Power outages and downed cell phone towers were also a reality here. (One travel writer shared her experience on what it was like to experience Hurricane Irma in the British Virgin Islands.) The majority of properties are closed until further notice, and power is expected to be restored within three to four months. Many of the institutions on Jost van Dyke, such as the Soggy Dollar Bar, are rebuilding in time for the season. Seaports are open to receive aid and supplies.
You'll Also Like:
Updated on October 17, 2017: We have updated the story to reflect the status of each airport in St. Kitts and Nevis.
All products are independently selected by our writers and editors. If you buy something through our links, Oyster may earn an affiliate commission.