Whether you're just three years into your post-grad life or nearing 59.5 years (the age when you can start withdrawing 401k savings without penalties), you may be fantasizing about where you'll retire. Sure, you've heard of Florida, but there are retirement-worthy spots throughout the world that deliver much more than Boca Raton. We've rounded up places around the globe that have pleasant year-round weather, affordable living costs, and locations near cultural sites, which could combat boredom. Many also have large expat communities that may take the edge off the initial culture shock and help travelers acclimate. Take a look at our top 10 picks, which also happen to make excellent vacations.
Mexico has long been a haven for retirees and expats. The country is packed with gorgeous beaches, culture-filled cities, and inexpensive food and housing that make living there easy on the eyes and the wallet. While San Miguel de Allende has a large expat community, it's located in central Mexico and a far drive from the nearest beach. That's why Puerto Vallarta takes our top spot for a move to Mexico. Though it's certainly a tourist town, it's hard to beat waking up to the sound of crashing waves in one of Mexico's nicest beach destinations. The city also has historic sites, a bustling nightlife, and in addition to local markets, a Walmart for those that prefer international brands. Expatisan.com puts the average monthly rent for a 900-square-foot space in a normal area at $394.
After years of battling snowy winters, it's no surprise that many retirees put warm weather as one of their top priorities for a new locale. And the Central American country of Costa Rica will provide just that. Costa Rica has it all — volcanoes, remote beaches, tropical rainforests, and plenty of available activities for the adventure-minded. Some of the more developed regions of Costa Rica are going to cost much more than the less-populated areas, though this also means roads are easier to navigate and goods are more readily available. Tamarindo is one of the most expensive cities and has one of the largest expat communities, but it's convenient and beautiful, making the cost worth it for many. Average monthly rent is about $1,000.
The coastal city of Valencia is the third largest city in Spain, following Madrid and Barcelona. The easily livable locale is known for a vibrant historic center, urban beaches, and thriving cultural and food scene. Cathedrals and museums are interspersed with city parks and delectable tapas restaurants. Plus, its large expat community means travelers are bound to encounter fellow retirees at the neighborhood Irish pub or American restaurant. Expats also generally rave about the healthcare system as well as affordable housing and fresh food. The average monthly rent for a 900-square-foot space runs about $550, according to Expatisan.com.
For those looking to add a healthy dose of culture to their retirement, Chiang Mai is an excellent option. Located in a mountainous area of Thailand, it's a far cry from the buzzing city of Bangkok, yet still popular enough to not be isolated. Expats — working or not — have been flocking to Thailand in general for the extremely affordable living costs, though that's just the cherry on top of the gorgeous setting and numerous cultural sites. Chiang Mai doesn't boast one of the picturesque beaches, such as Phuket, but the laid-back atmosphere and surrounding hills are nothing short of breathtaking. Expatisan.com has monthly rent coming out to $400 here.
Abruzzo is actually a region of Italy, but it's been making lots of where-to-retire lists thanks to its cheap housing, unspoiled terrain, and charming towns. The large stretch of land lies east of Rome and houses three national parks with rugged mountains and wildlife. Retirees looking for a quaint spot can look into cities such as L'Aquila and Chieti, while those seeking water views will prefer the more popular Pescara. This region generally has a good mix of traditional and modern life. Don't expect a ton of sites and international chain stores here, but Rome is under a two-and-a-half-hour drive away.
History buffs looking to live and be within easy travel distance of numerous historic sites would do well in Valletta, Malta. Valetta was founded in 1565 as a refuge for soldiers returning from the Crusades and has retained that history with original Baroque architecture, fortified city walls, and a famous Caravaggio painting in St. John's Co-Cathedral. There are seemingly historic sites at every turn, and Valletta will be European Capital of Culture in 2018 — meaning there will be lots of cultural events going on that year. Retirees can spend their days quietly on the tiny island nation of Malta, eating lots of Mediterranean food and drinking wine, or easily travel to Europe, Africa, and the Middle East (it's closest to southern Italy and Tunisia).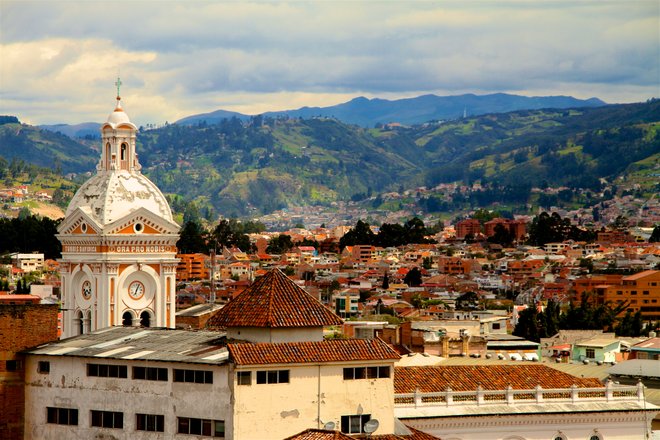 Sitting near the equator (Ecuador is Spanish for equator), Cuenca is a slightly less expensive option to the capital Quito. The roughly 400,000-person town is located in the southern Andes mountains and known for its stunning Spanish colonial architecture, consistent climate, and gorgeous textiles and crafts. Outside of the dozens of historic sites, the Tomebamba River that runs through the city and national parks make for lovely scenery. The charming city is growing more rapidly than most, and International Living estimates that around 5,000 expats currently live there. A decent-size apartment will run about $450 per month.
8. Las Tablas, Panama
This year, the country of Panama took the number one spot on International Living's list of where to retire. But for the most bang-for-your-buck option, look to Las Tablas. Unlike the bustling capital of Panama City, which has a thriving nightlife scene and chain hotels, Las Tablas is a low-key destination just minutes from the Gulf of Panama. It's known for its annual Carnival festival and art-filled culture, where dancing and music are part of everyday life. There isn't a ton to do or see here, but for some, that's the point. Those that move to this small town simply immerse themselves in the local Spanish culture, become friends with neighbors, and stroll around the main square. For retirees that don't mind being a bit far from a major city and all that comes with it — decent shopping, large supermarkets, and airports — Las Tablas is worth considering.
If your nest egg is on the higher side, Bordeaux, France may be in the budget. It's certainly not cheap (though more affordable than Paris and Lyon), but the famed wine region is undeniably enchanting. Sure, you'll find typical chain stores and American-style restaurants, but there are also stunning churches, art galleries, quaint cafes, France's largest public square, and of course, plenty of wineries to explore. Francophiles will feel right at home here, though the significant expat community may help adjusting to French life easier.
Are you Irish? Or just love rolling green hills and horse-filled farmlands? Killarney, Ireland may be the ideal place for you to relocate. The town is a stop on the famed Ring of Kerry and has excellent hiking trails in the adjacent national park. Additionally, the cute town — with horse-drawn carriages to boot — is easily walkable. There are also plenty of shops and restaurants — not to mention, some of the country's best golf courses. With historic sites and local culture abound, it's unsurprising that it's one of the most-visited places in Ireland.
Related Stories:
All products are independently selected by our writers and editors. If you buy something through our links, Oyster may earn an affiliate commission.