Best Beach Hotels in the Bahamas
A world-class scuba diving destination with pleasant weather year-round, the Bahamas are a top pick for a beach getaway in the Caribbean. A team of Oyster reporters headed to the Bahamas to sleep in the beds, lounge by the pools, and walk along the beaches, in order to find the best properties the island has to offer. After considerable consideration, we present our favorite beachfront hotels.
See All Bahamas Hotels
1
Bringing tranquility to otherwise-crowded Paradise Island, the 105-room Ocean Club's personal butlers, beautiful pools (one for adults, one for families), private, well-attended beach with gorgeous turquoise water, restaurant from Jean-Georges, and access to Atlantis' water park, casino, and other attractions make it one of the Caribbean's best resorts. But its small standard rooms, and, at times, less fawning service can be disappointing for the price.
2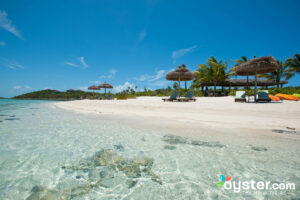 Crowded beaches are unheard of on this private island resort where a maximum of 28 guests at a time have free range of 50 acres and three beaches. Personal boats for daily excursions, on-call service, spacious villas with fully stocked kitchens and wet bars, and a host of all-inclusive activities make Fowl Cay a standout gem in the Exumas. However, some of the villas feature outdated decor and worn furnishings that seem inconsistent with the resort's high nightly rates.
3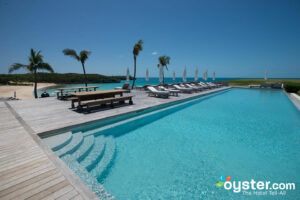 Far, far removed from the crowds of Nassau is this 40-acre boutique resort on Eleuthera Island. This property, which opened in 2013, is a hot spot for celebs seeking privacy, and features a jaw-dropping infinity pool and cliffside bar sitting between two man-made, pink-sand beaches. Chic, airy rooms have white decor, and enormous villas with private plunge pools and state-of-the-art kitchens are on offer. Non-villa guests without kitchens should plan on eating at the sophisticated restaurant often, since nearby options are limited. Luckily, the menu changes daily based on produce from the garden and the sushi chef spears his own fish.
4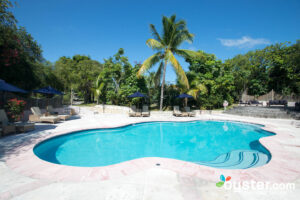 With 25 freestanding cottages along a 20-acre bird sanctuary, this hilly resort is one of just a handful of hotels on Harbour Island. Understated sophistication is the vibe here; the grounds are peaceful (except for the roaming roosters), and most guests seem happy to spend their days simply soaking up the sun at Pink Sands Beach -- a beautiful and unspoiled three-mile stretch of sand from which the resort takes its name. Ocean view cottages offer outstanding panoramas from the patios and private walking paths to the beach, but cost almost twice as much as garden view cottages.
5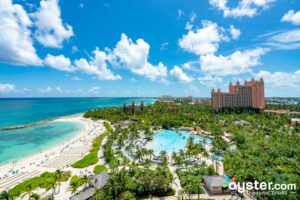 This 600-suite tower opened in 2007 and displaced Royal Towers as the best, and therefore most expensive, address at Atlantis. Chic open-air surroundings, oceanfront suites, and an air of exclusivity attracts families and couples who prefer to be slightly removed from the thickest crowds. Modern, sophisticated suites (many with views) have modern technology, balconies, and extra large bathrooms. The property shares a separate beach and large family pool with neighboring Reef Tower, but only Cove guests have access to the party pool called Cain at the Cove -- for adults only -- with private cabanas, outdoor gambling, and a live DJ.
6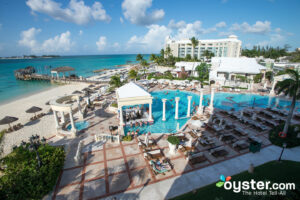 What was once known as the famous Balmoral Club back in the 1940s later became the 408-room Sandals Resort in 1995, where the motto is "Love is all you need." This resort has everything designed for couples and manages to impress upon arrival with Roman columns, statues, fountains, three levels of elegant accommodations, 10 distinct restaurants, and eight bars. Guests receive a slew of information at onset, including a schedule of both land and water activities and daily events, but many choose to relax at the beach or make use of one of two main pool bars to drink and mingle.
7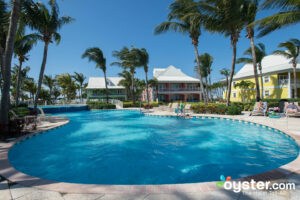 A small, isolated, time-share-style hotel with big, beautiful suites, a marina, a friendly staff that zips around on golf carts, and managers that greet returning guests like family -- Old Bahama Bay feels more yacht club than resort. But activities are limited -- just boating or lounging by the isolated beach or pool -- and to some travelers, it's boring.
8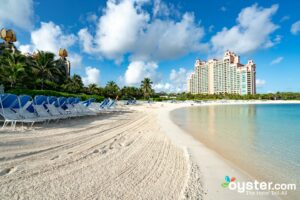 This modern, luxurious condo-hotel with nearly 500 residential-style units is located on the far edge of the enormous Atlantis complex. The big studios, one-, and two-bedrooms units (many with views) are well-suited to families, and have pull-out sofas and fully equipped kitchens or kitchenettes. It's one of the priciest Atlantis options (though not quite as expensive as Cove), but families will likely appreciate being able to cook to save money, as Atlantis' 19 bars and 21 restaurants are notoriously expensive. The property has a nice stretch of beach and a large family pool that is exclusive to Reef and Cove guests, and major Atlantic highlights such as Aquaventure are within walking distance.