Best Honeymoon Hotels in the Bahamas
Like many Caribbean destinations, the Bahamas are a popular pick for beach-seeking honeymooners. The gorgeous water, year-round pleasant temperatures, and abundance of activities like scuba diving and community fish fries, make it a nice option for couples who want to spend their days by or in the water. A team of Oyster investigators visited the island to check out the top hotels and see how they stacked up against the competition — from the guest rooms to the pools to the beaches. So if you're looking for a post-wedding vacation, you've come to the right place. Check out the best hotels for a honeymoon in the Bahamas.
See All Bahamas Hotels
1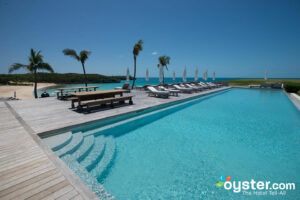 Far, far removed from the crowds of Nassau is this 40-acre boutique resort on Eleuthera Island. This property, which opened in 2013, is a hot spot for celebs seeking privacy, and features a jaw-dropping infinity pool and cliffside bar sitting between two man-made, pink-sand beaches. Chic, airy rooms have white decor, and enormous villas with private plunge pools and state-of-the-art kitchens are on offer. Non-villa guests without kitchens should plan on eating at the sophisticated restaurant often, since nearby options are limited. Luckily, the menu changes daily based on produce from the garden and the sushi chef spears his own fish.
2
Located on the beautiful and natural island of Great Exuma, Grand Isle Resort & Spa is a scenic upscale property with a gorgeous infinity pool, secluded stretch of beach, large golf course, on-site spa, and pool-side restaurant. All 79 villas are spacious and outfitted with high-end contemporary furnishings, fully-equipped kitchens, washer/dryers, flat-screen TVs, soaking tubs and separate walk-in showers, and private patios or balconies. The only real downside is the location -- it's an expensive 20-minute taxi into Georgetown, the main town in Great Exuma, and there's not much to do around the hotel.
3
This is called One&Only for good reason -- there's nothing quite like it on Paradise Island, or anywhere in the Bahamas for that matter. The 106 rooms and suites, split into two sections, are luxurious, though those in the newer Crescent Wing are a bit more modern and stylish. Guests have access to the amenities at the Atlantis but the advantage of being removed from the crowds. Expansive manicured grounds have two outdoor pools, a romantic garden and statuary modeled after Versailles (a dream for weddings), and the endless stretch of white-sand beach and turquoise waves. Health and wellness nuts are spoilt for choice with daily yoga, an 18-hole golf course, tennis courts, an indoor/outdoor fitness center, and a Balinese-style spa with private villas. After a day in the sun, guests return to the room to find champagne and strawberries waiting, and many choose to begin their evening with sunset drinks at Jean-George's Dune restaurant.
4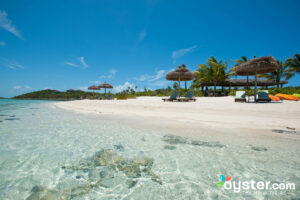 Crowded beaches are unheard of on this private island resort where a maximum of 28 guests at a time have free range of 50 acres and three beaches. Personal boats for daily excursions, on-call service, spacious villas with fully stocked kitchens andwet bars, and a host of all-inclusive activities make Fowl Cay a standout gem in the Exumas. However, some of the villas feature outdated decor and worn furnishings that seem inconsistent with the resort's high nightly rates.
5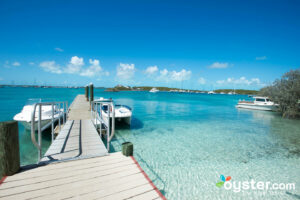 A quiet and remote getaway, the mid-range St Francis Resort is located on Stocking Island, a ten-minute boat ride from Exuma. With only eight rooms, the property is small and intimate, and guests report they often have the beach to themselves. The spacious rooms have dated decor and lack TVs, but they do offer private balconies with stunning views of the beach. The on-site restaurant is lively and draws plenty of boaters and daytrippers, so guests don't get too isolated. Aside from that, there are few other features, but the real draw is the lush surroundings, nature trails, blue holes, and beaches. A free in-room breakfast, Wi-Fi, and transportation from George Town is also included in the room rate.
6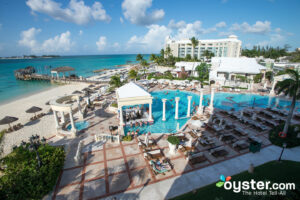 What was once known as the famous Balmoral Club back in the 1940s later became the 408-room Sandals Resort in 1995, where the motto is "Love is all you need." This resort has everything designed for couples and manages to impress upon arrival with Roman columns, statues, fountains, three levels of elegant accommodations, 10 distinct restaurants, and eight bars. Guests receive a slew of information at onset, including a schedule of both land and water activities and daily events, but many choose to relax at the beach or make use of one of two main pool bars to drink and mingle. Head to the offshore island for an easy excursion -– a boat leaves every hour and there's a Jamaican restaurant (included) and cabanas for napping.
7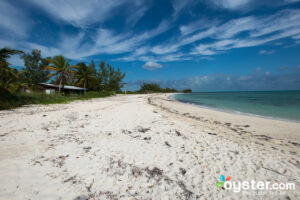 The mid-range Small Hope Bay Lodge is an informal, natural, all-inclusive property located on Andros Island, a short flight from Nassau. Guests looking to get lost in the secluded, quiet, rugged nature of the property can be found lounging in hammocks, Adirondack chairs, or on one of two beaches. There's also a large variety of excursions, including diving, fishing, snorkeling, and nature walks, that keep guests active and occupied. The 21 cabins are rustic, a little worn, and lack Wi-Fi or TVs, but they all have porches facing the ocean. There's a friendly and communal atmosphere as guests gather together to share meals in the restaurant, sip drinks at the bar, or linger by the outdoor grill. Small Hope has one of the best rates on the island given its features.
8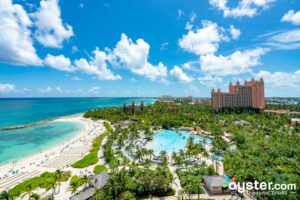 This 600-suite tower opened in 2007 and displaced Royal Towers as the best, and therefore most expensive, address at Atlantis. Chic open-air surroundings, oceanfront suites, and an air of exclusivity attracts families and couples who prefer to be slightly removed from the thickest crowds. Modern, sophisticated suites (many with views) have modern technology, balconies, and extra large bathrooms. The property shares a separate beach and large family pool with neighboring Reef Tower, but only Cove guests have access to the party pool called Cain at the Cove -- for adults only -- with private cabanas, outdoor gambling, and a live DJ. Like all Atlantis pools, the Cain closes early, so dressed-up guests can then spend their cash at upscale restaurants on-site, such as Mesa Grill, or take a shuttle to Royal Towers and Marina Village for more selection.