Best All-Inclusive Resorts in Guanacaste, Costa Rica
Take a look at the best all-inclusive resorts in Province of Guanacaste.
See All Costa Rica Hotels
1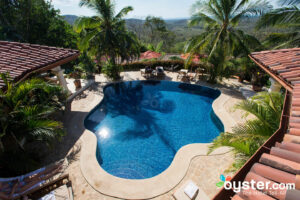 Los Altos de Eros is an upscale, adult-only, six-room
boutique hotel set on 28 acres of mountaintop terrain. The vibe is social and
villa-like with rooms ringing a free-form infinity pool that overlooks the stretching
mountains and valleys of the Guanacaste region and the distant Pacific. The
hotel is somewhat isolated, and requires a journey up a steep, rocky road to
access, but that's part of its appeal, especially to honeymooners and
romantics. It's a 20-minute drive to Tamarindo and the nearest beach, but
transportation is included in the all-inclusive room rate.
2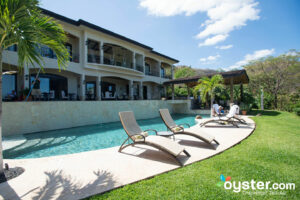 This seven-room, upscale, all-inclusive boutique hotel is set on a
hillside overlooking the region's dry forest and distant ocean. Villa Buena
Onda's hushed, retreat-like vibe stems from the fact that it caters to adults
only. The decor is stylish with lots of white seating and colorful
contemporary art, while the pool serves as the social center, a place for guests
to lounge, drink in hand, and take in the views. While the hotel is not
on the beach, guests can catch a free five-minute shuttle ride to Playa del
Coco and other nearby beaches.
3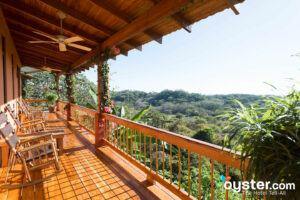 Costa Rica Yoga Spa is an intimate, all-inclusive, eight-room retreat
set on a breezy mountaintop overlooking the distant Pacific and the protected Ostional
National Wildlife Refuge. Catering to yoga retreats, the hotel offers immaculate,
although basic, bunk rooms with shared baths as well as more sophisticated
suites with private baths and air-conditioning. Wellness is the focus for most
guests, and they tend to spend time meditating, practicing yoga, enjoying massages, or writing
in journals as they sway in the rope hammocks that line the terrace corridor outside
the rooms. While the resort is not located on the beach, the staff provides daily
shuttle service to nearby beaches and can also arrange surf lessons and a variety
of adventure tours.
4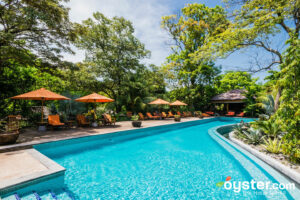 Nearly all of Nosara's hotels offer some kind of yoga class, but the upper-middle-range Bodhi Tree Yoga Resort is the area's premier retreat for serious yogis. The Bodhi Tree has the best yoga teachers, facilities, and equipment in Nosara, with six indoor and outdoor shalas and an international staff. Guests can also sample additional fitness classes, like Pilates, indoor cycling, and samba. The Bodhi Tree's main focus is wellness -- expect green smoothies and energy shots at the juice bar, and only healthy, organic food at the restaurant. Travelers who aren't interested in a holistic vacation will feel entirely out of step. Families are welcome, but the atmosphere may be too serene for boisterous little ones. Those traveling with children may prefer the nearby Olas Verdes Hotel, though it lacks The Bodhi Tree's yoga-centric environment.
5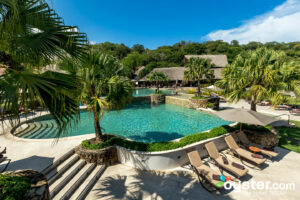 Secrets Papagayo Resort & Spa is an adult-only, four-pearl property located on the Gulf of Papagayo. The resort's 202 rooms have elegant decor, along with thoughtful features like special two-sided compartments for room service delivery. From the sizable fitness center to the attractive pool areas, the resort's facilities are polished and modern. Secrets offers all the perks you would expect from an all-inclusive property -- including lots of dining and entertainment options -- along with a few welcome bonuses like a la carte restaurants that don't require reservations. It all comes at a price, however, with the resort's rates among the highest in the area. Travelers looking for a more affordable all-inclusive alternative might consider Hotel Riu Palace Costa Rica on Playa Matapalo.
6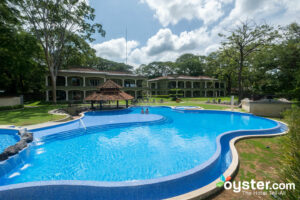 Casa Conde Beach-Front Hotel is a laid-back all-inclusive property with an outstanding beachfront location. The upper-middle-range hotel has 50 rooms split between older and newer sides -- newer rooms are worth the upgrade, considering they're larger, brighter, and have more modern amenities, while older rooms have paper-thin walls and lack natural light. Casa Conde's best features are its two large pools and direct access to the humongous Playa Panama. While there is only one restaurant, food at the hotel is surprisingly tasty for an all-inclusive. Additional amenities include free Wi-Fi, a small fitness center, and a kids' club, but most of the guests here are adults. Families may prefer the more lively Flamingo Beach Resort & Spa in Playa Flamingo.
7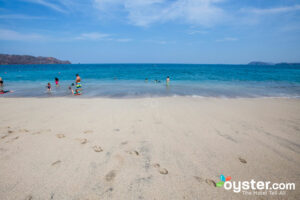 The Westin Golf Resort & Spa, Playa Conchal is a four-pearl all-inclusive resort located in the northeastern part of Guanacaste. The resort's 326 guest rooms are understated and contemporary, with many featuring a smart split-level design to separate the bedroom and living area. With 11 restaurants, two enormous pools, access to an idyllic beach, and a nonstop entertainment line-up, there's plenty to keep guests busy. The property's forested grounds attract wildlife, giving guests a glimpse of the "real" Costa Rica, but ocean views are few and far between. For those who are fans of big, all-inclusive properties, the Westin is a top-notch choice, but it might be worth comparing rates and amenities with the Hotel Riu Palace Costa Rica on Playa Matapalo.
8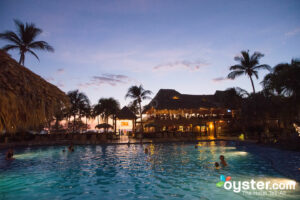 This mid-priced, 120-room resort -- popular with Americans -- looks onto a white sand beach in Costa Rica's Guanacaste region. Several types of accommodations (most with balconies) have varying views with contemporary furnishings, coffeemakers, and stocked minibars. Optional dining packages include themed buffets at the main restaurant, which serves international food (there's also a romantic dinner spot down the beach). Guests stay busy with games in the outdoor pool, tennis, and workouts in the fitness center, or pay for water sports, scuba diving lessons, and treatments at the spa. The swim-up bar receives a steady cocktail crowd, as does the Sunset Lounge in evenings when the vibe turns more adult-friendly -- read: after the kids are in bed. Freebies include parking, Wi-Fi, and use of beach chairs.
9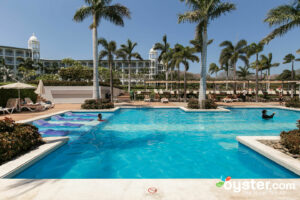 Hotel Riu Palace Costa Rica is a four-pearl resort located on Playa Matapalo. The hotel's 538 rooms and extensive facilities are more sophisticated than one might expect of a chain property, and the array of activities and restaurants is sure to satisfy fans of big, all-inclusive hotels. Aside from access to Playa Matapalo beach, there aren't really any attractions or dining options within walking distance, but the all-inclusive package encourages most guests to dine on the property and take advantage of its on-site entertainment anyway. The nearby Secrets Papagayo Costa Rica offers a more intimate, all-inclusive experience but rates are typically higher than Riu Palace's.
10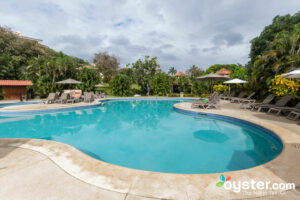 Occidental Papagayo is an adult-only, three-and-a-half-pearl property located on the Gulf of Papagayo. The resort's 163 rooms aren't especially chic, but they're nonetheless adequate, offering coffeemakers, minibars, and flat-screen TVs. Occidental's all-inclusive package covers food, drinks, and entertainment. Guests also have access to a solid roster of amenities that includes a picturesque pool, four restaurants and numerous bars, as well as beach access. While this resort lacks wow factor, travelers looking for a fun, all-inclusive vacation are likely to be satisfied. Hotel Riu Palace Costa Rica has sleeker facilities and a better beach, but its rates are generally higher.
11
This affordable all-inclusive resort by Spain-based Barcelo has 198 rooms and suites on the far end of Tamarindo, with access to a rugged beach, large outdoor pool, and manicured grounds. The main restaurant (though repetitive) offers all three meals buffet-style; there's also a snack bar, as well as an à la carte restaurant -- free for guests who stay three nights or more. Basic rooms include sodas and drinking water, and two bars serve national liquors, house wines, and draft beer. A schedule of activities keeps guests entertained, culminating each night with two shows in the amphitheater -- one for kids, one for adults -- and then the ubiquitous disco. Service at this hotel seems to be more genuine that some other Barcelo properties. Parking is free, but guests who require consistent Wi-Fi should look elsewhere.
12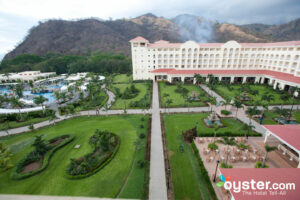 The 701-room Riu Guanacaste is a lot like a Riu anywhere, with a good beach, a huge, raucous pool, an energetic entertainment staff, and a party-hearty, booze-fueled atmosphere. Rooms are nothing special, and a la carte restaurant reservations need to be made a day in advance. If you're after a convenient, typical all-inclusive experience, this is it; if you're looking to experience local charm, not so much.
13
Open since 1980, Hotel Condovac la Costa is one of the oldest time-share properties in Guanacaste. With 107 one- and two-bedroom apartments, multiple pools, a kids' club, and an optional all-inclusive meal plan, Condovac attracts a lot of families, many of whom are locals. Though the beach isn't within walking distance, the hotel's hilltop location provides stunning views of Playa Hermosa. The infinity-edge pool is gorgeous and kitchens are well-equipped, but room decor is dated, the restaurant receives mixed reviews, and the property shows signs of age throughout. Another drawback is the steep hill that separates rooms from the public areas, though there are shuttles that make trips around the property. Nearby Casa Conde Beach-Front Hotel is completely flat and has better food, but nightly rates are more expensive.
14
Though it only has 160 rooms, Villas Sol Hotel & Beach Resort feels like a much larger property. Thanks to its sprawling acreage on the cliffs above Playa Hermosa, this upper-middle-range hotel feels like a massive resort. With two pools, a beautiful restaurant, and rooms that range from standard Double Rooms to massive Three-Bedroom Villas, Villas Sol appeals to a wide range of guests. While some may find the all-inclusive option attractive, others may find the food mediocre and repetitive. Note that there's some minor wear and tear, and that the cliffside location means great views but also steep hills that make it difficult to get around (walking to the beach is almost certainly out of the question). Guests who'd prefer a (flat) beachfront property should compare rates at Casa Conde Beach-Front Hotel, a similar all-inclusive resort on Playa Panama.