Best Beach Hotels in Tamarindo, Province of Guanacaste
Take a look at the best beach hotels in Tamarindo.
See All Tamarindo Hotels
1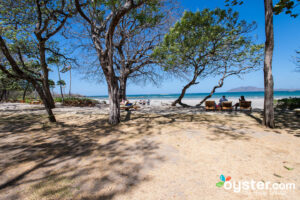 The laid-back, upper-middle-range, 34-room Hotel Capitan Suizo is one of Tamarindo's most revered properties. Its location at the southernmost end of Tamarindo Beach is more private and less traveled than other parts of the busy stretch of shoreline, making it attractive to well-heeled guests who prefer a quieter vibe as well as the perks of a spa, gourmet restaurant, private pool, and attentive service. The spacious bi-level rooms and Bungalows feature separate living areas and private terraces, some with direct access to the beach, while the jungle-like backdrop of flowering plants, tall palms, and dramatic Guanacaste trees keeps guests in touch with nature, including active families of howler monkeys.
2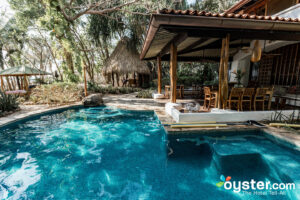 Sueno del Mar Beachfront Bed & Breakfast is a three-pearl bed-and-breakfast located on Langosta Beach. This small property's four rooms and two casitas feature distinctive Central American decor, whitewashed walls, and vaulted wooden ceilings. Nestled amid tropical plant life, the small pool and beach have a private, secluded feel. And the hearty free breakfast served on an airy patio is well above-average. The property's location in the town of Langosta feels out-of-the-way, but the nightlife and shopping of Tamarindo is about a 20-minute walk or a short drive away. Travelers may want to compare rates and amenities with Tamarindo Bay Boutique Hotel.
3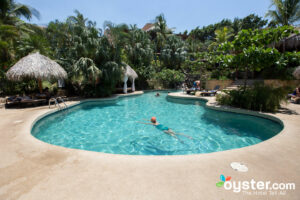 Jardin del Eden Boutique Hotel is a three-and-a-half-pearl adults-only property located in the buzzing town of Tamarindo. The hotel's 43 guest rooms are polished and tidy, with many featuring striking themed decor. Playa Tamarindo is right across the street, and there are ample dining and entertainment options within easy walking distance. True to the hotel's name, amenities aim to create the feel of a hidden paradise, including a lagoon-shaped pool shrouded in greenery, secret pathways, and a private garden with gated access. Travelers who prefer a more streamlined, sophisticated look might consider the nearby Tamarindo Bay Boutique Hotel instead.
4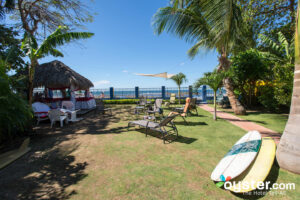 Hotel Villa Amarilla is a funky, laid-back, eight-room, budget-oriented bed-and-breakfast with a surfer vibe, a prime beachfront location, and colorful, friendly owners who go out of their way to make guests feel at home. The hotel lacks a pool, but the ocean and Tamarindo's famous surf break is just steps outside the back gate. Rooms are basic and bright, individualized by colorful murals of sea life and sunsets. Guests can prepare meals in the communal outdoor kitchen or walk to Tamarindo for a variety of dining options. Hotel Arco Iris is a similar option that does have a pool, but it's not nearly as close to the beach.
5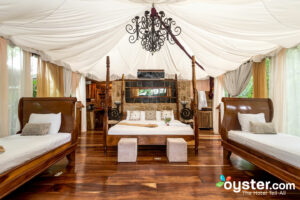 The three-pearl Ocho Artisan Bungalows is a gorgeous hotel with eight unique bungalows on the beach in Tamarindo. Beautiful bungalows feature tented fabric ceilings with local wood finishes, and they're equipped with kitchenettes and large outdoor patios. Ocho's small pool is surrounded by cushioned daybeds, and the hotel has a handful of surfboards for guests to take to the beach. There's a tiny lobby bar, but no on-site restaurant or breakfast service, although guests can easily walk to the shops and restaurants in Tamarindo. Travelers looking for a hotel with more amenities might prefer Cala Luna Boutique Hotel & Villas, though it isn't on the beach or within walking distance of downtown.
6
This 18-room, no-frills surfing mecca sits on a prime stretch of Tamarindo Beach perfect for learning to surf. The vibe is friendly, laid-back, and fun. Guests are encouraged to kick back in the two lively restaurants, the brewery, or the tiny pool. There's also a busy surf shop that outfits guests with surfing gear. Rooms are bare-bones basic, lacking clocks, TVs, and adequate lighting, but that's part of the plan. Guests don't come to Witch's Rock to lounge on high-thread-count sheets (they're pretty thin) or linger in luxurious bathrooms (hot water is sporadic), they come to hone their surfing skills and embrace the camaraderie and campy lifestyle that goes along with the sport.
7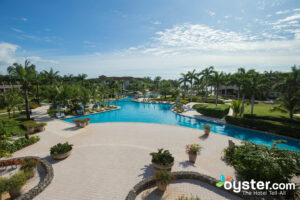 JW Marriott Guanacaste Resort & Spa is a four-and-a-half pearl hotel located on Playa Mansita beach. The resort's 310 guest rooms are subtly luxurious, offering marble bathrooms and roomy private balconies or terraces. Excellent on-site amenities include a sprawling infinity pool, an array of first-rate dining options, a swanky spa and fitness center, along with access to pretty (if tiny) Playa Mansita. The property earns top marks in all areas, but everything, from the restaurants to the minibars, is expensive. Travelers may want to compare rates and amenities with the equally fabulous Four Seasons Resort Costa Rica at Peninsula Papagayo.
8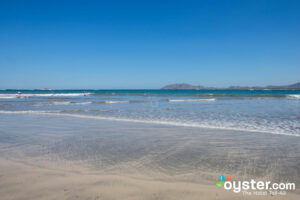 Family-owned Casa Cook is a comfortable mid-range beachfront property with only four units, two of which face the ocean. Though not upscale, they are equipped with dining areas and kitchens, and guests are close to town for restaurant and bars -- accessible by walking Playa Tamarindo's sandy shore. The wide beach is great for young ones with safe swimming conditions and consistent waves for learning to surf (there's also a pool). A friendly staff is available around the clock, and the entire place can be reserved for groups. Wi-Fi is spotty for those who need to get work done, however.
9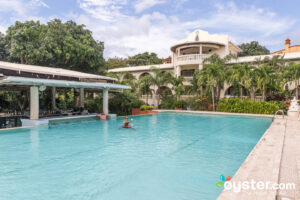 Hotel Tamarindo Diria is a popular, three-and-a-half-pearl hotel located in downtown Tamarindo. The hotel's 239 guest rooms are clean and pleasant, although not all have balconies and some lack natural light. Tamarindo Diria's extensive facilities, which include four pools, six a la carte and buffet restaurants, and dozens of shops, are spread across both sides of Tamarindo's main street. The hotel offers direct access to scenic Playa Tamarindo beach, but guests with rooms on the far side of the property need to cross the street to get there. Travelers who would prefer a quieter location, off the main strip, might consider Tamarindo Bay Boutique Hotel.
10
This affordable all-inclusive resort by Spain-based Barcelo has 198 rooms and suites on the far end of Tamarindo, with access to a rugged beach, large outdoor pool, and manicured grounds. The main restaurant (though repetitive) offers all three meals buffet-style; there's also a snack bar, as well as an à la carte restaurant -- free for guests who stay three nights or more. Basic rooms include sodas and drinking water, and two bars serve national liquors, house wines, and draft beer. A schedule of activities keeps guests entertained, culminating each night with two shows in the amphitheater -- one for kids, one for adults -- and then the ubiquitous disco. Service at this hotel seems to be more genuine that some other Barcelo properties. Parking is free, but guests who require consistent Wi-Fi should look elsewhere.
11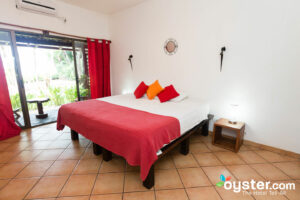 Hotel La Laguna del cocodrilo is a low-key, two-and-a-half-pearl property located on Playa Tamarindo beach. The hotel's eight rooms and suites are basic but inviting, and some offer private balconies or patios. The direct access to Playa Tamarindo is the property's stand-out feature, with a little bakery and a quality restaurant further enhancing its appeal. Although there's no pool and the path to the beach isn't always easily accessible, La Laguna represents one of the best deals in Tamarindo. Budget travelers may also want to check out Casa Cook, but La Laguna's rates are usually better.
12
Hacienda Pinilla is a sprawling, estate-like, gated community of private homes and villas. It is packed with features: Guests have access to a variety of country club style amenities, including tennis, golf, horseback riding, and a stylish beach club with a restaurant, pool, and small spa. The development's isolated location and natural landscape deliver a true hacienda ambience as well as the chance to see abundant wildlife, but guests need a car to reach the action in Tamarindo, a 30-minute drive away. For more food options immediately nearby, guests can head to the JW Marriott.