Best Value Hotels in French Polynesia
The word "pension" doesn't have an exact translation in English, but it roughly means "guesthouse." Cash-strapped travelers can find inexpensive pensions all over Polynesia, but their quality varies drastically. Some pensions resemble grimy hostels, with shared bathrooms and sheets that smell like mildew, while others feel like charming bed-and-breakfasts with welcoming hosts and clean, if simple, accommodations. Pensions that fall into the latter category join larger, budget-conscious resorts in our list of the best value hotels in French Polynesia.
See All French Polynesia Hotels
1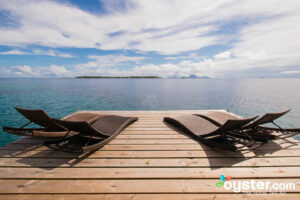 The charming Pension Au Phil du Temps wins our vote for best pension in all of Polynesia. The three-room guesthouse is on Taha'a, a tiny, quiet island that shares a bay with neighboring Raiatea. Owners Muriel and Franck welcome guests like members of their family, and treat them as such by personally escorting them on private excursions and preparing fantastic daily meals (full-board nightly rates, which includes two meals per day, are available). Rooms have an authentic Polynesian feel, and are a bit on the rustic side (with no air-conditioning or TVs), but feature local artwork, fresh linens, and spotlessly clean bathrooms. There are free bikes and kayaks for guests to use, and Wi-Fi is free in the common area.
2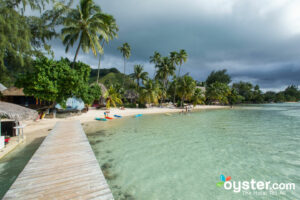 Hotel Les Tipaniers is a fantastic option for budget travelers in Moorea. The two-pearl property is well-kept, and has an authentic Polynesian feel, with thatched-roof bungalows. There aren't many on-site amenities, like a pool, spa, or fitness center, but there are two restaurants, one on the beach (the beach in front of Les Tipaniers, by the way, is one of Moorea's most beautiful. Situated at the tip of Opunohu Bay, it has calm clear waters that are perfect for swimming and snorkeling). There is free Wi-Fi throughout the hotel, though it can be spotty from time to time. The hotel serves free breakfast daily, and also offers free kayaks and bicycles for guests to use. One major drawback is rooms' lack of air-conditioning.
3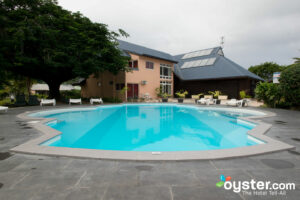 Hotel Hibiscus is a solid value option for travelers seeking simple accommodations in Moorea. At this beachfront property, guests can choose to stay in authentic thatched-roof bungalows or air-conditioned rooms. The former can be hot and buggy, while the latter tend to resemble college dorms. Either way, freebies like daily breakfast, parking, and fast Wi-Fi, and the location within walking distance of convenience stores and restaurants, make Hibiscus a formidable contender in its category. The beach isn't the nicest, thanks to the strange concrete wall that runs across it, but there is a mid-size pool.
4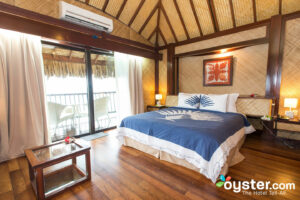 The three-pearl Maitai Polynesia Bora Bora is a suitable pick for value-oriented travelers seeking a resort experience on Bora Bora. Located on the main island, Maitai Polynesia is within walking distance of a few shops, restaurants, and the famed Matira Beach. Rooms are charmingly decorated with a Polynesian theme, and equipped with amenities like flat-screen TVs and mini-fridges. There aren't any big-ticket amenities here, like a pool, spa, or fitness center, but there are two on-site restaurants and a lobby bar. A major pitfall is the steep daily charge for Wi-Fi, which doesn't even work that well once connected.
5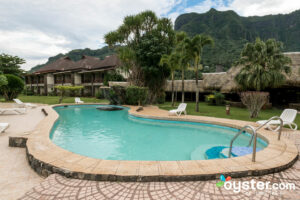 Open since 1962, Club Bali Hai Moorea Hotel is one of the oldest hotels on the island. Not much has changed since the value-oriented establishment first opened its doors, which is evident from the dated decor and lack of modern amenities like a spa or fitness center. But Bali Hai's storied history, stunning location on Cook's Bay, and affordable nightly rates continue to attract guests year after year. Plus, freebies like Wi-Fi, kayak and snorkel gear, and a weekly Polynesian show are definite perks.
6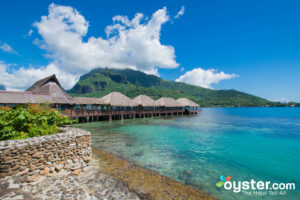 One of the oldest hotels on Moorea, Hotel Kaveka is 25-room, three-pearl property on beautiful Cook's Bay. Individual bungalows are decorated with authentic Polynesian decor, and some have multiple beds to accommodate families. There's a small beachfront, and an on-site restaurant that serves breakfast, lunch, and dinner, but otherwise there's not much to do. However, Kaveka's central location in Cook's Bay means it's easy to get out and explore the island.
7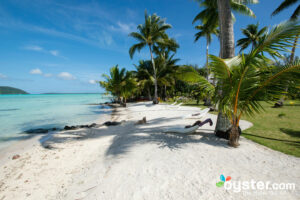 Pension Alice et Raphael, a rustic two-room guesthouse on a private motu in Bora Bora, doesn't have typical hotel amenities. Don't expect a pool, restaurant, spa, or even Wi-Fi or TVs. However, the French owners, Alice and Raphael, welcome guests like family into their home, which consists of two bungalows, a communal living area, and a beautiful beach. Both bungalows have an authentic Polynesian feel, with thatched roofs, wood furniture, and mosquito nets. There isn't much to do here besides relax and enjoy the quiet atmosphere. Breakfast is included in the nightly room rate, but dinner incurs an extra charge.
8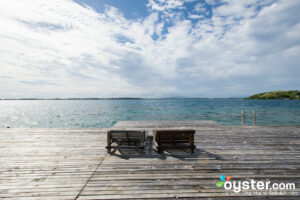 For independent travelers on a budget, Bora Bora Ecolodge is a surefire bet. Though it doesn't offer typical hotel amenities like a pool, spa, or restaurant, Bora Bora Ecolodge attracts guests with its quiet atmosphere and authentic Polynesian feel. Each of the property's six thatched-roof bungalows has a kitchenette, but no air-conditioning. Rooms are aligned around a straight pathway that leads directly to the ocean. There's no sandy beachfront here, but guests can lounge on and swim off of the wooden dock. The Ecolodge's hospitable owners will drive guests anywhere they need to go, but those really looking to explore the island in-depth should probably rent a car. Bora Bora Ecolodge is located on Bora Bora's main island.
9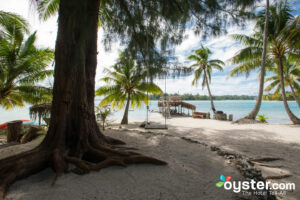 For anyone who's ever fantasized about being a character on "Lost," staying at Blue Heaven Island will likely be a dream come true. For just about anyone else, a stay here will feel far too rustic (and that's putting it nicely). Though the property is only 10 minutes from the airport and Bora Bora's main island, it looks and feels worlds away from civilization. Five wooden huts and a few other ragtag structures are scattered across the overgrown grounds, which look as though they haven't been properly cared for in years. The beach is beautiful, though, and has excellent snorkeling conditions. Nightly room rates include continental breakfast; other meals are available for an additional fee. It should be noted that there is no TV, Wi-Fi, or cell reception on the island. Guests who will enjoy staying at Blue Heaven Island are those who are looking for a rustic, unplugged experience.