Best Value Hotels in Guadeloupe
A French overseas territory, Guadeloupe's archipelago of islands mingles French and Caribbean culture. Known as the "Butterfly Island" for its shape, Guadeloupe has teal waters, beaches with soft white sand, and a national park with tropical landscape. We visited the island's top hotels to see how they stack up — from the rooms, to the pools, to the restaurants — to make sure you get the best bang for your buck. So if you're looking for budget-friendly accommodations, you've come to the right place. Take a look at our picks for hotels offering the best value in Guadeloupe and start planning your getaway!
See All Guadeloupe Hotels
This 51-room hotel, popular with French families and older couples, is cut into the tree-filled side of a hill near the ocean. It offers a range of rooms -- from small and sterile with no views to speak of to a large hilltop suite with a spectacular view of the waves far below. Kids, however, will probably spend most of their time in the vaguely kidney-shaped pool just below the lobby verandah. Either way, you're dealing with the pros and cons of the location -- you're an hour or more from most of the tourist attractions on the other side of the island, but you also have fewer tourists to share Grand Anse beach with (it's only a 10-minute walk away).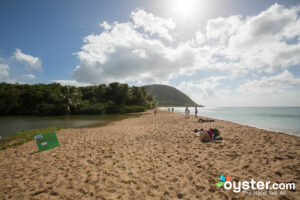 This 16-room, mid-range property dotted with tropical fruit trees is run by a couple from Lyons and located in Deshaies, an hour from the airport and the tourist hubbub in Grande-Terre but 500 meters from a beautiful beach. Cheerful, rustic rooms lack TVs and ocean views, but include kitchenettes. Parents may appreciate the lobby bar while kids will likely spend time at the outdoor saltwater pool. Just note that while the free breakfast is excellent, lunch and dinner are not served on-site, and Wi-Fi is mostly limited to the lobby.
This 10-room, mid-range boutique hotel with rattan-furnished rooms in a plantation-style building is a hilltop oasis, offering a dramatic view of ocean waves crashing against the Guadeloupe shoreline. It's a solid choice for visitors who want to be near all the popular tourist sights in Grand-Terre but want serene retreat at the end of the day. In other words, the rambunctious need not apply -- folks who like the area but also want to rub elbows with other travelers may want to look into the Club Marmara Manganao, a few minutes' drive away.
The mid-range, 241-room Le Manganao Hotel & Residences is one of the most affordable beachfront hotels on Guadeloupe's tourist-friendly southern shore. It's extremely family-friendly, and the seasonal kids' club and ample activities are geared toward children under 13. Most guests will spend their time on the small but essentially private beach rather than in the small and somewhat basic rooms, which lack privacy. The Creole-style buffet serves all three meals, and all-inclusive rates are on offer.
It's a Greek island in the Caribbean -- or at least that's the way it seems in this 22-room terraced property, which has an Aegean theme from the blue-and-white color scheme down to the cracked-stone pavement and the bright, clean (if spare) rooms. Oh, and those Greco-Roman statues overlooking a turquoise bay don't hurt, either, and the stunning grand terrace demands attention.