Gay-Friendly Hotels in Los Angeles
A team of Oyster reporters spent weeks exploring 59 top hotels in and around Los Angeles. We slept in the beds, lounged by the pools, ate in the restaurants, and even sampled the nightlife, all with an eye toward selecting the most distinguished properties. Here's a list of some of our favorite hotels that have been approved by the Travel Alternatives Group for enforcing non-discriminatory policies, giving back to their communities, and employing diverse staffs.
See All Los Angeles Hotels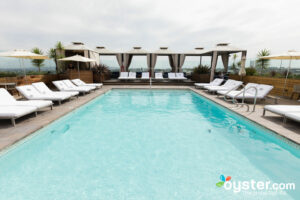 Just three blocks from Rodeo Drive, this 110-room flashy Beverly Hills boutique features a guest-only rooftop pool and bar overlooking the Hollywood Hills, and high-design rooms with Italian linens, 37-inch flat-screens, and a minibar stocked with Dean and Deluca products. But Wi-Fi isn't free, and partying at the sushi restaurant or rooftop bar can get pricey.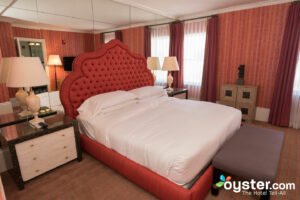 This tiny, 43-room boutique makes up in style what it lacks in size and amenities. Granted there's no pool, real business center, or even a restaurant -- but the unique Chinoiserie and Parisian-inspired rooms, cozy lobby bar with nightly absinthe happy hours, and central Beverly Hills location lure in a loyal crowd.
A clean, comfortable, and historic downtown L.A. boutique that caters primarily to business travelers. It has luxurious rooms and a rooftop pool and Jacuzzi with killer views. The tasteful, private atmosphere and modern appointments compensate for smallish rooms.
Massively renovated in 2006, this 295-room outlet of a French chain on the border of West Hollywood and Beverly Hills combines Continental elegance and Hollywood trendiness, with luxurious rooms, a trendy bar and restaurant, and a gorgeous spa and fitness center. Too bad the tiny pool is plagued by street noise and an unsightly view of the mall next door.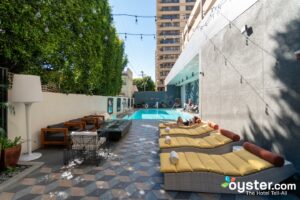 Just blocks from UCLA (but unfortunately close to little else), this 238-room Kimpton hotel, opened in 2008, offers big 350-square-foot standard rooms (luxuriously outfitted with 42-inch flat-screens and Frette linens), a small heated pool, free coffee and wine hours, and a no-fee pet policy.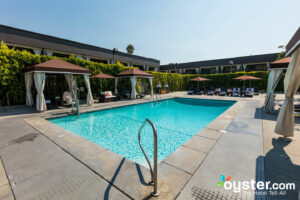 Popular for weddings and conventions, this 160-room luxury boutique hotel in Bel Air may be far removed from the action of Santa Monica and Hollywood, but it offers 522-square-foot standard rooms with free Wi-Fi and loads of extra amenities (tennis court, pool, spa, free business center) spread over an expansive seven-acre estate.
The Philippe Starck-designed SLS, opened in 2008, may dazzle -- and possibly overwhelm -- the senses with capital-D design. The rooms are sleek, luxurious, and spacious; its gym is enormous, and restaurants by Spanish chef Jose Andres are praiseworthy. But the high-design elements sometimes get in the way of comfort and practicality -- neither of its two pools, for example, is deep enough for swimming.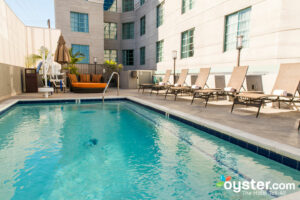 A location right on Third Street, one of L.A.'s best stretches of trendy shops and restaurants, is this mellow boutique hotel's most notable feature. Its 98 rooms are large and comfortable but not quite luxurious, and there's no party scene. Still, for a centrally located base for shopping or business, the stylish and affordable Orlando is a solid pick.