Best Party Hotels in Patong, Kathu
Take a look at the best party hotels in Patong.
See All Patong Hotels
1
The 303-room Novotel Phuket Vintage Park is a three-and-a-half-pearl property situated right in the center of Patong's bustling action, within walking distance of the beach, restaurants, shops, and nightlife. Rooms are pleasant, but busy, and they feature flat-screen TVs, mini-fridges, and air-conditioning. The restaurant is open around the clock, and there's a lobby bar as well as a swim-up option at the huge outdoor pool. A fitness center and spa round out the attractions for adults, and children get their own pool area and a free kids' club. Travelers who don't mind paying just a little more should consider Grand Mercure Phuket Patong, which has nicer guest rooms and similar features with a more modern finish.
2
The Baan Laimai Beach Resort is a mid-range property in the tourist center of downtown Patong, near a slew of bars, shops, and nightlife venues. Guest rooms are spacious and clean, with simple wood decor and homey accents; some offer direct access to the pool or a grassy terrace. The sprawling 172-room property is a quick walk from the beach across the street, and has a massive pool with a swim-up bar, a restaurant, and live music that tends to continue until late at night. A colorful kids' club and kiddy pool area are available, but the property's noisy, seedy surroundings may deter some families from staying here.
3
The 245-room, three-and-a-half pearl Patong Beach Hotel is located in central Patong, on popular Patong Beach, in an ideal spot to sample the fabled nightlife of Bangla Road. The hotel is busy and fun, and the rooms are super bright and colorful, with private balconies and luxe four-poster beds. This hotel combines city location and a true Thai -- and young -- vibe. Guests who don't like noise or late night comings and goings -- who prefer a more sedate environment -- may want to book elsewhere.
4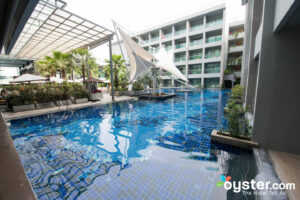 The four-pearl Kee Resort and Spa is a trendy party haven in the heart of Patong -- near the beach and Bangla Road -- with a lagoon-style pool, a swim-up bar, rooftop dining, cocktails, a spa, fitness center, and a youthful vibe and clientele. Hip, sleek, decor with splashes of color rules the rooms that come with flat-screen TVs, balconies, and poolside terraces. Some might find the party atmosphere -- especially the wild nights -- too noisy and too much.
5
Fresh off a 2017 revamp, the upper-middle-range Lantern Resorts Patong sits in a central location near the beach and backing right up against the heart of Patong's nightlife. Its 105 rooms range from straightforward Studios to massive Quads that can sleep four, and all offer plush bathrobes, electric kettles, and gigantic flat-screen TVs. Some have balconies, alas without beach views. On-site features are rather extensive, starting with three pools, including a rooftop and kiddy pool with poolside bars. A lively restaurant serving all meals and a massage center round out the offerings. Despite all these facilities, some guests do express some disappointment that The Lantern is closer to a mid-range hotel than its advertised four-star status, and the rare maintenance issues spotted don't help. For another hotel in the area with flashy design, travelers could consider The Crib Patong.
6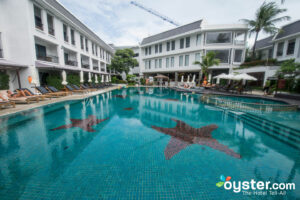 The 148-room upper-middle-range Sawaddi Patong Resort is a small hotel just outside the center of busy Patong but within a short walk of the beach and Bangla Road nightlife. Despite a clientele largely made up of groups and tourists on package deals, the hotel has a warm, welcoming feeling with tons of Thai character, and the decor, menus, and spa treatments have authentic Phuket flavor. Rooms are clean, spacious, and comfortable, with photographs of old Phuket on the walls. Watch out for a pesky resort fee, per person, per day.
7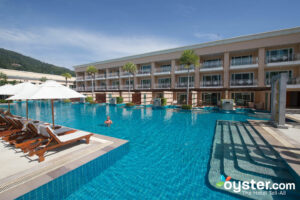 The 418-room upscale Millennium Resort Patong Phuket is a city hotel that is part of the 200-shop Jungceylon shopping mall. The hotel, located in the heart of busy Patong, is super contemporary but has a chain feel, like a Marriott or Hilton, without much of a Thai vibe. The location makes the Millennium great for business travelers and nightlife-loving tourists. There are two lovely pools with poolside bars. Rooms are spacious and clean, with modern bathrooms and private balconies.
8
Though the Andakira Hotel is a solid mid-range property with a good party location and infinity pool, it's more expensive than some of the other hotels in the area and not really worth what you get for the price. Yes, the rooms are large with modern amenities like flat-screen TVs, stocked minibars, and free, albeit inconsistent, Wi-Fi, but there are better deals to be found in Patong. Located in the entertainment district, the Andakira is convenient to Bangla Road and the Jungceylon Shopping Centre, but a little farther from the beach (however, there is a free shuttle to take guests seaside). There's a poolside bar with billiards and an on-site restaurant where a free, repetitive breakfast is served daily. Unfortunately, there have been reports of thefts from inside the rooms.
9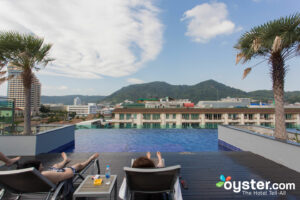 Devotees of the Best Western brand won't be disappointed with this upper-middle-range outpost, which offers a fresh and airy counterpoint to the darker earth-toned properties typical of the area. The 254 rooms here are fashionably decorated and spotless, with the full lineup of amenities guests expect of the chain, including free Wi-Fi and minibars. Bathrooms are also modern with walk-in showers (in most). However, even though rooms offer balconies, they're little more than a ledge for fresh air. Features include an attractive rooftop pool and a ground-floor restaurant, but the latter can pick up some roadside traffic noise. Patong's raging nightlife on Bangla Road is also a mere six-minute walk away, and the beach is 10 minutes away on foot. Travelers could also consider The Crib Patong, another hip hotel in the area.
10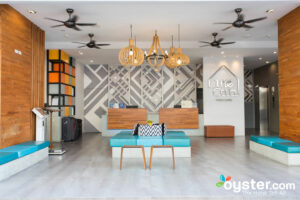 Bright, trendy, and youthful -- just like its guests -- the mid-range Crib Patong is a true boutique hotel in the heart of Patong, right near Bangla Road, the main nightlife artery of the area. Its punchy design is on display in all of its 85 rooms, complete with little balconies and strong, free Wi-Fi. The on-site restaurant serves up breakfast and lunch for a fee, and the entire building is capped off by a cute rooftop pool. While the pool and fitness center are petite, and the location can pick up some exterior noise, it's a fun, fashionable option for those that want to be immersed in the Patong scene. Another nearby option to consider is the Best Western Patong Beach, which also has a fashion-forward look and proximity to Bangla.
11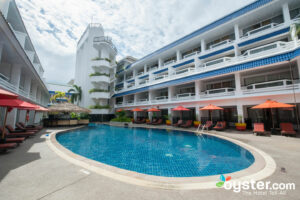 The 390-room upscale DusitD2 Phuket Resort is a hip, stylish city hotel within walking distance of Patong Beach. Along with a restaurant and coffee shop, the DusitD2 has a Hard Rock Cafe on the premises. D Bar, popular with locals and guests, serves designer cocktails and mocktails to the musical stylings of a Thai cover singer. The kids' club and is awesome, but pools are small and crowded. Rooms are clean, spacious, and have furnished balconies, but not a real Thai vibe.
12
The Amata Resort is a mid-range property located amidst the nightlife and tourist action of central Patong. Decor throughout the property -- including in the 213 guest rooms -- is somewhat worn and dated, though the resort overall is clean and unfussy. All rooms have minibars and safes, as well as small balconies overlooking the cityscape. There are two pools, a poolside bar, and a restaurant that serves breakfast for a reasonable fee, but overall, the hotel lacks the amenities of some of its competitors, and it may not be ideal for families. Visitors may also want to consider Deevana Patong Resort & Spa, which has a small spa, and a kids' pool, and playground area.
13
The three-and-a-half pearl, 350-room Royal Paradise Hotel is in one of Phuket's tallest buildings, so great city views are a given. The hotel is a quick walk to the beach and Bangla Road, the heart of Patong's nightlife, and has three outdoor pools, several international restaurants, a swim-up bar, a hot tub, a spa, fitness center, meeting rooms, and a business corner. Suites with kitchenettes are also available -- some have terraces with hot tubs. Some guests find the decor in the reasonably priced rooms to be a bit dated and old-fashioned. For something more modern, guests might want to compare the Royal Paradise with the Nap Patong Hotel.
14
The 240-room, upscale Sea Sun Sand Resort & Spa is a city hotel with lovely gardens and waterfalls, and plenty of interesting, unexpected touches that make the environment fun and atmospheric. Kids are welcome, but the resort is adult-oriented, with no children's activities, and few child-friendly features. Sea Sun Sand is located in busy Patong, just off popular Patong Beach, with gorgeous sunset views of the Andaman Sea. Rooms are spacious and a little bit hip, with private balconies. Expect to pay a resort fee, and extra for breakfast.