Most Romantic Hotels in Quebec City
Take a look at the most romantic hotels in Quebec City.
See All Quebec City Hotels
1
Manoir d'Auteuil is a charming bed and breakfast located in the heart of the Old City, housed in a historic building that was once a private home. Rooms are full of character and individually decorated, though some are more appealing than others. (They are mid-range, so expect a few less-than-charming details such as bland carpets.) Most of the bathrooms are clean and elegant, and suites have separate showers and soaking tubs -- but a few have odd layouts (such as a toilet right next to a bathtub) and overly bright colors. Additional perks here include free Wi-Fi, free breakfast, and a variety of room sizes to suit different budgets.
2
This 95-room boutique hotel is housed in a historic building facing the St. Lawrence River in the Old City. Decor varies across the sophisticated, spacious rooms, but all have upscale touches such as Nespresso machines, evening turndown service, and luxurious bathrooms featuring heated floors and flat-screen TVs. The restaurant, Panache, serves seasonal, local cuisine in a former maritime warehouse (think: thick wood beams, stone walls), and the more casual Bar Artefact serves cocktails and gourmet fare in a bright, contemporary lounge. Amenities include a modern, 24-hour fitness center, a screening room, spa treatment rooms, and a free business center. The hotel is situated on an archaeological site, and historical artifacts are displayed throughout the property.
3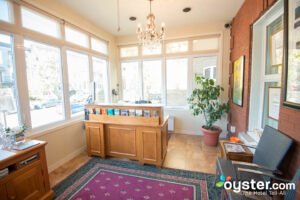 Auberge Aux Deux Lions is a charming, affordable redbrick house with 14 cozy guest rooms spread over four floors in the Montcalm district of downtown Quebec City, close to the historic center. This budget hotel has a bed-and-breakfast feel to it (though breakfast is not included in room rates). Some of the budget rooms have private bathrooms located just outside the rooms, and Superior Rooms and Suites have extra amenities like living rooms, kitchenettes, balconies, and access to the hotel garden. Overall, Auberge Aux Deux Lions offers a very good value when compared to similar hotels in the area, but for something a bit more chic (with a higher price tag), Hotel des Coutellier is a good choice.
4
The historic, 60-room Hotel 71 used to be the head office of the National Bank of Canada and is now an upper-middle-range boutique property with a beautiful Neo-classic exterior in the heart of Old Quebec. Super-stylish, minimalist rooms feature hardwood floors, large windows, Nespresso coffeemakers, and mini-fridges as well as handsome tile bathrooms with rainfall showerheads. Some rooms have terraces, kitchenettes, and exceptional river views. Italian dishes are served at the popular Restaurant Il Matto, and continental breakfast is free. Guests can borrow bikes and get expert tourist advice from the Clefs d'Or concierge. Guests looking to stay in the trendy Saint-Roch District may want to consider Hotel Pur, which has lower rates and ultra-modern interiors.
5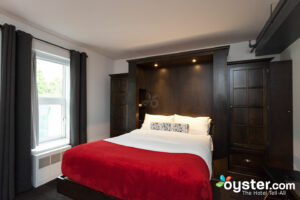 Hotel des Coutellier is a mid-range boutique hotel with lots of style and a fantastic Old City location. The ambiance is chic and artsy with pops of red, white, black, and silver throughout. Spacious rooms have modern furnishings, plush linens, Keurig coffeemakers, and work desks. One perk here is breakfast baskets with juice, pastries, yogurt, and fruit are delivered to rooms each morning. The modern lobby with its atmospheric exposed brick walls and cozy fireplace is another lovely space to relax. With a helpful staff and convenient location, Hotel des Coutellier is a good pick in Quebec City.
6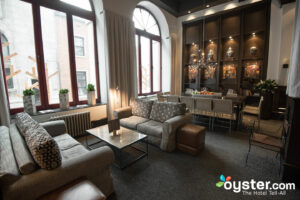 The pet-friendly, Hotel Le Germain-Dominion is an upper-middle-range property in a historic setting with contemporary charms that's within a five-minute walk of the Quebec Cruise Terminal. Sixty contemporary rooms have minibars, flat-screen TVs, Nespresso coffeemakers, and wonderful tile bathrooms. The free continental breakfast receives wonderful reviews, and both the modern fitness and business centers are open 24 hours a day. Free Wi-Fi runs throughout, but there is a daily fee for outdoor parking. Additionally, all pets have restrictions and a fee, and there is no on-site restaurant.
7
Le Saint-Pierre Auberge is a charming boutique hotel with 39 guest rooms and suites, situated in a historic 19th-century building in the heart of Old Quebec. The three-and-a-half-pearl hotel is an easy walk to the cruise terminal, shops, restaurants, and area attractions. Highlights include Clefs d'Or concierge service, porter service to the docks, and a free made-to-order breakfast that guests rave about. Rooms are small but stylish, with wood floors, exposed brick, stone walls, and modern accents, plus amenities like Keurig coffeemakers, mini-fridges, and bathrobes. There aren't many on-site features, but guests have access to the full-service restaurant, business center, and small gym at the adjoining sister hotel, Hotel 71 -- a good choice for travelers looking for a more straightforward, modern stay in the area.
8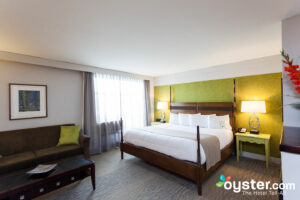 The cozy, upper-middle-range Le Champlain Hotel is located in the heart of the Old City, offering easy walking access to all major attractions. Its 50 rooms are spacious and cute, with a soothing color palette, spotless bathrooms with quirky koi fish painted in the sink, and great amenities including excellent beds, free high-speed Wi-Fi, mini-fridges, and DVD players. Some rooms have exposed brick or stone walls and electric fireplaces that make the atmosphere particularly charming. While the hotel lacks a full restaurant and bar, a good breakfast buffet is served every morning in a lovely room for a fee, and there is an electric wine dispenser in the lobby where guests can taste a variety of local and international wines for a fee. On-site parking is a great perk. The nearby Hotel Clarendon is a good alternative for travelers on a tighter budget.
9
The 618-room Fairmont Le Chateau Frontenac is a grand and ornate Quebec City landmark. It's housed in a 19th century castle, which was used as a stopover destination for Canadian Pacific Railway riders, and is full of ornate design features, such as a grand double staircase, wood paneling, coffered ceilings, and chandeliers. Rooms are elegant, and some have fantastic river views, but they start at just 175 square feet, and feel a bit less luxurious than those at many other Fairmont properties. They're are still perfectly lovely for a four-pearl hotel, but guests may need to manage their expectations after viewing the much grander exterior. Amenities include a beautiful indoor pool with Jacuzzi, steam rooms, and a fitness center. Le Champlain is a fine dining restaurant with sweeping views, and the St. Laurent Bar has live jazz once a week. Some guests might be turned off by the tourists milling about the lobby, but this is still one of the most luxurious options in Old City.
10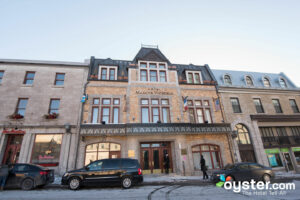 The 156-room Hotel Manoir Victoria is an elegant, upscale property in Old Quebec that dates back to 1830. The hotel's style is contemporary, with a polished lobby and two sleek on-site restaurants. Rooms have either modern gray decor with sharp bathrooms or are slightly dated with homey interiors. All have flat-screen TVs, coffeemakers, and free Wi-Fi, and suites offer fireplaces and/or wet bars. For leisure, there's an indoor pool, small spa, and modern gym on-site. There are handy amenities for business travelers too, including eight meeting rooms, an executive lounge, and a business center. The lobby is only accessible by stairs, though, and guests with mobility issues may want to consider Fairmont le Chateau Frontenac.
11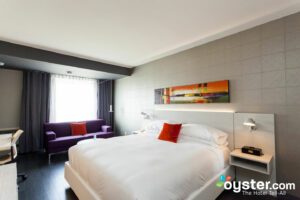 The Hotel Sepia offers couples and families a good alternative to staying downtown with value-added features. Completely renovated in 2016, there's much to like about the three-and-a-half-pearl boutique property, including a fine-dining restaurant, concierge services, and free shuttle service into Old Quebec in summer. But it's a 15- to 25-minute drive into the walled city, and there's little to do or see in the immediate area. Its 81 guest rooms are modern and streamline, and amenities are a huge perk, with Nespresso coffeemakers, iPod docks, minibars, and sleek bathrooms with basin sinks and rainfall showerheads. Travelers looking for a stay with a heated outdoor pool can check out the nearby Best Western Premier Hotel l'Aristocrate.
12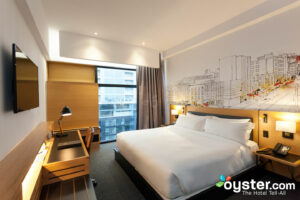 Located in historic Saint-Roch, Hotel PUR is a solid upper-middle-range option for those who'd rather save some cash than be in the heart of the action. The property underwent a full renovation in 2017 and features 242 contemporary rooms with free Wi-Fi, Nespresso machines, and large flat-screen TVs, plus floor-to-ceiling windows offering city views and modern bathrooms with either deep Japanese-style tubs or walk-in showers. The restaurant is stylish and features seasonal outdoor seating, but its Quebecois food gets mixed reviews. The bright fitness center is well-equipped and offers views of the hotel's heated indoor pool, housed in a light-filled top-floor room with loungers. Travelers wanting to stay closer to attractions may want to compare rates at the more traditional Auberge Place D'Armes, which offers just 18 charming rooms.
13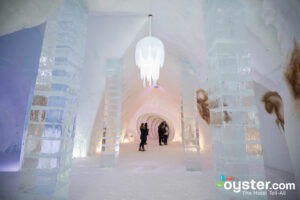 The Hotel de Glace is an upper-middle-range property made entirely of ice and snow -- one of only two such properties in the world. Situated 15 minutes north of Quebec City, the property changes annually, with unique snow carvings and ice sculptures, and is typically open from January through March. There were 44 rooms and themed suites available during our 2015 visit, including some with decorative gas fireplaces -- the property remains between 23 and 27 degrees Fahrenheit at all times, and overnight guests are given thermal sleeping bags for extra warmth. Guests may only retire to their rooms starting at 9 p.m. and must be out by 9 a.m. the next day, when free breakfast is served. Public tours are offered all day throughout the property, including guest rooms and the Ice Workshop.
14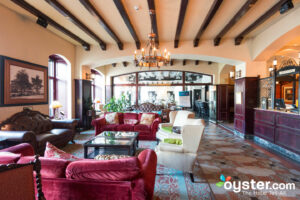 The historic 143-room Hotel Clarendon is an upper-middle-range property with Art Deco Art Nouveau accents in the heart of Old Quebec. Modern rooms with vintage flare have Keurig coffeemakers, flat-screen TVs, and marvelous views of Old Quebec, and some have iPod docks and bathrooms with separate walk-in showers and jetted tubs. The on-site restaurant and Jazz Bar receive good reviews, but there is often a cover charge to attend the live music performances. On-site parking also incurs a fee as well and there is no fitness center. Guests looking for amenities like a fitness center and spa services may want to consider Auberge Saint-Antoine, an upscale choice in Old Quebec, though rates will be higher.
15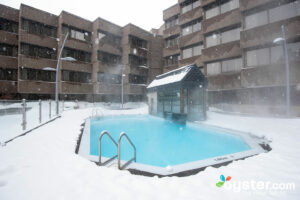 The upper-middle-range Delta Quebec is a solid choice for business and leisure travelers alike. Fresh from a renovation completed in 2014, it's a modern hotel adjacent to the Quebec City Convention Centre and within walking distance to many of the historic city's top attractions. Highlights include underground parking, lots of meeting space, a large fitness center with sauna, and a heated outdoor pool open year-round. Its 377 rooms are clean and include coffeemakers and smart desks that are wired for connections to various electronic devices. But, there are no safes and mini-fridges come with a surcharge. Rates are competitive, but you might want to comparison shop with the upper-middle-range Hilton Quebec that's also connected to the convention center.