Best Value Hotels in Ao Nang, Krabi Province
Take a look at the best value hotels in Ao Nang.
See All Ao Nang Hotels
1
Opened in 2016, the mid-range Centra by Centara Phu Pano Resort Krabi is a modern chain alternative to the many faded hotels packed along Ao Nang's main road. The 158 rooms and suites, though compact compared to other hotel rooms, are minimalist and sharp and come with free bottled water, flat-screen TVs, and private balconies. The hotel's good-sized pool faces the sheer rock face of the mountains, and the open restaurant serves all meals, including an extensive free breakfast buffet. Centra is set a short way's down a side road off of Ao Nang's main road, about a 20-minute walk from the beach. (Free hotel shuttle service is available.) Visitors wanting a modern option closer to the beach -- and willing to pay more -- could try Panan Krabi Resort.
2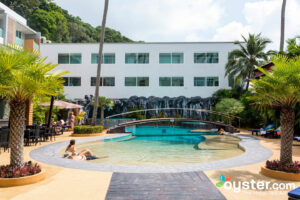 The 52-room L Resort Krabi is a solid mid-range choice for all sorts of travelers -- families, couples, and friend groups -- in the heart of wild Ao Nang. After a year-long renovation, the resort reopened in 2016 with a contemporary purple-and-white design (though a few remnants of its pre-renovation self, like the odd outdated furnishing, remain) in its rooms and suites. All units have minibars and free coffee, tea, and Wi-Fi and most have balconies or terraces -- some swim-out. At the hotel's center are two landscaped pools, including one tiered with whirlpools. L Resort's central location is its best asset; just note that many of its neighbors are party hostels and nightclubs and late-night noise is likely, especially in high season. It's worth comparing rates at the nearby Phra Nang Inn, another ideally located beach-facing property, but the rooms there aren't as modern.
3
The lovely Ao Nang Phu Phi Maan Resort & Spa is a boutique halal resort located a 20-minute walk from Ao Nang Beach. The resort offers something that few area hotels do: quiet outdoor space -- all rooms have good-sized balconies, and there are two wonderful pool areas, an infinity-pool terrace and a garden pool. The 77 rooms, suites, and villas are stylish and spacious, with glossy wood floors, dark-wood furnishings, and big bathrooms. Some rooms have direct pool access or private infinity pools. The hotel also has two halal restaurants, a fitness center, a kids' room, and a spa. No alcohol is served on-site and it is far from the beach, so this isn't the place for partiers wanting to be in the center of the action. By comparison, L Resort Krabi has a central beachfront location, a pool bar, and alcoholic minibars in the rooms.
4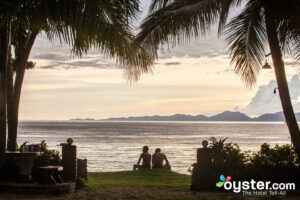 This two-pearl, 34-room property is located on a quiet beachfront away from busy central Ao Nang. It's perfect for anyone seeking peace and tranquility, offering small private bungalows with furnished balconies. Rooms are clean and cozy, but nothing fancy, and equipped with basic amenities like free bottled water and en-suite bathrooms. Only some rooms have air-conditioning. There's an all-day restaurant serving Thai and Western cuisines, plus breakfast with fresh fruit for a fee. The privately accessed beach has amazing mountain and sea views, and there's an outdoor sports area with basketball and table tennis. Wi-Fi is free throughout the property. Travelers preferring to be closer to Ao Nang Beach should consider the Phra Nang Inn with two swimming pools and a lively beach bar.
5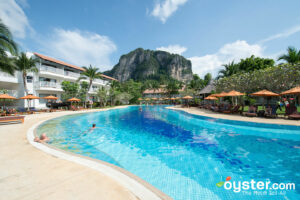 Although the mid-range Aonang Villa Resort is the oldest resort in town, it's still one of the most popular choices. Straddling the beach and central Ao Nang, the resort is in a prime location and is a short walk to eating, drinking, and nightlife options. Rooms are nothing fancy, but they are some of the most spacious you'll find in Ao Nang. The resort also has two large swimming pools, a modern fitness center, and a kids' club with a playground along with a couple of excellent restaurants and bars.
6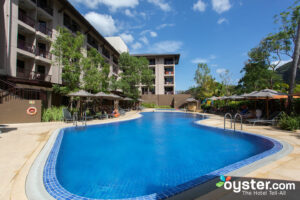 The 206-room Ibis Styles Krabi Ao Nang is a mid-range property with views of Krabi's limestone karsts. Restaurants, bars, and shops are just outside the hotel's front door, and the beach is a 15-minute walk or five-minute drive. Rooms are compact, but they're contemporary and feature flat-screen TVs and mini-fridges. Some have beautiful views of the cliffs from balconies -- the same views capitalized upon at the outdoor pool. There's also a kids' pool and a playground. The restaurant serves all meals, including a free breakfast, and drinks and tapas are offered at the bar in the lobby. As an alternative, the Aonang Paradise Resort -- with a fitness center and massage services -- is a bit more expensive, but is closer to the beach.
7
This three-pearl, 38-room hotel has a prime location in Ao Nang, just a two-minute walk from Noppharat Thara Beach and a five-minute walk from Ao Nang Beach. It's also near plenty of restaurants, bars, and convenience stores, making it an ideal location seeking looking for just a bit of action. The hotel blends Thai-style decor with modern touches, offering reasonably fresh rooms and suites with air-conditioning, flat-screen TVs, and free Wi-Fi. All rooms have furnished balconies or terraces; some with direct access to the wrap-around pool. There's a second pool on the roof with superb area views, plus an all-day restaurant serving a varied breakfast buffet (fee). Travelers with young children should consider the Holiday Inn Krabi Ao Nang Beach instead, which has a huge kids' pool with waterslides.
8
On a relatively busy commercial street winding through Krabi's signature limestone karst cliffs, this 78-room, upper-middle-range resort is a short walk from Ao Nang Beach. The resort is an older property, though modernization is in progress, and rooms are spacious and include air-conditioning, flat-screen TVs, and minibars. The on-site restaurant has a trendy bistro and wine bar vibe and there is an outdoor pool plus a small but fantastic spa. Guests looking for more thoroughly contemporary lodging with a large outdoor pool should consider the Centara Anda Dhevi Resort, though it will be more pricey and is farther from the beach.
9
Opened in 2016, BlueSotel Krabi is a sleek hotel for international groups, families, and couples, about a 10-minute walk from Ao Nang Beach. The 130 contemporary rooms have balconies, flat-screen TVs, and separate showers and tubs in the bathrooms. Fourteen units have direct access into BlueSotel's large pool, which has a swim-up bar, a jetted area, and a deep patio with shaded loungers. Elsewhere at the hotel, there are business facilities (a conference room and lobby computers), a spa for massages and facials, and an all-day restaurant with outdoor seating. Some of BlueSotel's top-floor rooms have sea views, but guests wanting to be even closer to the beach could look into the more dated and worn Golden Beach Resort.
10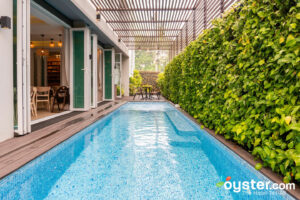 LaRio Hotel Krabi is a 25-room value hotel located 20 minutes by foot from the beach in Ao Nang. Built in 2017, the hotel has a fresh and stylish coastal-inspired design (picture lots of blues and rattan accents) throughout its common areas and rooms. Guest rooms come with flat-screen TVs, minibars, and free safes, and larger units -- including two-bedroom suites with bunk beds -- are great options for families and groups. In the mornings, a simple breakfast is served in a small breakfast room alongside LaRio's narrow dipping pool. Guests generally love the hotel for its tidiness, modern design, and friendly staff. Nonetheless, it's worth comparing LaRio's rates to the ones at the across-the-street Centra by Centara Phu Pano Resort Krabi, which has a full-service restaurant and a proper swimming pool.
11
The Aonang Paradise is a value property with a quiet ambience despite being just off the main road that leads into town. The 34 rooms here are basic but bright and cheery. There's also a giant villa that was the home of one of the past owners and is large enough for groups or families. Property features include a small swimming pool with dramatic cliff views, a tiny fitness center, a massage room for Thai massages, and a little restaurant.
12
The two-and-a-half-pearl, 44-room Ao-Nang Sunset Hotel offers tourists simple lodgings and a convenient location. It's a three-minute walk from Ao Nang Beach, with plenty of shops, bars, and restaurants in the surrounding area. Rooms are nothing fancy, but fine for a short stay, equipped with chunky wooden furniture, air-conditioning, en-suite bathrooms, and furnished balconies -- some with nice pool views. The small outdoor pool has a decked terrace and relaxed atmosphere, with a few sun loungers for tanning. There's an all-day Thai and European restaurant at the front of the property with outdoor seating, serving a generous breakfast buffet for a reasonable fee. Wi-Fi is free throughout the property. Families with small children might prefer the AoNang Villa Resort, which adds a beachfront location and excellent family-friendly facilities.
13
Green View Village Resort is a 29-room property close to the stunning cliffs of Ao Nang -- and away from the town's traffic and party scene. A huge range of rooms, from single rooms to freestanding villas, suit various budgets and traveler types. There are several units for families or groups, with multiple beds and bunks in some. Key features include two pools and an on-site restaurant. Other than that, there's not much to do on-site, but Green View's position near the main road means it's easy to get out and explore the town and islands. A block away, Centra by Centara Phu Pano Resort Krabi offers an alternative with more modern rooms for only slightly higher rates; however, some travelers will prefer the village-like vibe of Green View to its seven-story, corporate-style neighbor.
14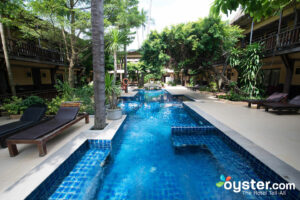 The Phra Nang Inn is a medium-size, two-and-a-half pearl hotel that sits along some of the nicest stretch of beach in Ao Nang. The property, including its rooms, is somewhat worn and weathered, but the inn is within a few feet of the beach, and has a happening little beach bar. Some of the rooms look out on the glorious sunsets and islands in the bay. The inn is also near the best dining, drinking, and shopping in Ao Nang, and while its entrance is on the main road, most of the property fronts the pedestrian thoroughfare along the beach. Though the Phra Nang Inn has a prime location, it has fewer amenities than some of its nearby competitors, but its room rates are the same, or higher.
15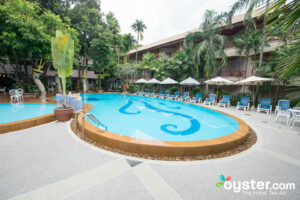 The Ao Nang Princeville isn't the fanciest spot in town, but its location in the heart of Ao Nang and right across from the beach is excellent. The rooms, while a bit dated, are spacious, quiet, and have large bathrooms. There is a small swimming pool and only one small restaurant, where a free breakfast is served. The hotel is halal, and thus there is no bar, making it less than ideal for those wanting to do a lot of drinking and partying.