Best Beach Hotels in Ao Nang, Krabi Province
Take a look at the best beach hotels in Ao Nang.
See All Ao Nang Hotels
1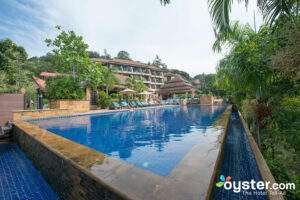 One of the larger properties in Ao Nang, the Aonang Cliff Beach Resort is located right off the main road and offers some of the best views in town. Built into a hillside up above the street, it feels private, yet fine dining and shopping are a short walk away and the beach is only five minutes down the street. The rooms here are spacious and all have open-air terraces or patios along with rainfall showers, and some even have panoramic ocean views. The resort has a sun-drenched natural saltwater pool with plenty of lounge chairs, a seafood grill restaurant, and a large shopping plaza downstairs.
2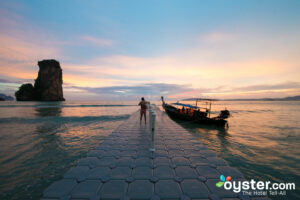 The Centara Grand Beach Resort sits alone on a private bay in the Andaman Sea, surrounded by limestone karst mountains. The rooms and villas here are huge, and all come with large balconies and open-plan bathrooms with soaking tubs and rainshowers. The luxury resort has four restaurants to choose from, along with a spa, a fitness center, a fun kids' club, several swimming pools, and even a library. However, the only way to town other than by boat involves a steep path over the mountain, and some guests might feel isolated here. However, with such great facilities, a long white sand beach, water activities, and spectacular views, those wanting to literally get away from it all will find little need to go anywhere else.
3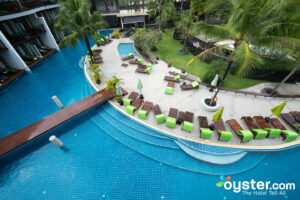 The mid-range Holiday Inn Krabi Ao Nang Beach is hands-down the most family-friendly spot in the Andaman region. Family and Kids Suites have kid-size showers, and some rooms have private access to the communal pool. The hotel has the area's largest kids' club, and among the three huge swimming pools, one is completely designed for children, with waterslides, a playground, and plenty of shallow water. Couples will appreciate a swim-up bar and free breakfast buffet, along with a dedicated Couples Wing and adults-only pool. The Holiday Inn Krabi sits right across from the beach in the middle of the Ao Nang and Noppharat Tara Beach Road, but it's more suitable for sunsets than sunbathing. For the price, the resort offers excellent value for Ao Nang.
4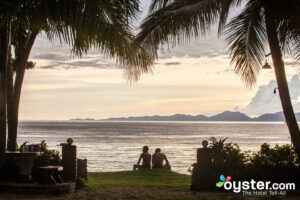 This two-pearl, 34-room property is located on a quiet beachfront away from busy central Ao Nang. It's perfect for anyone seeking peace and tranquility, offering small private bungalows with furnished balconies. Rooms are clean and cozy, but nothing fancy, and equipped with basic amenities like free bottled water and en-suite bathrooms. Only some rooms have air-conditioning. There's an all-day restaurant serving Thai and Western cuisines, plus breakfast with fresh fruit for a fee. The privately accessed beach has amazing mountain and sea views, and there's an outdoor sports area with basketball and table tennis. Wi-Fi is free throughout the property. Travelers preferring to be closer to Ao Nang Beach should consider the Phra Nang Inn with two swimming pools and a lively beach bar.
5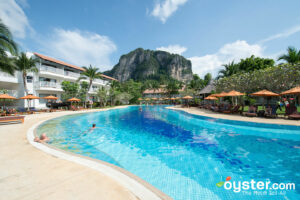 Although the mid-range Aonang Villa Resort is the oldest resort in town, it's still one of the most popular choices. Straddling the beach and central Ao Nang, the resort is in a prime location and is a short walk to eating, drinking, and nightlife options. Rooms are nothing fancy, but they are some of the most spacious you'll find in Ao Nang. The resort also has two large swimming pools, a modern fitness center, and a kids' club with a playground along with a couple of excellent restaurants and bars.
6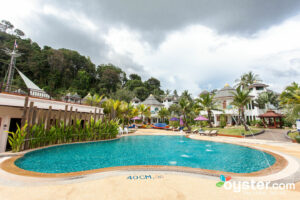 The 170-room Krabi Resort is an upper-middle-range property right on the beach in bustling Ao Nang.While it's not smack in the center of town, it's convenient for reaching restaurants, shops, and bars. Rooms are spacious and attractive, if a bit old school, and come with flat-screen TVs and minibars. All have a balcony or terrace, and some have their own private pools. A free breakfast is served and includes eggs and other dishes, and lunch and dinner are also available. Two bars include a swim-up option in the pool, and there are events spaces for weddings and other gatherings. Travelers seeking an alternative could check out the Aonang Villa Resort, another older beachfront property that has a spa and a kids' club, though it's more expensive.
7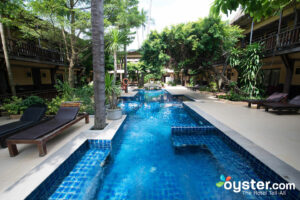 The Phra Nang Inn is a medium-size, two-and-a-half pearl hotel that sits along some of the nicest stretch of beach in Ao Nang. The property, including its rooms, is somewhat worn and weathered, but the inn is within a few feet of the beach, and has a happening little beach bar. Some of the rooms look out on the glorious sunsets and islands in the bay. The inn is also near the best dining, drinking, and shopping in Ao Nang, and while its entrance is on the main road, most of the property fronts the pedestrian thoroughfare along the beach. Though the Phra Nang Inn has a prime location, it has fewer amenities than some of its nearby competitors, but its room rates are the same, or higher.
8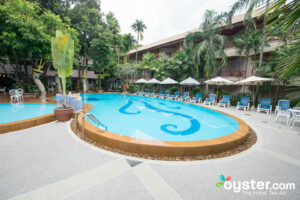 The Ao Nang Princeville isn't the fanciest spot in town, but its location in the heart of Ao Nang and right across from the beach is excellent. The rooms, while a bit dated, are spacious, quiet, and have large bathrooms. There is a small swimming pool and only one small restaurant, where a free breakfast is served. The hotel is halal, and thus there is no bar, making it less than ideal for those wanting to do a lot of drinking and partying.
9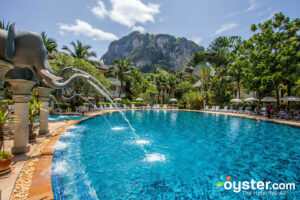 The Golden Beach Resort is a 70-unit, mid-range hotel on the Aonang beachfront, overlooking the Andaman Sea. Elegant rooms and bungalows have a mix of marble floors and dark-wood ceilings and furnishings, and private balconies or terraces -- some also have jetted tubs. The on-site restaurant stays open throughout the day, and the outdoor swimming pool has elephant fountain features and lots of shaded lounge chairs. The tour desk can arrange excursions and activities for guests. Some of the room furnishings, however, are dated and worn, and the Wi-Fi signal can be spotty. Plus, there's no fitness center. Travelers might want to check out the larger Holiday Inn Krabi Ao Nang Beach, which has a gym and spa, but rates are higher.
10
The 70-room Aonang Buri Resort is a mid-range pick across the street from the beach in Ao Nang. Rooms have minibars (fee), free coffee and tea, and private balconies or terraces -- some of which have direct access to the lovely garden pool -- but bathrooms are hopelessly out of date. The hotel's street-facing restaurant is open all day, starting with the free breakfast buffet, and, in high season, the pool bar serves drinks until mid evening. Thai massages are available in a communal room near the pool, but there's no full spa or fitness center. Both features can be found at the next-door (and pricier) Holiday Inn Krabi Ao Nang Beach.