Best Kid-Friendly Hotels in Tulum
Families who want to avoid the club-thumping party scene of Cabo or Cancun could consider Tulum, located at the south end of Riviera Maya on the Caribbean Sea. The calm, quiet coastal town has the same consistently warm temps as other Mexican beach destinations, but its easygoing vibe sets it apart. Plus, Tulum provides easy access to kid-friendly excursions and activities, like seeing Mayan ruins, swimming with turtles in Akumal, and snorkeling at the marine playground of Xel-Ha — and not to mention direct access to its own beautiful beaches. Check out our picks for the best kid-friendly hotels in Tulum.
See All Mexico Hotels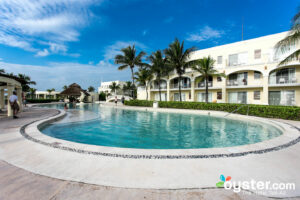 The 431-room Dreams Tulum is an all-inclusive mega-resort near the Mayan ruins. It offers manicured grounds, plenty of amenities, and a white-sand beach that is one of the most tranquil in the area. However, the hotel's massive size means that the wait for a seat at dinner can be long, and the overall ambience may seem more impersonal than intimate. Rooms are large and feature a blend of colonial furnishings and high-tech amenities.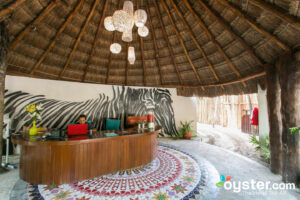 This family-friendly beach hotel in the heart of Tulum has pristinely manicured grounds, modern buildings, and 15 suites; some have mini plunge pools or expansive balconies, but all have epic views out over the Mexican Caribbean. The hotel lacks a pool, but it has direct access to the beach, an on-site playground for kids, and a palapa-covered restaurant and bar featuring hand-painted tables.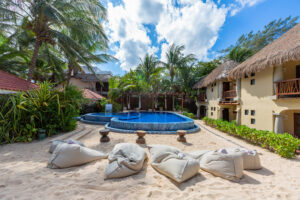 Despite a lack of specific kid-friendly features, families frequently vacation at this upscale, 24-room hotel. (The three-bedroom Coba Suite is especially accommodating, with a kitchen, garden, and private pool.) All rooms come with air-conditioning, four-posted beds, couches, small patios and decks, and free Wi-Fi. A few suites have TVs with cable. On the beach, lounge chairs are shielded by shaded huts, and covered daybeds are provided for those who book higher-end rooms. Outdoor activities, which the hotel can help arrange, include diving, boat tours, and wildlife observation. Laundry and room service is available, and the afternoon turndown service includes chocolates. The restaurant and bar, under a palapa built over beach sand, serves a free a la carte breakfast, as well as Maya specialties and such standbys such as brick-oven pizza.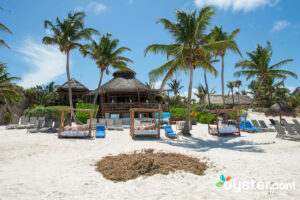 The 22-room beachfront Hip Hotel suits many tastes. It is both a romantic, unplugged getaway and a family-friendly lodging option. Extras such as cribs, high chairs, and the ability to request additional rollaway beds make this destination convenient for small groups, and people traveling with children. Guests will not find live entertainment, pools, or on-site recreational activities here. Instead, they'll get a quiet, low-key environment, lots of natural beauty, and an on-site restaurant that provides free a la carte breakfasts and delivers evening meals on the beach. The Hip Hotel connects guests with tours and day trips, and provides airport transfers and rental cars and bikes, for a fee.
Los Lirios Hotel Cabanas is a mid-range boutique hotel directly on the beach in the heart of Tulum. Many of the 64 air-conditioned rooms here have balconies with direct or partial ocean views, and those that don't still look out on the pleasant grounds, with plenty of tropical greenery. Amenities include a tiny pool with room for just a few guests plus an on-site restaurant serving breakfast and dinner buffets (but no lunch). Unfortunately, there's no Wi-Fi.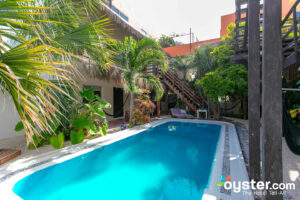 A five-minute drive from the beach, the 12-room Villas Geminis Boutique Condo Hotel is in downtown Tulum, within walking distance of restaurants, shops, and bars. Guests without cars can use the hotel's bicycles for free to get to the beach and other attractions. Rooms are attractive, homey, and decorated in tribute to various famous artists. They feature air-conditioning, flat-screen TVs, and free Wi-Fi, and some have full kitchens. All have a balcony or terrace with a hammock or lounge chair. The pool and gardens are lovely, and breakfast is free.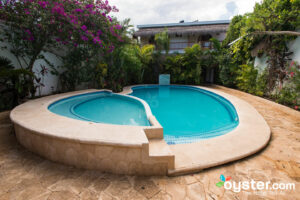 Located out of the tourist zone, about a 15-minute drive from the beach, this quiet, eco-friendly hotel is perfect for guests are looking for a little something different than the tourist-filled streets of Tulum town or the hipster bohemian vibe on the beach. The hotel's 12 clean, casita-style rooms have free Wi-Fi, kitchens, garden views, and Mexican tiles galore. Though you won't find televisions or telephones, there are exotic garden grounds, a small pool, and a small poolside restaurant and lounge area with books, games, and a water cooler. In the mornings, a free breakfast buffet features eggs, cereals, fruit, juices, and yogurt. Posada is ideal for families and couples who seek a more authentic, local experience while traveling.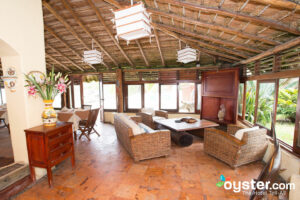 Piedra Escondida is a small, tidy resort hidden away on a property that feels secluded, despite being right on a main road and surrounded by numerous restaurants, hotels, and shops. With only nine guest rooms, this destination offers a lovely, beachside experience in a largely unplugged setting. There are no TVs or phones in the spacious, simple rooms, and Internet access is limited to the restaurant area (where free breakfast is served). Families are welcome at this pet-friendly resort, and it supplies shovels and sand toys for building sandcastles. There are very few other amenities, however. The hotel is a solid mid-range pick, though, for families and couples seeking a quiet, laid-back stay.