Best Party Hotels in Amsterdam
Thanks to its red light district and friendly stance on marijuana, Amsterdam attracts many party-centric travelers. The evening scene is lively, with groups spilling out of the "brown cafes," restaurants, and nightclubs. Hostels and budget hotels make a particularly perfect pick for a place to stay, as they attract young groups looking to mingle and party, offer cheap rooms, and have lax drinking and smoking rules. Take a look at the top party hotels in Amsterdam and start planning your getaway!
See All Amsterdam Hotels
1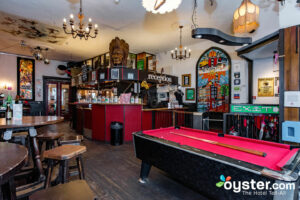 The Flying Pig Downtown is a friendly, fun-focused Amsterdam hostel. Located on a busy, central shopping street, this hostel is surrounded by many of the city's nightspots, while also being a short walk to popular sights and the Red Light district. Private rooms are available in addition to the secure and tidy dorms, and the property is frequented by a mainly backpacking clientele. There is a modern guest kitchen, cozy smoking lounge, and lively bar on-site. For those looking for a more subdued hostel option, the Inner Amsterdam near Vondelpark has similar rates, but less buzz.
2
People book a room at the St Christopher's at Winston Hotel to have fun and mingle with like-minded revelers. The property is set in a busy street just two blocks from the Red Light District, and is thus part of the throbbing heart of Amsterdam's nightlife. Eccentric and idiosyncratic guest rooms and dorms are generally clean and surprisingly quiet, though some noise is inevitable. Many hostels don't come this well presented and organized, but if you'd rather be a bit farther away from the edgier part of town, check out the Flying Pig Downtown.
3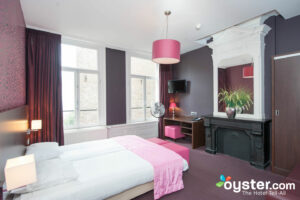 Among the two-pearl hotels vying for the tourists who flock to central Amsterdam, the family-run Boutique Hotel View stands out for its recently updated common areas and more stylish rooms, some of which have overlook a canal. It's right on a tram line, making it a convenient base for exploring the city, but can also suffer from the heavy traffic that comes with it -- which can be exacerbated by the area's late-night party scene. The noise levels and lack of an elevator make it best-suited to younger tourists looking to experience Amsterdam's canal life, without the usual frills -- or the usual bill.
4
The Bulldog Hotel is a hostel-style property right in Amsterdam's Red Light District that caters to a party crowd. But unlike a typical hostel, the Bulldog offers a range of room types, including dorm rooms with en-suite bathrooms that include two shower stalls and double sinks, private rooms that include king size and single beds, and nearbyapartments with kitchens, a separate bedroom, and flat-screen TVs.
5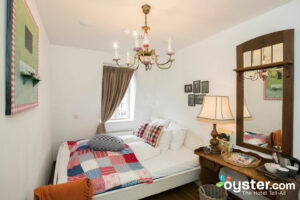 Cocomama bills itself as Amsterdam's first boutique hostel, and this ultra-affordable budget property features 13 individually decorated rooms and a stylish atmosphere that the average hostel can't match. Its small private rooms have whimsical themes and the dorms have en-suite bathrooms, so that guests don't have to share with too many others. Backpackers and budget travelers who enjoy the communal events and social aspects of a hostel -- but don't want to sacrifice too many comforts -- will find a nice balance here. The location is good, too, and it's a block from leafy Frederiksplein, in an area with lots of small bars, restaurants and shops.
6
The Hotel International is a budget hotel with eight rooms that's best suited to young travelers. Rooms include flat-screen TVs, free Wi-Fi, and earplugs to help guests with bothersome noise from the street and from other rooms. Though the rooms are simple and some have shared bathrooms, they provide more privacy than what's found at a hostel. Cafe International, the on-site pub, has an antique nautical decor, a lively atmosphere, and doubles as the lobby. However, it's a little seedy, and families or solo female travelers may be more comfortable at the family- and budget-friendly, Hotel Luxer.