Most Romantic Hotels in Amsterdam
A culturally rich city, Amsterdam is a popular tourist destination for its many museums, beautiful canals, and historic buildings. While a great destination for families, the city is particularly perfect for a romantic getaway. If you're looking for a hotel to spend an amorous vacation, you're come to the right place. We've reviewed the hotels and evaluated how every feature stacks up against the competition, from the rooms to the pools to the restaurants. Take a look at our top picks for value in Amsterdam and get inspired!
See All Amsterdam Hotels
1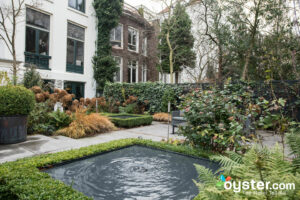 Canal House Hotel is a sumptuous 23-room boutique hotel towering above a canal in Amsterdam's Canal Ring district. The lovely brick front suggests something more traditional, but the interior is flashy and fashionable. Swanky rooms are arguably Amsterdam's most luxurious, and are decked out with rich purple fabrics and dark woods. More modest travelers might have an issue with the open layouts of some room types, though parts of the bathroom are enclosed. Throughout, bathrooms feature gorgeous tiling and modern basin sinks; many have soaking tubs as well as walk-in showers with rainfall showerheads. The Great Room, an upscale lounge and dining space, gives guests access to books and games, and the hotel itself is only minutes away from canal tours, shopping, and local eateries.
2
This romantic boutique hotel near the Anne Frank House has historical significance: It was once used as a safe house in WWII. Today there are 38 rooms and suites ranging from smaller standard size, to more spacious deluxe size with Jacuzzi tubs and views of the garden or canal. For special occasions, guests can book one of the deluxe suites, bridal suites, or the "Garden Cottage," all which have double Jacuzzi tubs. Though each room is unique, they are decorated with the same sophisticated Toren touch combining rich hues, chandeliers, and ceiling paintings. Some have their own private terrace -- a nice perk for summer evening cocktails. For everyone else, there is a cozy bar on-site, and the hotel is affiliated with Christophe -- an acclaimed restaurant around the corner that delivers directly to guest rooms.
3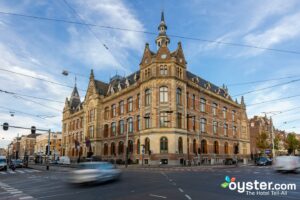 The Conservatorium Hotel delivers a true five-pearl experience in Amsterdam's residential Museum Quarter. It's housed in a 100-year-old former bank building, and the hotel's warm, modern design melds seamlessly with the structure; the stunning atrium lobby, for example, is industrial-chic, featuring wood, brick, and glass. The rooms are decorated in earthy neutrals and every detail was considered, from the placement of the electrical outlets to the reading lights by the bed to the high-tech controls for the lighting and blinds; some rooms have duplex layouts and exposed structural beams. Bathrooms are gorgeous, with rainfall showerheads, stone tile, LCD mirror TVs and micro cotton towels. The big, modern fitness center, stylish indoor pool, and lovely spa, all located below ground, are highlights. It's a premier choice for couples looking to trade a central location for added space and quiet.
4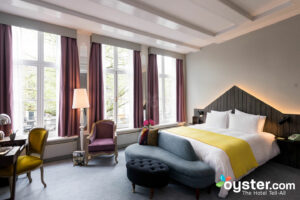 The Hotel Pulitzer is a charming luxury property in the Canal Loop of Amsterdam. The hotel is made up of a block of 25 restored 17th and 18th century canal houses, and is full of historic details. All rooms are unique with warm design touches such as exposed brick walls and wood floors. Most rooms are flooded with natural light, and some have canal views; those that don't overlook the hotel's garden. One drawback is a pesky fee for Wi-Fi in rooms, but it's free in the lobby and the small business center. The hotel has a grill restaurant, bar, and 24-hour room service. Besides having a location in one of the most picturesque areas of Amsterdam, the hotel is also within easy walking distance of popular sights such as Dam Square, the Van Gogh Museum, and the Red Light District.
5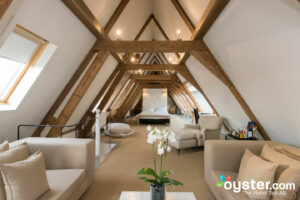 The Dylan is a stylish, upscale boutique centrally located in the Canal Ring. The 41 rooms are split into six different styles, ranging from lofts with cathedral ceilings to all-white rooms to Asian-inspired spaces. All rooms have high-end amenities including Bose sound systems, stocked minibars, and Zenology toiletries. A cozy lounge, two bars, and a lovely courtyard with heat lamps are all draws, but the real highlight here is the Michelin-star Vinkeles restaurant, which serves contemporary French cuisine in an exclusive space with just a handful of tables. While some rooms are quite small and rates are high year-round, the hotel does offer free Wi-Fi and some rooms have beautiful views overlooking the canals.
6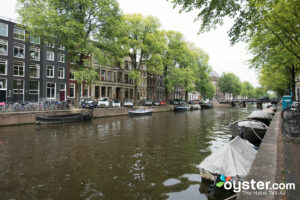 Ambassade Hotel's lovely brick front is as inviting as its location in the picturesque (and convenient) Canal Ring neighorhood, across from a boat-lined canal. The hotel is tasteful and tidy, made up in classic Louis XV/XVI decor, though no area is the same in layout or appearance. The refined lobby features a shoeshine machine and umbrella collection for inclement weather. Rooms offer lovely views of the canal and cobblestone street and are adorned with rich furnishings, intricate mirrors, and carved furniture. Each room is different, and some charming suites have beamed, vaulted ceilings. The 58-room hotel features several amenities, including a Koan Float (which involves floating in saltwater in a stimuli-free capsule) and massage facilities. The breakfast room is classy with modern artwork, and the lovely tables are topped with bright yellow calla lilies. Guests also have access to a cozy library and computer room.
7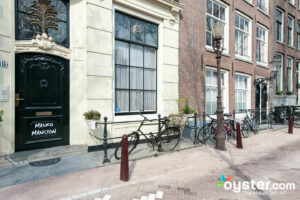 Set on a quiet cobblestone street along the picturesque Geldersekade Canal, Mauro Mansion is a grand 16th-century canal house that once served as the home of Dutch Golden Age writer Roemer Visscher. Though it's location is convenient and central, it nonetheless has a peaceful vibe -- thanks, in part, to a "no children under 12" policy. There are few on-site amenities, and stairs are steep (there's no elevator), but a tasty breakfast (for a fee) and sleek, modern rooms are highlights.
8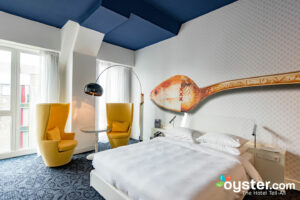 The 122-room boutique Andaz Amsterdam Prinsengracht is a hip, luxe, "art hotel" with design by Dutch art director Marcel Wanders. The hotel sits in a quiet area between the picturesque Prinsengracht and Keizersgracht canals, and brings Dutch history and culture inside with its design and architectural choices. Guests are not nickel-and-dimed but benefit from free happy hour and minibar offerings in awesome modern surroundings. Add in the gourmet Bluespoon restaurant, and the Andaz Amsterdam is a destination in itself.
9
There's little to find fault with at the Boutique B&B Kamer01. It's set in a beautifully renovated 16th-century Amsterdam townhouse in the heart of the Canal Ring, and serves a five-course champagne breakfast each morning overlooking a picturesque neighborhood scene (it's clear why the Canal Ring is on the Unesco World Heritage List). The three rooms are sumptuously furnished and equipped with DVD libraries and iMacs, while bathrooms come complete with designer toilets and luxury Korres toiletries. While guests can pay a similar price for luxury hotel with much more in the way of facilities, such as the nearby Hotel Pulitzer, many prefer the boutique intimacy and meticulous attention to detail offered here.
10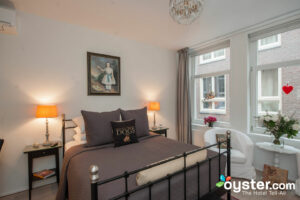 Boogaard's Bed and Breakfast is a two-and-a-half pearl, two-room B&B, which despite its hectic central location, offers a little haven of peace. Though it's a relatively humble 18th-century home, the owner provides top-notch service. The rooms are individually decorated with cozy sitting areas around a fireplace, flat-screen TVs, laptops, air-conditioning, and free Wi-Fi. A fine breakfast, homemade deserts, and other treats are included, along with access to two stocked wet bars. It's geared toward couples looking for an exclusive setting, and a little morning chit chat with a personable host
11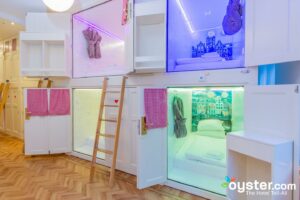 The Heemskerk Suites is an upper-middle-range property that's more like a pied-a-terre than a hotel. It's composed of four self-contained apartments, that include a fully equipped kitchen, generously-sized living room, and character-filled bathroom with contemporary quality fixtures. There is no air-conditioning, breakfast, or elevator available. The location is ideal, it's a six-minute walk from the Van Gogh Museum and an eight-minute walk from the lush green Vondelpark. Free sparkling wine and juice is stocked in the fridge on arrival, as well as a selection of Dutch savory and sweet snacks including the ever popular Stroopwafels. And children under eight are not allowed, adding to the quiet environment.
12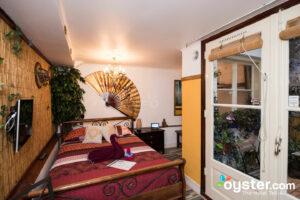 Located just an eight-minute walk away from the central train station and within the historic Canal Ring, this intimate, mid-range bed-and-breakfast makes a convenient home base. It's a 13-minute walk to the Anne Frank House, and all the quaint coffee shops and boutiques of the Jordaan neighborhood are a few blocks away. But despite being inside a traditional Amsterdam home, the decor here is decidedly Asian, with fans, wooden chimes and Buddha statues scattered throughout. Rooms are spacious for the price and include traditional canal house details like wood-beamed ceilings or a courtyard patio. Just note that there is no elevator, and that bathrooms have showers only. Children under eight not allowed.