Best Business Hotels in Amsterdam
Heading to Amsterdam on business? Many hotels have amenities and room features designed specifically for the work traveler, hopefully adding a little pleasure to business. We've reviewed the dozens of properties in Amsterdam, evaluating how every feature stacks up against the competition, from the rooms to the meeting facilities to the location. So if you're planning a getaway and need a place to start, you've come to the right place. Take a look at our top picks for business hotels in Amsterdam!
See All Amsterdam Hotels
1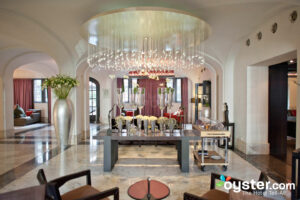 The Sofitel is our top business-friendly pick in Amsterdam for its 21 conference rooms (the hotel can help arrange translation services and teleconferencing), as well as its 177 contemporary but homey rooms with Nespresso machines, flat-screen TVs, and wonderful beds. Bathrooms are sleek, and most have walk-in showers. Hotel features include a high-end spa with indoor heated pool, a modern fitness center, business center, and Bridges Restaurant. Room service is on offer 24 hours a day and a kids' program includes baby toiletries and cribs.
2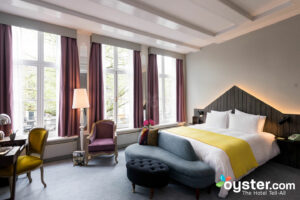 The Hotel Pulitzer is a charming luxury property in the Canal Loop of Amsterdam. The hotel features a dozen meeting spaces, including a banquet hall and the gorgeous Baroque-style Saxenburg room. All guestrooms are unique with warm design touches such as exposed brick walls and wood floors. Most rooms are flooded with natural light, and some have canal views; those that don't overlook the hotel's garden. One drawback is a pesky fee for Wi-Fi in rooms, but it's free in the lobby and the small business center. The hotel has a grill restaurant, bar, and 24-hour room service.
3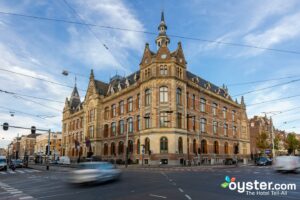 The Conservatorium Hotel delivers a true five-pearl experience in Amsterdam's residential Museum Quarter. It's a great pick for small events, offering six meeting rooms (the largest of which can fit 120 people), all with high-tech features. Plus, business travelers of every stripe can likely appreciate the beautiful design and gorgeous rooms. he rooms are decorated in earthy neutrals and every detail was considered, from the placement of the electrical outlets to the reading lights by the bed to the high-tech controls for the lighting and blinds; some rooms have duplex layouts and exposed structural beams. Bathrooms are gorgeous, with rainfall showerheads, stone tile, LCD mirror TVs and micro cotton towels. The big, modern fitness center, stylish indoor pool, and lovely spa, all located below ground, are highlights. It's a premier choice for business travelers looking to trade a central location for added space and quiet.
4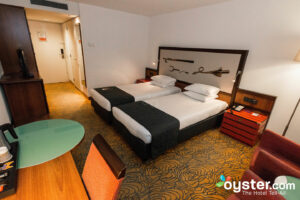 Tall and modern in design, this unmistakable 368-room hotel is a reliable choice near Amsterdam's business district. Because of the suburban location, and the 14 multi-use meeting rooms, it attracts a core group of working travelers who have their own vehicles (parking is available for a fee). TOverall, the decor is tasteful, and three unique restaurants and a Dutch "brown" bar provide nice places to unwind. During summer months, guests can enjoy after-work drinks on the waterside terrace set along the picturesque Amstel river -- by far the best view from the hotel. As far as guest rooms are concerned, the difference between room types is quite dramatic. The standard rooms have an eclectic slightly dated feel, whereas the Privilege rooms have contemporary flair, with designer fixtures and additional amenities. Wi-Fi is free throughout, and workaholics can burn off steam in the sauna and fitness center.
5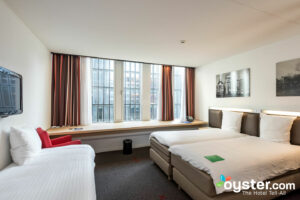 Hotel Casa 400 is a clean, sleek business-friendly spot situated in Amsterdam's Amstel district, on the fringes of the city and about 15 to 20 minutes from museums and the maze of canals at the city's center. It's a basic but modern property, with 13 conference rooms (they can be connected for large events), and a vast, bright atrium-style lobby windows facing an inner garden and colorful modular seating. The rooms are mostly white with a piece or two of artwork and basic amenities (flat-screen TVs, tea kettles, and mini-fridges). They're more comfy and functional than stylish, with cozy white beds and modern all-white bathrooms. A trendy bar and lounge upstairs features stylish seating offset by rustic wood floors. Circles, the cafe-like main restaurant, has a cool covered outdoor terrace. Bike rentals are a nice perk.
6
A business hotel through and through, the NH Amsterdam Zuid (formerly the NH Musica) is in the center of Amsterdam's Financial Mile, close to the World Trade Center. With dedicated meeting facilities, a restaurant, fitness room, and sauna, it's got everything a business traveler might need for an efficient stay in the southern business district, but tourists might prefer to be closer to the city center, which is 20 minutes away on public transportation. The updated rooms are surprisingly stylish, with large work desks and ergonomic chairs, but the free basic Wi-Fi isn't fast enough for everyone. Executive Rooms come with faster high-speed Wi-Fi (and Nespresso machines)
7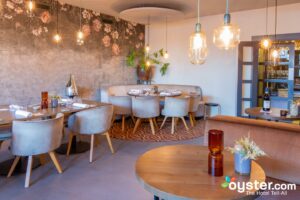 The 270-room NH Barbizon Palace is a central Amsterdam hotel that falls far short of its advertised five-star status. The hotel has 270 rooms, most of which look and feel dated, with drab chain hotel styling. Location is excellent, with great transport links and most of Amsterdam's attractions within walking distance. Dining options are also good, plus there is a fitness center on-site. The hotel also focuses on business facilities, offering a range of meeting rooms, private banquet room, and the impressive St. Olof Chapel Conference Centre.
8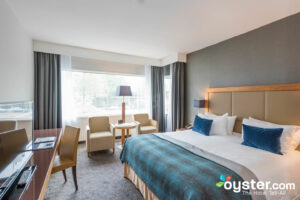 This modern but unexceptional upscale hotel is located in a quiet, residential neighborhood south of Amsterdam's tourist center. It does have outstanding meeting facilities and its proximity to the southern business district is appealing for business travelers. The hotel's three sophisticated meeting rooms have state-of-the-art equipment and attached breakout rooms for lunch and socializing; De Kersentuin provides the lunchtime catering with a cold buffet, finger foods, sandwiches, and hot soups. A small business center, tucked away in a corner of the lobby, has two work stations, each with a printer. The large rooms, while a tad bland, are immaculately clean and contemporary, and have big work desks.
9
The Lloyd Hotel & Cultural Embassy has a unique history and an equally unique way of providing value stays to guests. The 117 rooms have their own classification system; one-star rooms, for example, are small pod-like rooms with no bathroom or amenities. Guests who stay in these rooms must share a communal bathroom, which unfortunately has limited facilities. Two-, three-, four- and five-star rooms are significantly bigger and include their own bathrooms. There are a number of meeting spaces that can fit up to 100 guests, and amenities include a trendy bright-red bar and a ceiling-high gift shop. Outside, visitors can easily walk to a handful of transportation options.
10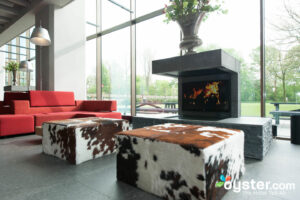 Billed as Ramada's largest hotel in Europe and the first Ramada in the Netherlands, the 18-floor, 446-room Ramada Apollo is a modern hotel with an energetic vibe. Rooms are colorful and funky, and offer free Wi-Fi and flat-panel TVs. A sauna and fitness center are on-site, but the highlight is the 17th-floor restaurant and skybar with panoramic views of the city and adjacent Rembrandtpark. Situated next to the A10 ring road the green expanse of the park, and the Admiraal Helfrichstraat train station that is seven stops from the historic heart of the city, the Ramada Apollo is a good choice for those who want a quiet setting.