It's no coincidence that some of the greatest minds in history have had a strong affinity for a fine whiskey. Take Mark Twain for instance, who once spouted, "too much of anything is bad, but too much of good whiskey is barely enough." Then there's novelist Raymond Chandler, who seconded that notion with "there is no bad whiskey. There are only some whiskeys that aren't as good as others," and playwright George Bernard Shaw, who equated the good stuff to "liquid sunshine." To help you join good company, we've assembled some of the top whiskey-focused watering holes in the country. Whether you like it neat, on the rocks, or in a cocktail, sip your way through these spots doling out the "water of life" (no really, that's its literal Latin translation). We've even thrown in a corresponding spot to stumble home after. How's that for something to toast about?
1. Jack Rose Dining Saloon in Washington D.C.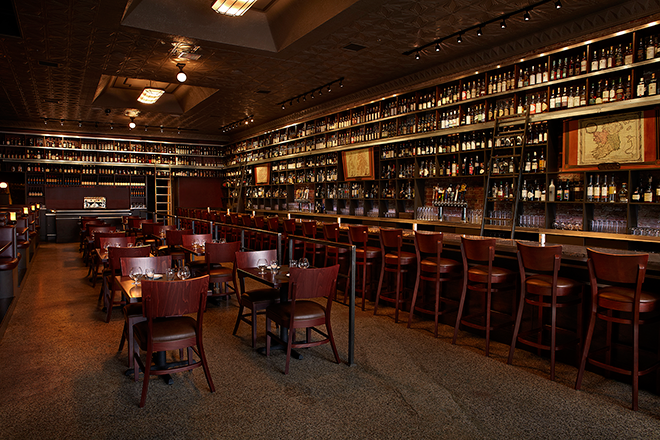 Sure, the White House, Capitol Building, and Lincoln Memorial are cool, but do they serve whiskey on tap? With one of the largest selections from sea to shining sea (it stocks more than 1,800 bottles), this two-level Washington D.C. saloon is a must-visit in the country's capital. The cozy, library-like atmosphere inside (picture wood panels, leather seats, and ladders) and the terrace outside both make for quality settings for raising a glass to whiskey 'tails like the Docta Docta Bill Y'all, a blend Glenmorangie Original Scotch, Madeira, grilled peach syrup, lemon, and bitters, or the rare 15-year-old Jefferson's Reserve bottle. Did we mention cigars are also on the menu? White House walking tour: 0. Jack Rose: 1.
Where to stumble home: Just a ten-minute walk (or three-minute drive) from the bar, the 75-room Normandy Hotel offers peace and quiet after a night of raucous shenanigans. Find solace in areas like the quaint and dining room, which come outfitted in Victorian and Art Deco furniture. Come morning, make your way to the lively Dupont Circle — just ten minutes away — where you'll be met with embassies, shops, bars, and restaurants.
2. Canon in Seattle
Coffee isn't the only thing this rainy city has the market cornered on. Head on over to this Seattle emporium, which holds the title of the largest selection of American whiskey in the western hemisphere, to get a taste of what we mean. Here, mixologists whip up delicious concoctions that make up a boozy bible, a 150-plus-page spirit menu with several pages dedicated to whiskey alone. We suggest the eenie-meenie-miny-moe tactic, but when in doubt, order the creative Blue Eyes (blueberry-infused bourbon, oloroso sherry, Tuaca, pineapple, Cava, and angostura bitters) or Banksy Sour (ginger-lemon tea scotch, Becherovka, fresh citrus, meringue, and Peychaud's bitters).
Where to stumble home: Approximately two minutes by car and six by foot, the six-story Silver Cloud Hotel in the Capitol Hill District is surrounded by the good stuff — galleries, shops, restaurants, clubs, and more. Sweat off last night at the on-site fitness center or take a load off in the relaxing pool.
3. Seven Grand in Los Angeles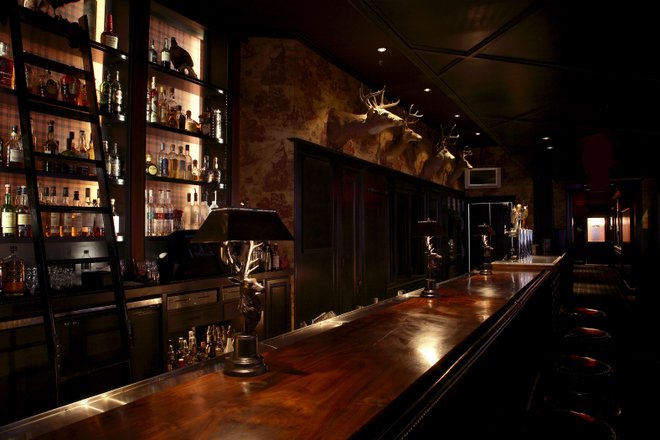 Hunting haven (check out those deer heads) or whiskey bar? You be the judge. But one thing's for certain: this downtown Los Angeles lounge has got one heck of a whiskey collection from around the world. Bottoms up to the 18-year Yamakazi single malt, the 1608 Anniversary Edition Bushmill, or one of the hand-crafted cocktails on the menu; tune in to live music; or have a round on one the pool table. And if the one bar doesn't cut it, there's another one in the back for good measure. An eighteen-seater that goes by the name Bar Jacklope, this bar-inside-a-bar comes with more than 120 whiskey varieties of its own. Double the bars, double the fun.
Where to stumble home: Follow in Raymond Chandler's footsteps in more ways than one: the literary legend was not only known for his love of whiskey, but rumor has it he also romped around in the Bunker Hill neighborhood in downtown Los Angeles, where the 453-room Omni Los Angeles Hotel At California Plaza stands. In just four minutes (or 12, if you're walking), folks can go from sipping rare whiskey to relaxing in spacious rooms and a heated outdoor lap pool, breaking a sweat at the 24-hour gym with state-of-the-art equipment, or taking in some culture at the nearby Museum of Contemporary Art (MoCA) or Disney Concert Hall.
4. Saloon in Somerville
https://www.instagram.com/p/8WPQZwFQ8k
If a '20s speakeasy vibe is what you're after, this Massachusetts spot has your name written all over it. Walk through the doorway, down a semi-secretive staircase, and post up at the bar. With more than 150 whiskeys, this saloon means business. Get the booze straight up or opt for a craft cocktails, like the cheekily named Drunken Love, blended with bourbon, mint, rosemary, and ginger beer.
Where to stumble home: You'll want to opt for the 10-minute cab ride to the affordable Hyatt Place Medford — walking can take you about a half hour. Once you've arrived, enjoy the wet bar, mini-fridge, comfy beds, separate seating areas, and a 42-inch flat-screen TV in the airy rooms. The best part, though: the free hot breakfast, which is sure to soak up last night's booze.
5. Delilah's in Chicago
https://www.instagram.com/p/BC_Uz6gBGeK
The only way to describe this Chicago watering hole is insane. Insanely good, that is. Not only does it have more than 750 whiskey varieties from 15 different countries, but it also serves up some of the greatest tunes in town. DJs spin the works — rock n' roll, punk, metal, reggae, soul, R&B, country, and more — but there's also a solid jukebox in the house. Tip: Don't leave without trying the Knappogue Castle 1951, the oldest and rarest Irish whiskey in the world.
Where to stumble home: After dancing the night away, retire to the charming Villa D'Citta in Lincoln Park — a mere four-minute car trip away. Highlights include an outdoor whirlpool and sundeck, brick courtyard with barbecue, communal kitchen, and luxurious rooms complete with flat-screen TVs.
6. Hard Water in San Francisco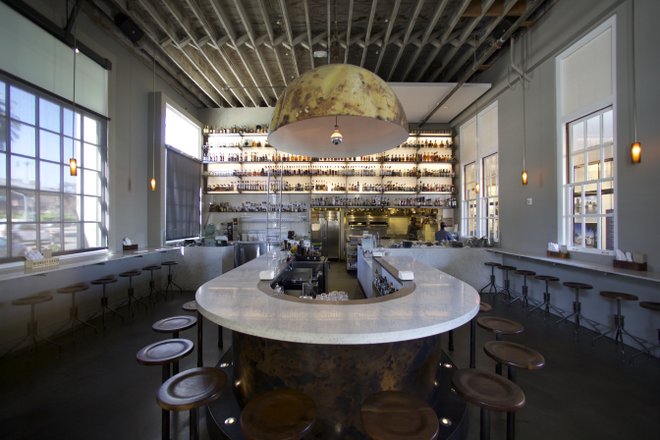 Built for all kinds of whiskey lovers, this San Francisco hot spot hawks the hard stuff straight up, in a flight, tried-and-true 'tails (sazeracs, mint juleps), and more creative concoctions like the Roffignac (rye, lemon, grapefruit, red Hembarig syrup, and soda water). Options are endless — bartenders even have to use a ladder to reach some of the bottles. To soak it all up, order bites like the pork belly crackling, alligator rillettes, or fried green tomatoes. But you're not the only one who wants in, so reservations are highly recommended.
Where to stumble home: Keep the good times going and stumble into the lobby bar at Le Meridien San Francisco, a stylish 360-room high-rise in the Financial District that's a short 10-minute stroll (or five-minute taxi ride) away. Once you're ready to hit the hay, head on up to the modern rooms — some of which have balconies with a bay view. There are also a 24-hour gym with modern equipment and a penthouse dining area and whirlpool tub.
7. Noorman's Kil in New York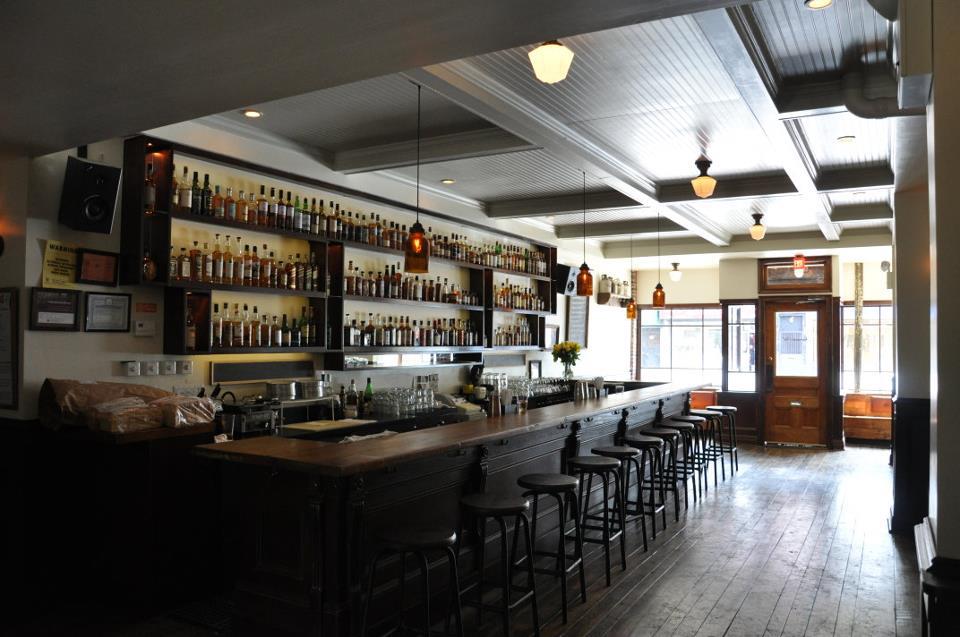 Love whiskey? Love grilled cheese? Here, patrons can belly up to one of seven gourmet varieties, including the Betsy (Vermont chevre, apricot jam, honey, and thyme on ciabatta) and Salona (jalapeno jack, hot sauce, diced tomatoes, and cilantro on sourdough). The whiskey list is a tad longer than that, with more than 400 options. Navigate selections that span the usual suspects — Scotland, Ireland, U.S. — or step outside the box with picks from a section dubbed "elsewhere" (i.e. India, Sweden, France, Wales, Taiwan, and Japan). If you're in the mood to splurge, inquire about the rare (and pricey!) 30-year Jefferson's Presidential Select. The fun all goes down around the salvaged 19th-century bar or in the large garden backyard.
Where to stumble home: Why stop the fun at Noorman's? Head on over to the Wythe Hotel, which is also tucked in this hip Williamsburg 'hood, and reached via a 20-minute walk or 15-minute subway ride on the L. It's a stone's throw from other restaurants and bars, but with a hopping rooftop bar with sweeping Manhattan views (not to mention, rooms that boast exposed brick walls, high-pine ceilings, reclaimed wood furniture, flat-screen TVs, and spacious bathrooms), you'll probably be perfectly content calling it a night and staying at the hotel, too.
8. Multnomah Whiskey Library in Portland
This downtown Portland location is like a dim sum spot, but for whiskey. Let us explain: bartenders swing by with carts to mix and pour your beverages. Inside, the swanky digs house a whopping 1,500-plus bottles stacked along the wall — some only accessible by ladder. For die-hard whiskey fans, there's the option to sign up for a library membership, which gives guests the ability to make reservations (otherwise it's walk-in only), plus access to events, tastings, and more. Their website even claims they're "representing all major, and lesser, styles of distilled spirits known to the modern world." Count us in.
Where to stumble home: Inspired by the Golden Era of Hollywood, the stylish 130-room Hotel deLuxe — a six-minute walk and two-minute taxi ride from Multnomah — couples vintage accents (Art Deco lamps, black-and-white snapshots) with modern touches (flat-screen TVs, iPod docks). Cap off the night at The Driftwood Room bar, which just so happens to also have a heavy whiskey focus in the form an extensive Manhattan cocktail menu.
9. The Flatiron Room in New York
Like many others on the list, this New York whiskey-leaning joint features an extensive menu (more than 1,000 varieties are on-site), but what make it standout is three-fold: 1) live jazz music 2) an opulent stetting (leather banquettes, hand-painted coffered ceilings, rolling library ladders, a velvet-curtained stage, and chandeliers) and 3) whiskey guides to help navigate the menu that features old-time favorites plus rare international varieties. Sip and savor — there are even private lockers to store bottles and drink them at your own pace.
Where to stumble home: The Refinery Hotel, nestled in New York's Garment District, is walking distance from the Empire State Building, Bryant Park, Herald Square — and, luckily, The Flatiron Room. Formerly a tea salon and hat factory, its past life inspires present details like the milliner's tools and lobby bar, Winnie's, which was named after the tea salon's owner, Winifred T. MacDonald. The fitness center, Park & Quinn bistro, and rooftop bar with jaw-dropping views of Manhattan are the cherry on top.
10. Haymarket Whiskey Bar in Louisville
This boozy Louisville haven lives up to the hype of that Kentucky Bourbon Trail tour you took. Sidle up to the bar and take your pick from a laundry list of bourbons, whiskeys, moonshine, and more. Come for the imbibing; stay for the live music and vintage decor (throwback movie posters, pinball machines, and a jukebox).
Where to stumble home: After hours of shooting back whiskey, your stomach might start growling for something a little more substantial. Good thing the Louisville Marriott Downtown, which is only a 12-minute walk away, has three on-site restaurants plus 24-hour room service. The indoor pool, whirlpool, sauna, and clean-and-spacious rooms just make for a more pleasant experience.
Related Stories:
All products are independently selected by our writers and editors. If you buy something through our links, Oyster may earn an affiliate commission.