A swiped bag can turn a trip of a lifetime into a living nightmare in about two seconds. Pickpocketing is an age-old travel headache, but there are some thievery tactics -- like strap cutting and illegal credit card scanning -- that make simple bag-snatching and running off the beach or through the streets seem rather juvenile. Good thing travel bags are smarter than ever these days. We found three options specifically designed to help you safeguard your stuff.
If this bag fought off stealing any harder, it would have a thief-detecting loud siren and spring-loaded punching glove. LocTote's ultra-strong knit material won't slash or tear, and an RFID-blocking interior pocket guards chip-embedded credit cards and passports from illegal scanning. But here's why this is game-changing travel gear: LocTote has a lockable strap with combination lock that allows you to 1. Lock up the bag so its contents are safe, and 2. Lock the bag itself to a stationary object, like a fence, tree, or sun lounger. If that seems great in theory, but sketchy in practice, consider this scenario: You're at the beach and want to swim. Instead of finding beach locker or burying your valuables under a towel, you bolt the locked bag to something solid — the boardwalk, a bike rack, a bench — and dive in. Those constant look-backs are officially a thing of the past.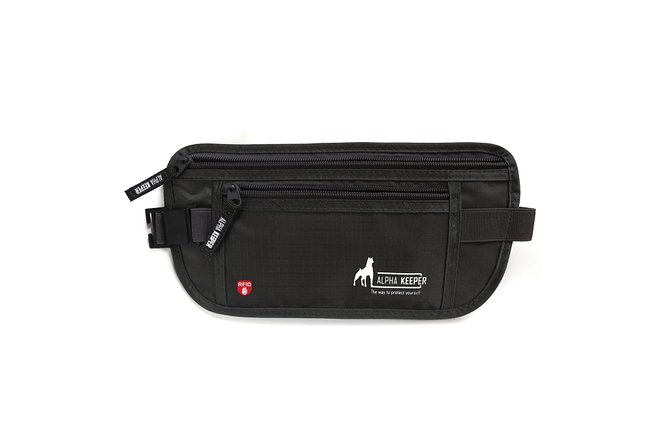 Ah, the money belt. The sensible, hands-free, hopelessly unsexy travel tool. AlphaKeeper's version is all of those things, but it stands out from its money-belt brethren for its slimness (it's not bulky, but big enough to fit an iPhone 7 Plus), light and breathable material, and RFID-protected inside pockets. AlphaKeeper's strong and high-tech nylon, combined with the classic close-to-the-body design, keeps contents safe from both old-school and new-age digital pickpocketing. Remember that it's smart to carry small bills and stash other cash and back-up credit/debit cards elsewhere, like in the hotel safe and in an interior compartment of your luggage.
Travelon Crossbody Bag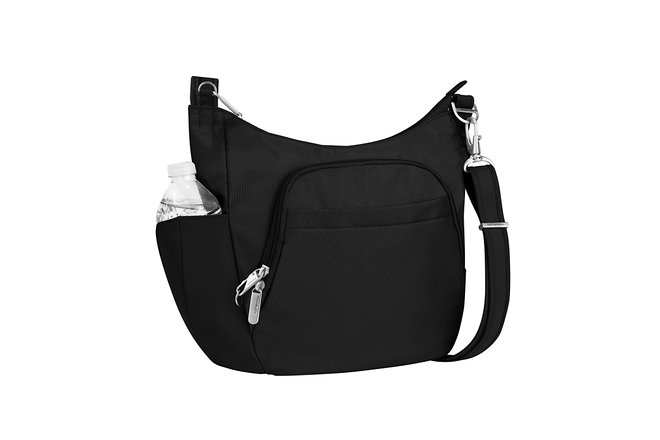 Travelon's canvas-and-suede purse looks like your classic cross-body bag, but it's really the travel-gear equivalent of Fort Knox. For example, see that standard-looking adjustable shoulder strap? There are stainless-steel cables inside. That outward-facing zipper compartment? It locks. The body of the bag conceals cut-resistant steel-mesh panels and zippered RFID pockets. Think of it like a wearable pickpocket- and hacker-proof strongbox for your stuff. (But a cute one.)
You'll Also Like:
Oyster.com is a participant in the Amazon Services LLC Associates Program, an affiliate advertising program designed to provide a means for sites to earn advertising fees by advertising and linking toAmazon.com.
All products are independently selected by our writers and editors. If you buy something through our links, Oyster may earn an affiliate commission.