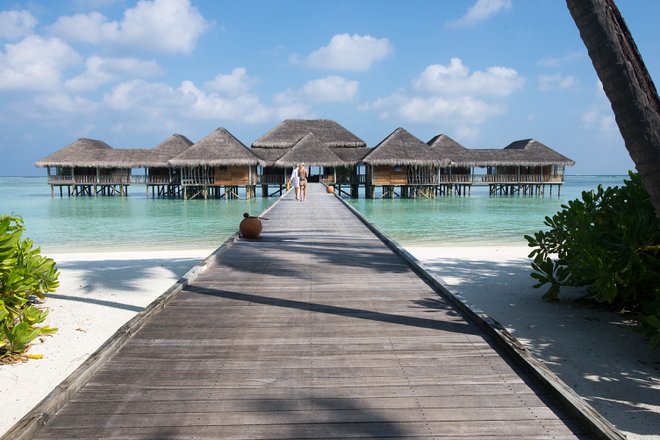 Romantic? Yes. Luxurious? Undoubtedly. Expensive? Definitely. This stunning resort lies on a palm tree-packed private island, just 20 minutes away from the airport. If the phrase private island wasn't enough to woo you, the overwater bungalows, which have outdoor decks with gorgeous views will surely seal the deal. Bare feet are encouraged, and each guest is pampered by a personal butler. Newlyweds can partake in a slew of activities — yoga, kayaking, windsurfing, canoeing, sailing are all free, though a number of other excursions, like deep sea fishing and snorkeling, can also be arranged. Plus, the island is surrounded by beautiful white-sand beaches (not to mention, each villa has direct access to the water), so couples can relax all day, every day. It's relaxed luxury at its finest — just ask tennis pro Novak Djokovic, who's been spotted here.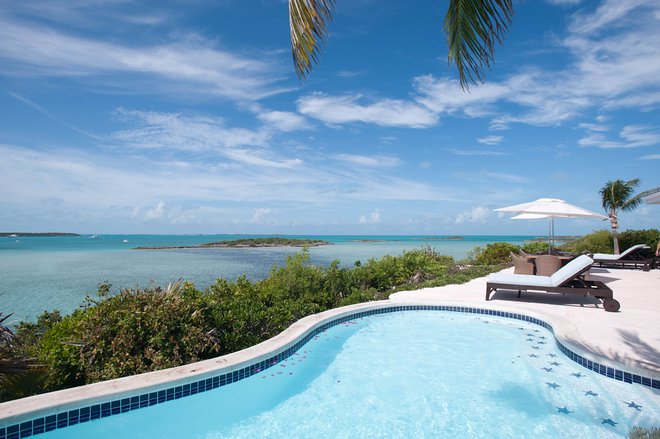 Exclusivity is the name of the game at Fowl Cay, a 50-acre private island resort in the Bahamas. With a 28-guest capacity, the hotel makes newlyweds feel like they have the place almost all to themselves. Following a boat ride from the airport, guests will have the opportunity to enjoy three private beaches, free kayaks and snorkeling gear, and personal boats for daily excursions. Six one- to three-bedroom villas with water views also await. That said, this level of luxury is reflected in the nightly rates.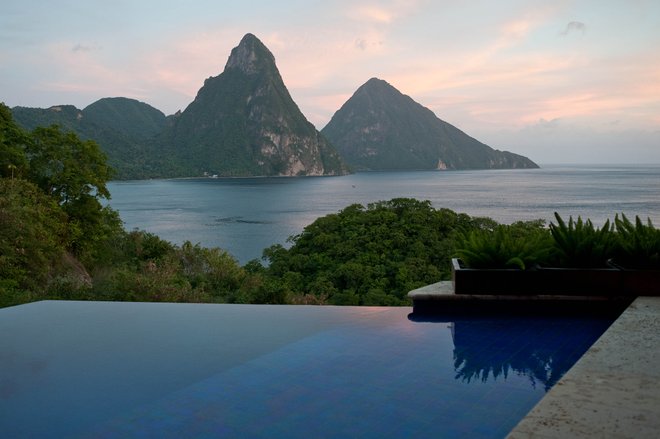 In a class of its own, Jade Mountain Resort is one of the most romantic hotels in the Caribbean — nay, the world — thanks to its incredible Piton views. The ride to the resort can be rough, but the doting service, hushed ambience (no TVs or children allowed), and open-air restaurant make it all worthwhile. The suites — referred to as "sanctuaries" — are a real treat, too. Through an open fourth wall, each enormous room overlooks the sea. Some rooms even have private in-room infinity pools for soaking with your sweetheart. Keep in mind there's no beach on the property (the closest beach is a short shuttle ride or hike away), but privacy-seeking couples will find just what they need here.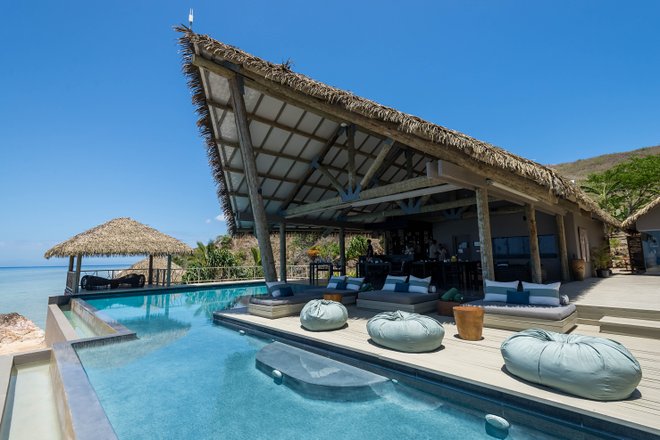 Located in the Mamanuca Islands, this adults-only hotel ensures that honeymooners and couples can enjoy some R&R without getting interrupted by wailing kids. Hole up with your honey in one of the villas (all feature private terraces with small plunge pools facing the ocean), indulge in free activities like kayaking, fishing, hiking, snorkeling, and sailing, chill out on the beach or in the beautiful infinity pool, or take in the views (every angle of Tadrai faces the turquoise sea).
Despite its jungle location in the famed Golden Triangle — and only being accessible by boat — this all-inclusive resort is not lacking in luxury. The hotel has a lovely open-air spa, as well as luxury tents with antique-style bathtubs, outdoor rainfall showers, and balconies that overlook the river and jungle. There's also a small pool in the forest. A minimum two-night stay is required, though you'll be wishing you could stay forever.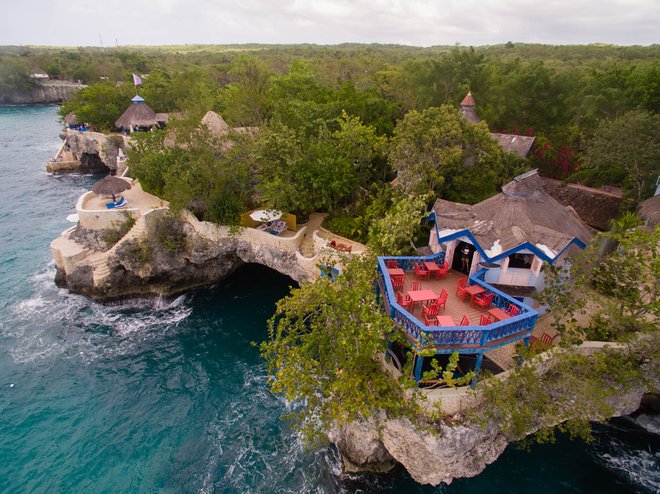 With private cottages and suites set along dramatic seaside cliffs, this all-inclusive resort ticks all the boxes of a premier honeymoon pick: romantic, upscale, and intimate. Kids under 16 aren't allowed, which helps preserve the calm ambience, plus added perks include a private Jacuzzi and romantic candlelight dinners for two inside a cave. However, a stay here doesn't come cheap.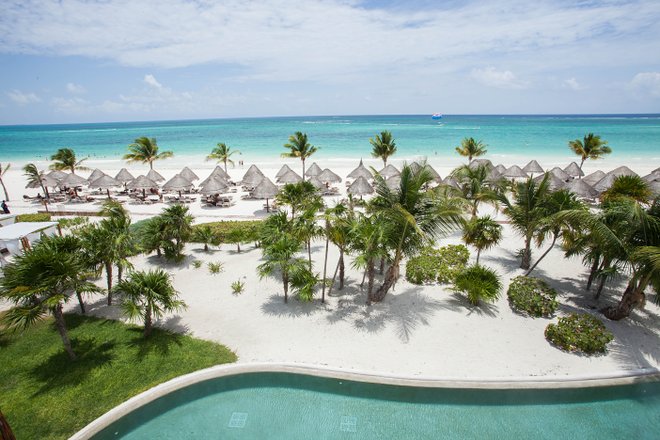 Set on a private white-sand beach, this adults-only, all-inclusive resort's secluded location makes it one of our top picks in Mexico for honeymooners. In addition to the buffet, couples have a range of high-quality dining options, including French cuisine and romantic dinners for two on the beach (the latter costs extra). More to fall in love with: a full-service spa with couples' treatments on the beach, several swimming pools, and water sports like kayaking and snorkeling.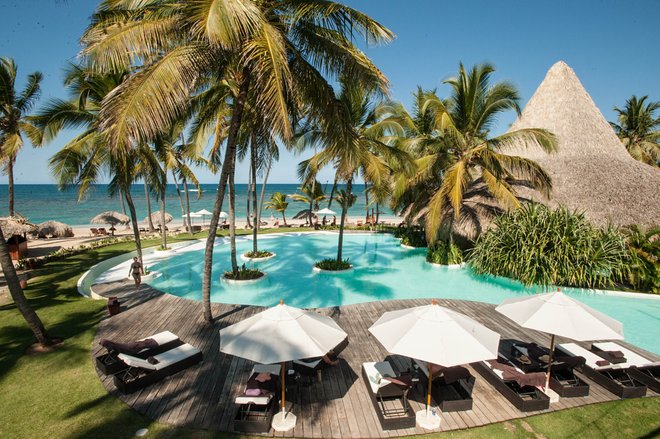 Zoetry Agua Punta Cana is as honeymoon-perfect as it gets: an uncrowded white-sand beach, spacious suites, a pristine pool, gorgeous spa, and free on-site activities like yoga, snorkeling, and a horseback riding session all cater to couples. To top it off, the atmosphere is serene — thanks in part to a difficult-to-reach location and a lack of kid-friendly amenities.
Set on a mountaintop and accessed via a steep, rocky road, this upscale, adults-only boutique hotel is fairly isolated — and that's part of its appeal. The other part of the draw is its rustic full-service spa, free daily yoga classes, an open-air fitness facility, and a free-form pool that overlooks the mountains and valleys of the Guanacaste region.
Situated on an island in Botswana's Okavango Delta, this ultra-remote, high-end safari lodge provides an unforgettable experience. Even arriving at the property is an adventure, as it requires taking a small plane, safari vehicle, and a boat. Everything, including the food and guided excursions, is included in the price — making for a hassle-free honeymoon. Guests can witness exotic wildlife, like lions and hippos, and relax in luxurious tents that feature private plunge pools.
Set on a small private island, the Constance Moofushi all-inclusive resort offers couples a secluded atmosphere. The property is within 30 minutes of the world's best dive spots and has an excellent house reef. Along with an idyllic beach, a stay here includes non-motorized water sports, including windsurfing, kayaking, self-guided snorkeling, pedal boats, or catamaran cruises. For a more laid-back approach, guests can check out the spa, which is situated on a wooden jetty over the sea. (Couples treatments should be booked ahead of time.) Meanwhile, the 110 rustic-chic rooms are sophisticated, artistic, and well-equipped with premium minibars, top-notch entertainment systems, and stunning sea views — some are even directly over the water.
The Samabe Bali Suites & Villas is an ultra-luxurious beachfront resort located atop a cliff a five-minute drive from central Nusa Dua. Its 81 suites and villas are elegant, with a gorgeous blend of contemporary and traditional Indonesian decor, top-notch amenities, and balconies displaying ocean views. Villas have private infinity pools and up to two bedrooms. With a private beach, a wonderful spa, two excellent restaurants, a gorgeous infinity pool, a kids' club, and tons of daily activities, there is little guests can't do on-site. And if that wasn't enough pampering, the resort also offers guests 24-hour butler service as well as unlimited meals and drinks. Plus, all-inclusive rates cover everything from free daily spa treatments to cultural tours to beachside yoga classes.
Set in private resort community to the north of Cancun, this 450-room luxury all-inclusive resort is for adults only, so you don't have to worry about your honeymoon being disrupted by crying babies. The rooms are huge and feature balconies; some have ocean views and offer swim-up access or private plunge pools. Plus, the seven pools, nine restaurants, 11 bars, and a high-end spa all provide plenty to do, though the white-sand beach isn't as impressive as those in the Hotel Zone.
They say scent triggers plenty of things, including romance. Spice up your honeymoon with Scentbird's monthly prescription package by testing out and choosing whichever scent is right for you.