The coastal city of Cartagena is the quintessential, idyllic Colombian destination. Whether you're looking for a sunny beach vacation, a cultural immersion, or a quick history lesson, Cartagena's well-preserved Old Town (a UNESCO World Heritage site) is the perfect place to stimulate your senses. It's the kind of city where visitors actually enjoy getting lost -- one of the top things to do is to wander through the streets and stay awhile at whatever draws your attention. From its colorful buildings to its unbeatable cuisine, white-sand beaches to boutique shops, there's something for everyone in Cartagena. Here, we've rounded up six of the top reasons why you should put it on your bucket list.
Need a place to stay? Check out our in-depth reviews of 50 hotels in Cartagena.
1. The Juxtapostion of Old and New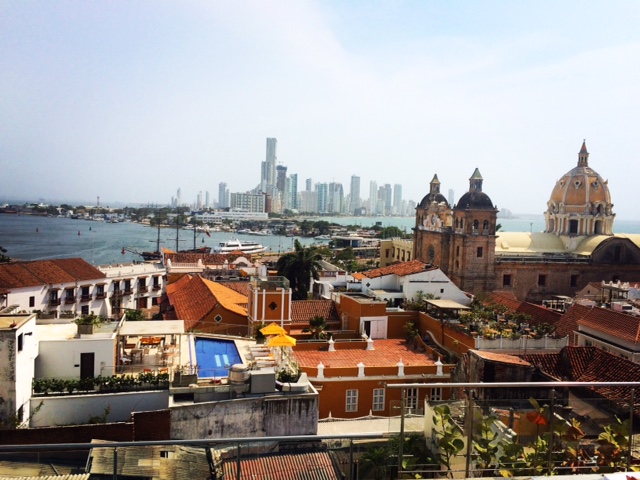 Colonized by the Spanish in the 16th century, Cartagena today combines a charming mix of old and new architecture with traditional and modern flair. Crowded with bright colored buildings and narrow cobblestone streets, Old Town sets the stage for long meandering walks and Instagram-envy snaps. Peer into the archways of open doors and you might marvel at the high ceilings, hidden inner courtyards, and balconies that look out over the street. Inside the walled city, cars compete with horse and carriages, and you can often hear the sound of hooves rhythmically stomping along the cobblestones. But venture out beyond Old Town towards Bocagrande, and centuries-old buildings morph into the modern, towering skyscrapers that shape the city's contemporary skyline. All together, Cartagena can best be described as Dubrovnik meets Miami, and the blending of old and new makes for a memorable landscape. At dusk, we recommend walking along the old city walls until you find the perfect place to watch the sunset. Then, flag down a carriage or make your way on foot towards one of the city's lively plazas for dinner, drinks, and dancing.
2. The Gastronomy
With high end restaurants packed into each block and sizzling street food on every corner, Cartagena's cuisine is well positioned to please your palate. Whether you're in the mood for Italian gourmet, Spanish tapas, Peruvian-Japanese fusion, Argentinian barbecue, classic Colombian, or seafood fresh from the sea, the options are endless, and the restaurants are favorable. In fact, there are so many restaurants in the area that it's not unusual to peek into a well reviewed eatery and only find a few tables taken. We suggest pairing a plate of Posta Negra (Colombian-style black beef) with a frothy and refreshing glass of Limonada de Coco.
3. The Nightlife
Book a spot on a three-hour "chiva" bus on any night of the week and prepare to party with locals and drink lots of Aguardiente, a popular Colombian Schnapps. The rustic chiva buses were once used in urban cities as public transportation — and are still used in rural areas. Now, retired urban chivas are being repurposed as party buses, and each tour comes with a live band, squished seating, and lots of alcohol. On any given evening you can find chivas cruising along the Bocagrande and outside of Old Town, pumping music and inspiring a good time. Other nightlife options to take into consideration include practicing your sultry salsa moves at Havana Club or heading to the outdoor Cafe Del Mar for cocktails and DJs. There's always something going on in the colonial city — you just have to know where to look!
4. The Weather
The sun shines often and the water's always warm in Cartagena. Year-round, the weather sits at an ideal average temperature ranging between 77 and 88 degrees Fahrenheit, making it a pretty pleasant place to escape the snow. But depending on whether you prefer to vacation during the hot, dry months or months with short bursts of refreshing tropical rain, you can choose to visit during the dry season (from December to April) or the rainy season (from May to November.)
5. The Beaches
With gold, sandy beaches located along the peninsula and plenty of islands nearby to explore, Cartagena is well known as Colombia's quintessential beach destination. The coastal city's home to spectacular scenery, and with the U.S. dollar as strong as it is, the stunning views come at a reasonable price. For an easy afternoon, head down to one of the many local beaches and dip your toes into the Caribbean Sea. Or, if you're looking to escape from the city, hire a local boat in front of the Bocagrande hospital and take the 15-minute trip across to Isla de Tierra Bomba. There, you can ease yourself into a hammock with a piña colada or rent a jetski and glide across the aquamarine water. For those who desire to go diving or snorkeling, the 27 tiny islands that make up the Islas des Rosarios are well-loved for their colorful, coral reef and are located a one-hour boat ride away.
6. The Ease of Getting There
Since two major carriers (Avianca and LATAM) operate up to 10 different direct flights per day from Bogota and Medellin, domestic, roundtrip flights from major Colombian cities tend to be quite affordable any time of year. But for those who plan to fly direct from the U.S., JetBlue departs from Fort Lauderdale and New York's JFK, Avianca has a direct route from Miami and JFK, and Delta covers all flights from Atlanta — all for relatively affordable prices.
Plus, check out our Cartagena Travel Guide.
Now Watch: Oyster's Tour Through Cartagena, Columbia
https://www.youtube.com/watch?v=96ZF9L87gZY
You'll Also Enjoy:
All products are independently selected by our writers and editors. If you buy something through our links, Oyster may earn an affiliate commission.