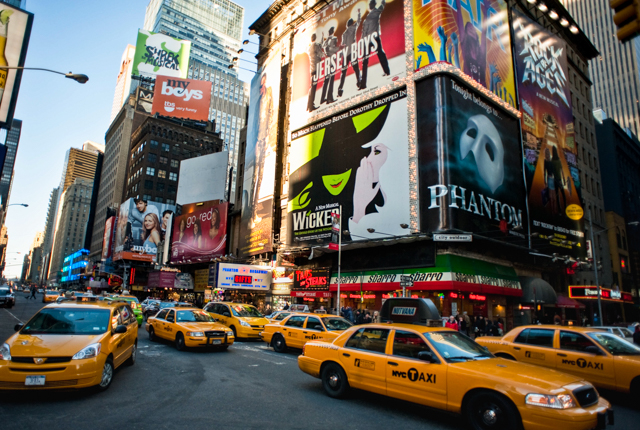 One of the most visited cities in the world -- and the one with the most tourists in the Western Hemisphere -- New York is a top vacation destination. The sheer volume of visitors in such a small area makes crowds often unbearable in the majority of tourists hot spots, but that shouldn't stop you from visiting the city the never sleeps. While Times Square has its draws and most tourists will still want to see it, it can be overwhelming -- and locals tend to avoid it at all costs. These seven things to do in New York City, however, are touristy but still get a stamp of approval by residents.
1. Walking the Highline
What was once an elevated train track high above the streets is now a public park that runs from Gansevoort Street to 34th Street between 10th and 12th Avenues, through the Meatpacking District and Chelsea. As you meander through the passages and overlooks along the park, you'll pass art shows, food carts, and sometimes movie screenings. There are lounge chairs and lawns to lay on, and an amphitheater-like seating area over 10th Avenue where visitors can watch the traffic pass underneath. There's plenty of greenery, with a variety of trees, flowers and grasses to wander through. And if you get hungry, there are plenty of staircases and elevators along the route to give you access to the many restaurants on the streets below.
A Luxury Hotel Pick Nearby:
2. Seeing a Broadway Play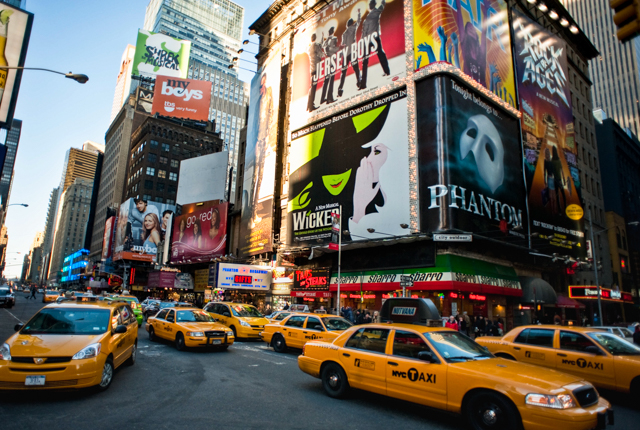 How can you come all the way to New York City and NOT see a show on Broadway? With over 100 shows between Broadway and Off Broadway, both musicals and plays, there are options for everyone. Visitors who want to see Broadway's hottest shows — the ones with multiple recent Tony Awards — should prepare to buy tickets months ahead of time and often pay premium prices. If you're not much of a planner, don't worry. TKTS discount booths in around the city to allow you to purchase same-day and next-day discount tickets for a variety of show options each morning. Don't want to wait in line? Download the Today Tix app for similar discounts.
A Luxury Hotel Pick Nearby:
3. Walking Food Tours
If you're the type to try to find the best food in every city you visit, a food tour is a great way to jumpstart your trip. There are a variety of different companies, such as Foods of New York Tours, City Food Tours, or Sidewalks of New York that offer tours in multiple boroughs. You can choose what type of cuisine you would like to sample, whether it be Italian in Greenwich Village or Asian in Chinatown, or tours that offers a sampling of a variety of options, such as the Chelsea Market tour. While on these tours your guides will tell you the history of the area and buildings you're walking through, so not only will you come out with a full stomach, but a greater knowledge of New York as well.
4. Ice Skating in Bryant Park
While Rockefeller Center has the more famous ice skating rink, with its prime location on 5th Avenue under the Rockefeller Christmas Tree, Bryant Park is a better experience. From the last weekend in October to the first weekend in March, the rink is open to the public, with free admission and $20 skate rentals (or you can BYO). Though there's a line, this moves faster than expected. For family members or friends who aren't interested in joining you on the rink, the Winter Village surrounding the rink has a variety of food and gift shops for those looking to window shop or get their holiday shopping done. There are also multiple restaurants to grab a meal at, and even a two story bar that overlooks the rink if you want to watch your family members skating.
A Luxury Hotel Nearby:
5. Walking the Brooklyn Bridge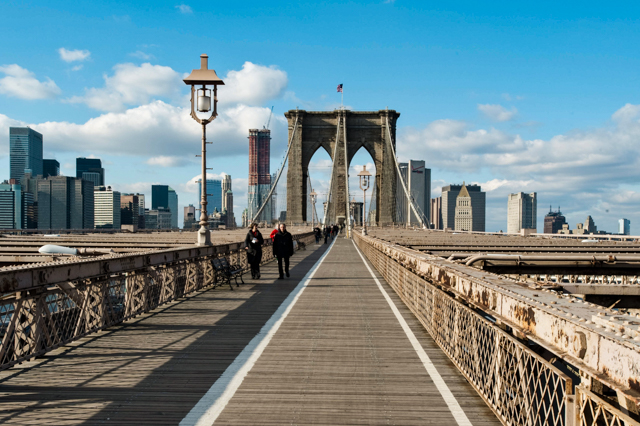 While in New York, you definitely shouldn't miss your chance to walk across one of the oldest bridges in the United States. The Brooklyn Bridge was completed in 1863 and connects the boroughs of Manhattan and Brooklyn. It was declared a National Historic Landmark in 1964 and has been featured in a plethora of movies and television shows over the years. The views going both ways are spectacular, and even better, they cost nothing to take in. Separate pedestrian and cyclist lanes allow you to choose whether you want to walk or bike the 5,989 feet across. Skip the subway and take a stroll over the magnificent bridge, especially during sunset if you can.
A Luxury Hotel Nearby:
6. Eating Your Way Through Smorgasburg
Another option for food lovers visiting New York City is Smorgasburg. With three locations (Williamsburg on Saturdays, Prospect Park on Sundays, and Hudson Square Friday through Sunday), there a multiple options for you to eat you way through some of New York's most popular foodie pleasures — all in the same place. There are specific alcohol areas at each of the locations for those looking to let loose, but there are also a variety of non-alcoholic beverage options like maple lemonade or watermelon drinks served in an actual watermelon. Whether you're looking for savory foods like the ramen burger or a whole turkey leg, or sweeter options such as doughnuts from Dough or ice cream in bubble waffles from Wowfulls, there are plenty of options for everyone to enjoy.
7. Visiting the Botanical Gardens
If you get tired of the endless skyscrapers and bustling streets that New York City is so well-known for, check out the Brooklyn Botanic Garden or the New York Botanical Garden. Not only do the plants constantly change with the season, but there are art exhibits to view and restaurants to enjoy. The CHIHULY exhibit is on display at the New York Botanical Garden through October 29th, 2017, and it features 20 sculpture installations by Dale Chihuly. Every spring at the Brooklyn Botanic Garden more than 200 cherry trees blossom for a few weeks during the Cherry Blossom Festival. There are also galas, cultural festivals, and plant sales throughout the year at both gardens. If you visit the Brooklyn spot, you can tack on a stop at the Brooklyn Museum or Prospect Park.
You'll Also Like:
All products are independently selected by our writers and editors. If you buy something through our links, Oyster may earn an affiliate commission.